daily fantasy sports articles
Big DFS Cash to be won at Draftstars on Footy Grand Final Weekend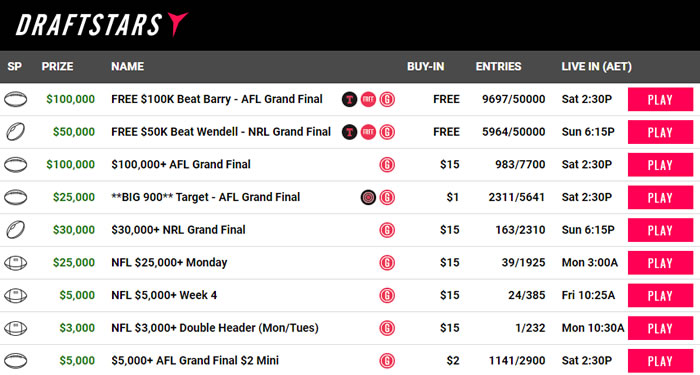 It's Grand Final weekend! Adelaide and Richmond. The Storm and the Cowboys. It's all come down to the last weekend in September to determine the fates of die-hard footy fanatics around the country. Who will take glory and who will be left devastated? To be honest, we really don't mind who wins, because the true glory for fantasy footy fans to set to be earned on the virtual field of Draftstars this weekend.
To celebrate the end of the footy season, Draftstars have put together a couple of massive contests – arguably the biggest ever seen in Australia. There's life-changing money to be won, anyone can jump in and have a crack and it only costs a few bucks to play!
First off, it's the AFL Grand Final on Saturday afternoon, and Draftstars are offering a staggering six-figure $100,000 guaranteed prize pool! First prize is estimated to be $15,000 with at least 1,640 players set to finish in the money. Entry is just $15 and all you have to do is construct your preferred line up of forwards, mids, defenders and a ruckman, within the $100,000 salary cap. If you get your combination right, and your players do their job on the day, then you could be celebrating Saturday night, regardless of who takes home the premiership cup!
For some tips for this contest, stay tuned to Daily Fantasy Rankings for our "Chalk, Chance and Chump" article previewing our best, and worst, picks for your line ups.
Also don't forget to also enter your line up into the 900 Target contest for an extra dollar. If your team scores at least 900 points, you'll share in a bonus $25,000 prize pool along with any other players who can also hit that target score.
In addition, Draftstars are giving another $100,000 away in their "Beat Barry" contest. This one is completely free-to-enter, and all you have to do is choose a player from six pre-defined groups. No salaries are required! If your team outscores Barry Hall's team of Martin, Laird, Caddy, Douglas, Walker and Edwards, then you'll share in the prize pool!

NRL fans – your time to shine is on Sunday evening, and don't worry, you haven't been left out of the Grand Final fun. The feature contest for the NRL Grand Final is also a $15 buy-in contest, and Draftstars are guaranteeing a $30,000 prize pool which is impressive for NRL contests.
There is also an equivalent "Beat Wendell" contests for the NRL which is also free-to-enter. Take on former NRL superstar Wendell Sailor's team of Smith, Finucane, Cronk, Bolton, Chambers and O'Neill and if your six can outscore Wendell, then you'll share in a prize pool of $50,000.

That's almost $300,000 in combined guaranteed prize pools that Draftstars will be awarding this weekend. It's the biggest weekend in DFS history in Australia so you don't want to miss out on being a part of this one.
To join in the fun, simply click here to create a Draftstars account and get started!