daily fantasy sports articles
How to play Daily Fantasy NBA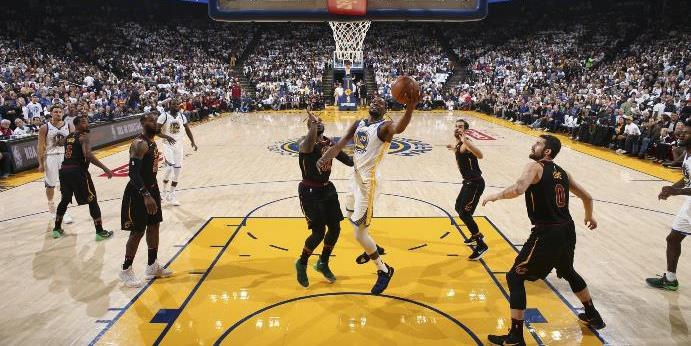 One of the biggest professional sporting competitions in the world is the NBA in the United States. The NBA is the elite club basketball competition in the world. The competition has a long season, with 30 sides each playing 82 games, before a lengthy play-off series which is in the form of a knockout. Each play-off match-up is a best of 7 series. Here we will explain just how does NBA daily fantasy work.
The DFS site PlayON is the official Partner of the NBA while DraftKings is an official partner of 7 NBA teams.
Each NBA side has 5 players on the court and 7 on the interchange. However in NBA Fantasy, the team structure is different, much like other fantasy team sports.
Sites like PlayON have a full squad of 7, consisting of a Shooting Guard, a Point Guard, a Power Forward, a Small Forward, a Centre and 2 flex players. Flex players are essentially two free picks that you get and can be players from any position that you haven't already selected. While you have freedom to pick whoever you want in these roles, the tactics as to how use the Flex options can prove to be quite rewarding when done well.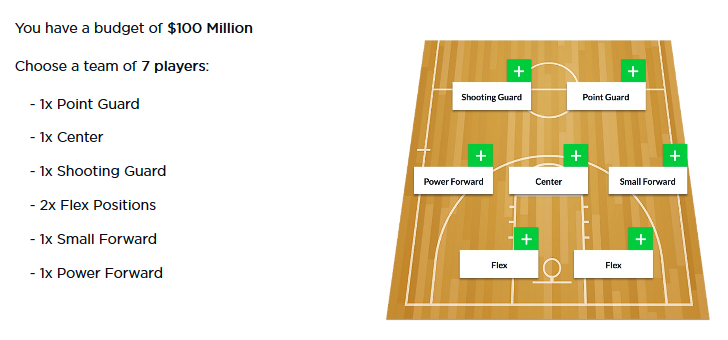 Over at DraftKings there is a slightly more flexibility, as players are placed into 3 categories, many of which are capable of playing in 2 or all 3: Guards, Forwards and Utilities. You need to select 2 guards, 3 forwards and 1 utility player
Scoring systems are relatively similar across sites too. At PlayON a players score is determined by the number of points scored in the actual game, rebounds, assists, steals and blocks, while losing points for a turnover.
DraftKings has a few more metrics to determine a player's score, which you should certainly look at, as they would impact on your fantasy selections.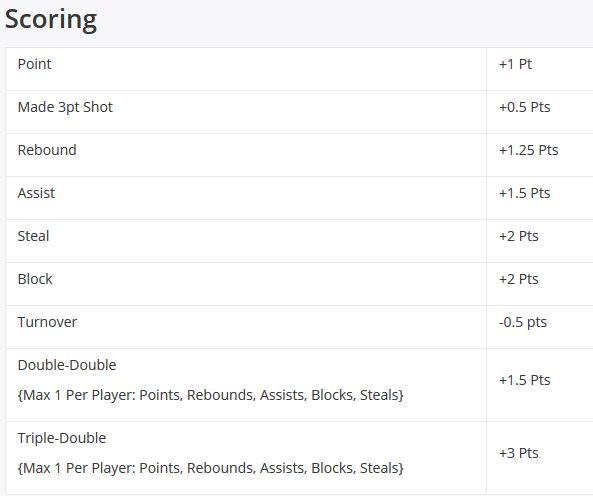 With such a long season and huge number of games, it is wise to keep a close eye on the interchange players, as they will likely get plenty of game time. Now that you know how NBA Daily Fantasy works, be sure to check back here at Daily Fantasy Rankings, as we will have plenty of NBA Fantasy tips to further assist you throughout the season.