daily fantasy sports reviews
dfs review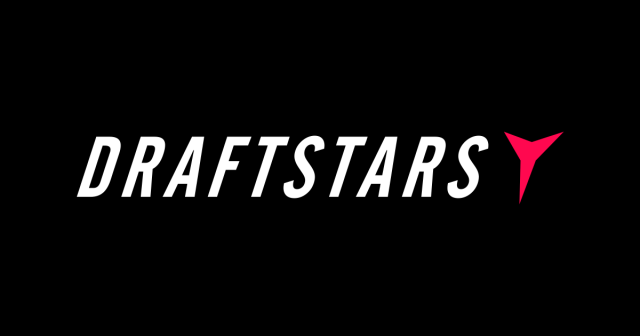 join now
Draftstars
Draftstars was established early 2016 and quickly made their mark as the biggest DFS website in Australia.
Draftstars Review
Draftstars launched in 2016, in association with FoxSports and CrownBet, with the goal of becoming the largest Daily Fantasy Sports (DFS) platform in Australia. Since its launch, Draftstars has continued to grow in popularity as it has introduced a variety of different competitions, sports and the largest guaranteed DFS contests in Australia. In May of 2018, Draftstars was acquired by massive players in the Daily Fantasy Sports arena, PlayUp, bringing about some big changes to both their interface and the way they offer DFS tournaments!
DRAFTSTARS REVIEW
Draftstars Features
Draftstars have achieved what they set out to do back in 2016, becoming one of the largest Daily Fantasty Sports websites in Australia. While they don't offer the range of different sports that the likes of Moneyball do, their prize-pools are generally bigger, especially in the AFL and NRL. During the winter, Draftstars will focus in on the two major Australian footballing codes in NRL and AFL, but in the offseason you can enter a variety of different tournaments in NBA, Cricket, Soccer and NFL as well.
The largest regular weekly AFL prize pool now sits around $100,000 guaranteed, which for the moment remains the largest in Australia. On the basis of this we can expect the prize pools to continue to grow as the popularity of DFS in Australia is increasing.
How to play Draftstars
Draftstars is an easy website to navigate and you are able to make selections on the lobby page to narrow down your search for a DFS contest to a specific sport, buy-in, players and type of contest. This allows for you to only see the DFS contests you are interested in.
Once you have located the contests you wish to compete in, selecting your team is just as simple. In the more popular DFS contests you are given a $100,000 salary cap and you are required to choose players who differ in cost depending on how many points Draftstars points they average.
Remember, plenty of what you've come to expect from Draftstars has remained the same since the change of ownership. The popular contests haven't changed, and the salary caps, scoring and player formats are all the same. There is also no need for any new action required on your account - your balance, verification and profile will all remain the same.
Making a deposit into your account is a simple enough process. You can deposit via your credit card, or via their direct deposit option via the POLI service.
Draftstars uses PlayUp's own-built leading fantasy sports software to run the Draftstars platform. The software is used to create one of the easiest and fluent websites that is a class above the other DFS sites in Australia.
If you have never heard of DFS before but are familiar with SuperCoach or DreamTeam then it will be very easy for you to become accustomed and take part in the tournaments. The benefit of DFS against SuperCoach or DreamTeam is that you don't have to wait an entire season to get the results as the DFS contests can run for as little as one match, multiple matches throughout a single day or over the entire round of action.
The DFS contests range from free entry to buy-ins of $500 and each participant will be required to select a team under the same salary cap and from the same players on offer.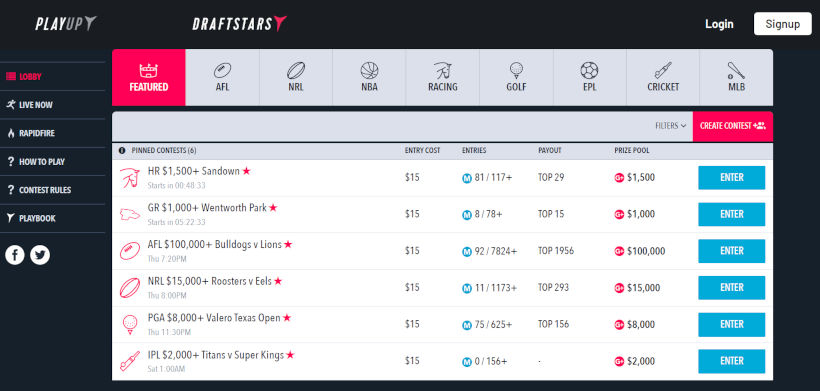 For example, the NRL Weekender is the largest NRL contest of the weekend. Each competitor that enters is given $100,000 to spend on the players to fill their team. There is generally five to six matches to choose from, but the cap won't allow you to purchase every player you want as the best players cost a large amount of money.
This will require you to choose very carefully when selecting your team and also implement the best 'cheapie' players available to create the best team possible. Once you are happy with your team and it is under the salary cap you simply need to enter the side into the competition.
Once the first match of the tournament has begun you will be able to watch the live ladder and see how the players in your team are performing and how you are fairing against the rest of the participants. Your players will increase their score for doing positive things in a match such as scoring a try, making a tackle or kicking a goal whilst they will lose points for making an error, throwing a forward pass or missing a tackle.
At the completion of the last match, your players' scores will be combined to produce your total score. There are multiple places that are paid but if you find yourself in first position you will have the opportunity to turn a $15 buy-in into thousands of dollars.
DRAFTSTARS OVERVIEW
Sports Offered
- AFL
- NRL
- NBA
- NFL
- Cricket
- Soccer
- MLB
- Golf
Buy-in range: Free - $500
Biggest Prize Pool: $500,000
Most Popular Sport: AFL
Editor's note: Take care when signing up to new sports betting agencies. Be sure to read all terms and conditions of any bonus offers, deposit/withdrawal requirements and identification verification on each respective site, as some of the information on this page may be outdated. not all states are eligible for bonus offers and promotions. Daily Fantasy Rankings will do their best to keep this page up to date, but takes no responsibility for any information on this page being incorrect.