daily fantasy sports reviews
dfs review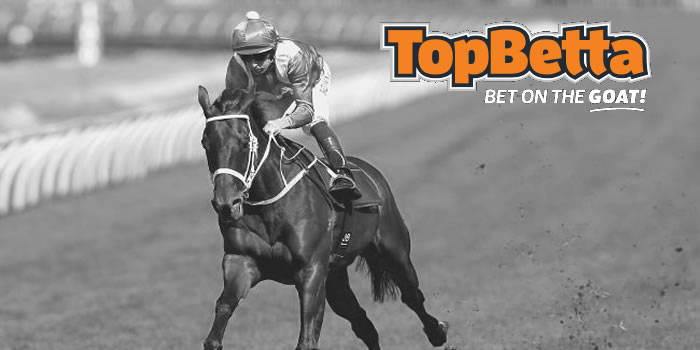 join now
TopBetta
TopBetta are one of Australia's leading sportsbooks and Fantasy Betting websites offering daily tournaments across racing, football, soccer, and more.
TopBetta Review
TopBetta launched in Australia in 2010 and has continued to grow as it offers a different betting experience for its customers compared with other bookmakers. While TopBetta still offers your standard sports and racing markets, they are unique as they offer sports and racing fantasy betting tournaments. The tournaments give punters the opportunity to gamble for a smaller amount, bet throughout the day or weekend and have a chance of scoring a large pay day. Continue reading as we explain how these tournaments work and discuss the TopBetta ste in our TopBetta Review page.

GET IN THE GAME AT TOPBETTA
Once you have created an account with TopBetta, you will realise that it is very simple to navigate with the three main options located on the home page of Sports, Racing and Tournaments. The sports and racing section gives you the opportunity to bet on your favourite sports or races as any other bookmaker will provide, however it is the tournaments that separate TopBetta from the rest of the pack.
There are multiple daily and weekly tournaments with various entry fees for punters who enjoy a smaller gamble or those who are looking for a larger buy-in with larger prize pools.
There are weekly AFL and NRL tournaments with $5,000 prize pools with an entry fee of just $10, which gives punters the chance of turning a $10 bet into $1,250. This is gives their customers the best betting experience as they can have a low risk turn into a high reward.
The tournaments are structured so that each participant is given the same starting bankroll once they have paid to enter the tournament. TopBetta refers to this bankroll as BettaBucks. For example, in the weekly NRL $10 buy-in tournament, each competitors will start with $1,000 BettaBucks and they can use to bet this on any option in the market such as the head-to-head winner, line margin, points scored or first try scorer etc.
After you have placed your bet you will be able to sweat out the result by watching the sporting or racing match and once the event has concluded TopBetta will pay out the winners with BettaBucks according to the odds whilst the losing bets placed will be taken.
The intention is to turn your $1,000 BettaBucks into as much as possible. If you do well enough against the other punters, you may receive a cash prize at the end of the tournament.
There is a live ladder that is updated after each match or race to allow competitors to see their placing against other participants and it gives you the opportunity to implement a strategy to either climb positions into first place or make moves to remain on the top.
At the end of the tournament and depending on the prize pool structure, the competitors with the highest BettaBucks will share a portion of the prize pool depending on their placing.
The sports tournaments that are on offer are for Cricket, NRL, AFL, A-league, English Premier League, NFL and the NBA.
There are also racing tournaments that run daily with larger tournaments on Wednesdays, Fridays, Saturdays and Sundays. The feature racing tournaments are on Saturday and offer a minimum $15,000 prize pool.
TopBetta often host massive racing tournaments with their latest feature tournament running over four weekends and having a guaranteed $250,000 prize pool with first place taking home a life changing $100,000!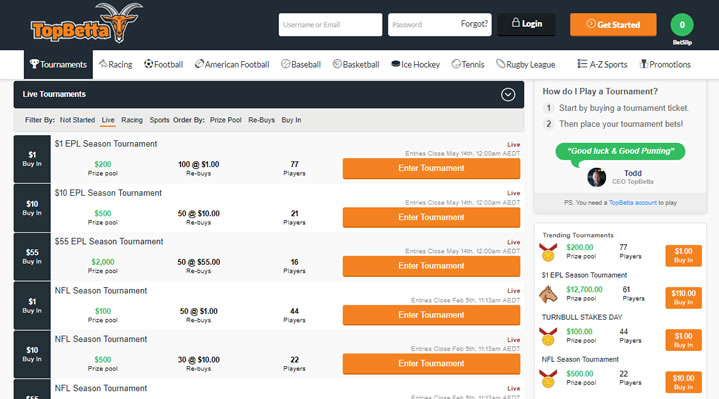 As TopBetta's focus is on their tournaments, their racing and sports wagering market isn't as large as other bookmakers but they still manage to cover the majority to ensure that their customers remain satisfied. It is very simple to place a bet and their odds are competitive wi1th other sports bookmakers.
TopBetta run a lot of weekly free entry tournaments for new players. These are a great way to learn how to play and get used to how fantasy betting works in tournaments, while having the chance to win some real cash with no financial risk at all!
TOPBETTA OVERVIEW
Sports Offered
- Racing
- AFL
- NRL
- NBA
- NFL
- EPL
- Cricket
- A-league
Buy-in range: Free - $2,200
Biggest Prize Pool: $250,000
Most Popular Sport: Racing
Editor's note: Take care when signing up to new sports betting agencies. Be sure to read all terms and conditions of any bonus offers, deposit/withdrawal requirements and identification verification on each respective site, as some of the information on this page may be outdated. not all states are eligible for bonus offers and promotions. Daily Fantasy Rankings will do their best to keep this page up to date, but takes no responsibility for any information on this page being incorrect.
Always remember to Gamble Responsibly.