daily fantasy sports articles
NFL 2021-22 Daily Fantasy Tips: Week 18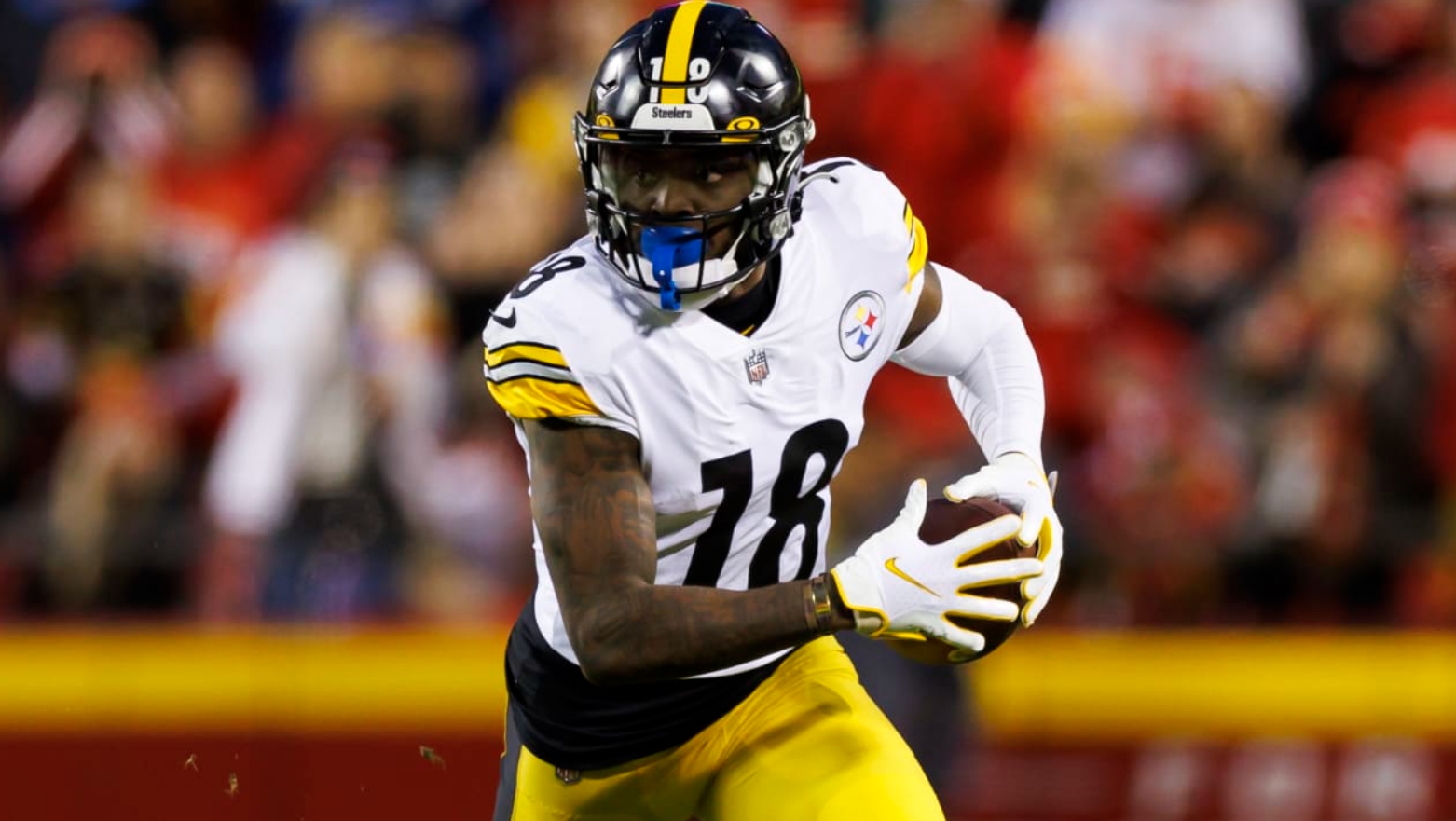 It's the final week of the 2021 NFL regular season, the first time we've had the tasty bonus of a week 18. Draftstars has delivered the goods again with a $20,000 slate featuring $2,184 to first place. It's a big slate again with 13 games, including 6 games in the late window. That means it's a lightly bigger preview than usual, so let's get straight into it.
Make sure you tune in on Sunday from midday as the Draftstars NFL Show will be available on our YouTube page and on Draftstars social platforms! A replay of the show will be in this preview - so tune in for the latest news and Draftstars plays!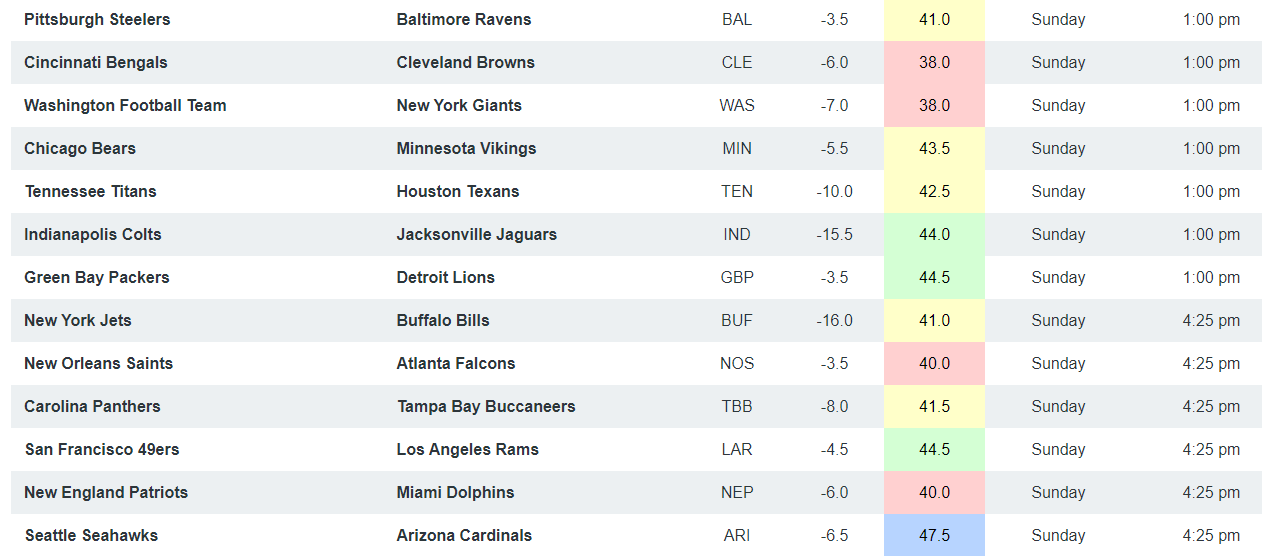 Injuries
(Updated 1100 AEDT 09/01/22)
OUT
Joe Burrow / Lamar Jackson / Ronald Jones / Chase Edmonds / Baker Mayfield / Elijah Moore / Mike Glennon / Braxton Berrios / Kadarius Toney / Rondale Moore / Jakeem Grant / James O'Shaughnessy / Ricky Seal-Jones
COVID
Joe Mixon / Justin Fields
Doubtful
Emmanuel Sanders
Questionable
Jimmy Garoppolo / Jared Goff / Aaron Jones / Damien Harris / James Conner / Kareem Hunt / Mark Ingram / Jakobi Meyers / Robby Anderson / Josh Reynolds / Kyle Pitts / CJ Uzomah / David Njoku

Quarterback
Taylor Heinicke: We had a bit of a crush on Heinicke early in the season when he seamlessly took over for Ryan Fitzpatrick in week 1, but it's been a long dry spell since then. As a result he is insanely cheap, and the type of player I'm happy to take a punt on in the final week of the season. The nice matchup with the Giants helps, but it is a low total game in the betting markets so temper expectations. At this price a single stack with Terry McLaurin is preferable to getting overly ambitious with double stacks or full game stacks.
Taysom Hill: We haven't really seen a slate winning effort from Hill this year, but he has been impacted by injury and various other interruptions. He's still a prototypical fantasy QB in that his legs are a huge part of the game plan and he can throw it around if the game requires it. The game doesn't have a high total, but I Hill can thrive in any game environment by either running a lot with a lead or throwing when trailing. All we need is for him to vulture a couple of rushing TDs.
Running Back
David Montgomery: It's difficult to look past Jonathan Taylor on a slate like this where the Colts need to win, but Draftstars have made the decision difficult by pricing him up over 20K for the first time. There's no such issue with Montgomery who remains too cheap after another nice 20+ score last week. With very little else to get excited about at the Bears (Fields, Mooney, Kmet might be something in a couple of years, but they're not there yet), Montgomery should be the focal point again in a low-key exciting matchup with the Vikings.
Devin Singletary: In an unexpected twist, the team that throws at the highest rate and has had a disgusting two or three man committee at RB all season has given us one of the late season breakout that we see every year. Whether it's a fluke or not, Singletary has built on his effort each week for the last month, with all 4 scores 15+. It's been done on a mix of passing game volume, rushing TDs and some rushing volume. In short, Singletary suddenly looks like the guy in Buffalo, and he's too cheap if that role holds up again this week in a game the team wants to win.
Antonio Gibson: We can't really stack him with Heinecke (or can we?), but Gibson is another young RB that is clearly too cheap on this slate. With the Giants matchup, his natural explosiveness, and a solid bit of form over the last couple of months (despite carrying injuries), it's very easy to see the ~20 points we need at this price. It wouldn't surprise me if Gibson is one of the chalkier options on the slate, so I will mention a unique GPP leverage play at the same price in the form of Saquon Barkley. Could one of the best RBs in the NFL flip the script and remind us how good he is going into 2022?
Wide Receiver
Diontae Johnson: The Steelers still have an outside shot at making the playoffs, but even without that they'll be giving 100% to send off franchise legend Ben Roethlisberger in the best way. Johnson is a strong candidate to be a part of beating divisional rivals and fellow playoff hopefuls the Ravens. Wile it's a tough matchup, Johnson just looks a bit too cheap for a player that has had 5+ receptions in 11 straight games. That kind of volume has led to all but one score in double figures this season (9.8 in the other, so close!), which is the kind of record that inspires confidence. The ceiling has been a little elusive, but we have seen a number of big scores in the last two seasons. A stack with Roethlisberger holds some appeal. Even a short spell on the COVID list means the luck is with Johnson.
DJ Moore: In a similar vein to Johnson, Moore is a clear cut #1 receiver seeing consistent volume. Unlike Johnson, his teams season has gone awry and his own production has been affected by a combination of injury/illness, and mixed QB play from at least three different passers. While the Buccaneers matchup is unlikely to result in a win, they are a team that is beatable through the air. Sam Darnold needs to show the team something this week, and I want to back the class of Moore to sign of on the 2021 season in a similar way to how he started it, with 3/4 20+ scores in the first month.
Marvin Jones: My continual want to be early on the Jaguars has not paid off this season, and I'm not expecting a great deal from the team this week with the Colts having all the incentive in the world to grind them into the dirt. Still, Jones is very cheap for a #1 receiver, and I'll never stop being excited about the training wheels coming off Trevor Lawrence. Perhaps we have to wait until the 2022 season to see the best QB prospect since Andrew Luck blossom, but Jones is a risk-free way to take one last shot at the team for this season. He can still get there even if the Colts dominate, with 8+ catches for 80+ yards within his range of outcomes, and anything extra a big bonus.
A.J. Brown: I'm passing up one last chance to tout Deebo Samuel, with Brown at the same price point and with plenty of ceiling. Injuries and team limitations have led to a rocks and diamonds season, but the team has somehow managed an 11-5 record even with Brown limited and Derrick Henry out. With everyone getting healthy for playoffs, I think they come out hard against the Texans this week. Brown is impossible to ignore at this price for ceiling potential, but I do still love Deebo and his role is probably a little safer for cash style contests.
Tight End
Mark Andrews: At such a volatile position, we can't ignore a player like Andrews who has had an explosion of form over the last month and continues to be the teams focal point. With Tyler Huntley at QB again, it's very likely that Andrews sees 10+ targets and is therefore too cheap again at a position where reliable volume is absolute gold. A big redzone role is the icing on the cake.
Kyle Pitts: With a theme of taking one last shot for the 2021 season, this is our final chance to play Pitts as a rookie. While his box scores don't look overly impressive, make no mistake about how good this player has been by rookie tight end standards. His price has rarely been this low, and I want to take a chance on him adding to his sole TD this season along with 5+ receptions. Not a bad bring back for Taysom Hill either.
D/ST
Indianapolis Colts: I did say I'm not expecting much from the Jags this week, with my Marvin Jones hopes mostly just resting on some hollow volume as the team chases a Colts offense skiing downhill behind Jonathan Taylor. While that sets up some extra passing volume for the team, it also creates extra turnover chances, with Lawrence having committed multiple turnovers in 5 games this season. On such a big slate there are lots of DSTs that are in play, but the Colts are my preference without paying up for the clear top 3 options.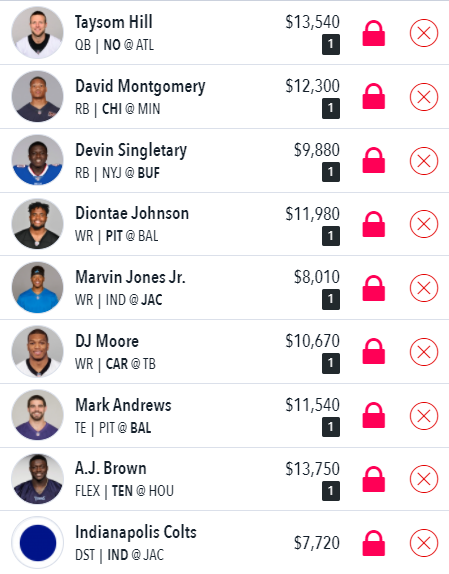 Always remember to gamble responsibly. When the fun stops, stop. If gambling is having a negative impact on your life, seek support at Gambling Help Online. 18+ only.