daily fantasy sports articles
2018-19 NFL Daily Fantasy Tips: Week 2 Sunday Slate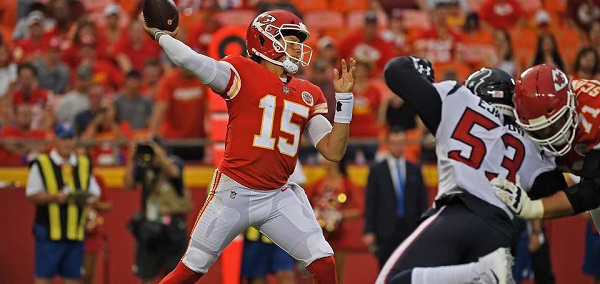 Couple of good daily fantasy tips in our NFL Week 1 Sunday slate preview last week with New Orleans running back our best tip of the day, exploding for 46.1 points on 141 all purpose yards and three touchdowns.
Just a last $4,600,000 up for grabs in DraftKings feature tournament for the Sunday slate this weekend so we are back with another round of best fantasy tips at each position below.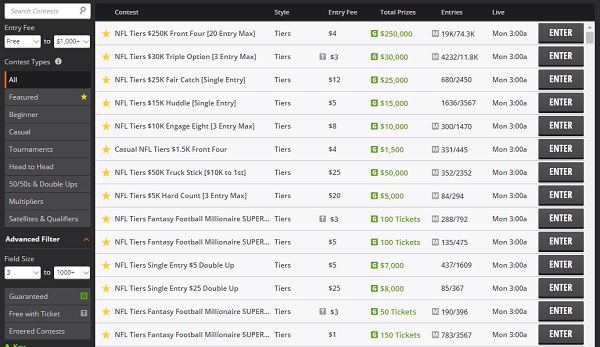 2018 NFL Week 2 Sunday Fantasy Picks
Quarterback – Tyrod Taylor ($5,900), Pat Mahones ($6,100)
Opting for two QB's on the cheaper side here to help you find some value. We went with Tyrod Taylor last weekend against the Steelers and he was impressive, racking up the 7th highest total by a QB with 24.6 points. Has arguably the best matchup in the NFL for a quarterback this weekend as he faces the New Orleans Saints, who allowed the Buccaneers to run rampant on them last weekend. Ryan Fitzpatrick threw for 417 yards and four touchdowns in the 48-40 win, compiling 45.3 points in the process, which was 11 point higher than any other QB in week one. Fitzpatrick also rushed for 36 yards on 12 carries so Taylor should be able to exploit the Saints run defence as well here.
Patrick Mahomes played his second NFL game on the weekend and was fantastic for the Chiefs in their win over the Chargers. The youngster threw for 256 yards and four touchdowns and has a fantastic matchup against the Steelers this weekend, who are ranked 28th in the league in giving up points to quarterbacks. The 22-year-old might just have the best arm of any QB in the league and should rack up yards with ease against the Steelers on the weekend.
Running Back – Todd Gurley ($9,200) Rex Burkhead ($4,400)
In my opinion, if you don't have either Todd Gurley or Alvin Kamara in your team this weekend you're giving yourself a massive handicap. I'd be happy with either but I'm going to give the slight nod to Gurley this weekend, who has a great matchup against the Arizona Cardinals. The Cardinals run defence was slated to be one of the worst in the league at the start of the year and they lived up to that reputation in week one as they allowed Adrian Peterson and the Redskins to rush for 182 yards on 42 carries. Peterson in particular was fantastic with 96 yards and a touchdown and Gurley absolutely dominated last weekend against a better run defence in the Oakland Raiders. The Rams RB clocked up 108 rushing yards on just 20 carries and added another 39 receiving yards and a touchdown. Is my best bet this weekend.
For our value option I've decided to go with Patriot Rex Burkhead, who has had the number one running back position thrusted upon him at New England this year highly due to a lack of other candidates. He was serviceable in game one with 64 yards on 18 carries and was the only Patriot back to rack up more than 5 carries. Seems to have the starting position locked down at the moment and has a good matchup against the Jags this weekend who are solid in defence through the air but allowed Giants running back Saquon Barkley 128 all-purpose yards and a TD last weekend.
Wide Receiver – Josh Gordon ($5,800) Nelson Agholor ($6,100)
Another couple of cheaper options here in the WR department in Josh Gordon and Nelson Agholor. Gordon was only targeted three times last weekend for one catch and 17 yards, however, that catch was for a TD and should get a few more targets this weekend against the Saints. Gordon has always been a bit of an all or nothing receiver, capable of having monster games and this weekend against the Saints, who allowed over 400 passing yards last week, seems like the right time for him to have a few game breaking catches.
Agholor was serviceable for the Eagles in game one against the Falcons, catching eight of 10 targets for 33 yards and racking up 13.5 points. Had the most targets and receptions of any Eagles player in Week 1 which bodes well with Alshon Jeffery set to remain on the sidelines this weekend with a shoulder injury. Only averaged 3.3 yards per reception against the Falcons but has a good matchup against the Buccaneers who allowed 400+ passing yards in week one.
Tight End – Jordan Reed ($5,000)
Reed was one of the better tight ends in football last weekend, catching four passes for 48 yards and a touchdown. I just love the idea of Alex Smith in Washington this season and think it bodes really well for Reed. Smith threw more touchdown passes to tight end Travis Kelce than any other player on the Chiefs last season and a high percentage of his other touchdown passes were dumps over the middle to the likes of Tyreke Hill. The Colts allowed almost 60 reception yards at the tight end position to the Bengals last week and I like Reed to rack up at least that against them in Week 2.
D/ST – Los Angeles Rams
The Rams will no doubt be the most selected defence/ST this weekend. They face the Cardinals who looked woeful on offence last weekend against the Redskins. They combined for just 213 yards through the air and on the ground and the Rams defence looked disturbing against the Raiders in Week 1. The Rams shut out Arizona 33-0 last season when they met in October and I honestly wouldn't be surprised if they did again this weekend.