daily fantasy sports articles
2018-19 NFL Daily Fantasy Tips Week 5 Thursday Slate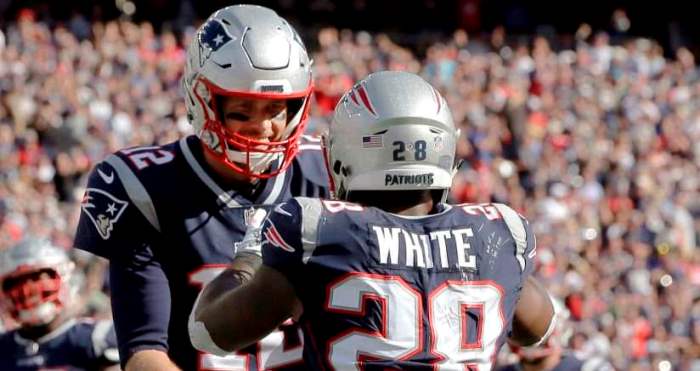 Thursday night football will see the New England Patriots back in Foxborough as they take on the 1-3 Colts. Once again there will be massive prize pools up for grabs at DraftKings with their feature DFS contest offering a $1,250,000 prize pool for just a $10 entry!
New England will be fresh from a 38-7 thrashing of the Dolphins at this venue. At 2-2, they'll be keen to push above .500 for the season. It's been a tough start for the Colts as they hold a 1-3 record, which has included a number of close finishes already. Read on for our NFL DFS lineup tips for this contest!
Must Have - Sony Michel, James White
In the "must haves" for this matchup, the Patriots running back combination is in fine form and are set to continue here against the Colts.
Firstly, rookie Sony Michel ($10,800) comes off two firsts in his career - 100+ rushing yards and his first touchdown in the NFL. Those 112 yards came from 25 carries, and with Rex Burkhead on IR, Michel will be expected to carry the load for this game and the rest of the season. The Colts run D is average at best as they average 109.3 rushing yards allowed per game. Last week against the Texans, they allowed 119 rush yards and previously on the road, the Eagles ran for 152 yards from 35 attempts. The 100+ yard game should give Michel confidence to back up and continue the Colts defensive woes.
James White ($14,100) is proving to be a popular option not only for Tom Brady but Fantasy owners. He's a versatile back that will get around 5 carries per game and he makes them count. But he's actually the top receiver (in terms of catches) on the Pats roster after 4 games. In 3 of those 4 games, he's caught a touchdown pass as well. In this matchup, he faces a Colts defence that is giving up 268 pass yards per game, which should see Brady exploit this matchup with screens and when he gets a linebacker in coverage.
Sleepers - Julian Edelman, Eric Ebron
The big storyline of this game will be the return of Wide Receiver Julian Edelman for the Pats. He actually hasn't played since the epic Super Bowl victory over the Falcons in 2017 but I don't see him losing the connection with Brady. In that Super Bowl season, he recorded 98 catches and a career high in targets. The Patriots offence hasn't been 100% at their best this season and I expect Brady to welcome Edelman back with early passes to settle his nerves. He'll come into this game with a cheaper price tag of $11,100 but his reputation should see him score well.
With Hilton under an injury cloud, Luck will likely need to find his connection with Ebron ($9,600) in this contest. The Colts tight end is getting his fair share of the ball lately and that should increase if Hilton can't play. His last 2 games have seen 10 or more targets and he's dangerous near the redzone. In 3 of his 4 games this season, he's caught a touchdown pass and should be a favourite target of Luck's in the redzone on Thursday night.
Stay Away - Rob Gronkowski, T.Y Hilton
In the "stay away" category, two banged up passing threats are looking like dangerous picks at the moment.
Rob Gronkowski ($14,700) has an ankle injury and hasn't practiced so far this week. Coming into the short week, the Patriots will likely be cautious with more important games coming up. Even if he does suit up, his numbers lately aren't great. He's recorded just 8 total catches in his last 3 games for a return of 110 yards. Which in total is actually less than his Week 1 performance of 8 catches, 123 receiving yards and a touchdown. So the numbers are saying he's playing hurt and that makes him a risky pick.
Similar to Gronk, T.Y Hilton ($13,200) is battling to overcome a hamstring injury. No doubt Hilton is a tough competitor having missed little time in his career but the short week factor could come back to hurt him and the Colts. So it's fairly likely he'll miss this one. Even so, he will have a tough matchup against Steph Gilmore of the Pats, who's one of the best cornerbacks in the NFL.