daily fantasy sports articles
2018 AFL Chalk, Chance or Chump: Round 7 Geelong vs GWS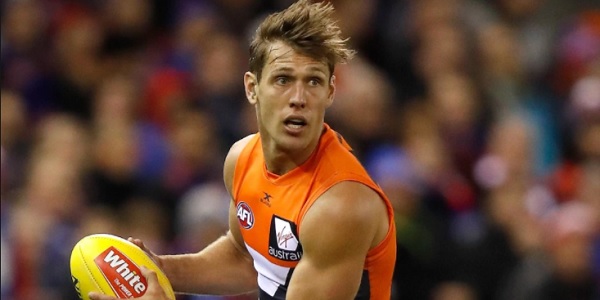 After the dribble we got served up last Friday night in the AFL, this week we have two contenders going at it in what should be a cracking Friday night clash between Geelong and GWS. The Cats have suffered through injuries and copped a whack from the Swans last week, and now, it doesn't get any easier here as they come up against the young Giants.
PlayON have upped the ante for us this Friday night with a $1,500 Guaranteed contest as well as a range of smaller buy-in contests if you want to try it out. They also have several qualifiers for the season-ending $100,000 Super Contest! PlayON are also running a great promo on Friday night that gets you entry into a free $5 AFL tournament if you play in a one on one contest. Simply play in a $5 One-on-One game on Friday and they'll send you a free $5 entry for another AFL contest!
So let's get stuck into this week's Chalk, Chance or Chump as we look to help you out with your DFS AFL lineups for this Friday night!
Chalk – Matt de Boer (GWS)
There's a lot of great DFS players in this game, and you wouldn't go wrong picking any of the great midfield talents. Up forward, things might be a bit trickier with several of the top-priced guys missing this week through injury, while a few in the bargain basement aren't really performing at a high level. We're going to split the difference and go with the in-form Matt de Boer. He racked up a career-best 35 touches last week for 112 fantasy points in a huge game. Sure, the opposition wasn't too strong, but in his four games before that this season, his lowest output was 70 points. So you're getting a nice high floor and a high ceiling, which is perfect for DFS. With more time in the midfield through injuries, expect de Boer to be in a lot of lineups at PlayON for just $11.0m.
Chance - Jordan Cunico (Geelong)
As we mentioned, there's a lot of gun midfielders in this game, so you're going to have to go cheap somewhere to fit them in, and Jordan Cunico is a great option at a price of just $7.2m on PlayON. The rookie has two scores above 90 in his three games this season which is a tremendous output for that price. There is a risk of a let-down game, but it's hard for him to go wrong at that price. Another option is Tim Kelly who has already proven to be a jet in the midfield, but his price is slightly more expensive.
Chump – Rhys Stanley (Geelong)
It's good to see the AFL players reading our CCC articles, and being inspired to play well after we've lumped them with the "Chump" title. Nothing like a good rocket, but seems more like this section has been the kiss of death for fantasy coaches at the moment. But this week it's pretty hard for us to get the Chump wrong when we look at the ruck division for this match. Will Dawson Simpson or Zac Smith play? If not, then you're stuck with a very chumpy Rhys Stanley. He's a player with the right physical attributes to play well at AFL level, but he just hasn't been able to escape mediocrity in his career, and I'm really not sure how he's even getting a game to be honest. His output has been ok for his price tag of $10.8m at PlayON, but you might just prefer to tank this position completely.