daily fantasy sports articles
2018 AFL Chalk, Chance or Chump: Round 9 Adelaide Crows vs Western Bulldogs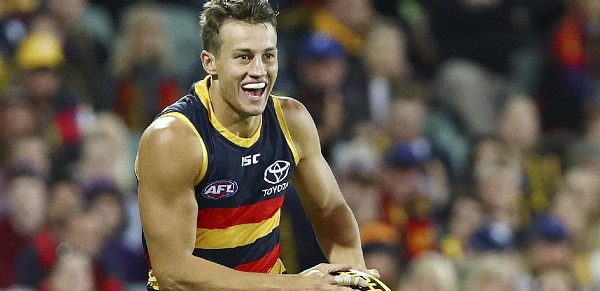 After a few ordinary weeks we were finally gifted a terrific Friday Night duel in Round 8. This week however, looks one sided on paper with the Crows taking on the Bulldogs in Adelaide… but if there's one thing we've learnt in the 2018 AFL season, it's that you should ALWAYS expect the unexpected.
Once again, PlayON have some huge cash prizes up for grabs in their AFL tournaments this weekend, headlined by a massive $1500 on offer on Friday Night! They also have several qualifiers for the season-ending $100,000 Super Contest as well as a range of smaller buy-in contests if you want to dip your toes in.
So let's get stuck into this week's Chalk, Chance or Chump as we look to help you out with your DFS AFL lineups for this Friday night!
Chalk –Tom Doedee (WB)
The player you just have to 'chalk' in this week is Adelaide's Tom Doedee. In just his first season in the system Doedee has been a rock for the Crows with his intercept play and his consistency from week to week. His great form has translated well into fantasy, where he's averaged 69 points a game. The beauty about Doedee is that he's still priced at just $7.8m, which allows you to bring in more A-grade players with your spare cash. Lock him in.
Chance – Taylor Walker (ADE)
A player who we're giving the 'chance' to this week is Crows captain, Tex Walker. There's no denying the fact that Tex has been below his usual standards so far in 2018. However, if there's any chance of him kicking a bag and getting his season going – it's this Friday Night against the Dogs. The Dogs have a vulnerable defence without satisfactory key posts, which is something Tex and the Crows will look to expose. He's priced at a cheap $10.8m and has a chance to score at a level WAY higher than that.
Chump – Hugh Greenwood (ADE)
A player we recommend to avoid this week and have given the 'chump' tag to is Hugh Greenwood from the Crows. Don't get me wrong, Hugh has performed really well for the Crows this year in the absence of some of their key mids. However, the cavalry is starting to make their way back from injury in Hugh's midfield minutes drying up is inevitable. At $12.9m make sure you look elsewhere