daily fantasy sports articles
2018 NRL Saturday Slate: DraftStars $10k up for grabs!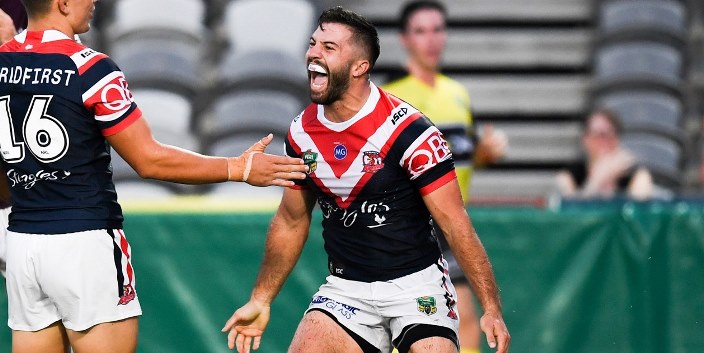 The final Super Saturday of the NRL will see 3 games, including the final match in the career of Cowboys legend Johnathan Thurston. The lowly Eels will face the Roosters, the injury and form-hit Knights and Dragons will do battle and the Titans will host the Cowboys.
DraftStars will have just over $10,000 in prizes on the line across all three games, with the Eels v Roosters game providing a total prize pool of $5,000! The other two matches will both have $2,000 prize pools each! These contests have a buy-in of $15, while there are also smaller contests which cost just $2 to enter. So be sure to get over there quick so that you don't miss a seat in any of these!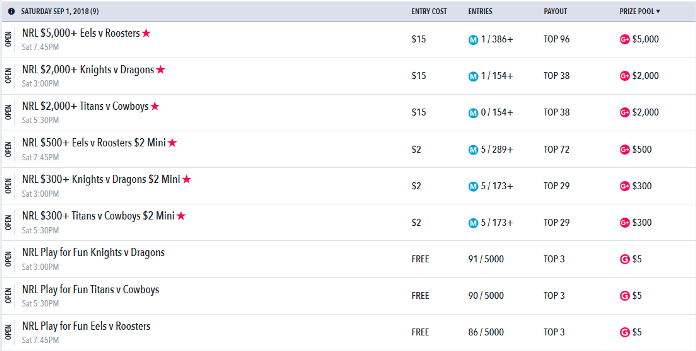 Winger/Fullback
Roosters fullback James Tedesco has produced scores of 40+ in all of his last 12 games. His season average is 48.6. His form of late has been brilliant and consistent, which is exactly what you want from your marquee players. He has averaged 54.1 in his last 6 games and 53.8 in the last 3. Last week he had his best score of the year with a 68.8. He's pricey at $14,860 but is worth it.
Eels back Jarryd Hayne has been in mostly great form of late. He suffered a facial injury two weeks ago which impacted his performance and score, after having scored 64.3 and 67.8 in the 2 games prior. Last week he bounced back with a tidy 43. He's worth $11,180 and is expected to safely deliver his season average of 38.7, which is worth strong consideration.
Corey Norman is in a real slump at the moment, with 5 of his last 6 scores under his season average of 39.3. His averages for the last 6 games and 3 games are 30.5 and 27.2 respectively. At $10,110 and in that form, he'd be a very high risk selection.
Centre
Joseph Manu has had a steady season, averaging 30.7. However his average over his last 3, 6 and 9 games shows that he is vastly better than that figure, averaging 43.8, 45.1 and 43.5 respectively. Last week he produced his highest score of the year with a 61.8. At $10,350, he is still relatively cheap, and is quite likely to produce a vastly better score than his average.
Daniel Tupou isn't exactly expensive at $8,750, however given his average of 30.2 has been surpassed twice in his last 5 games (scores of 44.3 and 33.5 were better) and he has scored 18.5 and 27.4 in his last two games, he isn't very appealing.
Half
A tricky one this as most of the halves have been coasting somewhat form-wise. It paves the way for Ryan Matterson who will play as a bench forward here, to be considered as he is listed as both a half and a Second Row Forward. He has an average of 46.8 and is worth $11,820, with his last two games seeing him score 43.4 and 37.7, which is better than any of the other halves.
Mitch Moses has a very attractive last 3 average of 49.4, well above his season average of 39.6, however that is largely due to a 91.4 score three weeks ago. His last two games has produced scores of 27.4 and 29.4. At $12,090 with that form, he's too expensive.
Second Row Forward
It's hard to look past Boyd Corner here. He's the most expensive though, at $14,240, but with an average of 46.1 and 15 of his last 16 scores above 39, his scoring is solid as a rock. Last week he had his highest score of the season, with a 65.3.
Brad Takairangi will move from the bench and into the starting side here, which means he will be playing plenty of minutes. He's averaged just 32.1 this year, however of his 19 games played, 8 have been at centre (averaging 29.5), 5 have been off the bench (at 28.26) and the remaining 6 have been in the second row, where he has averaged a respectable 38.85. His last 3 games in the back row has seen him average an even better 43.7. At $8,620, he's a very solid pick.
Marata Niukore is another of the cheaper back row options, at $9,290 who has a solid average at 32.5, whose scores don't tend to fluctuate too much. You know you'll get a low to mid 30's score from him. At that price, he's a worthwhile pick so that you can stockpile some of your salary cap on a marquee player.
Mitchell Aubusson is not expensive, at $7,550, but he's also not scoring too well. 2 of his last 3 games has seen him fail to exceed 18 points. Worth missing.
Hooker
Jake Friend has been in sizzling form of late! His season average of 49.2 has been dwarfed by 5 of his last 6 games that has produced scores of 82.3, 60.2, 62.7, 62.5 and 72.9. The other score was a still strong 49. He does cost some coin though, $15,950 of it to be precise.
A slightly cheaper alternative is to go with the $11,750 Victor Radley, who also plays in the back row. He's averaged 49.4 in his last 3 games and 44.2 in his last six, both up on his season average of 36.4.
Front Row Forward
Zane Tetevano is good value here. He costs $8,880 and has scored back-to-back scores of just over 40, which is 10 points more than his season average. For that price, you run the chance of getting a very strong score indeed, especially in this game.
Siosiua Taukeiaho costs $12,000, but is worth it given he has scored 50+ scores in 3 of his last 4 matches, well above his season average of 40.3.
The Parramatta stalwart David Gower has been in strong recent form, scoring a 44.9 last week and a 38 the week before. He's expected to get slightly more than his usual game time, so he could well be worth looking at considering his price of $10,000.
Siosaia Vave has been poor in his last two matches after scoring a brilliant 59.7 3 weeks ago. He's followed it up with a 36.4 and then last week, a 27.4. At $9,770 he's got cheaper options around him who are scoring better.