daily fantasy sports articles
2018 Super Rugby Chalk, Chance or Chump: Round 9 Hurricanes vs Chiefs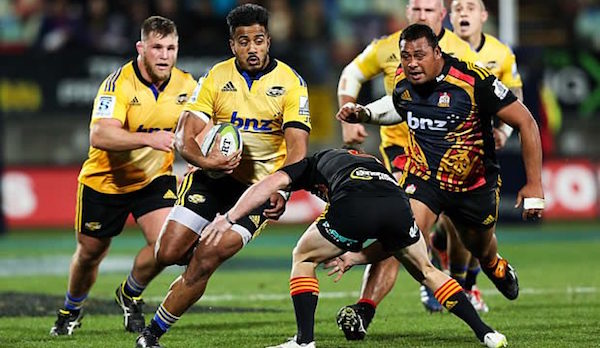 The Round 9 Super Rugby action kicks off with a bang as the Hurricanes and Chiefs meet at Westpac Stadium on Friday night. The last meeting between the sides was a 17-14 victory for the Chiefs at home. Both sides are 5-1 on the season so this should be a cracking contest once again.
So to give you some extra enjoyment for this match, why not enter a couple of teams in the Super Rugby fantasy $10k Qualifier at PlayON? We've given you a head start with our Chalk, Chance and Chump article picking out the best and the worst for your team lineups this Friday.
Chalk – Brodie Retallick (Chiefs)
At $12.1 million, Brodie Retallick is one of the first picked in my side. The second rower is averaging 585 points so far this season. He showed his potential last month with 2 tries as the Chiefs won 41-28 against the Bulls. Which earned him 995 points. He's also played 80 minutes in 3 of 4 matches, the 1 he missed was still 62 minutes. So he's on the field enough to score more tries in this clash against the Hurricanes. He's coming off 600 points last week and he should beat the score in this clash. He is the most expensive 2nd Rower, but I believe he is well worth the price tag.
Chance – Jamie Booth (Hurricanes)
Booth has only played in 2 matches for the Hurricanes so far this season but his price of $5.4 million makes him one of the best cheap picks this week. He's the starting the scrum half for the Hurricanes and should get 40+ minutes. As he showed last week, he scored 315 points in just 40 minutes of action. He can rack up tackles (4 last week) and carries the ball forward on occasion (27 metres last week). So I would slot Booth in at the Scrum half position.
Chump – Damian McKenzie (Chiefs)
The Chump of the week is probably more of a warning for Super Rugby fantasy players. He has the potential to score over 1000 points, which he did against the Sunwolves in a 61-10 scoreline. However, McKenzie is under a massive injury cloud for this clash and will likely miss the match. He is suffering from a hip injury, which does make running difficult! So even if he does play, he surely won't be 100% fit. His price tag is huge at $24.4 million and I would look at Solomona Alaimalo or Ben Lam in the Back Three instead. His likely replacement, Marty McKenzie, is also worth a look at just $6 million.