daily fantasy sports articles
2019-20 NFL Daily Fantasy Tips: Week 11
The 2019 NFL season is in full swing and the daily fantasy sites in Australia continue to embrace America's number one sport. Week 11 gets underway on Friday morning with the Steelers taking on the Browns and as usual Draftstars, Moneyball and DraftKings have some great feature tournaments on over the weekend and we run you through all of them in our fantasy preview below.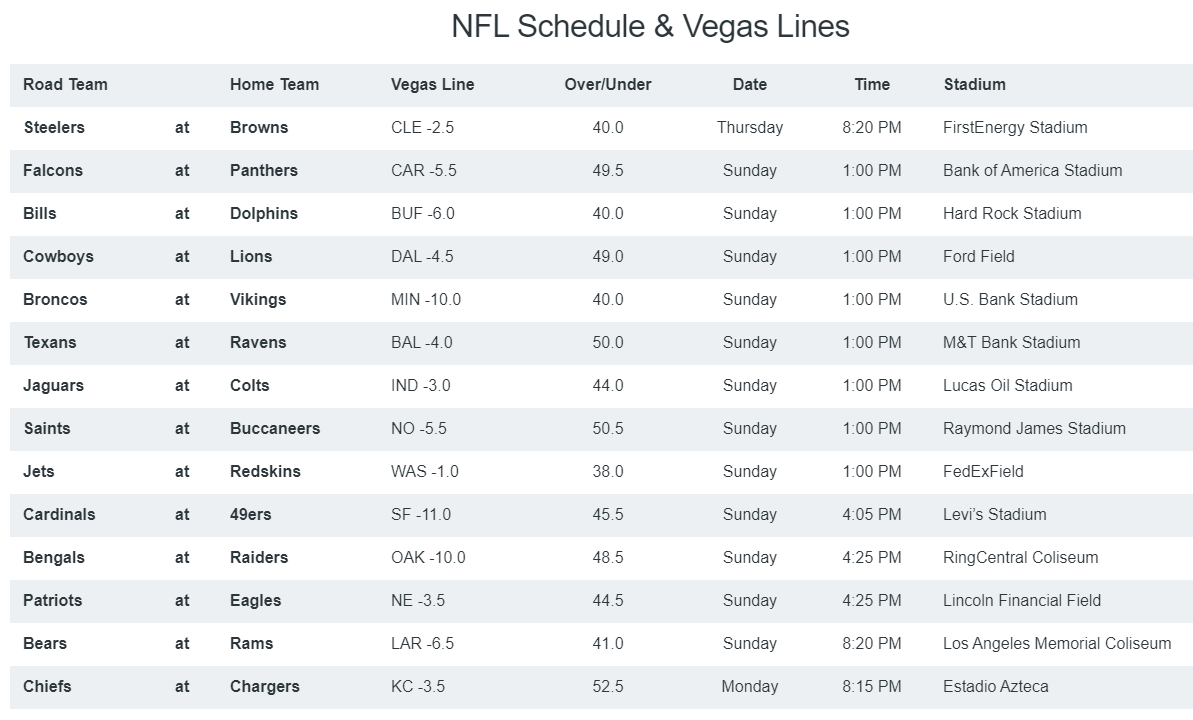 Friday
Pittsburgh Steelers (5-4) at Cleveland Browns (3-6) (11.20am AEST) Browns -2.5/Total 40.0
DraftKings: $1,111,111 $10USD entry fee
Draftstars: $3,000 $15AUD entry fee
Moneyball: $5,000 $15AUD entry fee
The Steelers will look to push their playoffs chances when they travel to Cleveland to face the under siege Browns. Both teams come of wins and Vegas has set a close low scoring total. James Connor is on track to play for the Steelers and over at the Browns, Ricky Seals-Jones is unlikely to recover from his knee injury for Thursday Night.
Champ - James Connor (Pittsburgh Steelers)
Confident he will play on Thursday, James Connor's ability to obtain receiving targets along with his rushing game makes him a safe cash play but has the TD upside within the Redzone. Most expensive player on DraftKings but well worth the salary.
Cheapie - Kareem Hunt (Cleveland Browns)
2nd game up for Hunt who was suspended for the opening 8 weeks of the season. The Browns used Hunt on over 50% of snaps in Week 10 and was used in 3 wide sets. So we should receive targets outside of Jarvis Landry and Odell Beckham Jnr and at his salary represents good value.
Chump - Jaylen Samuel (Pittsburgh Steelers)
With Connor expected to play, Samuel will be relegated to RB2 status and only will appear on long yard downs in a passing role. His salary is just too high on DraftKings to make him relevant in this contest.

Monday Main Team of the Week
DraftKings: $3,000,000 $20USD entry fee
Draftstars: $15,000 $15AUD entry fee
Moneyball: $5,000 $15AUD entry fee
Quarterback
Lamar Jackson (Baltimore Ravens)
Jackson is just ballin' through this season and has become match-proof no matter what the situation or matchup entails. Perfect passing rating last week against the Bengals in Week 10 and comes up against a Houston defence that is having a hard time stopping the passing game.
Running Backs
Brian Hill (Atlanta Falcons)
With Devonta Freeman unlikely to play in Week 11, Hill becomes the number 1 Running Back for the Falcons in a matchup against the Panthers. Had 20 touches in the 2nd half for the Falcons when Freeman went off injured. Hill will get a chance against a leaky Panthers run defence.
Alvin Kamara (New Orleans Saints)
Nothing has really gone right for Kamara this year and now we get him at a discounted salary on DraftKings. Only 1 rushing TD for the season but he is still getting plenty of targets in the rushing game. Add in a 51.5 point total, we can only hope that Kamara can turn things around in the back half of the season.
Wide Receivers
Mohamed Sanu (New England Patriots)
Recently acquired by the New England Patriots, Sanu had a big debut back in Week 9 catching 10 receptions from 14 targets against Baltimore. Having the bye week to get the Pats playbook down pat should benefit Sanu even more at his price tag.
Tyrell Williams (Oakland Raiders)
Playing against a poor Bengals defence means I want exposure to Raiders pass catchers and Williams is my main target. He hasn't set the world on fire in the past two matches after returning from injury but this Bengals team is giving up a lot of points and I want to cash in if the Raiders go for the throat.
Julio Jones (Atlanta Falcons)
Week 10 didn't go to script with the Falcons having a surprise big lead over the Saints which meant the run game was the focus. Jones only had 3 receptions from 9 targets last week but with the Falcons 6 point dogs with a 50 point total we can expect more production from Jones.
Tight Ends
Darren Waller (Oakland Raiders)
Elite game script against a weak Bengals defence should get Waller back into form after a couple of quiet games in the past three games. Only 3 catches for 40 yards last week but taking on a Bengals defence that has been rubbish is perfect for the Tight End.
Zach Ertz (Philadelphia Eagles)
With the Eagles likely to behind the 8-ball against the Patriots, Zach Ertz should garner plenty of targets from Carson Wentz. Led the team in Week 10 with 11 targets and 9 receptions for 103 yards and a TD in week 10. Don't mind going the double TE play this week.
Defence S/T
Arizona Cardinals
Punting the DST this week with the Cardinals facing a 13 point spread in San Francisco. Hopefully we may get a fumble recovery/interception TD to pay off the very small salary posted by DraftKings.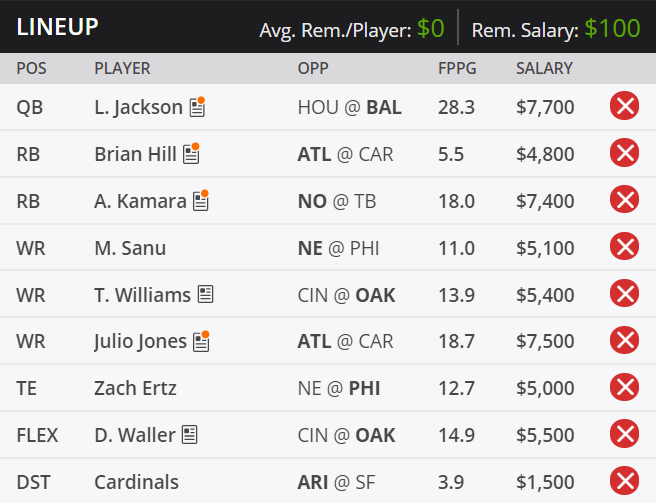 Monday Late Game
Chicago Bears at Los Angeles Rams (11.20am AEDT) Rams -6.5/Total 41.0
DraftKings: $800,000 $10USD entry fee
Draftstars: $2,000 $15AUD entry fee
Moneyball: $750 $15AUD entry fee
Chicago who have been disappointing on offense travel to LA to take on the Rams. Chicago did however defeated the Lions in Week 10 whereas LA were surprising last start losers to the Steeelers. LA do not have Brandin Cooks who is out with Concussion. For the Bears Running Back David Montgomery did suffer an ankle injury in practice this week and is questionable for the match.
Champ - Los Angeles Rams D/ST
Never thought I needed to write about a defence/Special Teams fantasy play, but here we are. Chicago only have a 16 point total from Vegas and with the acquisition of CB Jalen Ramsay and superstar Defensive End in Aaron Donald. Chicago has been terrible on the offensive end and with Chicago Running Back David Montogomery under an injury cloud, picking D/ST is a solid play.
Chance - Cooper Kupp
Can make a case to be the Champ this week, but we prefer the Rams to be trailing on the scoreboard for Kupp to come alive. Can't really see the Bears jumping to a 10+ lead early so we may see Kupp's production be limited. If you can afford his hefty price tag, then rostering is a great option but set you expectations at a medium level.
Cheapie - Tarik Cohen
If Montgomery is limited or out, Cohen should see an upswing in production. Cohen has been active on the check-down passing game but simply just hasn't achieve much yardage from his targets. Salaries across the sites means he is cheap enough to roster.
Chump - Mitchell Trubisky
Underperforming Quarterback against an explosive pass rush and elite secondary. Pass.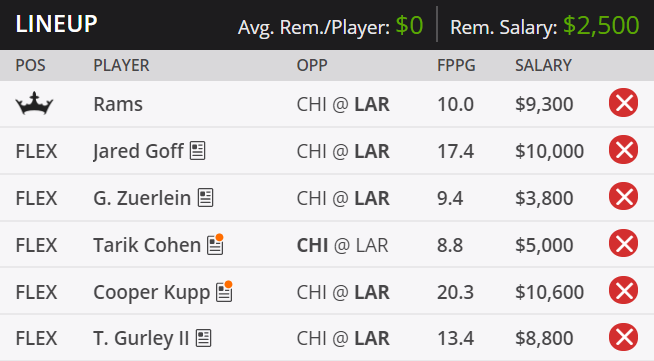 Tuesday
Kansas City Chiefs at Los Angeles Chargers (Mexico) (11.15am AEDT) Chiefs -3.5/Total 52.5
DraftKings: $1,555,555 $11USD entry fee
Draftstars: $3,000 $15AUD entry fee
Moneyball: $750 $15AUD entry fee
Having Kansas City (6-4) feature in a Prime Time match with Patrick Mahomes at QB is always going to be compelling viewing. But to have the match in Mexico against a Los Angeles Chargers (4-6) team that are struggling, should bring more eyeballs to see if Philip Rivers is still the main man for the Chargers. The only news you would need to monitor is the playing status of RB LeSean McCoy for the Chiefs who was a healthy scratch last week.
Champ - Patrick Mahomes
No issue paying the massive salary for Mahomes who got back to his 2018 MVP form with 3 Passing TD's and 446 passing yards against the Titans. The Chargers do have a decent secondary but we all know that Mahomes has big targets in Tyreek Hill and Travis Kelce at his disposal.
Chance - Melvin Gordon
Trending upwards after his now infamous "holdout" earlier this season. Gordon has a big shot to go big here with the Chiefs being really bad at stopping the run. Add to the mix that the Offensive Line cannot protect QB Philip Rivers. So we have the right conditions for Gordon to go big. We just need the Chargers to stick around on the scoreboard.
Cheapie - Demarcus Robinson
Not much cheap plays this week and with the field probably having fellow WR in Mecole Hardman has their 'cheapie'. Let's go with Robinson to see if he can outperform Hardman. Robinson does play more snaps and was targeted a lot more than Hardman and clearly is a target in Mahomes receiving corp. Worth on ownership alone.
Chump - Philip Rivers
14 Passing TD's and 10(!) Interceptions for this season has Rivers contemplating next season already. Tough to trust if he needs to go full attack mode chasing a deficit but I am sure the field will back him in. I am cautious that it might turn around after throwing 3 Interceptions last week. But would rather have Mahomes or KC's attacking weapons than Rivers here.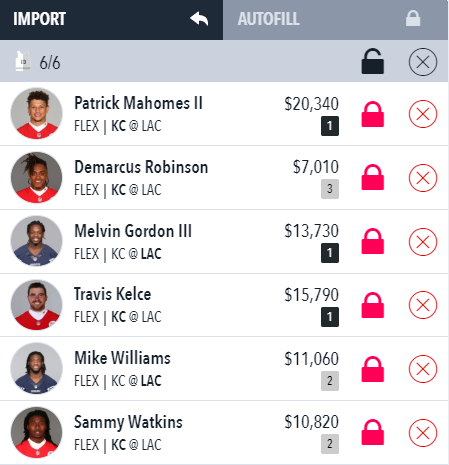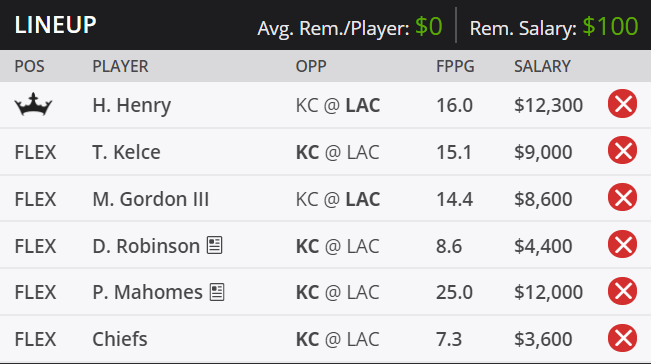 Always remember to gamble responsibly. When the fun stops, stop. If gambling is having a negative impact on your life, seek support at Gambling Help Online. 18+ only.