daily fantasy sports articles
2019-20 NFL Daily Fantasy Tips: Week 7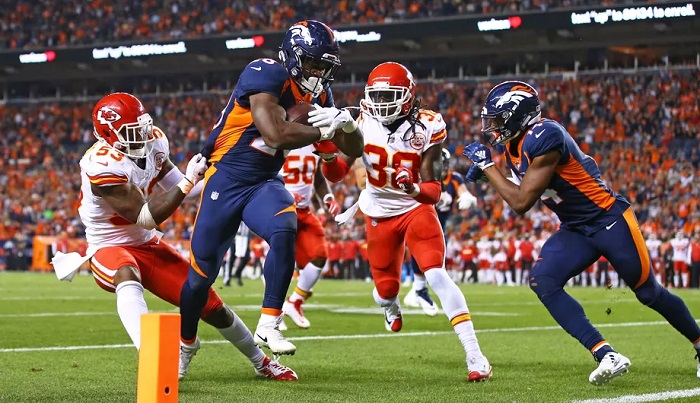 NFL Week 7 is quickly approaching and the daily fantasy sites around Australia and abroad are offering some fantastic prize-pools for the weekend's action! As usual, a millionaire will be made at DraftKings this weekend in the feature tournament and there's plenty more great contests on offer.
We have a full daily fantasy preview for the Week 7 action in the NFL below.
NFL Week 7 Fantasy Preview
Friday
Kansas City Chiefs at Denver Broncos (11.20am AEDT) Chiefs -3.5/Total 49.0
DraftKings: $1,500,000 $10USD entry fee
Draftstars: $8,000 $15AUD entry fee
Moneyball: $1,500 $15AUD entry fee
Chalk: Phillip Lindsay (Denver)
Lindsay has been fantastic over the last two weeks for the Broncos. He has averages 15 rushing attempts over those two games and also been involved in the passing game, catching six passes for almost 40 yards. In those two weeks, he has racked up 33.2 fantasy points and should relish the matchup against Kansas, who have been absolutely obliterated by the run over the past two games. They allowed 180 rushing yards against the Colts in Week 5 and another 192 against the Texans in Week 6.
Chance: LeSean McCoy (Kansas City)
McCoy is still the lower priced running back for the Chiefs but seems to have overtaken Damien Williams in the depth chart over the past few weeks. The veteran racked up eight carries and two receptions compared to just one carry for Williams in the Week 6 loss to the Texans. Denver have one of the best pass defences in the league so we expect the Chiefs run game to be more prominent this week.
Chump: Joe Flacco (Denver)
The Broncos offence has struggled to put points on the scoreboard this season (yet to score over 24 points this season). The path for the Broncos offence has been the run through Lindsay with Flacco failing to throw multiple TD's this season. With the Chiefs run defence rated 31st in the league, the Broncos are going to run the ball and Flacco will be left behind.

Monday Main Slate
Arizona Cardinals at New York Giants (4am AEDT) Giants -3/Total 49.5
Houston Texans at Indianapolis Colts (4am AEDT) Colts -1/Total 48.0
Minnesota Vikings at Detroit Lions (4am AEDT) Lions -1/Total 44.0
Jacksonville Jaguars at Cincinnati Bengals (4am AEDT) Jaguars -3/Total 43.5
Oakland Raiders at Green Bay Packers (4am AEDT) Packers -7/Total 46.5
San Francisco 49ers at Washington Redskins (4am AEDT) 49ers -9.5/Total 42.5
Miami Dolphins at Buffalo Bills (4am AEDT) Bills -16.5/Total 39.5
Los Angeles Rams at Atlanta Falcons (4am AEDT) Rams -3/Total 53.5
Los Angeles Chargers at Tennessee Titans (7.05am AEDT) Titans -1/Total 38.5
Baltimore Ravens at Seattle Seahawks (7.25am AEDT) Seahawks -3.5/Total 50.5
New Orleans Saints at Chicago Bears (7.25am AEDT) Bears -3.5/Total 39.5
DraftKings: $3,500,000 $10USD entry fee
Draftstars: $25,000 $15AUD entry fee
Moneyball: $7,000 $15AUD entry fee
Team of the Week
Quarterback
Jared Goff (Los Angeles Rams)
Goff was extremely disappointing in Week 6, scoring just 2.12 fantasy points as he completed 13 passes for just 78 yards. We are expecting him to have a massive bounce back game in Week 7 as he faces the Atlanta Falcons in under the Mercedes Benz Stadium roof. The Falcons have allowed 271.2 passing yards per game so far this season, the sixth most in the league and allowed 34 points to the Cardinals last week. Rookie QB Kyler Murray racked up 340 passing yards and 3 touchdown passes in the win. This should be an absolute shootout.
Running Backs
Leonard Fournette (Jacksonville)
After a pretty slow start to the season, the Jaguars first string running back has found his groove over the last few weeks. Fournette is averaging 24.66 points per game over his last three and has a good matchup this weekend against the Bengals, who allow more rushing yards per game than any team in the NFL. The Jags should play from in front here and should continue to feed Fournette.
Tevin Coleman (San Francisco)
While second string running back Matt Breida did a fantastic job in Coleman's absence, the No.1 RB at the 49ers retuned from injury in Week 5 and has instantly reclaimed the majority of the carries. He has averaged 17 carries per game over the last two and just over 14 fantasy points. The 49ers have a fantastic matchup against the Redskins this week, who allow the sixth most rushing yards per game and the fifth most points.
Wide Receivers
Cooper Kupp (Los Angeles Rams)
We are looking to pair Jared Goff with Cooper Kupp this week as we think the Falcons-Rams game has the potential to be a really high scoring affair. Kupp has been Goff's No.1 target in the passing game this season, averaging over 10 targets per game and 22.3 fantasy points. Was quiet in Week 6 with just 5.7 fantasy points but scored 36.1, 29.9 and 29.7 in the three games prior.
Calvin Ridley (Atlanta)
We were under the impression that Mohamed Sanu would be the clear candidate for the second receiver at Atlanta after some heavy targets in the first part of the season. However, Calvin Ridley looks to have taken his place over the last two weeks, racking up 15 targets and over 17 fatnasy points per game. As we mentioned, we expect the Rams-Falcons game to be a high scoring one.
Duke Williams (Buffalo)
Williams returned to from injury in Week 5, catching all four of his targets for 29 yards and a touchdown in the win over Tennessee. Had the bye in Week 6 so should be ready to go against what has been the worst team in the competition in Miami this week. Miami allow more points per game than any team in the competition at 36.0 and Williams is heavily undervalued in his return from injury.
Will Fuller V (Houston)
Fuller has a bit of a tough matchup against the Colts this weekend but the Texans offence is showing no signs of slowing down. They put up 31 points on the Chiefs this week and Deshaun Watson has averaged the 11th most passing attempts so far this season. The Colts should place a heavy double coverage on DeAndre Hopkins, which leaves Fuller as a real deep threat.
Tight End
Hunter Henry (Los Angeles Chargers)
Tough to look past Henry this week after the Chargers starter returned from injury in Week 6 with a masterful performance. Henry racked up 100 receiving yards and two touchdowns in the loss to the Steelers and should continue to be a massive part of the Chargers offence, especially this week against a Titans team that in the bottom 12 in the league in points allowed to tight ends.
Defence/ST
San Francisco 49ers
The 49ers have racked up 12 takeaways so far this season, the fourth most in the NFL including seven interceptions and five fumble recoveries. They are the highest scoring defence on the slate this week, averaging 14 points per game after two double digit performances in a row. They also have one of the more enviable matchups as they come up against Washington.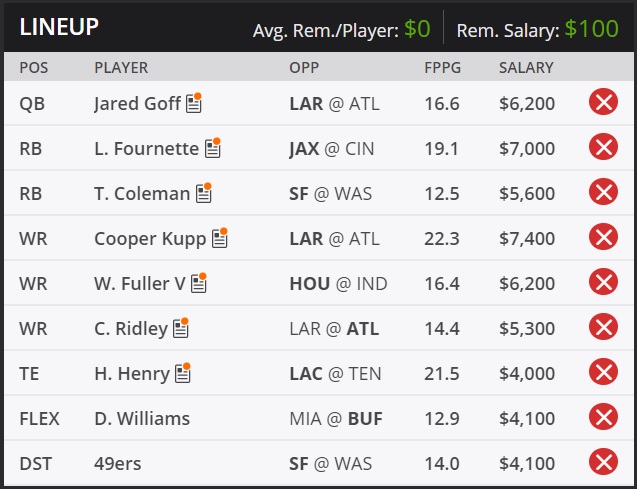 Monday Late Game
Philadelphia Eagles at Dallas Cowboys (11.20am AEDT) Cowboys -3/Total 49.5
DraftKings: $1,000,000 $10USD entry fee
Draftstars: $3,000 $15AUD entry fee
Moneyball: $1,500 $15AUD entry fee
The Cowboys host the Eagles in a Sunday night matchup that promises to produce a fair few points (currently 49.5). The Cowboys get key pieces of personnel back with WR Amari Cooper and WR Randal Cobb looking to return. Whilst it may not be the biggest news, but the Cowboys get Left Tackle Tyron Smith back, which should help Dak Prescott immensely. For the Eagles, DeSean Jackson is still out and that has killed the Eagles ability to throw the ball deep. The Eagles however are 3 point dogs and looking to take down the Cowboys on the road.
Champ - Dak Prescott (Dallas Cowboys)
As mentioned with LT Smith back, Prescott will have a better offensive line to execute better pass yards for his receivers. The Eagles defensive line does pretty well stopping the run so I am hoping Prescott shows off on Sunday night. With all his receivers now available as well, it is lining up to be a productive night for Dak.
Cheapie - Dallas Goedert (Philadelphia Eagles)
Apart from an interesting 1st name, Goedert is the TE2 of the Eagles side that is actually receiving multiple receiving targets this season (14 targets in the last 3 games). Dirt cheap across the sites but does have an element of risk with a floor at zero. But Goedert will allow to construct more studded lineups.
Chance - Ezekiel Elliott (Dallas Cowboys)
It would have been easy to put Elliott in the Champ category but the defensive line for the Eagles has made Zeke a chance only. I have doubts that Elliott can pay off his large salary on the sites. Last week was his biggest fantasy output for the season (26.2 FP) and will be interesting if he can above and beyond that mark.
Chump - Miles Sanders (Philadelphia Eagles)
Sanders has flashed upside in his previous two games, scoring a receiving TD and scoring 10+ Fantasy points. But RB1 Jordan Howard takes all of the Redzone action and does the bulk of the rushing for the Eagles. I am hoping the ownership jumps on so we can get a fade for Sanders.
Draftstars Suggested Lineup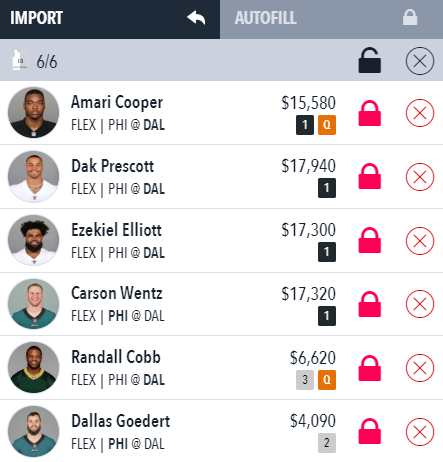 DraftKings Suggested Lineup
Tuesday
New England Patriots at New York Jets (11.15am AEDT) Patriots -10/Total 42.5
DraftKings: $1,600,000 $10 entry fee
Draftstars: $8,000 $15AUD entry fee
Moneyball: $1,500 $15AUD entry fee
The undefeated Patriots head to Metlife Stadium and take on the Jets who stunned Dallas in Week 6. Vegas however has simply ignored last weeks performance and posted a 10 point line with the Jets as underdogs at home. For the Patriots WR Josh Gordon is out with a knee injury. For the Jets, regular starters are forecasted to start. On paper it should be an easy Pats win but these primetime games can go hectic.
Champ - Julian Edelman (New England)
There is a fair few Patriots players putting their hand for the 'Champ' this week but I have selected Edelman to be our fantasy stud. Back in Week 3, Edelman smashed the Jets with a 7-62-1 and is in line for more production from Brady without Josh Gordon in the game. Do not worry about the Questionable tag, Edelman is always on the injury list (this week it is ribs and chest) and is ready to go against the Jets.
Chance - James White (New England)
White's production will increase without RB Rex Burkhead playing due to injury. Although White didn't play against the Jets back in Week 3, White has had a steady stream of targets out of the back field. The only thing missing this year is that White has only scored 1 Touchdown for the season. Will be popular but will need a TD score to fulfil fantasy potential.
Cheapie - Gunner Olszewski (New England)
Whilst it is a little more safe to roster Jets receivers, I have gone right towards the bottom of the Patriots receiver depth chart and found Olszewski. The undrafted rookie became the WR3 after half time in Week 6 and caught two receptions for 34 yards. Although Gunner is questionable with a hamstring on the injury report so we need to monitor if Gunner is gunna go..
Chump - Robby Anderson (New York)
Robby is up against top CB Stephon Gilmore this week and on the whole, the Pats have given the third fewest receiving yards in the league. Anderson did have a big Week 6 last week including a massive play against the Cowboys secondary. Just cannot see a repeat this week.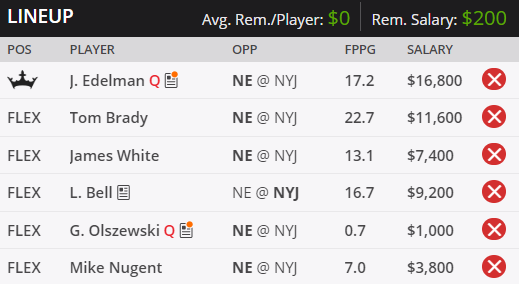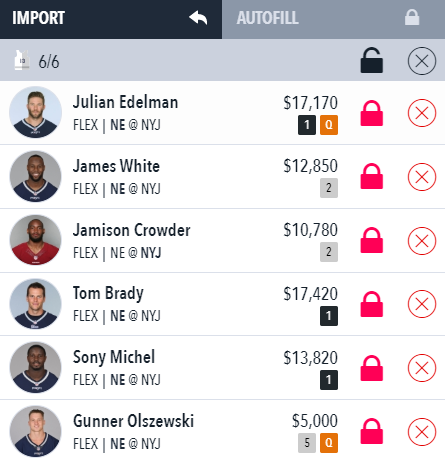 Always remember to gamble responsibly. When the fun stops, stop. If gambling is having a negative impact on your life, seek support at Gambling Help Online. 18+ only.