daily fantasy sports articles
2019-20 NFL Daily Fantasy Tips: Week 8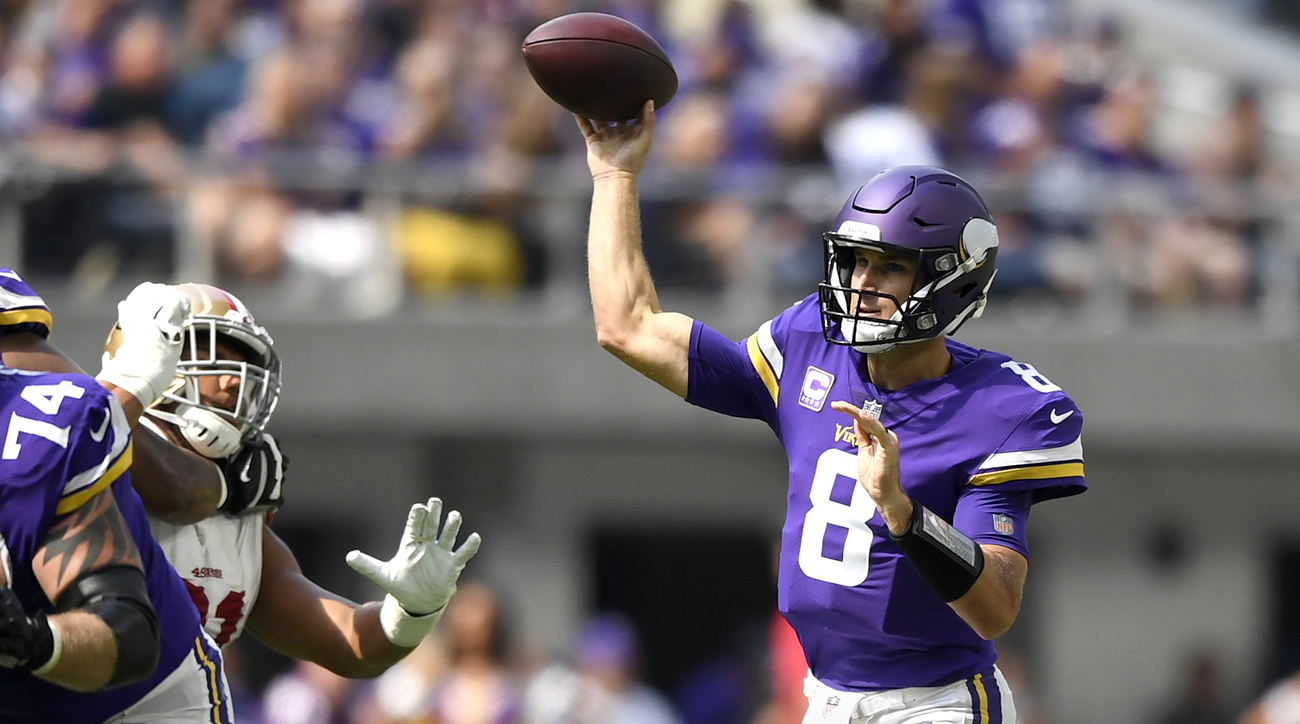 NFL Week 8 is just around the corner and all the biggest daily fantasy sites around Australia and abroad are offering some more fantastic prize pools for the weekend's action! As usual, a millionaire will be made at DraftKings this weekend in the feature tournament and there's plenty more great contests on offer.
We have a full daily fantasy preview for the Week 8 action in the NFL below.
NFL Week 8 Fantasy Preview
Friday
Washington Redskins at Minnesota Vikings (11.20am AEDT) Vikings -15/Total 41.5
DraftKings: $1,000,000 $10USD entry fee
Draftstars: $5,000 $15AUD entry fee
Moneyball: $1,500 $15AUD entry fee
Chalk: Kirk Cousins (Minnesota)
Tough choice between Cook and Cousins for the Chalk as they both should enjoy big games against the Redskins. However, the narrative of Cousins playing his former side is enough to sway us in the QB's direction. He's coming off back to back games of 4 touchdown passes against the Lions and Eagles. While wideout Adam Thielen will probably miss the clash with a hamstring, Cousins is enjoying his combination with Diggs again after two monster efforts (7-142 & 7-167-3). Look for Cousins to punish his former team this Friday.
Chance: Wendell Smallwood (Washington)
The Redskins running back depth is getting tested with both Peterson and Thompson questionable for Friday's game. Peterson would love to play against his former team but it'll be highly unlikely with an ankle complaint. Thompson didn't practice with a toe injury as well. So that opens up an opportunity for the 3rd string RB. Smallwood saw some decent action last week with 5 carries and an 18-yard catch. So he offers nice value for a potential starting RB.
Chump: Case Keenum (Washington)
The flipside of the Kirk Cousins narrative is the fact Keenum led the Vikings to the playoffs a few seasons ago. So he's going to be fired up in his return to Minnesota. However, he just can't be trusted in fantasy circles. While wet conditions saw him toss the ball just 12 times last week, his previous 2 road games weren't overly great. He went just 6 of 11 against the Giants in New York and completed just 52% against the Dolphins mediocre defence in Week 6.

Monday Main Slate
Tampa Bay Buccaneers at Tennessee Titans (4am AEDT) Titans -2.5/Total 46.5
New York Jets at Jacksonville Jaguars (4am AEDT) Jaguars -5.5/Total 40.5
Denver Broncos at Indianapolis Colts (4am AEDT) Colts -5.5/Total 44.5
New York Giants at Detroit Lions (4am AEDT) Lions -6.5/Total 49.5
Los Angeles Chargers at Chicago Bears (4am AEDT) Bears -4/Total 40.5
Cincinnati Bengals at Los Angeles Rams (4am AEDT) Rams -12.5/Total 48.5
Philadelphia Eagles at Buffalo Bills (4am AEDT) Bills -1.5/Total 42.5
Arizona Cardinals at New Orleans Saints (4am AEDT) Saints -9.5/Total 48.5
Seattle Seahawks at Atlanta Falcons (4am AEDT) Seahawks -8/Total 50.5
Carolina Panthers at San Francisco 49ers (7.05am AEDT) 49ers -5/Total 41.5
Cleveland Browns at New England Patriots (7.25am AEDT) Patriots -13.5/Total 47.5
Oakland Raiders at Houston Texans (7.25am AEDT) Texans -6/Total 51.5
DraftKings: $3,500,000 $20USD entry fee
Draftstars: $20,000 $15AUD entry fee
Moneyball: $7,000 $15AUD entry fee
Team of the Week
Quarterback
DeShaun Watson (Houston)
It's a tough QB slate with Goff back in form and Wilson taking on the deplorable Falcons as two examples. But after Aaron Rodgers' 6 touchdowns against the Raiders, it's difficult to pass on Watson in Week 8. He returns to Houston where he tossed 5 touchdowns on the Falcons and he should be keen to bounce back after two road games with 2 interceptions in each.
Running Backs
Leonard Fournette (Jacksonville)
Fournette recorded an equal season-high in carries last week (29) and he should have no trouble dominating the Jets run D. They allowed 3 rushing touchdowns to Sony Michel on Tuesday so this seems like the perfect time for Fournette to finally enjoy some redzone success. He's scored just 1 rushing touchdown in season 2019. But as he continues to carry the Jaguars up the field, he's a solid RB play in Week 8 once again.
Latavius Murray (New Orleans)
Murray was the value play of Week 7 due to Alvin Kamara's injury and a nice matchup against the Bears D. He finished with a massive total of 119 yards and 2 scores. He was also targeted 6 times in the passing game. So with Kamara struggling with an ankle/knee complaint, Murray figures to be a huge part of this offence once again. His matchup against the Cardinals run D is quite good as well.
Wide Receivers
Chris Godwin (Tampa Bay)
Godwin has been an absolute beast lately and he's still well priced for his production. In his last 3 games before the bye, he's recorded a total of 35 targets, 448 receiving yards and 4 touchdown passes. The Titans struggled to stop Phillip Rivers last week and Winston should get plenty of chances to continue his combination with Godwin this Monday.
Corey Davis (Tennessee)
With Ryan Tannehill under centre for the Titans, Corey Davis looks like a safe option for the Titans passing game. Last week against the Chargers, he caught a TD and had 7 targets with 80 yards. The Titans also face the poor Bucs 32nd ranked pass D.
Kenny Stills (Houston)
Will Fuller's dodgy hamstring immediately opens the door for Kenny Stills and this also creates a nice stack pair with Watson at QB. Stills is coming off his best game of the season with 4 receptions and 105 receiving yards. Looking at the mediocre Raiders pass D in Week 7, there's every chance Stills finds the endzone this week along with a huge potential for another 100+ yard game.
DK Metcalf (Seattle)
Metcalf will be looking to put last week's crucial fumble behind him as the Seahawks take on the woeful Falcons. This is a great matchup for the deep threat of the Seahawks passing game as Atlanta has continually given up big plays. Last week, Metcalf had a season-high 9 targets and should be able to find plenty of space in Week 8.
Tight End
Gerald Everett (Los Angeles Rams)
Everett has enjoyed 10 or more targets in 2 of his last 3 games and Goff should be looking his way in Week 8. The Bengals defence has been pretty awful in this 0-7 start and Goff did find Everett in the endzone last week.
Defence/ST
Los Angeles Rams
The Rams defence looks like a nice play in the Week 8 slate as they take on the winless Bengals. The addition of Jalen Ramsey paid immediate dividends as the Rams D crushed the Falcons with 5 sacks and another interception. They have 6 interceptions in 7 games this season and now face a nice matchup against Andy Dalton's winless Bengals. Dalton tossed 3 interceptions on Ramsey's former team last week so it won't be any easier against the Rams in the UK.


Monday Late Game
Green Bay Packers at Kansas City Chiefs (11.20am AEDT) Packers -4.5/Total 48.5
DraftKings: $1,000,000 $10USD entry fee
Draftstars: $3,000 $15AUD entry fee
Moneyball: $1,500 $15AUD entry fee
Champ - Aaron Rodgers (Green Bay Packers)
Hard to look past Rodgers on this slate after his 6 touchdown performance against the Raiders in Week 7. Interestingly, he did toss 5 touchdowns against the Chiefs in 2015 and if the Packers dominate in the running game, Rodgers should go big again.
Cheapie - Geronimo Allison (Green Bay Packers)
At Draftstars, Allison is extremely cheap for his production and potential in this Packers offence. It also helps that Davante Adams probably won't play and he's coming off back to back games of 7+ points on Draftstars.
Chance - LeSean McCoy (Kansas City Chiefs)
One of the Packers weaknesses is their run defence and that puts LeSean McCoy in a good place for this matchup. Last week, Josh Jacobs ran for 124 yards on the Packers and they rank 24th in the NFL for rushing yards allowed. With Mahomes on the sidelines, look for the Chiefs to give their lead back more carries and touches in the passing game.
Chump - Matt Moore (Kansas City Chiefs)
It's a tough ask for Moore filling in for Patrick Mahomes and the Chiefs will likely run the ball a bit more than usual considering the Packers are weak against the run.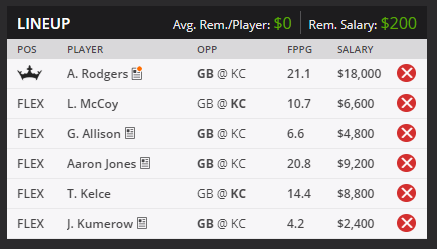 Tuesday
Miami Dolphins at Pittsburgh Steelers (11.15am AEDT) Steelers -13.5/Total 43.5
DraftKings: $1,200,000 $10 entry fee
Draftstars: $4,000 $15AUD entry fee
Moneyball: $1,500 $15AUD entry fee
Champ - James Conner (Pittsburgh Steelers)
Conner is the top play on Tuesday with a matchup against the woeful Dolphins run defence. They've conceded 160 rushing yards per game and that ranks them 31st in the NFL. The 'Fins also give up big fantasy numbers to RB's and Conner is coming off a season-high 30.9 points.
Cheapie - Jaylen Samuels (Pittsburgh Steelers)
Samuels has a ceiling of 23.54 points in 2019 and he should get more action against this poor Dolphins defence. Samuels is out with a Knee Injury. Kalen Ballage has been announced as the starter for the Dolphins at RB
Chance - Pittsburgh Steelers DST
With a floor of 11 points twice in the last 4 weeks, the Steelers DST has a great chance to beat their season-high of 19 points on Draftstars. They face an awful Dolphins offence and Fitzpatrick can be turnover prone in his career.
Chump - Ryan Fitzpatrick (Miami Dolphins)
The Steelers D has been a consistent performer and that'll make it tough for Fitzpatrick this Tuesday. Over their last 4 games, Pittsburgh has 8 interceptions and 15 sacks. Which also includes 8 sacks in their last home primetime game against the Bengals. UPDATE - Kenyan Drake from Miami has been traded to the Arizona, ensure he is out of your lineups.
Always remember to gamble responsibly. When the fun stops, stop. If gambling is having a negative impact on your life, seek support at Gambling Help Online. 18+ only.