daily fantasy sports articles
2019-2020 NFL Daily Fantasy Tips: Championship Weekend

What a fantastic weekend of NFL football in the divisional round! The Titans, Chiefs, 49ers and the Packers all came out victorious and will face each other this weekend for the right to play in Super Bowl LIV.
It was also a fantastic weekend for Australian DFS GOAT Jayk123 who won the DraftKings Millionaire Maker tournament! If you missed the news we caught up with Jayk about the win here.
The folks at DraftKings will be hosting a massive $3,000,000 tournament for the Conference Championship round and as usual, we are back with our best daily fantasy tips for the two game slate below!
Monday morning (0705 AEDT) - Tennessee Titans @ Kansas City Chiefs (Chiefs -7.5 / 52.5 Total)
Monday morning (1040 AEDT) - Green Bay Packers @ San Francisco 49ers (49ers -7.5 / 45 Total)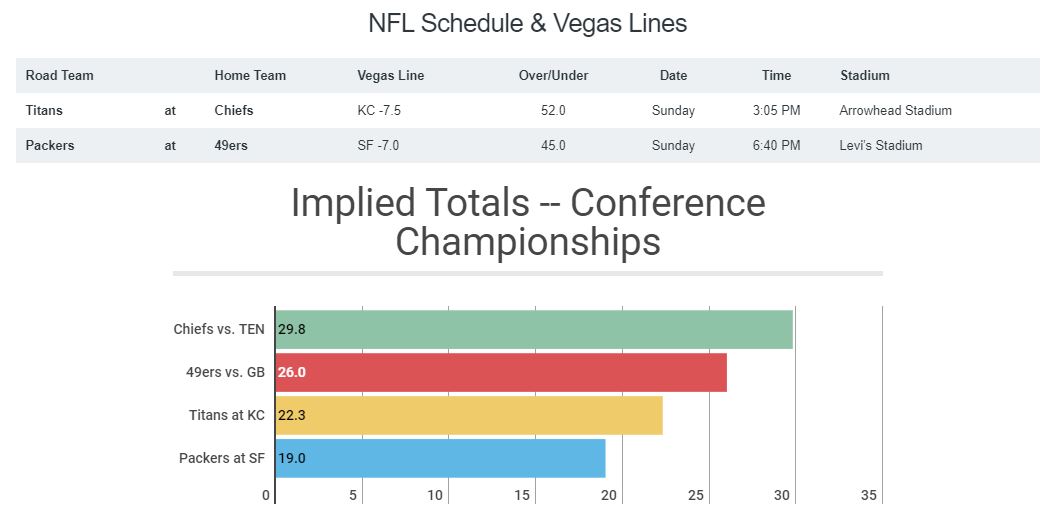 Credit rotogrinders.com
Injuries
Allen Lazard - Ankle - Questionable (UPDATE - Good to Go)
Geronimo Allison - Illness - (UPDATE - Good to Go)
Travis Kelce - Knee/Hamstring - (UPDATE - Good to Go)
George Kittle - Ankle - (UPDATE - Good to Go)
Adam Humphries - Ankle - Questionable

All five players above (except Humphries who has been off for weeks) were limited in practice this week but indications are that all will be good to go, especially Kittle and Kelce.
With only 4 teams left for the season the amount of options to choose from is limited. The 49ers and Chiefs are heavily favoured at home and likely to advance to Miami in two weeks time. The DraftKings lineup of the week features the run game of the heavily favoured teams along with their big TE weapons. Adding the underdog wide receivers of the Packers and Titans who should fall behind in each matchup is probably the chalky lineup. Alas this is a good place to start lineups.
NFL Wildcard Weekend Game
DraftKings: $3,000,000 $25USD entry fee
Draftstars: $5,000 $15AUD entry fee
Moneyball: $1,500 & $1,000 $15AUD entry fee (Seperate Monday Contests)
DraftKings Suggested Team of the Week
Quarterback - Jimmy Garoppolo (San Francisco)
I have gone for the cheapest Quarterback on the slate in Garoppolo as he projects to be around 4-6 points lower than Patrick Mahomes and around the same mark of Rodgers and Tannehill. His past three games have been OK but last week only a 74.7 passing rating with 11/19 and 131 yards, 1TD and 1INT. The Packers however will push the 49ers into more point production and I expect Garoppolo to be more involved in the offence this week.
Running Back - Raheem Mostert (San Francisco)
There were reports that Mostert was injured in the Divisional Game against the Vikings but the 49ers camp have reported cramp in the calf. By then, Tevin Coleman got hot for the 49ers and took time off Mostert in the offence. The salaries have been reversed and we find Mostert as the cheaper RB. A lot of players got burnt last week and will jump on Coleman. Hopefully Mostert can reverse last weeks effort and become the hot hand against the Packers.
Running Back - Damien Williams (Kansas City)
Williams was sensational against the Texans by rushing in 2 TD's and receiving a perfect pass from Mahomes for the 3rd. Whilst it was 68 yards overall, this Chiefs offence has plenty of weapons to go around. The Titans run defence is pretty solid but we can rely on Williams Redzone opportunities here.
Wide Receiver - Davante Adams (Green Bay)
Adams caught eight of 11 targets for 160 yards and two touchdowns during Sunday's 28-23 divisional-round win over the Seahawks. That 39 point fantasy effort was the best all season and looks like Adams needs to produce again if the Packers want to make it to the Super Bowl. The highest salaried receiver on the slate, there will be plenty on Adams to reach dizzy heights in this contest.
Wide Receiver - AJ Brown (Tennessee Titans)
Speaking of high owned, Brown will probably be the number 1 owned player in this contest. His price has come down from $7,400 down to $5,200 after a 1.4 and 2.8 fantasy point games in the past two weeks. The reason being is that QB Ryan Tannehill only needed to throw the ball 14 times for just 88 yards against the Ravens last week. This we not continue as the Chiefs put up so many points in a short amount of time.
Wide Receiver - Allen Lazard (Green Bay)
It was an early day for Lazard after suffering an ankle injury in the 2nd quarter against the Seahawks. With the Packers predicted to fall behind in this contest then we need some big plays from the Green Bay receivers. If Lazard does not get up, Adam Humphries could be on the radar at the flat minimum from the Titans.
Tight End - Travis Kelce (Kansas City)
Kelce was terrific against the Texans by receiving 3 TD's on 12 targets with 10 catches for 134 yards. A whopping 44.4 fantasy points lead many fantasy coaches to big collects from this performance. Kelce has been limited in practice this week with a reported knee/hamstring injury keeping him in cotton wool.
Tight End - George Kittle (San Francisco)
Could not leave other star TE George Kittle at of my team after he had an off game against the Vikings. I wouldn't however be alarmed as the 49ers simply overpowered the Vikings D-line with the run game. Always a threat in the Redzone, Kittle has shaken off an ankle injury and is good to go against the Packers.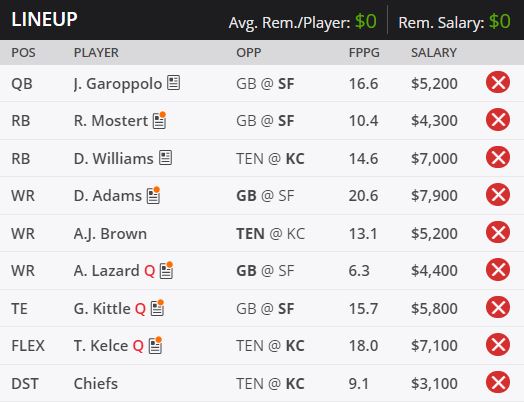 Always remember to gamble responsibly. When the fun stops, stop. If gambling is having a negative impact on your life, seek support at Gambling Help Online. 18+ only.