daily fantasy sports articles
2019-2020 NFL Daily Fantasy Tips: Week 14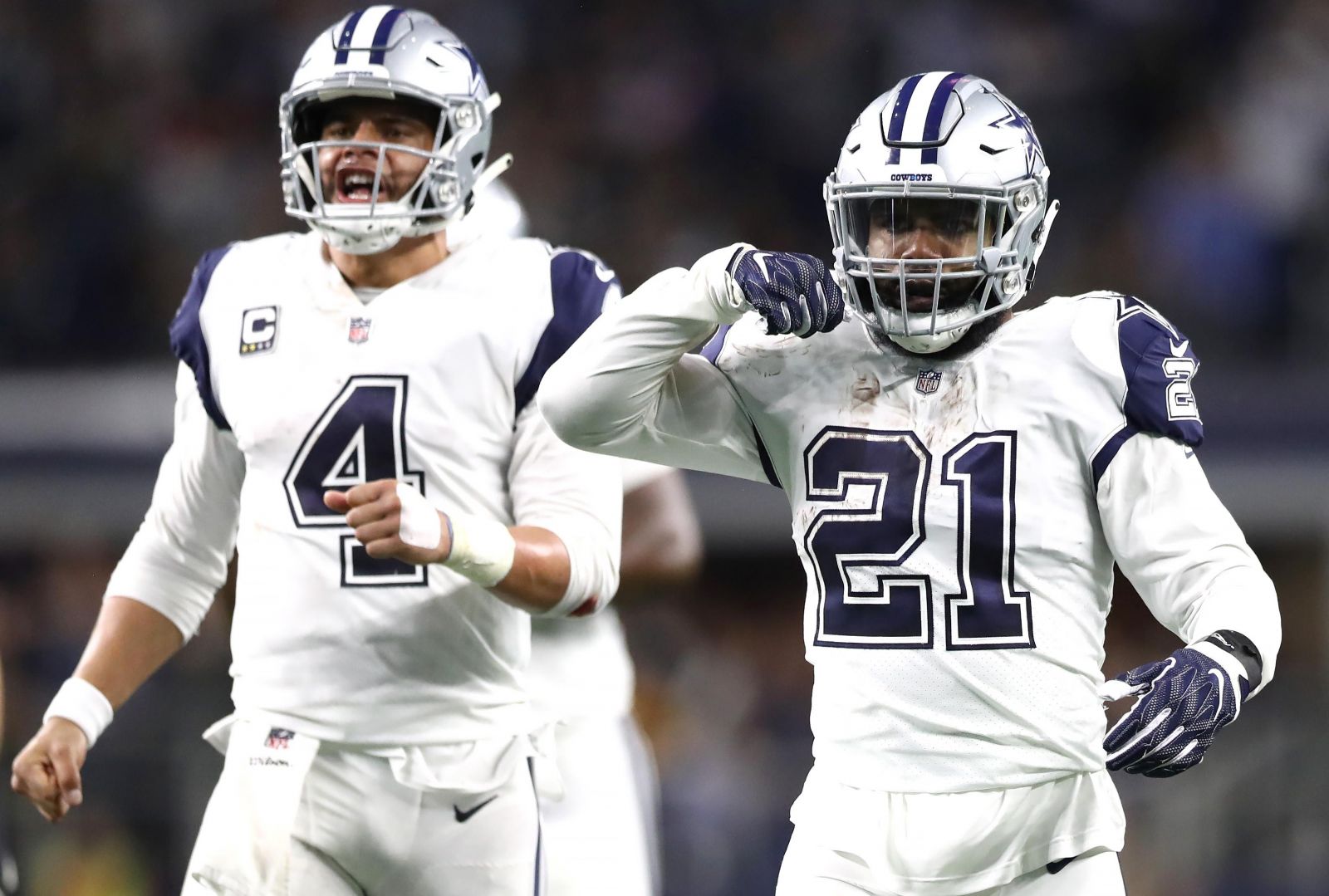 The 2019 NFL season is now in the latter stages of the season and the daily fantasy sites in Australia continue to embrace America's number one sport. Week 14 continues the charge towards the playoffs and as usual Draftstars, Moneyball and DraftKings have some great feature tournaments on over the weekend and we run you through all of them in our fantasy preview below.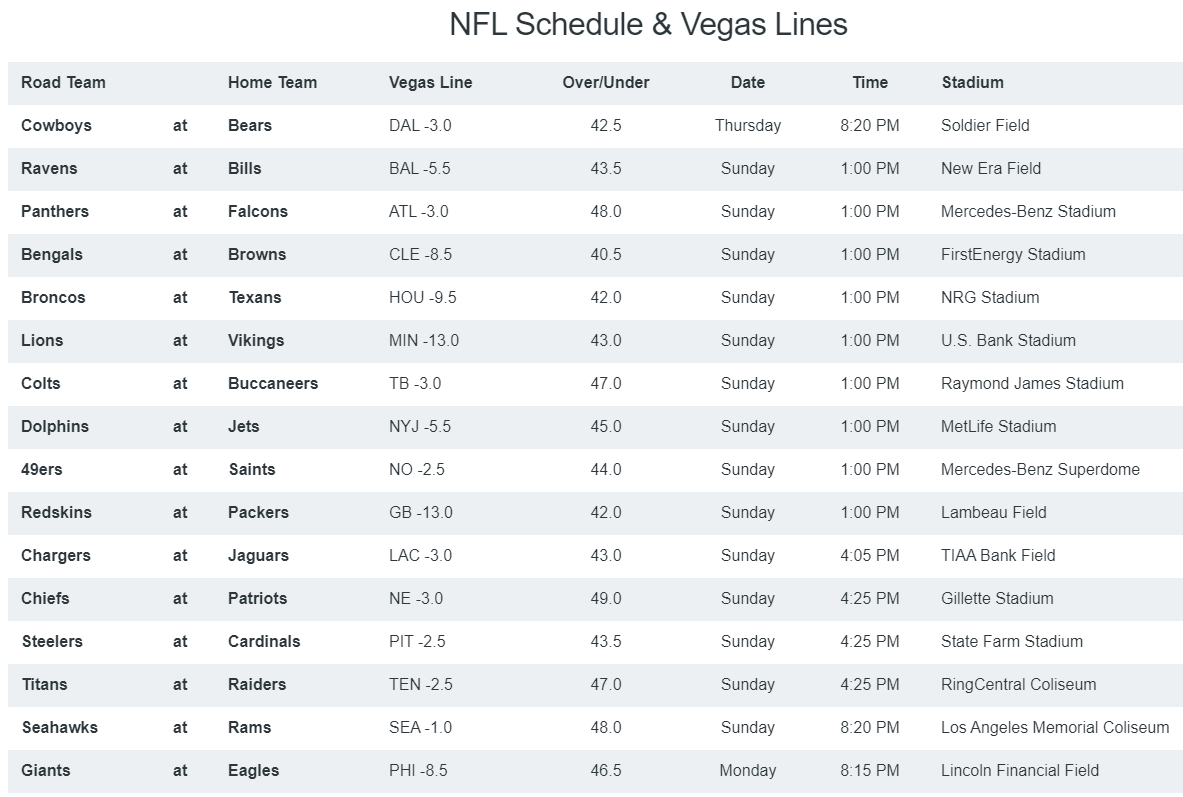 Friday
Dallas Cowboys (6-6) at Chicago Bears (6-6) (12.20pm AEST) Cowboys -3.0/Total 42.5
DraftKings: $1,000,000 $10USD entry fee
Draftstars: $2,000 $15AUD entry fee
Moneyball: $750 $15AUD entry fee
America's team in the Dallas Cowboys head to Soldier Field to take on the Bears in a Thursday night matchup that will have the nation talking if the Cowboys lose another game. In injury news, WR Randall Cobb did not practice earlier in the week due to illness but should be ready to go come Thursday night. RB Tony Pollard has appeared on the injury report with an ankle injury, so we need to monitor Pollard's availability before kick-off. WR Amari Cooper limped off with a Knee injury in Week 13 but does not appear on the injury report. Concussion is likely to keep out WR Taylor Gabriel and TE Ben Braunecker for the Bears.
Champ - Dak Prescott (Dallas Cowboys)
"In a moment like this, I say hell with the talking and I'm going to do more. I'm going to work harder." Those are the words of Dak Prescott who is clearly up for this matchup. This is a tough Bears defence but Prescott is protected by the league's best offensive line. The O line however let 4 sacks and forced 2 fumbles from the Bills on Thanksgiving Day. Leaders need to stand up in the face of adversity and hopefully leads to a big fantasy score!
Chance - Amari Cooper (Dallas Cooper)
Cooper did injure his knee in the 4th quarter against the Bills last Thursday but did practice on Monday. With some players worried about his injury we may get Cooper at a lower ownership. 11 targets and 8 receptions for 85 yards last week and these high targets should continue against the Bears. Just monitor if Cooper goes backwards on the injury report, but is good to go for now.
Cheapie - Mitchell Trubisky (Chicago Bears)
Another slate void of obvious value, Trubisky does actually project to be one of the value plays on the slate. Finally looked like a decent Quarterback against the Lions throwing 3 TD's for 338 yards. If Trubisky can get close to these numbers again then we have a great play at his salary.
Chump - Jason Witten (Dallas Cowboys)
Wrote up Witten as a good value play last week and saluted with a TD and 6 receptions! Happy Days! But hopefully these days are behind Whitten as I am fading the TE on ownership alone. Outside of Week 13, Whitten has only scored 13.5 fantasy points in total from the previous 3 weeks.
DraftKings Suggested Team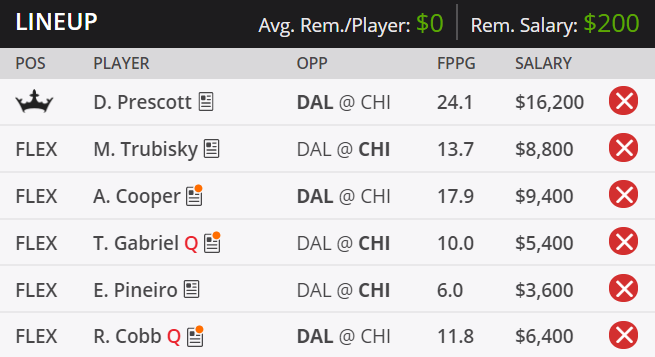 "Player Swap" is now LIVE on Draftstars. If you do not know what this means when you play on Draftstars, we suggest you read on how it works by clicking on the banner below

Monday Main Team of the Week
DraftKings: $3,000,000 $20USD entry fee
Draftstars: $12,000 $15AUD entry fee
Moneyball: $5,000 $15AUD entry fee
Quarterback - Derek Carr (Oakland Raiders)
Paying down in the QB positions this week and the price of $5,000 for Derek Carr just seems too cheap. Looking into Carr's season shows a slow pace of play and a struggle in the passing game in Oakland. With Raiders and the Titans still in the playoff hunt, we may see a desperate Raiders offence pick up the pace. Carr throwing the ball more is a must as the Titans run defence is elite.
Running Back - Alvin Kamara (New Orleans Saints)
Priced down due to a difficult matchup, Kamara is at home against a 49ers defence that do defend the long ball. So I am hoping some check downs to Kamara and just pray of a Touchdown. He hasn't scored a TD since Week 3. Surely some positive regression starts now for the run to the playoffs.
Running Back - Christain McCaffrey (Carolina Panthers)
New Coach, bounce back against the Falcons and a drop in price. What more could I say. Make an effort to have McCaffrey in your sides. Ok I will say one more thing. Scored 33 fantasy points against the Falcons without scoring a TD earlier this season.
Running Back - Derrick Henry (Tennessee Titans)
Another stud RB this week and Henry should continue roll along against a desperate Raiders team. Having pieces of this game (Raiders/Passing and Titans/Rushing) is a risk but I cannot ignore the urgency of both teams in their hunt for the playoffs.
Wide Receiver - Mike Williams (Los Angeles Chargers)
Williams leads the league in average yards per catch (20.5 yards) and had a career yardage game last week (117 yards). Williams however hasn't scored a Touchdown all season. Will it happen this week? Well a deep pass for a score is the ceiling.
Wide Receiver - Tyrell Williams (Oakland Raiders)
Pairing with Carr as the QB-WR stack, this pairing is relatively cheap to squeeze in the high salary running backs on this team. This team was bullied last week by the Chiefs so we should see a bounce back on the attacking side.
Wide Receiver - Jamison Crowder (New York Jets)
The Jets have the Dolphins this week which has been a great source of fantasy scorers to the receivers. Crowder only caught two balls last week from 9 targets, but should be in line for a feast with Sam Darnold progressing well after his illness.
Tight End - Ian Thomas (Carolina Panthers)
Greg Olsen is currently battling concussion and if he is out, Thomas will be a highly owned play at a very low salary. In his rookie season last year, Thomas had over 330 yards receiving over 16 games. Will need to monitor news if Olsen is out.
Suggested DraftKings Lineup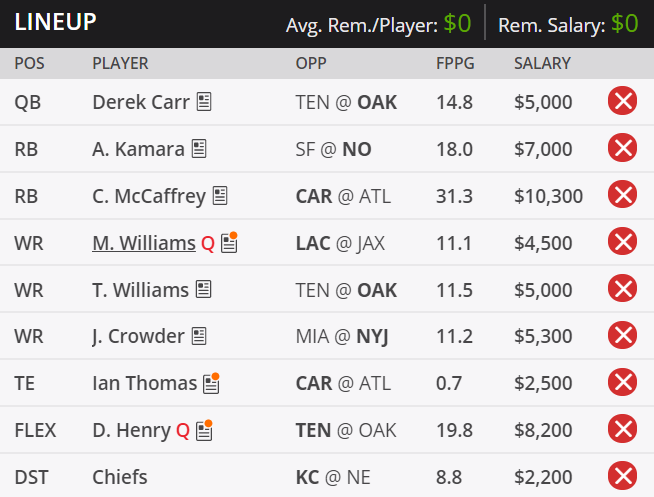 Monday Late Game
Seattle Seahawks @ LA Rams - Rams - 1.0 / Total 47.5 - 1220 AEDT Kick off
DraftKings: $800,000 $10USD entry fee
Draftstars: $2,000 $15AUD entry fee
Moneyball: $500 $10AUD entry fee
Sunday Night Football sees the Rams host the Seahawks in what could turn out to be a very tight matchup between two evenly matched sides. The Rams are favoured at home by 1 point and the total set by vegas is a healthy 47.5. Last time these two teams met was an epic battle with the Seahawks getting up by 1 point. In team news, TE Gerard Everett is Out for the Rams with a knee injury. Otherwise the teams are good to go on the injury front.
Champ - Russell Wilson (Seattle Seahawks)
Wilson in the past three games has failed to score a fantasy score over 18 since Week 9 against Tampa Bay (42.22). Wilson, however, did go toe to toe with the Rams back in Week 5 and this has the potential to score a ton of points. The Rams defence is particularly strong, but we can back Wilson's running ability to accumulate points.
Chance - Robert Woods (LA Rams)
For a WR that has caught 64 balls for 835 yards without scoring a TD must be some sought of record. Is this the week that Woods breaks his duck? A whopping 18 targets against the Cardinals last week for 13 receptions and 172 yards. But no TD. Can Woods hook up with an "improving" Jared Goff? Seattle's passing defence is ranked 29th in the league. Surely this is the week.
Cheapie - Rashad Penny (Seattle Seahawks)
In a game with little value on DraftKings (TE Jacob Hollister is a sneaky play), I was gobsmacked to see Penny at the bargain basement price of $5,760 on Draftstars. With fellow RB Chris Carson sharing snaps (Week 13 Carson - 39 Penny - 34), Penny is more active in the passing game yet Carson is the goal line specialist. Pretty much an automatic play on DS.
Chump - Brandin Cooks (LA Rams)
With the majority of targets been thrown at Woods and Cooper Kupp, Cooks has not scored over 10 fantasy points since Week 4. Just not receiving any target volume which could be a combination of factors (QB form, other WR's form). Easy to pass this week.
DraftKings Suggested Side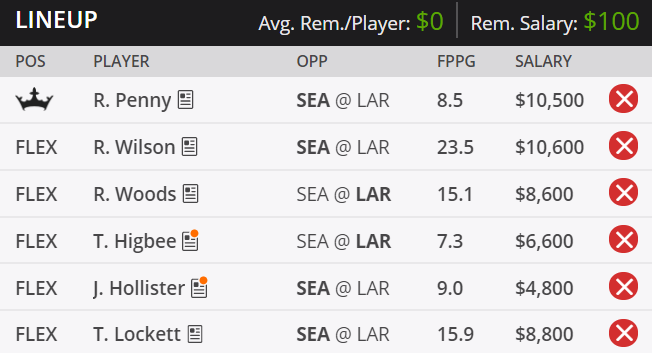 Draftstars Suggested Team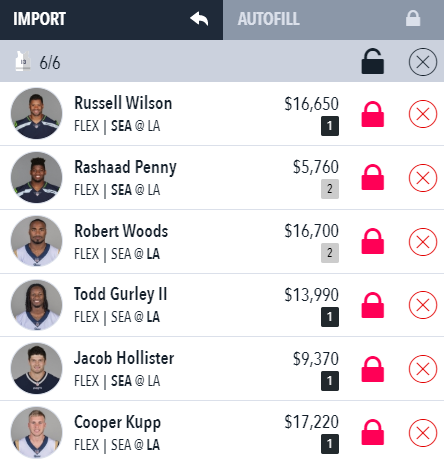 Tuesday
New York Giants @ Philadelphia Eagles - Eagles - 9.5 / Total 44.5
DraftKings: $1,111,111 $10USD entry fee
Draftstars: $2,000 $15AUD entry fee
Moneyball: $750 $15AUD entry fee
The Philadelphia Eagles host the New York Giants in a Monday Night Football game that "should" be an easy win for the Eagles at home. With Vegas setting a 9.5 line and the Eagles having a high predicted points total (27.75) all indications show that Carson Wentz and the Eagles will continue to push the Cowboys in the NFC East division.
In team news, NYG's QB Daniel Jones has been ruled out with an ankle injury, meaning 38 year old QB Eli Manning is back as the starter for the Giants. TE Evan Engram is also out for the Giants. For the Eagles we have a Game Time Decision on WR Nelson Agholor. RB Jordan Howard has not been cleared for contact and is trendy to be Out for this matchup.
Champ - Zach Ertz (Philadelphia Eagles)
Whilst it would of been easy to nominate Carson Wentz in an easy matchup against a porous Giants defence, I am going against the grain and back Zach Ertz. With Agholor and Howard trending to be out of the Eagles, I am banking on Ertz to dine out in prime time. Whilst he is comparably priced on Draftstars you do get a good $2,400 discount on DraftKings. Which means you can squeeze in more value into your lineups. Despite last weeks blowout game, Ertz is still leading the league for receptions and targets at the TE position.
Chance - Alshon Jeffery (Philadelphia Eagles)
Coming back from injury against a leaky Dolphins team in Week 13, Jeffery dined out in Miami collecting 9 receptions from 16! Targets. The Giants are not much better so we have some sought of chance that Jeffery receives another 10+ targets from Wentz. Priced up from that performance however and rates out as a low value play.
Cheapie - Kaden Smith (New York Giants)
With TE's Evan Engram and Rhett Ellison both out for New York, rookie TE Smith gets the start. With Manning under centre, Smith has the potential to receive a fair bit of work. Smith in "garbage" time in Week 13 received over 70 yards on 6 receptions. At the minimum on both sites means a nice value play if Smith gets going.
Chump - Darius Slayton (New York Giants)
There are a couple of factors working against Slayton this week, 1st of all Eli Manning is under centre which means we need to factor in some regression to the NYG receivers. Then WR1 Golden Tate has cleared concussion protocol and we start along with WR2 Sterling Sheperd. For a low projection and medium salary, this is a fade for me.
Suggested DraftKings Lineup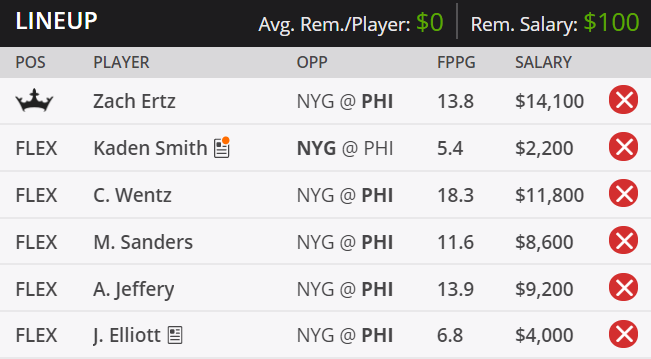 Draftstars Suggested Team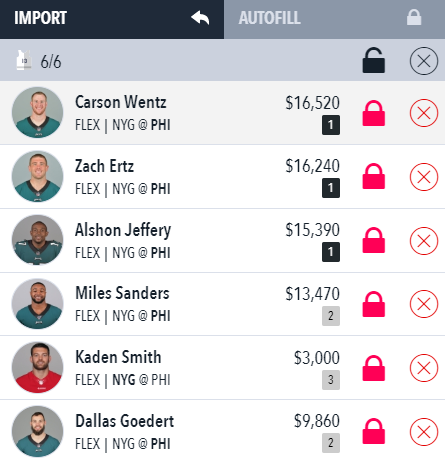 Always remember to gamble responsibly. When the fun stops, stop. If gambling is having a negative impact on your life, seek support at Gambling Help Online. 18+ only.