daily fantasy sports articles
2019-2020 NFL Daily Fantasy Tips: Week 16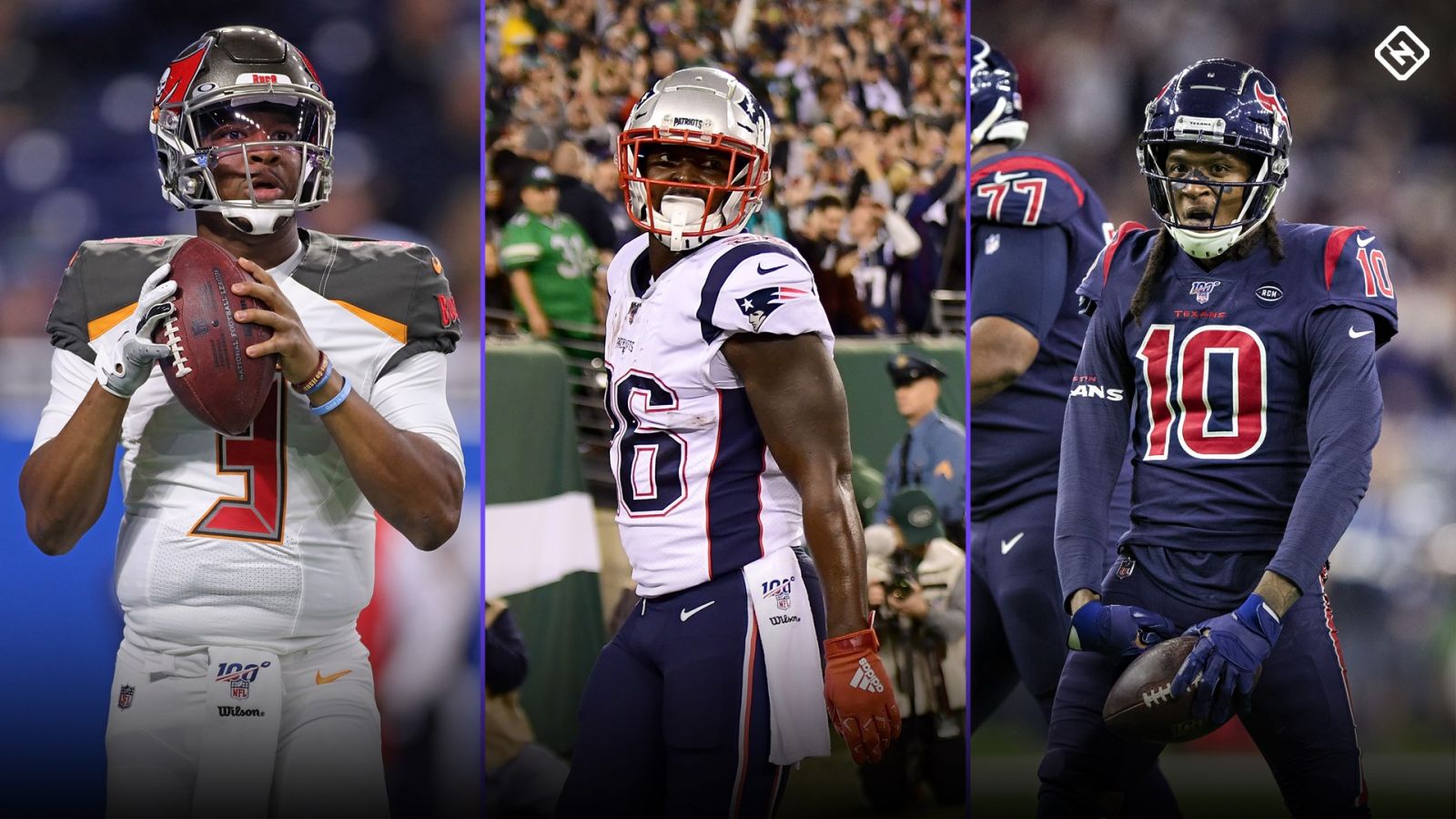 Week 16 of the NFL starts on Saturday in the United States as the Thursday night fixtures have come to an end. 3 games on the slate, one after each other and whilst the playoff picture has become much more clearer. Outside the Buccaneers and the Rams (well mathematically a chance for the playoffs) the other 4 teams on the slate are full charge to the playoffs.
Sunday Morning
Texans at Buccaneers
- 0500 (AEDT) start - Texans -3.0 / 51 Total
Bills at Patriots
- 0830 (AEDT) start - Patriots -6.5 / 38.5 Total
Rams at 49ers
- 1215 (AEDT) start - 49ers -6.0 / 45 Total
Slate injuries to monitor
Questionable
Chris Godwin (TB) Hamstring UPDATE - Now OUT
Mike Evans (TB) Hamstring UPDATE - Now OUT
Julian Edelman (WR) Shoulder/Knee
Will Fuller (WR) Hamstring

DraftKings: $1,000,000 $10USD entry fee
Draftstars: $5,000 $15AUD entry fee
Moneyball: Single Slates throughout day
Quarterback - Deshaun Watson
Let's not muck around here, the Texans are at Tampa Bay against the Bucs in a close game with a high total. In week 15, Watson was just shy of 19 fantasy points but has 30+ point upside in a match-up against a defense that is 30th in the league for passing. Watson has rushing TD capabilities and is the clear choice out of the 6 options.
Running Back - Raheem Mostert
The 49ers are clearly a good rushing team but nailing who is the key running back has been a fantasy nightmare. We have some clarity now that Mostert is the main RB by playing over 60% of snaps and scoring on average 15+ fantasy points per game in the last 4 weeks. Rams have struggled on the rush this year ranking 23rd. Safe play picking Mostert.
Wide Receiver - Deandre Hopkins
Pairing with a Watson as the feature QB-WR stack, Hopkins has had 119 and 120 yards receiving in his past two games and is a prime candidate for touchdowns against the Bucs. Hopkins will be pretty much locked into most fantasy teams this week and you probably wouldn't want to miss the boat here.
Tight End - Tyler Higbee
Realistically there are only 2 safe options at TE this week, 49ers George Kittle and Rams TE Tyler Higbee. Higbee has had a late season explosion by averaging 24.5 fantasy points per game in the past 3 games whilst TE Gerald Everett has been out. Kittle in the same matchup has potential to be used in the Flex position if you are torn between the two. Be aware these two however, will be significantly owned by the field.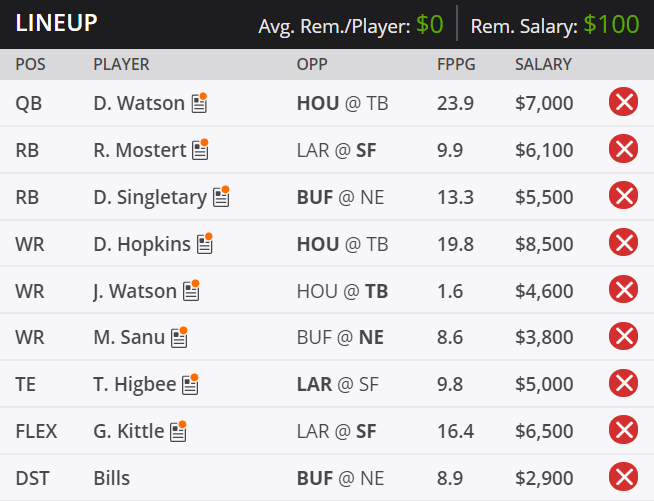 Monday Main Slate
DraftKings: $2,000,000 $9USD entry fee
Draftstars: $10,000 $15AUD entry fee
Moneyball: $4,000 $15AUD entry fee
Quarterback - Carson Wentz
I was surprised to see a value salary for Wentz who has it all to do against the Cowboys. Wentz has thrown for 8 TD's in the past 3 weeks alone and will keep the hot hand against a tougher matchup. If Eagles get behind Wentz will throw it at least 40+ times.
Running Back - Chris Carson
Only injury will stop Carson continue his bell-cow role with the Seahawks after his 133 rushing yard 2 TD effort in Week 15. Up against a Cardinals defence that has pretty much put the cue in the rack, expect the Seahawks to run the ball a lot!
Running Back - Deandre Washington
With RB1 Josh Jacobs injured, Washington is a cheap value Running Back for the Raiders that frees up cash in this 'Stars and Scrubs' lineup. Did score 21 Fantasy points when Jacobs was injured back in Week 14 so Washington has the ceiling to go big. Just doubts on the Raiders offence that are now pretty much out of playoff contention.
Wide Receiver - Phil Ward
The 'Stars and Scrubs' team continues with a potential value play here in Ward. Stacked with QB Wentz, Ward has had 9 targets in both of his previous two games and with the playoffs on the line, the Eagles receivers are in line for some season saving work. Cheap play.
Wide Receiver - Michael Thomas
Clearly the best receiver in the league right now, Thomas is gunning for the record of most receptions in a season. Receptions equals fantasy points and we want Thomas on our teams in pursuit of that record.
Wide Receiver - Russell Gage
Looking for value once again in the receivers and Gage fits the mould as a potential value play. Only 27 yards last week on 5 catches. But with Calvin Ridley out and an emphasis on Julio Jones for the Jags defense may see some extra balls come Gage's way.
Wide Receiver - Amari Cooper
Running back the QB-WR stack with a WR on the opposing team. Cooper for the Cowboys I have rostered in the Flex position just in case Dak Prescott is unable to go with his new shoulder injury. Cooper and his receiving colleagues didn't do much last week considering their running backs did the work. Expecting the ball to fly around in this crucial game.
Tight End - Mike Gesicki
The Dolphins are up against the hapless Bengals and Gesicki rounds out a value TE capable of scoring in the Endzone.

Monday Late Game
DraftKings: $750,000 $10USD entry fee
Draftstars: $2,000 $15AUD entry fee
Moneyball: $500 $10AUD entry fee
Kansas City Chiefs @ Chicago Bears - Chiefs -6.0 / Total 44.5
With the Playoff picture nearly settled for Kansas City (likely 3rd in the AFC), the Chiefs travel to Chicago to square off against the Bears. The Chiefs injuries are lacking with no real significant player under an injury cloud. Only WR Taylor Gabriel for the Bears will miss due to concussion once again. Tough contest this one without any perceived value from either team.
Champ - Mitchell Trubisky (Chicago Bears)
Trubisky has finished strong in the back end of the season, rushing the ball more and throwing the ball a serious amount times. Being a 6 point underdog at home may require Trubisky to chase the game and taking the discount over Mahomes, Hill etc might be the way to go.
Chance - David Montgomery (Chicago Bears)
It is well known this season that teams want to rush the ball more against the Chiefs to starve possession and time. Montgomery however will need the game script to go his way as he may lose snaps to Tarik Cohen if the Bears fall behind. Boom or bust here.
Cheapie - Kansas City D/ST
Seem pickings for value in this matchup. I could have suggested to pick dart throws at Bear WR's Cordell Patterson and Javon Wims, but the Chiefs do posses a great secondary. This leaves me with the Chiefs D that has potential to ruin Trubisky's night.
Chump - Damien Williams (Kansas City)
With Williams returning from injury and the Chief's backfield already a time-share arrangement it is tough to recommend Williams in this spot.
Monday Late Suggested Team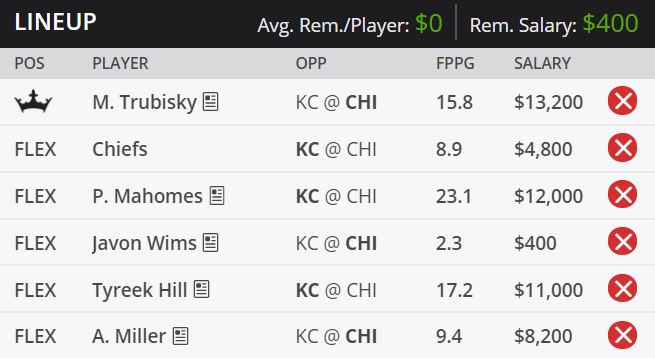 Tuesday
DraftKings: $1,111,111 $10USD entry fee
Draftstars: $2,000 $15AUD entry fee
Moneyball: $500 $10AUD entry fee
Green Bay Packers @ Minnesota Vikings - Minnesota -5.5 / Total 47
In the final game for Week 16, the Packers travel to face the Vikings in a divisional match-up that may decide the NFC North. If the Packers win they wrap up the division but the Vikings could snatch the title if the Packers lose this week and against the Lions in Week 17.
In injury news, it is very thin at Running Back for the Vikings with Dalvin Cook ruled out and Alexander Mattison a game time decision. The Packers are good to go with no injury news of significance.
Champ - Davante Adams (Green Bay Packers)
Adams is Aaron Rodgers choice of Wide Receiver with over 40 targets in the past 4 games. Most of those targets come when the Packers are trailing. With Packers 5.5 underdogs on the road, Adams is in line for plenty of work. It helps that the Vikings are an average secondary for receivers.
Chance - Mike Boone (Minnesota Vikings)
Boone is the number 3 Running Back for the Vikings and indications show that he will get the start. In anticipation of this news, DraftKings have ramped up his salary from $200 to $9,000! Much more affordable on Draftstars and will be a value chalk play on that site. Last week when Cook got injured, Boone rushed for 56 yards but more importantly ran in 2 TD's.
Cheapie - Ameer Abdullah (Minnesota Vikings)
Abdullah in the event of Mattison being ruled out will become the back-up Running Back for the Vikings. In his time in his role on the field, Abdullah has a role out of the backfield in the passing game so we may get enough production to reach value.
Chump - Stefon Diggs (Minnesota Vikings)
With Adam Thielen back for the Vikings, it has been well documented that Diggs suffers when both are on the field. Last two games that Thielen has played, Diggs only received 11 targets in total for 5 receptions.
Tuesday Suggested Team


Always remember to gamble responsibly. When the fun stops, stop. If gambling is having a negative impact on your life, seek support at Gambling Help Online. 18+ only.