daily fantasy sports articles
2019 NRL Daily Fantasy Tips: Finals Week 3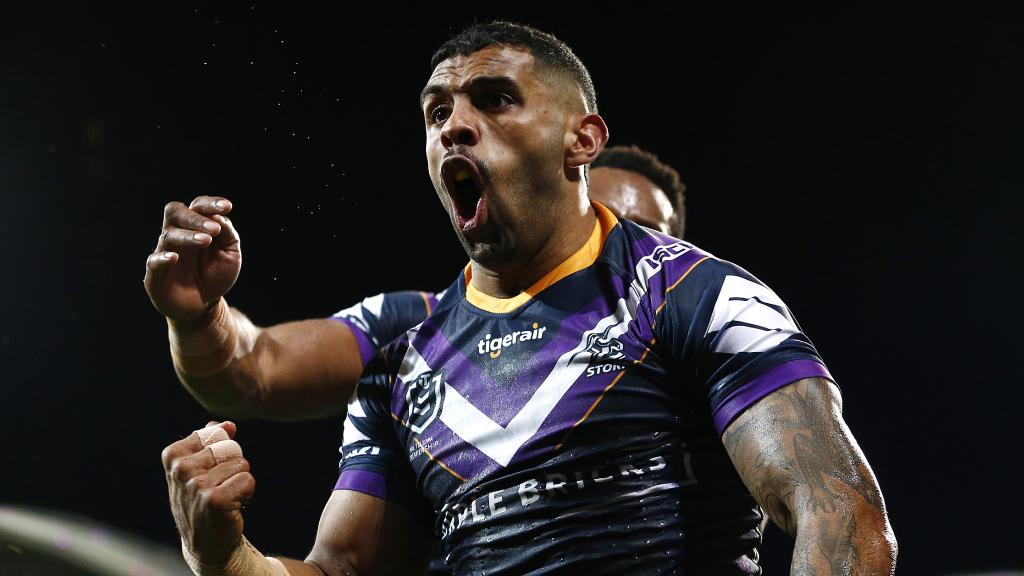 And then there were 4!
As expected, the regular season Top 4 have weathered the storm of those finishing 5th-8th and will face off for a spot in the grand final. More Interestingly though, given the Raiders upset of the Storm in week 1, there is a clear disparity between the matches, with the Raiders hosting the Rabbitohs, before the much expected grand final, with the Roosters taking on the Storm.
There is heaps of prize money up for grabs with Draftstars putting up a whopping $10,000 for both the Raiders v Rabbitohs and the Roosters v Storm preliminary finals. Meanwhile, Moneyball have a guaranteed $7,000 on offer for Friday's Raiders v Rabbitohs clash, with a further $6,000 guaranteed for Saturday's Roosters v Storm blockbuster. So let's break down both preliminary finals and see just where the money will be won.

Canberra Raiders v South Sydney Rabbitohs
After back to back wins in Melbourne against the Storm in somewhat controversial circumstances, the Raiders enjoyed a well-earned fortnight off, and it may have come at an excellent time with both Joseph Leilua ($7,100 MB, $8,990 DS) and Nick Cotric ($5,100 MB, $7,900 DS) given extra time to recover. Given all that, they will head into the match with the same 17 that defeated the Storm, but at current both Leilua and Josh Papalii ($9,100 MB, $14,560 DS) have been promoted from the bench.
Despite cruising to an early advantage, the Rabbitohs found themselves in a hot of bother late against the Sea Eagles, before a controversial sin bin helped them gain some ascendency and come away with the win. They also have no changes heading into this clash, however, reports have surfaced that James Roberts ($5,800 MB, $8,660 DS) is carrying a thumb injury that puts him in some doubt.
The Rabbitohs will head into this clash with a 7.5-point head start, despite have the edge of the Raiders earlier in the season. The extra week off and the sold-out home ground does place an added advantage to the Raiders, but given how resilient this Rabbitohs side is, are they too short? We're into the second last week of the finals and I am still not a believer of the green machine and as so the $4.25 at Neds for the Rabbitohs to win by 12 or less looks great value.
Back in round 10 when the Rabbitohs sealed a tight victory at this very ground, as usual, Damien Cook (43.2, $9,500 MB, 62.8, $16,800 DS) led the way, but it was Cody Walker (46.3, $7,400 MB, 56.8, $10,640 DS) who stole the show off the back of 4 tackle breaks and a try. While for the home side, Elliott Whitehead (39.7, $6,800 MB, 59.2, $10,870 DS) was a workhorse in defence as always, but Nick Cotric (36.9 MB, 55.9 DS) proved difficult to handle despite not scoring a try.
When looking at both sides where they have conceded points this season, although there isn't much between the sides, there obvious weaknesses present. Despite remaining solid against centres (1st MB, 1st DS), five-eighths (2nd MB, 2nd DS) and second rowers (1st MB, 1st DS), the Raiders have struggled containing Locks (13th MB, 16th DS). While centres (14th MB, 15th DS) and second rowers (14th MB, 15th DS) have been an issue for the visitors, they have done well against those on the bench (1st MB, 1st DS).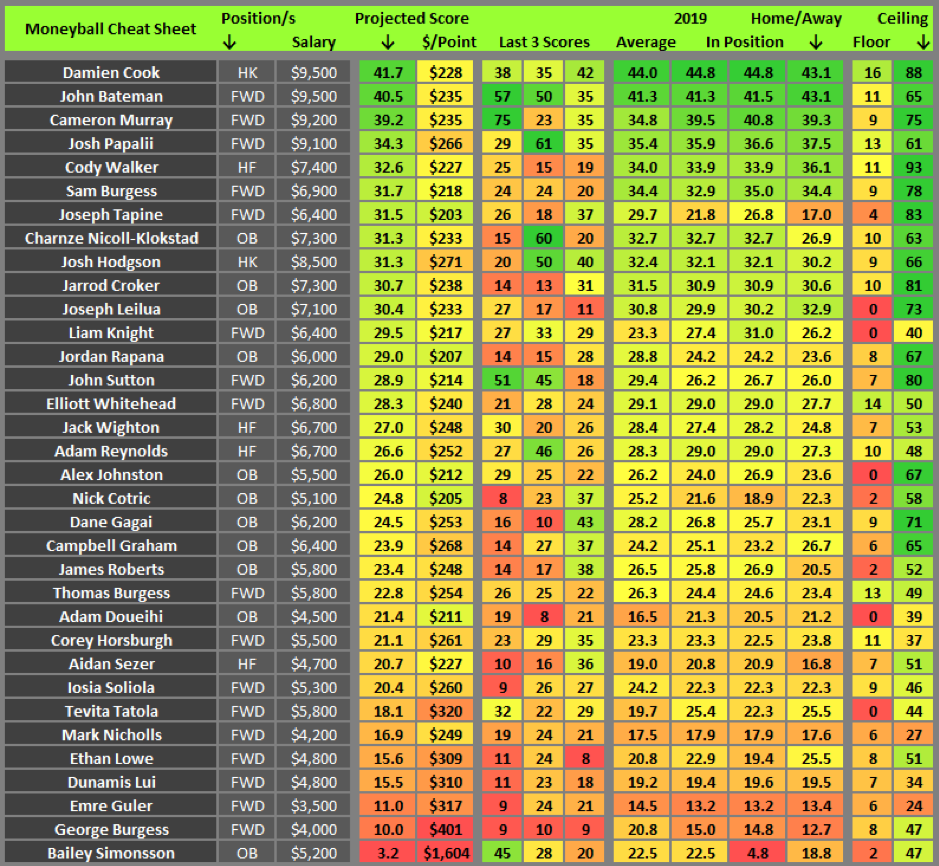 Given the season of injuries and suspensions they have had, it is simply amazing how dominant they have been, and didn't they show just how dominant, with a masterclass against the Rabbitohs a fortnight ago. The major set-back from that class is that they have lost Waerea-Hargreaves to suspension, with Siosiua Taukeiaho ($7,100 MB, $10,780 DS) promoted to the starting side, while Jake Friend ($7,200 MB, $13,850 DS) is named in the reserves for a long-awaited return.
It takes a quality side to keep a team that is fresh off winning 58-0, scoreless, and the Storm showed just what they capable with a classy victory over the Eels at home last week. They do now have to head to the SCG to face their rivals and fortunately they will do that no changes expected to their line-up. Coach Bellamy going with Curtis Scott ($6,900 MB, $8,040 DS) in the centres once again and Will Chambers ($4,400 MB, $7,210 DS) to come off the bench.
The Roosters will head into this clash as a 4.5-point favourites and while you could make a case for either side based on that line, recent form would suggest it is spot on. One thing that is for sure, is that this will be the grand final contest we all expected, and I am expecting points hard to come by. During the past 5 matches, only one of them has exceeded 29 points. As of such, the $3.50 at Sportsbet for the match total points to be between 21-30 looks excellent.
Both sides played out a couple of bangers this year, with a Latrell Mitchell (56.0, $10,300 MB, 54.1, $11,920 DS)field goal sealing victory for the Roosters in round 6, before a powerhouse effort from Cameron Smith (32.8, $9,400 MB, 62.4, $15,790 DS) guaranteed the Storm weren't going to lose again. Smith (46.7 MB, 72.0 DS) was also fantastic during the first game they lost, while Joseph Manu (42.0, $7,000 MB, 52.0, $9,090 DS) was clinical with a try and 6 tackle breaks during their tight loss at home in round 15.
Although we have come to know them as being the best sides in the comp over the course of the season, the Roosters for (1st MB, 2nd DS) and against (2nd MB, 3rd DS), to go along with the Storm for (2nd MB, 3rd DS) and against (1st MB, 1st DS) have cemented those thoughts. Despite all that, conceding to locks (10th MB, 13th DS) has been a slight concern for the Roosters, while generally points have been hard to come by when facing each other.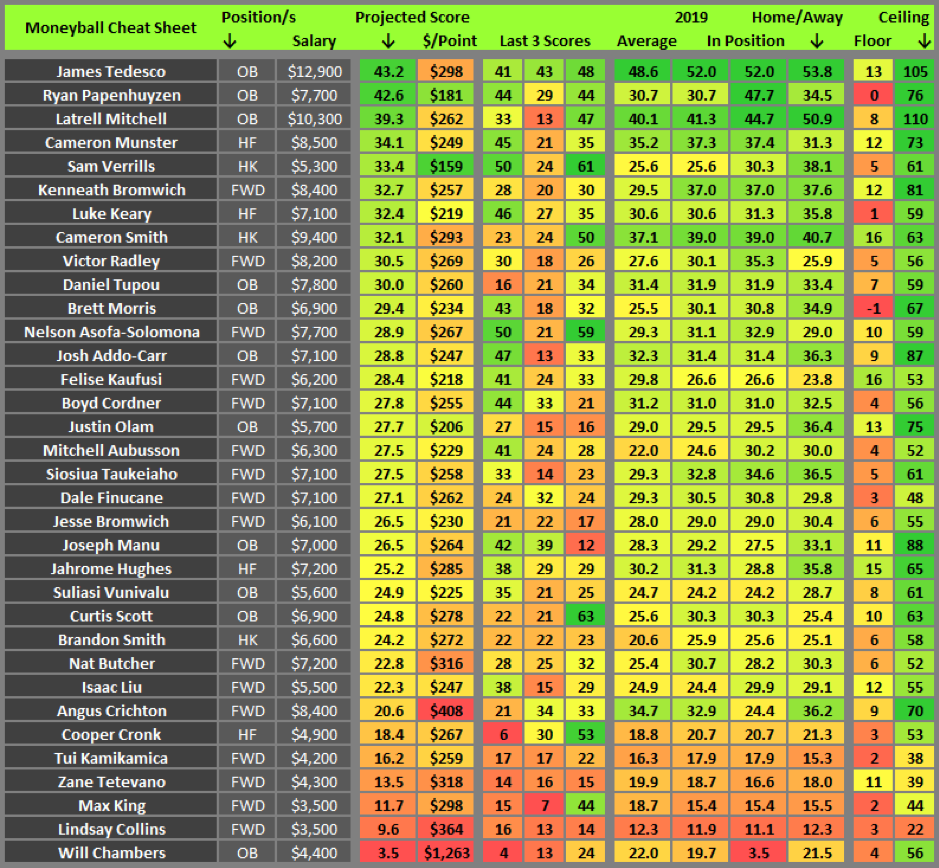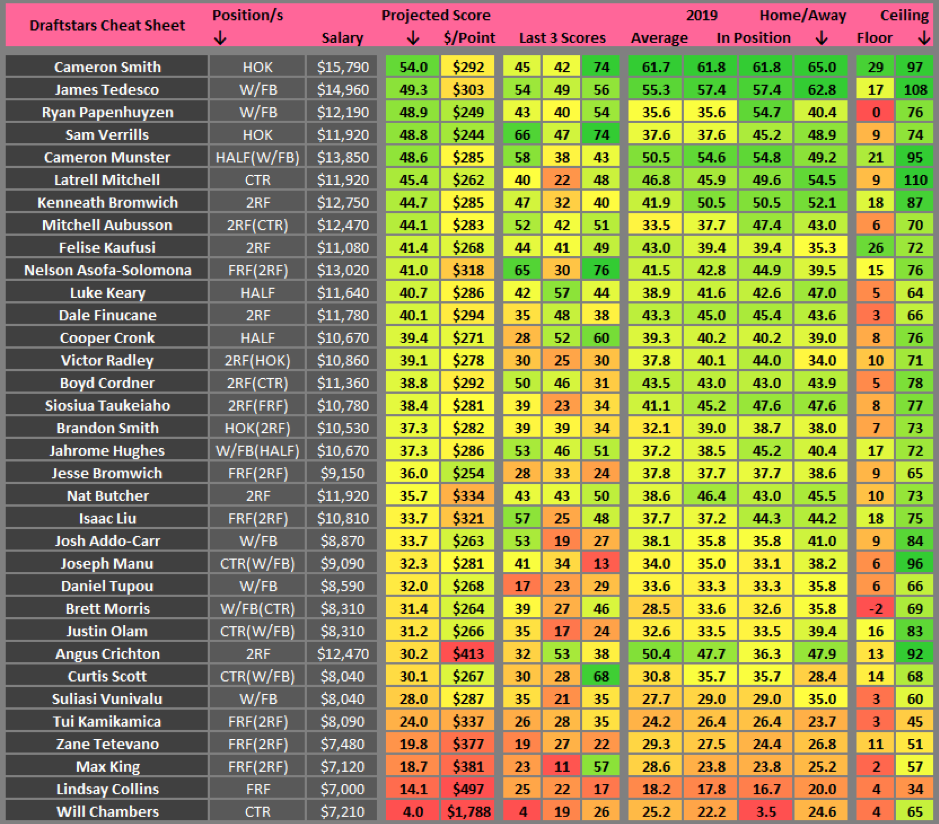 Dragon's Diamonds
Sam Verrills ($5,300 MB, $11,920)
First and foremost, there is a clear asterix above Verrills getting a run amongst the diamonds. Although it would seem strange to go with someone like this young hooker, with Friend named amongst the reserves, Verrills is the value buy of the preliminary finals, should Friend not run out in the tricolours. Although Smith is the projected top scorer in that contest and I wouldn't knock anyone stacking their line-ups with him, Verrills does allow for money to be spent elsewhere and in a game where points are hard to come by, he is excellent value.
Joseph Tapine ($6,400 MB, $11,200 DS)
Another that poses a value purchase for this weekend, is Raiders lock, Tapine, who appears to have resurrected his season after a breakout 2018. After a rather poor start to the year, the Kiwi international found himself on the bench when fit, but in recent weeks he has regained his starting role and will be heavily relied upon if the Raiders are to gain the ascendancy against the Rabbitohs. Capable of plenty of tackle and line breaks when at his peak, Tapine shapes up as excellent value and is a must have for those looking to stack their Raiders line-ups.
Ryan Papenhuyzen ($7,700 MB, $12,190 DS)
Bit of a smoky this week, but one for those looking for a point of difference. In a contest where many will look to squeeze Latrell and Teddy into their line-ups, Papenhuyzen is an excellent option for those favouring a Storm upset as it will require a peak performance from one of their flamboyant stars. He was superb for us last week against the Eels and expect him to continue where he left off here. With a floor of 28.9 MB and 39.6 DS at fullback, there is very little risk in the selecting this lethal fullback, even if the Roosters are to gain control.
Dragon's Dungeon
Angus Crichton ($8,400 MB, $12,470 DS)
I generally don't like to be potting reserves, but unless Crichton ends up starting, how he goes around those salaries is beyond me. Yes, some of that is reciprocated from playing as a starter, but he played off the bench last week despite playing plenty of minutes, he offered very little in the way of fantasy. With the upbringing of Nat Butcher and the resurgence of Mitchell Aubusson this year, Crichton hasn't been heavily called upon like he has in the past. Now it's hardly Houdini to making a call like this, but there doesn't get a bigger fade over the weekend then a player like Crichton.
Thomas Burgess ($5,800 MB, $10,080 DS)
Now firstly I don't even know if he will end up starting, but let's just suggest it is very likely he will. But, regarding the expected output of T. Burgess, it is hard to be convinced by the fact that he has a ceiling of 25.7 MB and 39.7 DS since returning in round 19. A bench that consists of brother George, Tatola and Nicholls, just about locks in that it is highly unlikely Thomas will see any further minutes and unless he pulls a rabbit out of a hat, I am happy to fade him in this contest, with the likes of Knight and Papalii looking more appealing.

The Daily Fantasy Rankings "Dragon" has scoured the Australian sports betting markets and found some great value picks for this game. Check out his picks for the day below and click on the links to follow his betting plays!

Always remember to gamble responsibly. When the fun stops, stop. If gambling is having a negative impact on your life, seek support at Gambling Help Online. 18+ only.