daily fantasy sports articles
2019 NRL Finals Fantasy Tips: Eels vs Broncos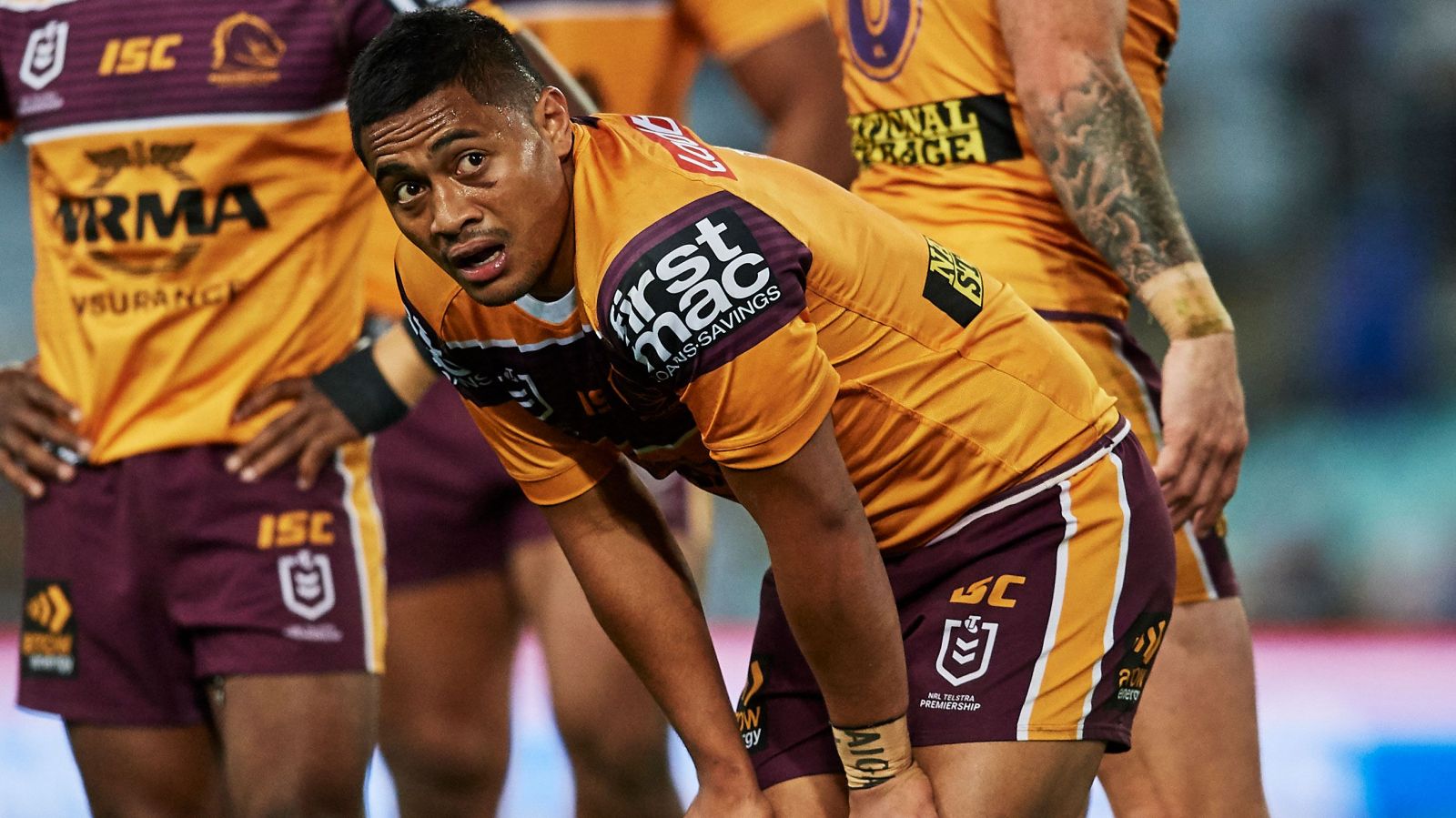 Having a look at the Eels v Broncos showdown, there is heaps of prize money up for grabs with Draftstars putting up a whopping $10,000 for the contest, while Moneyball have a guaranteed $5,000 on offer as well. With both sides sharing the honours throughout the season, Sunday's contest shapes up as an interesting battle, so let's break down both sides as we look to wrap up the first weekend of finals footy.
Despite the Broncos returning serve and coming away with the win at Suncorp quite recently, the Eels will much more settled this week with the return of suspended lock, Nathan Brown ($8,600 MB, $14,190 DS). However, that does come at a bit of an expense with Kane Evans, who was originally named, out through suspension after he failed to have his careless high tackle charge downgraded. This will see Daniel Alvaro ($5,300, $9,810 DS) join the front row and Tepai Moeroa ($3,500, $7,660 DS) join the bench.

While for the visitors, the Broncos welcome back big Joe Ofahengaue ($6,200 MB, $10,400 DS) from a calf injury, forcing Kennedy off the bench, while Perese makes way on the bench for the returning Gehamat Shibasaki ($4,300 MB, $7,000 DS). Although it was the Broncos that came away with the victory just a few weeks ago, the Eels do head into this clash as solid favourites, giving up a 5.5-point head start. Given the unpredictable footy that Brisbane have displayed all year, it looks a rather large price for a team with some heavy treasures in their war chest.
When the Broncos snatched a close victory recently, it was the efforts of David Fifita (59.1, $8,700 MB, 90.1, $14,800 DS) off the back of 15 tackle breaks and a try, as well as Payne Haas (48.9, $10,600 MB, 75.4, $16,850 DS) with a season high 48 tackles, that propelled Brisbane home after a spirited Eels fightback. For the visitors, it was the now suspended, Kane Evans (56.8 MB, 70.3 DS), that began that charge off the back of 4 tackle breaks, 4 offloads and a try.
Looking at both sides and how they concede points, there is very little between the sides, with both sides showing weakness in different areas. For the Eels, they have conceded heavy to the props (16th MB, 16th DS), while the Broncos have struggled against hookers (15th MB, 15th DS), props (14th MB, 13th DS) and second rowers (14th MB, 14th DS). This should really benefit the likes of Payne Haas, Junior Paulo ($7,300 MB, $11,130 DS), Reed Mahoney ($6,500 MB, $13,300 DS) and Manu Ma'U ($9,900 MB, $15,800 DS).
While there are plenty of ways to approach this match-up, finding the right mix of high value and high scoring players to go with the perfect pairing combinations, will go a long way to finding success. While the Eels hold an advantage from a betting perspective, both sides shares the projected honours across both platforms, with the Eels expected to well on Moneyball, while the Broncos are expected to better on Draftstars. With both coaches making a few changes to the sides that ran out last week, should there be changes to either line-up, tread carefully if following the cheat sheet.
Moneyball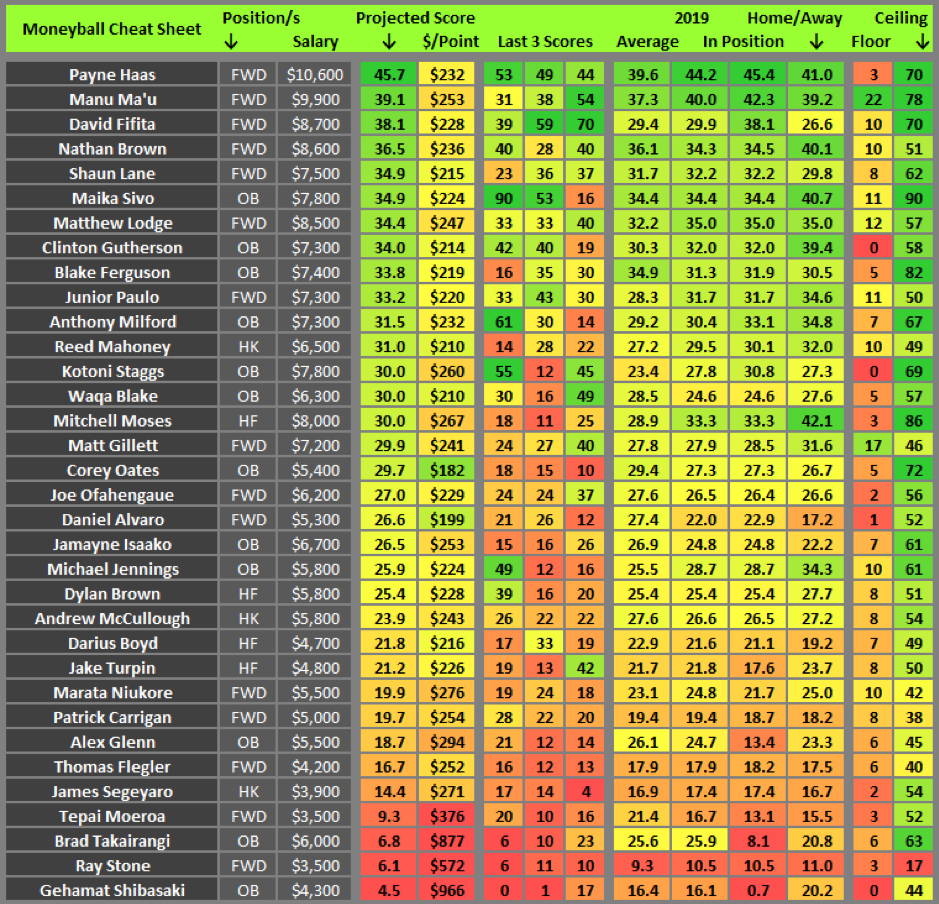 Draftstars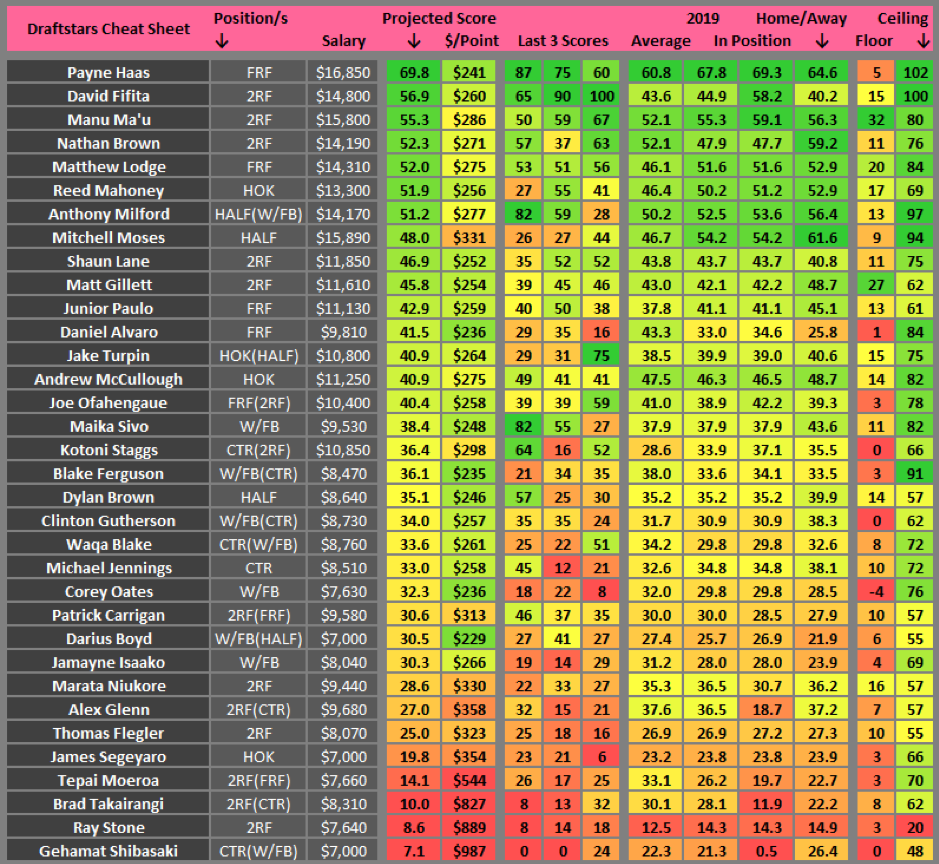 Dragon's Diamonds
Payne Haas ($10,600 MB, $16,850 DS)
Is there anything this guy can't do? An out and out wrecking ball who, despite the Broncos having a rather flat week, still managed to rack up 87.4 off the back 73 minutes, 48 tackles and 6 broken tackles. To put it simple, I could be down-playing him this week and he still finds his way into the diamonds. The only way I can see a reason to not play him, is if you are taking a huge risk on an injury or as a decision to have that point of difference against the field. An easy decision for mine, at a very justifiable salary, Haas is a lock.
Reed Mahoney ($6,500 MB, $13,300 DS)
Although not the most amazing of value this week, Mahoney finds his way amongst the diamonds, due to his reliability in this contest. With McCullough likely to exit the field early in the second half for the oncoming Segeyaro, the pint sized Mahoney is expected to play the full game at a slightly larger salary. A tireless defender, Mahoney will be there to make plenty of tackles, but is capable of terrorising the Broncos defence if he is allowed to run. Minimal upside, but a rather safe reliable selection in having him in your line-up on Sunday.
David Fifita ($10,600 MB, $14,800 DS)
Probably just about the difference between the sides when they met just a fortnight ago, Fifita terrorised the Eels in attack, racking up a ridiculous 15 tackle breaks with a fend that resembles a lance from medieval time. Although he is unlikely to replicate those numbers, he will be solid once again as he just about locked up the back-row spot with Glenn's move in to the centres. It must be pointed out, that although there are plenty of great options in this position with the likes of Lane, Ma'U, Brown, and Gillett, Fifita is the pick of the bunch.
Notable mentions go to Corey Oates ($5,400 MB, $7,630 DS) and Daniel Alvaro ($5,300 MB, $9,810 DS), who both represent significant value.
Dragon's Dungeon
Alex Glenn ($5,500 MB, $9,680 DS)
He's not your standard dungeon alumni, but given his salaries are still reflecting his numbers in the back row, Glenn is close enough to a fade with plenty of talent in both of his positions. Although, an excellent line runner and an x-factor when at his best, I don't see him being afford that sort of luxury and I struggle to see any upside at the cost. Should it get a little lob-sides at any stage as well, you can't count on him not moving to bench with Shibasaki ready to take his spot. A great player, but not for me in this contest.
Mitchell Moses ($8,000 MB, $15,890 DS)
Probably the most improved half of 2019, but I'm making a big call and potting the Lebanese international at what is a rather ridiculously large salary. At his best, he can be lethal and he has shown that at Bankwest this season, but with plenty of value around who are capable of fielding a big score on their day, only plenty of spare cash would see me go with Moses in this contest. It must be noted that if stacking Eels players, Moses would be an ideal selection, but with the likes of Haas, Fifita, Ma'u and Brown to choose from, there simply might not be any money.

The Daily Fantasy Rankings "Dragon" has scoured the Australian sports betting markets and found some great value picks for this game. Check out his picks for the day below and click on the links to follow his betting plays!