daily fantasy sports articles
2019 NRL Finals Fantasy Tips: Roosters vs Rabbitohs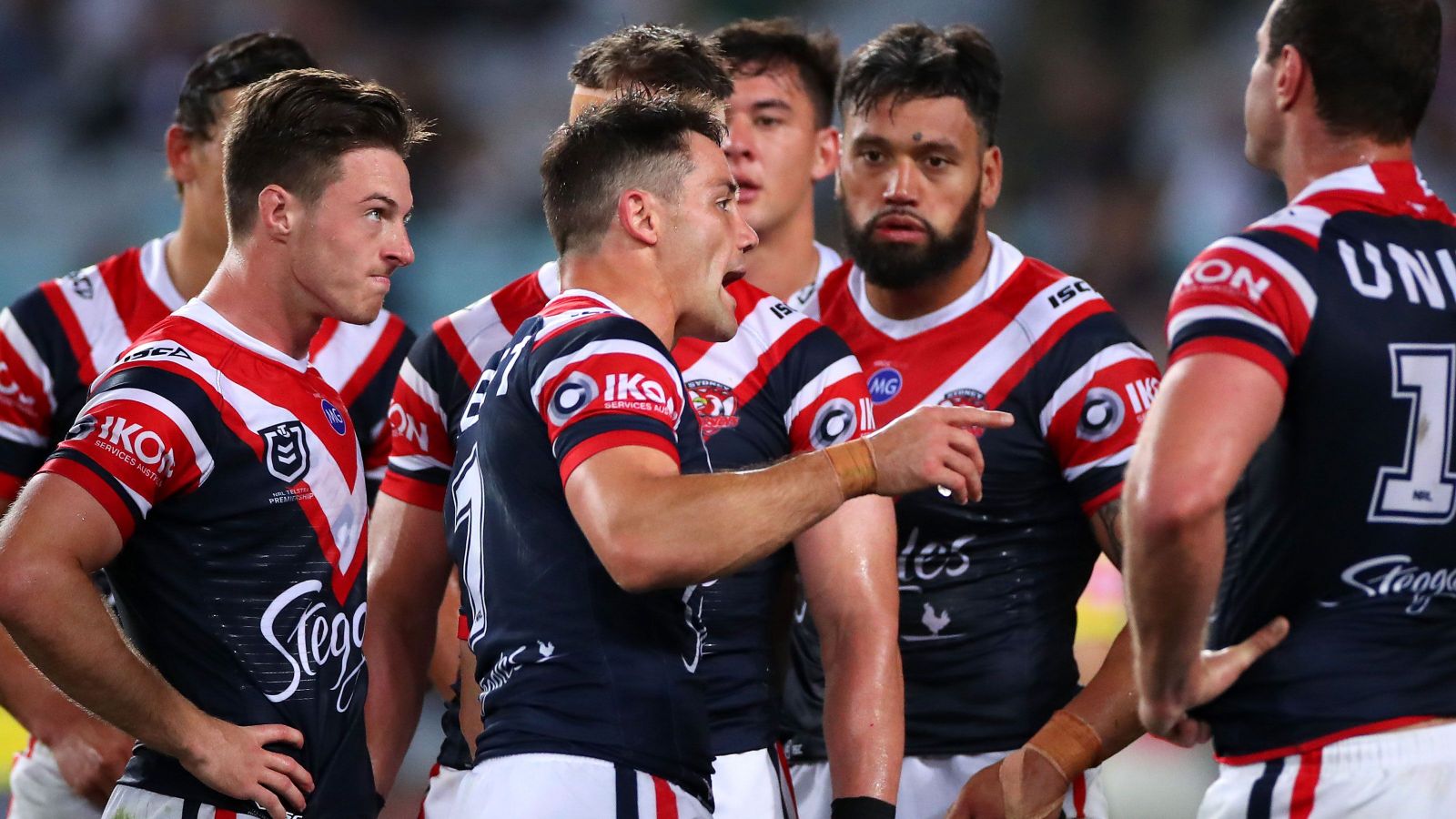 And then there were 8!
The finals are here and with a line-up of games capable of filling stadiums during magic round, just who will advance and who will go?
Just over a week after playing each other in Homebush, both the Roosters and Rabbitohs head to the cricket ground to go at it once again, before the Storm host the Raiders in the sporting capital on Saturday. Later that night, the first of the elimination finals kicks off with the Sea Eagles sharing their asbestos with the Sharks, before Sunday's blockbuster at Bankwest between the Eels and the Broncos. To show just how quality the footy has been this year, the Eels and Sea Eagles have gone above and beyond, the Broncos and Sharks are capable of beating anyone at their best, but the top 4 have been simply sensational.
There is heaps of prize money up for grabs with Draftstars putting up a whopping $10,000 for Sunday's Eels v Broncos clash with $5,000 guaranteed for Friday and Saturday Top 4 semi-finals and $3,000 for the other. Meanwhile, Moneyball have a guaranteed $5,000 on offer for both Friday's and Sunday's contests, with $4,000 guaranteed for both of Saturday's finals. With it shaping up to be an exciting match once again, let's break down the battle of Sydeny as we gear up to another execeptional rendition of the finals series.

Despite the Rabbitohs coming away with the win last week, it is the Roosters who far better prepared into the first week of the finals. The home side will welcome back Luke Keary ($7,200 MB, $12,240 DS) after taking last week off, pending the birth of his child. As well, Mitchell Aubusson ($6,500 MB, $11,890 DS), Brett Morris ($6,900 MB, $9,020 DS), and Siosiua Taukeiaho ($7,100 MB, $11,570 DS) all return from injury, giving the Roosters a near enough full-strength side. In what looks a strong bench, Taukeiaho joins both Nat Butcher ($7,200 MB, $13,370 DS) and Angus Crichton ($8,700 MB, $13,590 DS).
While for last week's winners, they have lost a couple of key players in Sam Burgess to suspension and Dane Gagai to a hamstring injury. Sam's younger brother, Thomas Burgess ($6,000 MB, $9,540 DS) will join the bench, while Bennett welcomes back his former Bronco, James Roberts ($6,000 MB, $10,110 DS), in the centres. The key changes see the Roosters go in as solid favourites, giving the visitors a 7.5-point head start, which although might seem a bit big given the resilient performance from the Rabbitohs last week, it looks a big task for them to keep up with strong Roosters line-up.
When both sides met clashed just last week, it was the Rabbitohs that hung on for a gutsy victory, with Damien Cook (41.6, $10,000 MB, 55.1, $16,910 DS) and Jaydn Su'A (38.6, $4,400 MB, 55.1, $9,280 DS) that proved premium off the back of a very few lost points and a mountain of defence. While for the Roosters, their night was summed up by the fact the lesser known Billy Smith (41.6 MB, 53.1 DS) was the teams high scorer, bagging a try and 8 tackle breaks, leading the way ahead of James Tedesco (43.3, $13,500 MB, 48.6, $16,800 DS) and Angus Crichton (33.5 MB, 53.0 DS).
Looking at both sides and how they concede points, there is very little between the sides, with the home side hold a slight advantage, despite showing a weakness to locks (14th MB, 14th DS). However, it must be noted that the Roosters are far more potent in attack, dominating through the back line, with fullback (1st MB, 1st DS), wingers (2nd MB, 3rd DS) and centres (1st MB, 2nd DS) all performing well. While for the home side, they do boast the best hooker in the comp (1st MB, 1st DS) and will need Cook to be at his best if they are any chance of toppling the Roosters.
While there are plenty of ways to approach this match-up, finding the right mix of high value and high scoring players to go with the perfect pairing combinations, will go a long way to finding success. While the Roosters hold an advantage from both a fantasy and betting perspective, the Rabbitohs proved last week how good they can be when their backs are against the wall. With both coaches making a few changes from their clash just over a week ago, should there be changes to either line-up, tread carefully if following the cheat sheet.
Moneyball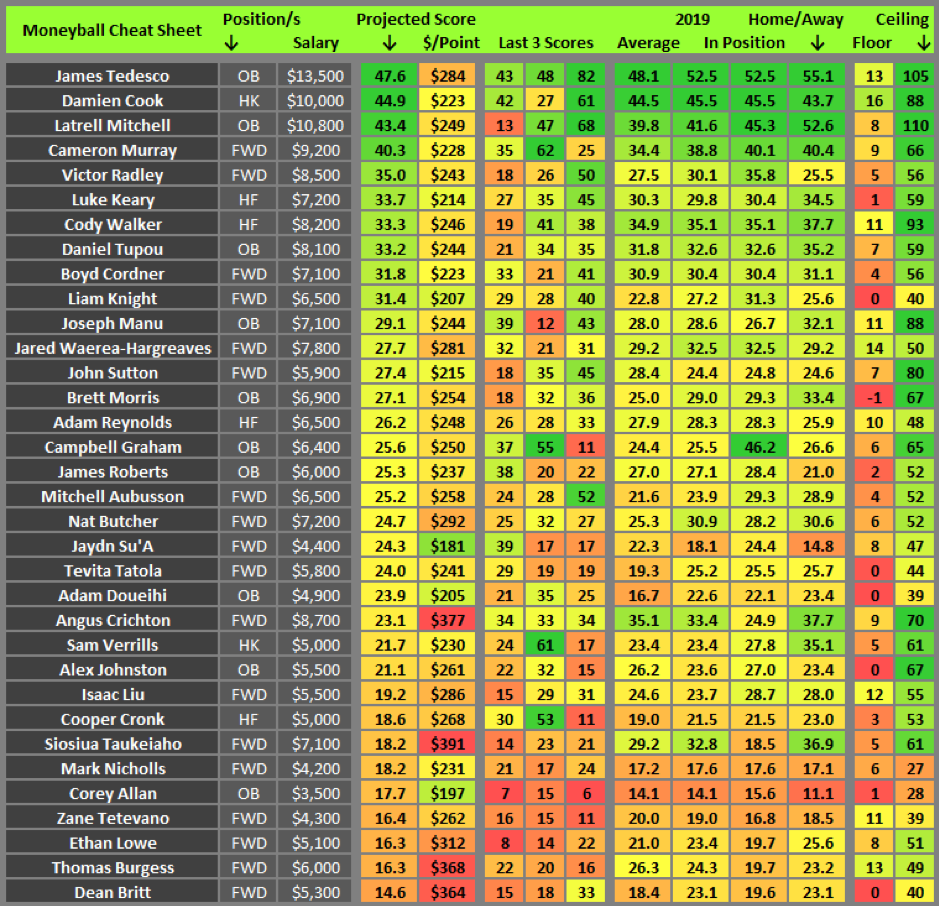 Draftstars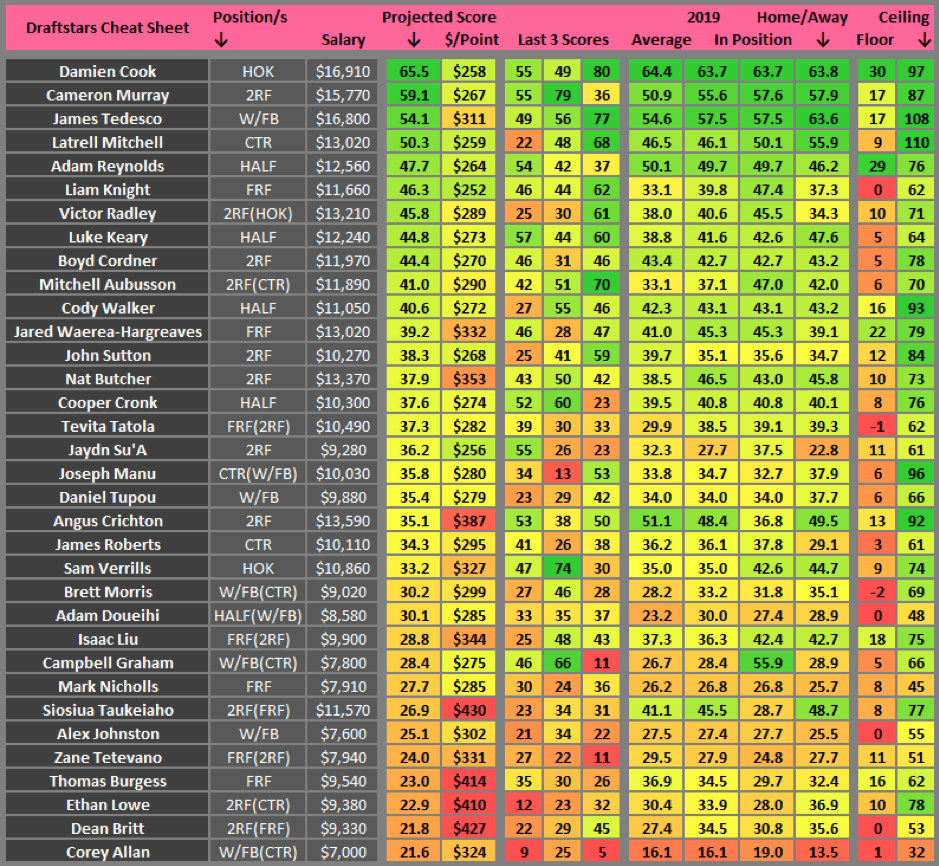 Dragon's Diamonds
Damien Cook ($10,000 MB, $16,910 DS)
I made the call last week that Cook was far better option than Verrills and Radley with so much uncertainty around their required work load, despite both playing plenty of minutes, including a full game from Verrills, it as Cook who dominated. That being said, Verrills offered far more value at his salary, but with a full strength Roosters back this week, there is no upside with selecting him here. To put it simple, you need to find a way to have cook in your side, even if it comes at the expense of others. Happy to lock Cook in for 95%+ of line-ups this week.
Latrell Mitchell ($10,800 MB, $13,020 DS)
He played what was arguably his worst game I have ever seen last week, dropping multiple balls, including a couple that were as close to tries as meat pies, not to mention quite a few missed tackles to tack on. But, that was last week and this is this week, and although it is obvious he is just about certain to improve, I am expecting something big, after a week of training in which Robbo would have certainly let him know he was on notice. As well as being their chief goal kicker, he does come at a price, but a solid option nonetheless.
Liam Knight ($6,500 MB, $11,660 DS)
In a week where quality Rabbitohs players look rather scarce, Liam Knight looks a great option in the forwards. Since gaining a starting spot in recent weeks, he has taken it with both hands, making the most of every minute, with plenty of offloads and broken tackles, while working tirelessly in defence. With S.Burgess out through suspension, it only adds upside to another solid Knight score, with both Tatola and T.Burgess not likely to play big minutes. A real standout in this contest and likely to be heavily owned in the first week of the finals.
Dragon's Dungeon
Cooper Cronk ($5,000 MB, $10,300 DS)
As a Queenslander that marvelled at anything this guy did, it hurts me to throw him amongst the dungeon, but with Keary back in the line-up, Cronk's numbers will drop significantly, albeit despite his salary increases. Having to fork out even more for the former Storm half doesn't sell it to me either and should the Roosters get over the line as expected come Thursday night, I see it being on the back off a Keary masterclass. Not only does Keary appeal as a genuine option in the halves, but with the likes of Reynolds, Walker and Doueihi, Cronk is a fade for me.
James Roberts ($6,000 MB, $10,110 DS)
After a couple of weeks on the sidelines, Roberts back to the centres and unfortunately it all comes at the expense of the injured Dane Gagai. Whether it be minor and they are happy to rest him with the double chance, is hard to tell for next week, but while he is away, I struggle to see Roberts offering much upside to his ridiculous salaries. A player generally known for his speed and quick plays off the back of quick plays, I don't see him afforded that opportunity with the far weaker forward pack. Capable of anything on his day, I am happy to pot him here at the cost.
Siosiua Taukeiaho ($7,100 MB, $11,570 DS)
Putting the sword into backrowers in recent weeks hasn't been the handiest of decisions, given they have ended up starting, but returning from injury and with a stacked forward pack that is capable of playing big minutes, I'm not expecting the coach calling on Taukeiaho to save the day with an 80 minute blinder. Although an absolute weapon at his peak, Taukeiaho still has the same respective salaries and to put it simple, there is only downside here. A clear fade in this contest, but then again, given my form, Tedesco will probably break a leg and he will start at fullback.

The Daily Fantasy Rankings "Dragon" has scoured the Australian sports betting markets and found some great value picks for this game. Check out his picks for the day below and click on the links to follow his betting plays!