daily fantasy sports articles
2019 NRL Grand Final Daily Fantasy Tips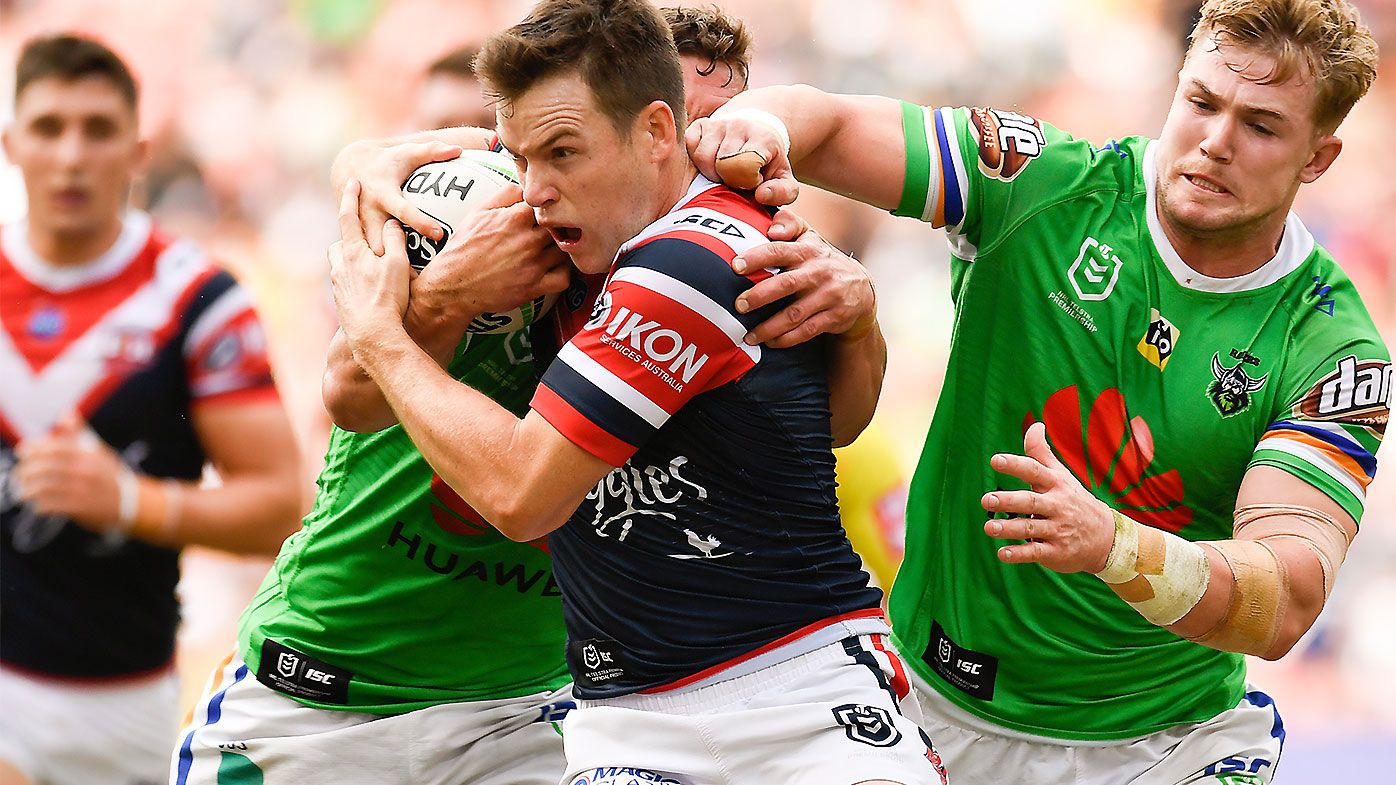 Just a few hours apart, but two very different playing styles. Sunday the 6th October will see the almighty Sydney Roosters take on a brave Canberra Raiders side in a true battle of David v Goliath. For one it will be a chance at their first premiership in 25 years, while for the other it will be an opportunity to be the first team to win back to back premierships in over 26 years. Neither have been achieved at ANZ Stadium, which will host it's final NRL grand final after 21 years since the stadium was built for the Olympics, making way for a major upgrade to take place.
The Roosters are simply a powerhouse squad, with talent right across the board, and despite the numerous injuries they have dealt with in 2019, they have remained short in betting based on expectation alone, and rightfully so. The Raiders on the other hand, stacked with talent from north of the hemisphere, have reinvigorated the game and it has paid off in spades for the team from the nation's capital, constantly defying the doubters, myself included. While for one it will be ecstasy, the other it will be despair, either way, Sunday shapes up to be a battle for the ages.
With no AFL Grand Final on the same weekend for the first time in a little while, the guys at Draftstars and Moneyball have put up some excellent prize pools that those that know their AFL would be used to. There is a whopping $40,000 guaranteed at Draftstars up for grabs, with 1st place to take out over $5,000 alone. While Moneyball haven't missed the boat either, guaranteeing $20,000 for Sunday's blockbuster, with a minimum $2,000 for first. With that said, let's break down the Grand Final and see just where the money will be won.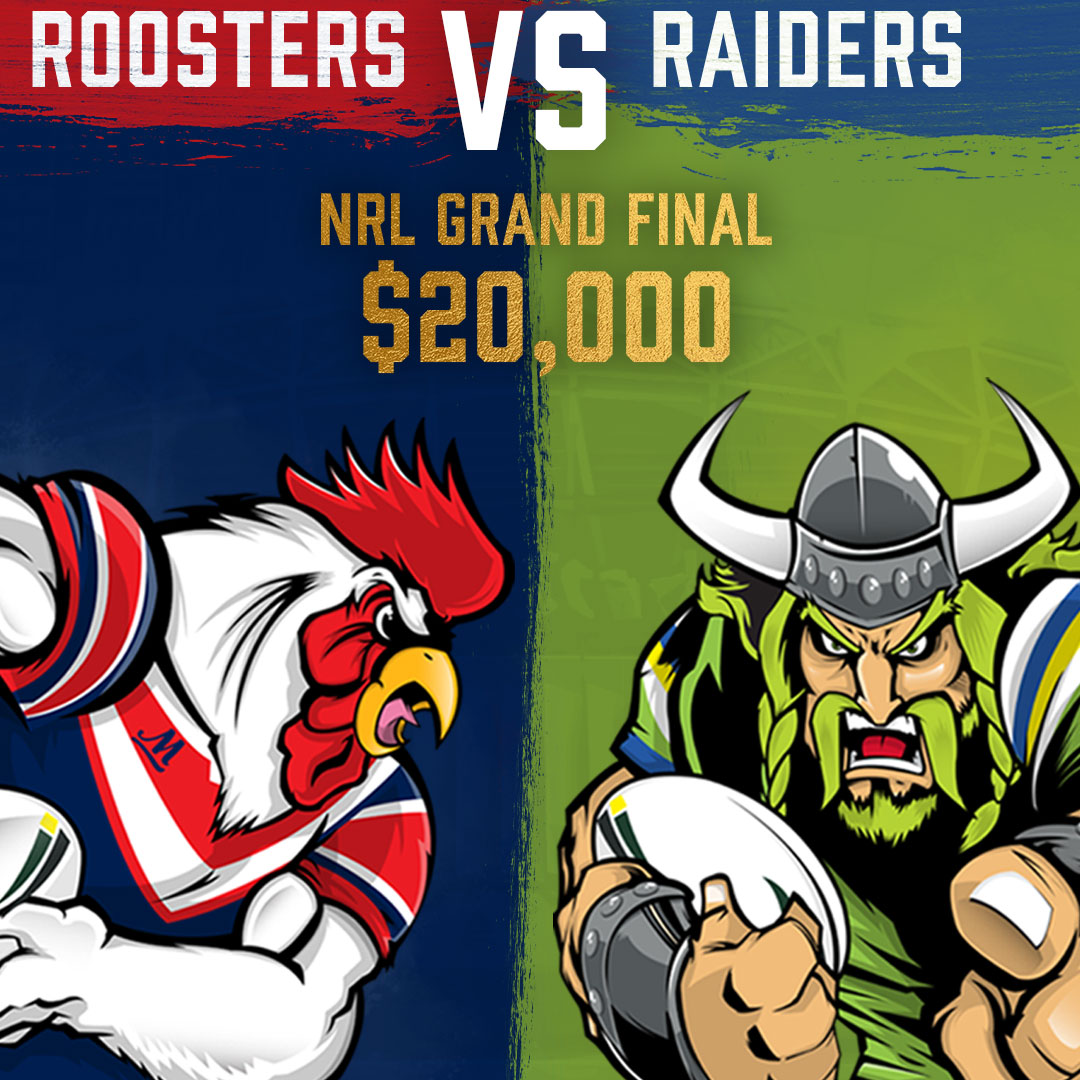 After an interesting season riddled with injuries, the Roosters have flexed their depth, never looking out touch, despite finishing three games back in the minor premiership race. They will head into this contest just about full strength, with Jared Waerea-Hargreaves ($7,700 MB, $12,470 DS) to return from his one-week suspension for tripping, forcing Siosiua Taukeiaho ($6,900 MB, $10,700 DS) to the bench, with Collins to unfortunately miss out altogether. More interestingly, Jake Friend ($7,900 MB, $13,300 DS) has been named in the reserves once again but is unlikely to play.
Years gone by many have thought it would be the Raiders year, but in 2019, it was the likes of the Storm, Broncos, Sharks and Dragons that many were predicting would be sharing the spotlight with the Roosters. With their excellent recruitment of tough, honest Brits from north of the hemisphere, Ricky Stuart has guided this gallant Raiders squad to the big dance. Despite carrying a few niggling injuries from the club's preliminary final win, they remain unchanged, with Josh Hodgson ($8,200 MB, $14,030 DS) the only minor concern, after missing training earlier in the week.
As expected, the Roosters will head into the final as dominant favourites ($1.40), giving the Raiders a 7.5-point head start. The current totals line sits at 33.5 points, while James Tedesco ($4.50) has been installed as the early favourite for the Clive Churchill Medal. I've made it known before that I'm not a believer in the Raiders style of footy and I feel if it wasn't for an overhaul in the raking rule, they would have been lucky to make the finals, but that said, I'm not rushing into the Roosters here and I feel the bookies have the market for the match, line and totals just about spot on.
On their way to the Premiership last year, the Roosters went down to the Raiders by 2 heading into the finals. On that occasion, Josh Papalii (40.1, $9,300 MB, 60.6, $15,770 DS) proved the difference off the back of 156 running metres, 4 tackle breaks and 33 offloads. While for the home side, Jake Friend (41.6 MB, 62.5 DS) with 50 tackles and 2 tackle breaks, and Victor Radley (47.9, $7,600 MB, 62.9, $10,250 DS) crossing the line for a try to go along with 36 tackles and 5 tackle breaks, were standouts despite losing.

When round 9 brought both sides together for the first time this season, the Roosters ran away 6-point winners and it was the brilliance of Siosiua Taukeiaho (53.5 MB, 67.3 DS) after 263 running metres and James Tedesco (80.4, $12,200 MB, 77.9, $15,520 DS) with 199 running metres, 8 tackle breaks, 3 try assists, 2 line breaks and a try, that proved the difference. While for the visitors, Papalii (43.8 MB, 62.8 DS) was a force once again, but Jack Wighton (45.2, $6,600 MB, 63.3, $12,380 DS) asserted his role in the halves off the back of 221 kicking metres, 3 tackle breaks, a try-assist and a try.
When the Viking clap rolled into town in round 21, the Roosters were too good once again, despite a surge of money coming for the home side. Tedesco (52.4 MB, 48.4 DS) was clinical, Radley (45.0 MB, 62.5 DS) was a force, but off the back of 160 running metres, 37 tackles, 7 tackle breaks and a line break, there was no stopping Angus Crichton (44.0, $8,200 MB, 66.0, $13,300 DS). While for the Raiders, it was business as usual for John Bateman (50.2, $9,500 MB, 62.8, $16,520 DS), with 35 tackles, 4 offloads, 2 tackle breaks, 1 try assist and 1 line break assist.
When looking at both sides and where they're weaknesses lie conceding fantasy points, both sides are very even overall, with both sides only demonstrating real concern against locks, Roosters (10th MB, 13th DS), Raiders (12th MB, 15th DS). Despite, that suggesting this might look to be a tight contest fantasy wise, the Roosters have been far more potent on offence, averaging 30-50 more points a slate. With the talent of Tedesco and Latrell Mitchell ($9,400 MB, $11,860 DS), it's hard to deny that they boast the most impressive and expensive back line in the NRL.
While playing safe this week is likely to put you up there, those at the pointy end of the leaderboard will be those that take the risk and think outside the box. What exactly that is, who knows? But, one thing that is for sure, is you will need to home in and nail that perfect combination of value and premium players. With plenty of cash up for grabs, for those that generally only put in a couple of line-ups, this might be the week to open the wallet, as opportunities like this don't come around too often. In saying that, stick to a limit and gamble responsibly.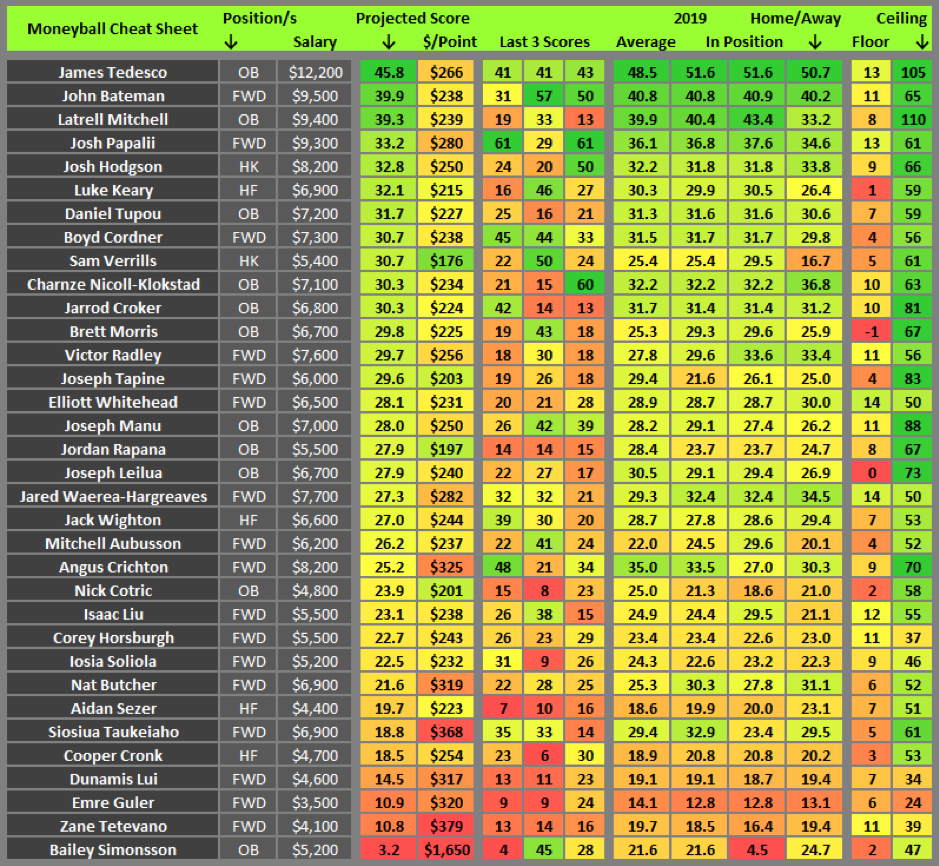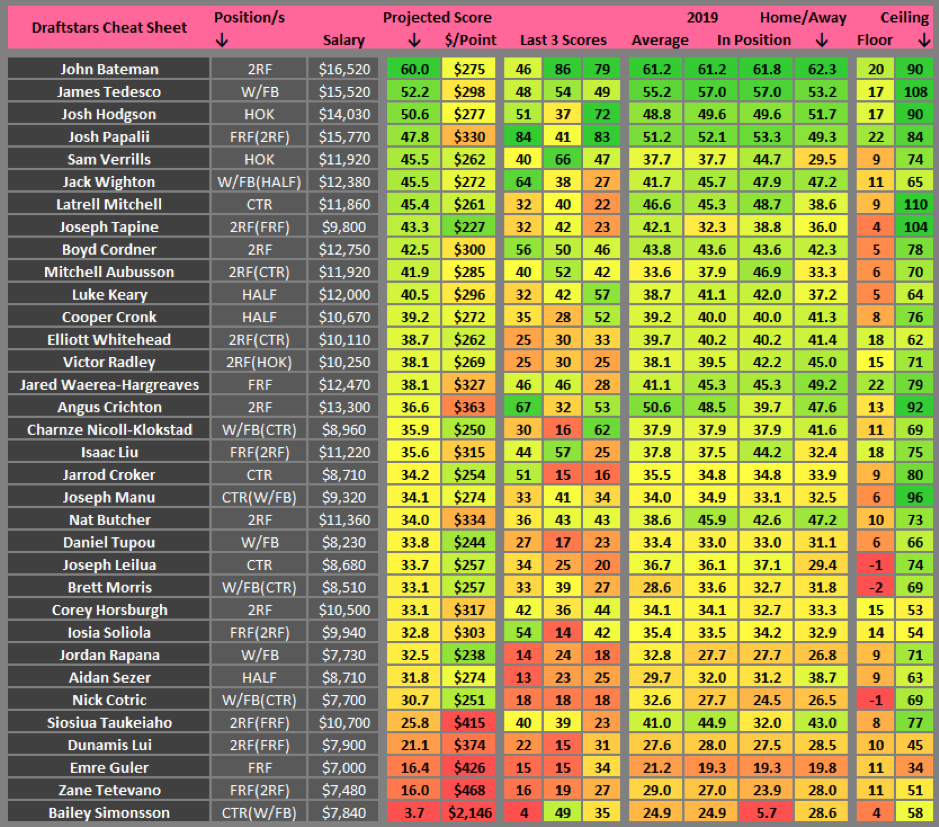 Dragon's Diamonds
Luke Keary ($6,900 MB, $12,000 DS)
Bit of a personal touch with this one, given I'm going a bit against the projected score, but Keary could very well be the most influential player in this final. A potential Clive Churchill medallist, Keary will head into this with the second worst ceiling in the Roosters side but has very solid grounding and plenty of Grand Final experience. I don't often go against the grain, but Cronk, even in his last game, doesn't exactly excite me, and huge scores from Wighton and Sezer aren't exactly favourable against a Roosters side that is one of the best at minimising scores.
Joseph Tapine ($6,000 MB, $9,800 DS)
After singing for the choir about Tapine last week only for him to leave the field early due to a minor injury, it's hard to think I'd be doing it again. But given the serious drop in his salary heading into this contest, he is arguably the bargain buy of the Grand Final. You don't need to be a rocket scientist to know what this guy is capable of and what he has achieved at both club and international level. Potentially the forgotten man in this contest and with plenty of broken tackle potential, he could very well be the x-factor if the Raiders are to achieve success come Sunday.
Sam Verrills ($5,400 MB, $11,920 DS)
With only the three options on Draftstars and two options for hook on Moneyball, you could just about make a case for any option in your line-up, but given he is a dominant value option at the salary on Moneyball, young Verrills looks the pick of the bunch here. Now although this is based on him playing and Friend not squeezing into the side, a Roosters onslaught would likely affect that also. Given all that, there is plenty of upside with this young hooker and ultimately, he could prove to be that selection that takes you from top 10 to winning.
Nick Cotric ($4,800 MB, $7,700 DS) / Jordan Rapana ($5,500 MB, $7,730 DS)
After successive weeks of low scores from this Raiders duo, their salaries have continued to plummet and now find themselves at ridiculously valuable positions. Although their selection in your side is dependent upon the success of the Raiders side, at rock-bottom, you could just about entertain their selection regardless. Trying to squeeze the likes of Tedesco, Bateman and Papalii is difficult as it is, but having the ability to select a player of high calibre and ceiling potential to allow that in your line-up is exciting.
Dragon's Dungeon
Josh Papalii ($9,300 MB, $15,770 DS)
Being a Queenslander, it really kills me to talk about Papalii in this sort of context, but to be frank, I will struggle to squeeze him at the salary this week. If I was including him amongst a spread of line-ups on this slate, you are looking at around 10% selection, those line-ups consisting of Raider stacked sides that will rely on a huge game that he is capable of. I'm not denying his efforts and his form this year both for the Raiders and Queensland, but given how suffocating this Roosters side can be, I would be shocked if they are to let Papalii go on another rampage.
Angus Crichton ($8,200 MB, $13,300 DS)
It was complete egg on my face last week, potting Crichton, to which he then went on for a huge score off the back of Aubusson leaving the field early. Now although his minutes are likely to decrease this week significantly, even if he did manage to get plenty of game time, at the rather large salaries, I just can't see any reason for him here. With the likes of Butcher, Tetevano and Taukeiaho padding the bench, there is next to no upside with Crichton in this contest and I am happy to fade him once again here.
Early Line-Up Selections
If I was to throw my hat in the ring with a gun to my head and put together a couple of line-ups that I thought would give me the best chance come Sunday, this is how I would see it.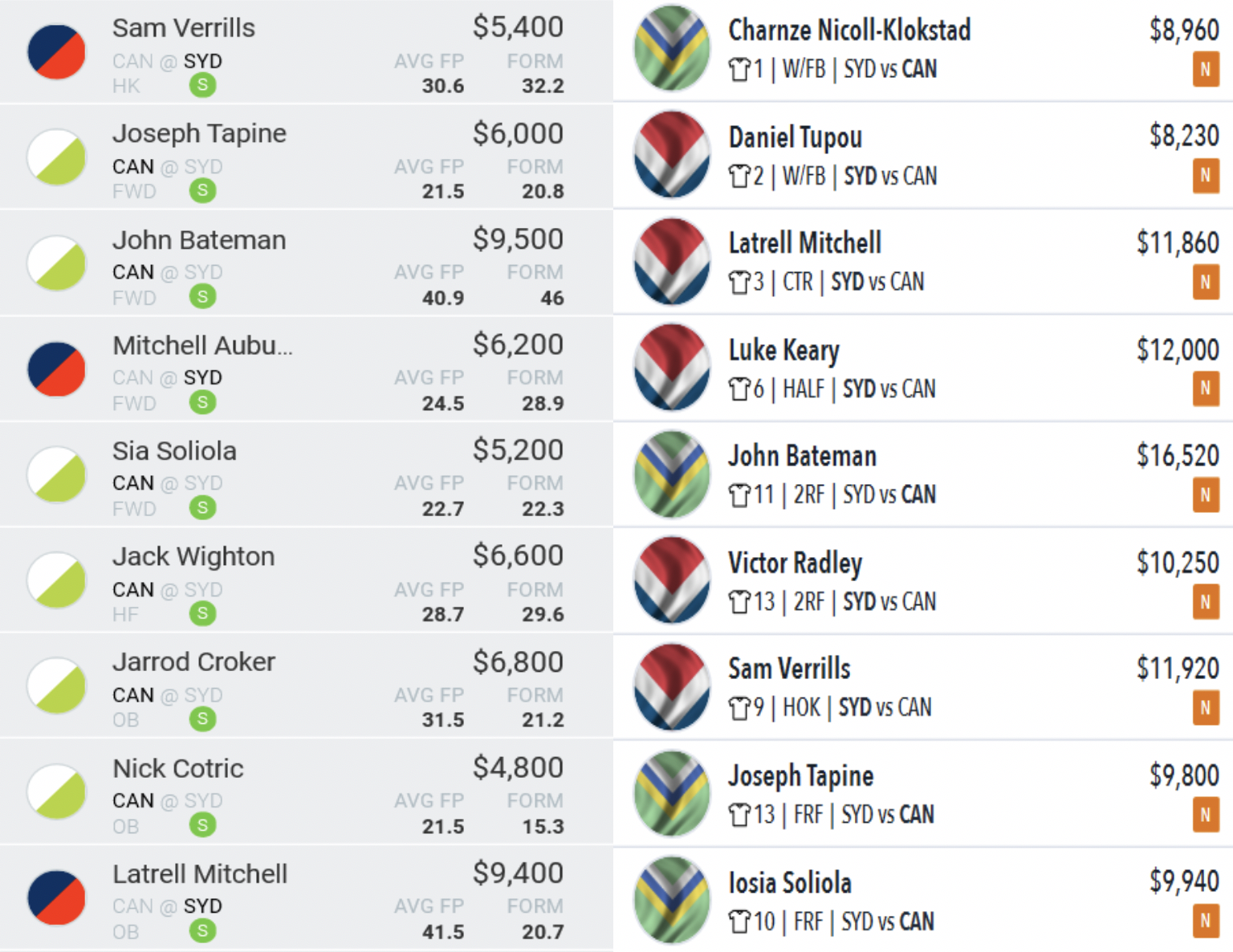 The Daily Fantasy Rankings "Dragon" has scoured the Australian sports betting markets and found some great value picks for this game. Check out his picks for the day below and click on the links to follow his betting plays!

Always remember to gamble responsibly. When the fun stops, stop. If gambling is having a negative impact on your life, seek support at Gambling Help Online. 18+ only.