daily fantasy sports articles
2019 NRL Semi-Finals Daily Fantasy Tips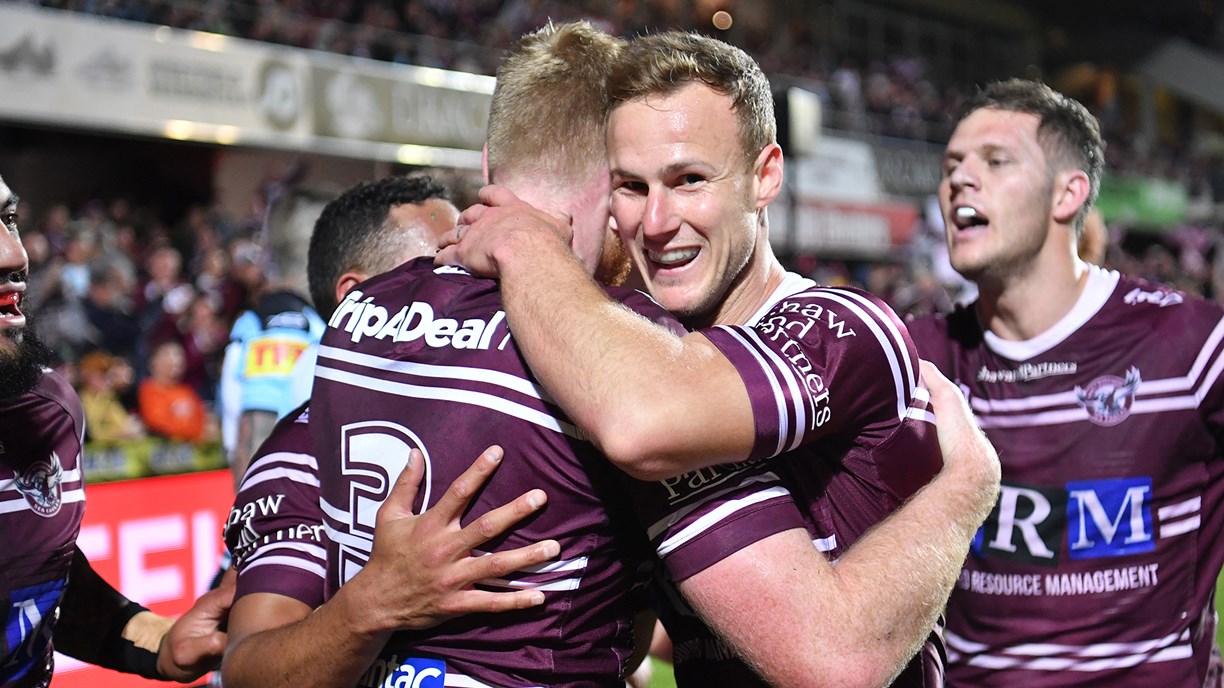 Bye bye Cronulla, sayonara Brisbane!
Just six remain after what was a rollercoaster of a first week of the NRL finals. With blow-outs here and upsets there, even a John Farnham fan would have been more impressed. With the Roosters and Raiders getting the week off and going straight to the preliminary, the second week of the finals will see the Rabbitohs host the Sea Eagles, while the Storm will host the Eels. But more interestingly, the chances of Roosters/Storm Grand Final have been squashed and how lob-sided the finals structure has already become.
There is heaps of prize money up for grabs with Draftstars putting up a whopping $10,000 for Saturday's Storm v Eels clash, with a further $5,000 guaranteed for Friday's blockbuster between the Rabbitohs and the Sea Eagles. Meanwhile, Moneyball have a guaranteed $5,000 on offer for both games to go along with plenty of other great tournaments across the platform. So let's break down both of the finals and see just where the money will be won.

South Sydney Rabbitohs v Manly Sea Eagles
Blown away early in the first half, the Rabbitohs will look to bounce back this week when they host the Sea Eagles who won as outsides at home to the Sharks in week 1. The home side will much timely welcome back Sam Burgess ($7,300 MB, $10,750 DS) from suspension and Dane Gagai ($6,400 MB, $9,390 DS) from injury, with both Jaydn Su'A and Corey Allan to make way. While the visitors also welcome back Martin Taupau ($8,400 MB, $15,100 DS) from suspension, at the expense of Toafofoa Sipley, who drops to the reserves.
Albeit outclassed against the Roosters, the Rabbitohs head into this contest as 6.5-point favourites, fresh off the back of their timely inclusions. Despite the visitors coming off a gutsy win, the loss of Tommy 'Turbo', Sironen, and Thompson must surely be catching up with them and the Rabbitohs should find a way to get over the line here. Currently the $2.88 at Pointsbet for the Rabbitohs to win by 12 or less looks good value.
Just a field goal separate the sides when they met on both occasions this year, with each team sharing the points. More recently it was Adam Reynolds (45.8, $6,500 MB, 56.6, $13,960 DS) who led the way for the Rabbitohs, while Daly Cherry-Evans (60.1, $8,300 MB, 64.3, $14,510 DS) led the way, despite losing. Back in round 4, Cherry-Evans (35.4 MB, 58.9 DS) was a rather less dominant top scorer for the victors, while Damien Cook (39.7, $9,600 MB, 64.1, $16,760 DS) and Cameron Murray (45.2, $9,100 MB, 68.2, $15,730 DS) were workhorses in defence.
Going over how both sides have leaked points in the past, there is not much to split the sides, with both showing minor concerns across the field. While conceding to centres (15th MB, 15th DS) have been an issue for the Rabbitohs, five-eights (15th MB, 15th DS) have been an issue for the Sea Eagles. All-in-all both sides are quite even from a fantasy standpoint.
Moneyball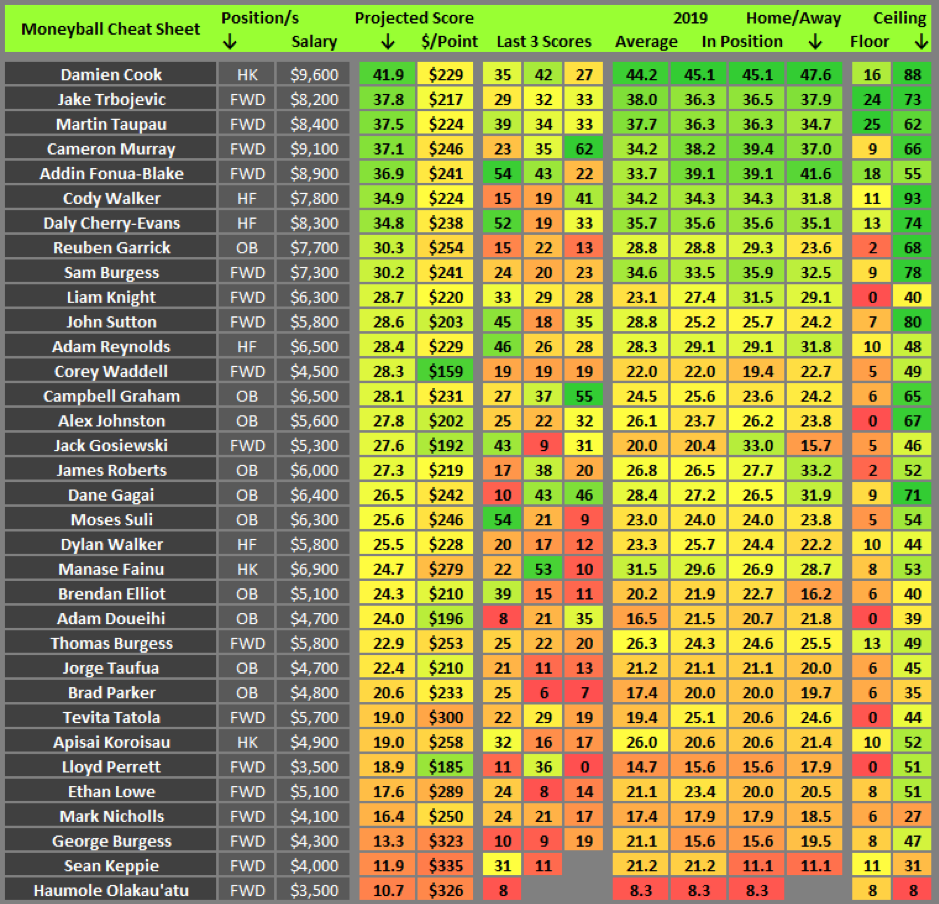 Draftstars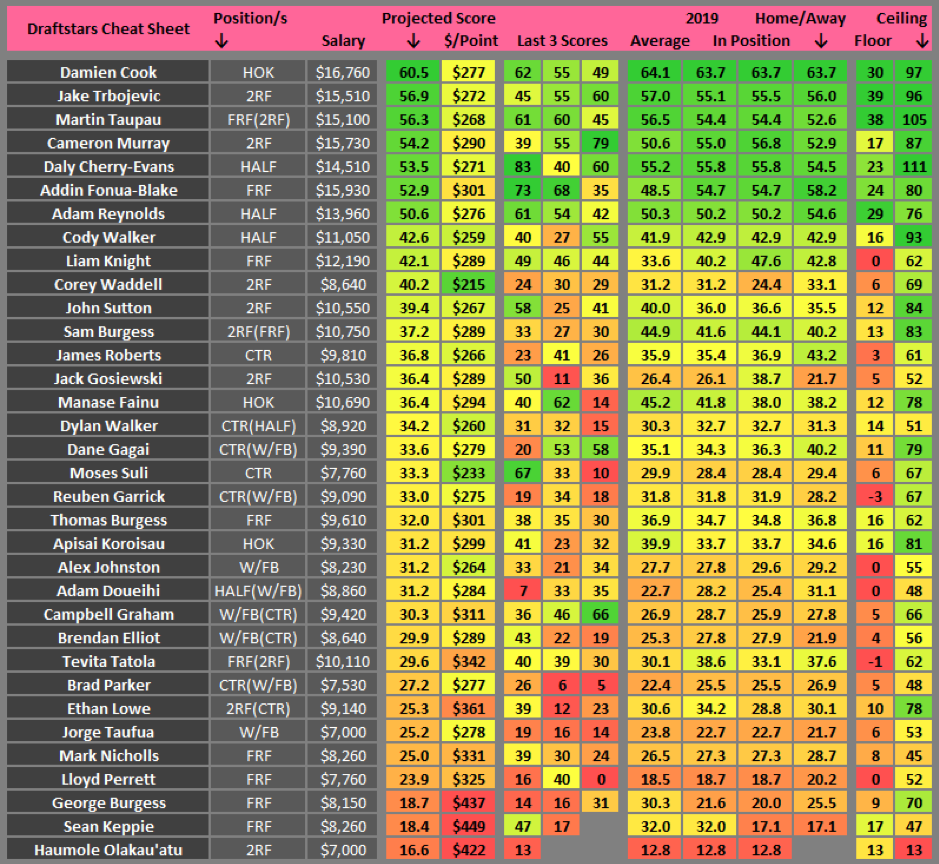 Melbourne Storm v Parramatta Eels
While the Storm were shocked, losing their second consecutive home game to the Raiders, the Eels were phenomenal, obliterating a rather lacklustre Broncos sides. While Bellamy has stuck solid with his same side that went down, many will start to question whether the dominance of the past decade is coming to an end. The visitors welcome back Kane Evans ($5,500 MB, $9,270 DS) from suspension, with Ray Stone to make way from a side that will be buoyant after last week's win.
Despite putting in arguably their best performance of the season, the Eels will head into the match as 8-point outsiders. Although the Storm are expected to bounce back, they have been far from damaging this year and I wouldn't be surprised to see this go down to the wire. Currently you can get $3.00 at BetEasy for the Storm to win by 12 or less, which looks great value.
You don't really need to be an expert to remember the last time these two met, a 64-10 thrashing over magic round, one in which no one would have ever thought we'd see the Eels here today. On that occasion, Cameron Munster (73.4, $9,000 MB, 94.7, $14,850 DS) and Ryan Papenhuyzen (76.2, $7,500 MB, 67.7, $12,930 DS) led the way with 14 tackle breaks and 3 tries between them. While Shaun Lane (40.7, $7,400 MB, 53.0, $12,100 DS) was a small shining light for the Eels in a demolished side.
Looking at both sides and how they concede points, there is clear advantage to home side, despite the Eels showing plenty of improvement in recent weeks. Nevertheless, the visitors have conceded heavily to props (16th MB, 16th DS) and have struggled significantly away from home. The Storm on the other hand, have been flawless against fullbacks (1st MB, 1st DS), wingers (3rd MB, 2nd DS), centres (2nd MB, 3rd DS), halfbacks (1st MB, 1st DS), five-eights (1st MB, 1st DS), props (1st MB, 1st DS), hookers (1st MB, 1st DS) and the interchange (2nd MB, 2nd DS).
Moneyball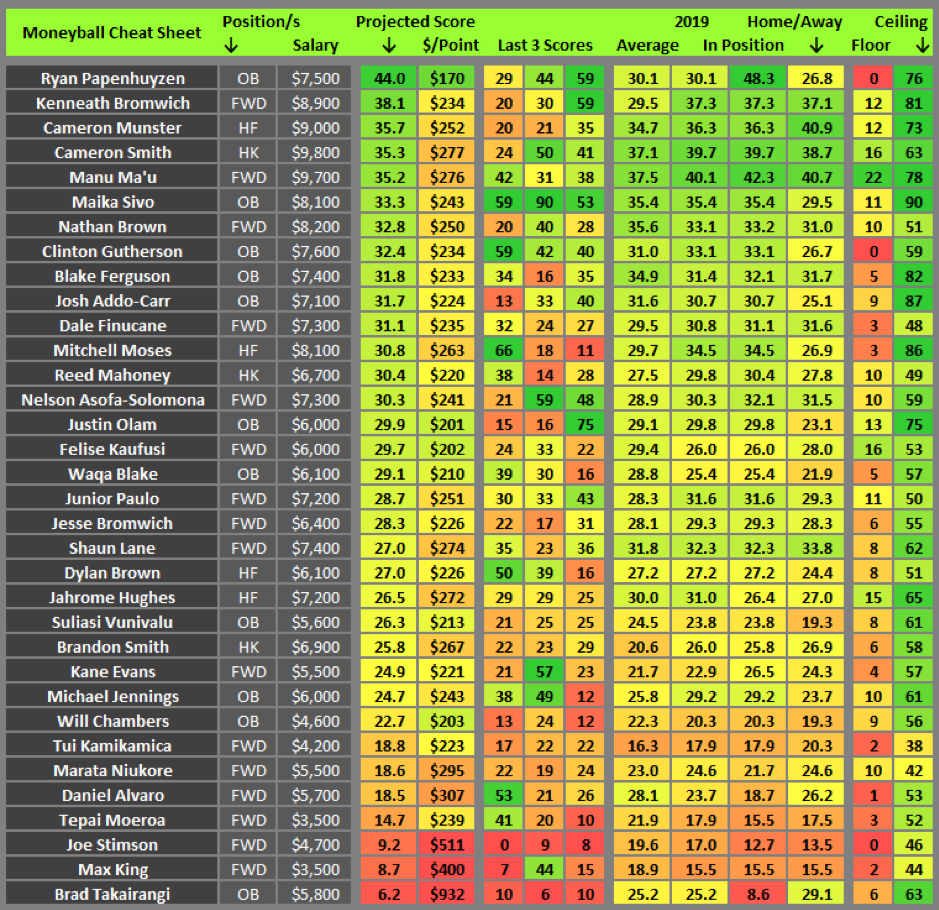 Draftstars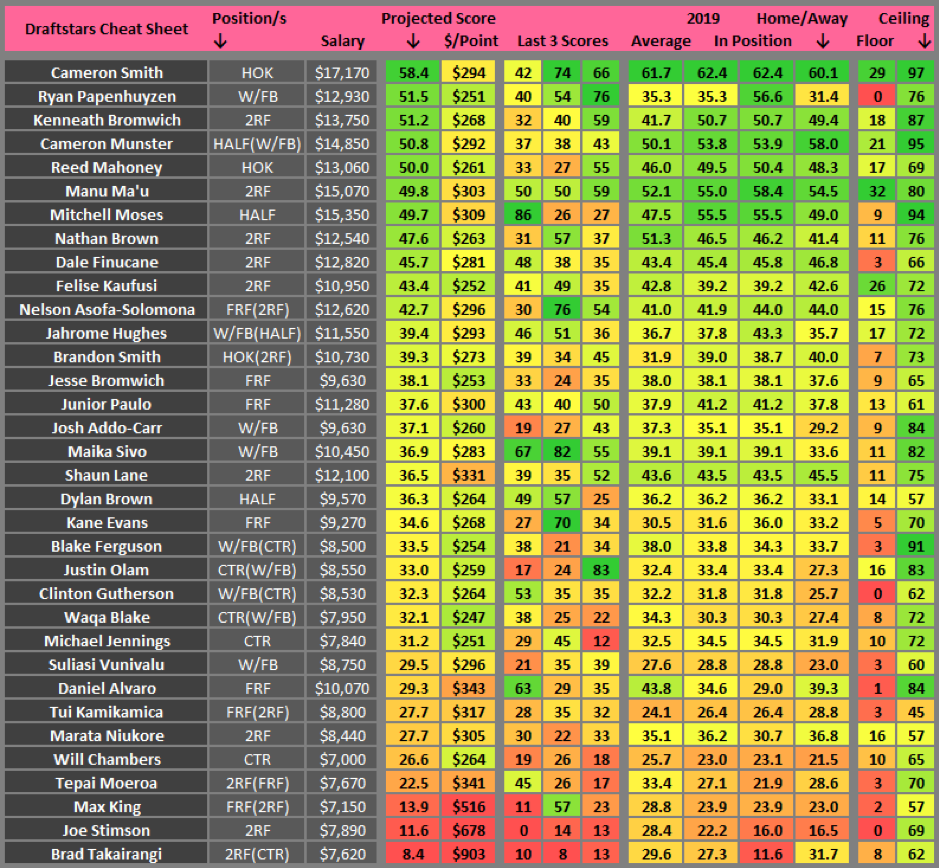 Dragon's Diamonds
Corey Waddell ($4,500 MB, $8,640 DS)
The clear bargain buy of the weekend goes to recent finals second row replacement in Corey Waddell, who is likely to play big minutes again this week. Although he was hardly convincing last week, Waddell scores well through defence, which should benefit him coming into their clash against the Rabbitohs. With the likes of Taupau, Fonua-Blake and Trbojevic in the side, he is unlikely to top the forwards list, but at rather base salaries, expect to get plenty of bang for your buck, with a really solid floor when playing similar game time.
Ryan Papenhuyzen ($7,500 MB, $12,930 DS)
Despite a rather large salary for a fullback, it's hard to not to be having Papenhuyzen in your side, especially given how well he has performed in his debut season. In five games at the back, his most recent game against the Raiders (28.9 MB, 39.6 DS), produced his lowest score so far with 3 scores of 50+ across Moneyball and 60+ on Draftstars. During that period he has managed to rack up 1442 metres, 37 tackle breaks and 4 tries, numbers that would leave Tedesco in his wake. Forget last week, Papenhuyzen is the clear X-factor here.
Damien Cook ($9,600 MB, $16,760 DS)
For the third week in a row, mobile hooker, Damien Cook finds himself amongst the diamonds once again with another easy match-up. With the only other options being both Koroisau and Fainu, who both generally split the duties, Cook is just about a lock this week, despite the large salary. With a projected score 24.1 greater than the next best, unless you're really strapped on the budget, you simply can't expect to win without him. However, with a few value plays amongst the slate, you won't see anyone but Cook in my line-up.
Dragon's Dungeon
Mitchell Moses ($8,100 MB, $15,350 DS)
I potted him last week and boy did it hurt me big time, but I'm going to do it again. Against a Storm side that is far too good at restricting key playmakers and fantasy guns, Mitchell Moses has next to no upside with his ever increasing salaries. I'm happy to be proven wrong, but let's be honest despite his sheer dominance, a clearly uninterested Broncos side, padded those stats. With options galore in Munster, Brown and Hughes all warranting of their place in any line-up, I happy to fade Moses once again as the Eels look to upset the Storm.
Apisai Koroisau ($4,900 MB, $9,330 DS)
As a clear consequence to the love for Damien Cook, Koroisau is the fade for me if you do have to settle between him and Fainu. Although he does start, he hasn't played more than 50 minutes in some time and even after scoring a try last week, his peak scores offer next to no satisfaction. Fainu on the other hand is far more exciting and can prove the biggest of hurdles if either is to match it with Cook. Adventurous in attack, yet still tireless in defence, if Fainu was the starting hooker playing most of the game, you could just about make room for his spot in your line-up.

The Daily Fantasy Rankings "Dragon" has scoured the Australian sports betting markets and found some great value picks for this game. Check out his picks for the day below and click on the links to follow his betting plays!