daily fantasy sports articles
2019 State of Origin: Game 3 Fantasy Lineup Tips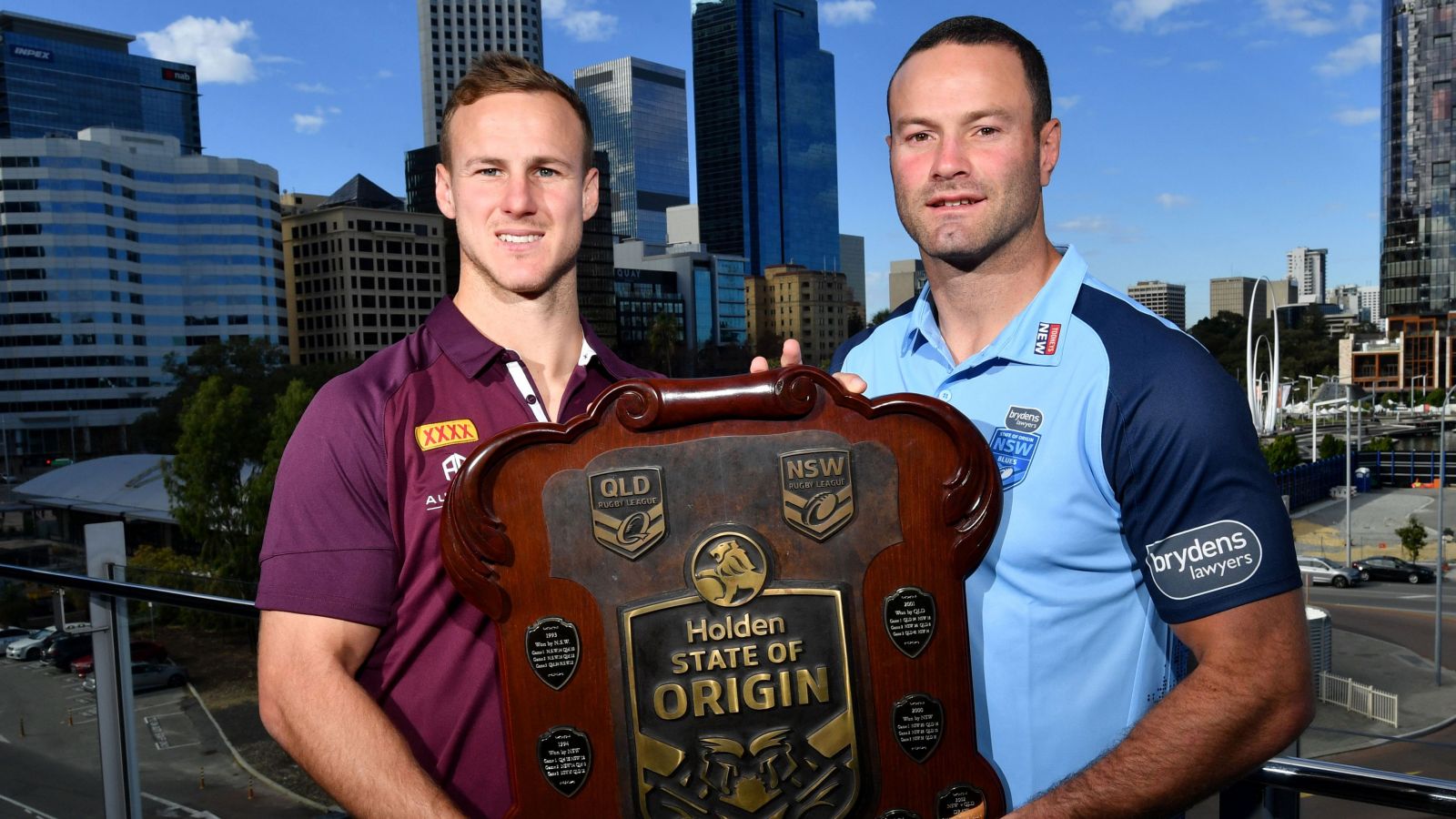 The equation is simple…
A win for the heavy favourite blues and secure what will be their first back to back series wins since 2005, while for the maroons, a win as huge underdogs will be their 12th series victory in 14 years.
No longer can Queensland call on the likes of Smith and Thurston as the new generation of Munster ($8,100 MB, $13,200 DS), Fifita ($4,900 MB, $8,370 DS) and Ponga are forced on to the front line to tackle the battled hardened Cordner ($6,400 MB, $9,990 DS), Tedesco ($8,700 MB, $13,520 DS), and Jake ($6,900 MB, $12,630 DS) and Tom Trbojevic ($7,200 MB, $10,070 DS). Having endured plenty of tough years, New South Wales have found plenty of strength with Fittler at the helm to guide what is the next generation of blues talent.
After a gritty win to Queensland in game I, Fittler wielded the axe with plenty of changes ahead of game II in Perth. Ultimately, making the big call to drop the likes of Mitchell and Crichton paid off for the side as they ran out dominant winners, cementing them as clear favourites for the decider in Sydney. The difference between the two sides grew in recent times when it was announced the electric Ponga had succumbed to an ongoing injury complaint from game II and would not be there in Sydney. While in recent days, the maroons most capped player in Gillett ($5,700 MB, $10,310 DS), has been battling a groin injury that if he is unable to overcome, could see Lowe ($4,000 MB, $7,500 DS) make his Origin debut. Barring any late changes, New South Wales will start as short favourites, giving Queensland a 6.5 line head start in betting.
Despite naming an identical side to the one that ran out 32 point winners, the past week has forced some changes for the blues of which could prove a silver lining, with the return of Klemmer ($6,100 MB, $11,070 DS) for the suspended Sims and the exiled Pearce ($6,500 MB, $11,960 DS) for the injured Cleary. As mentioned the loss of Ponga will be huge for the maroons, and it will be Norman ($5,700 MB, $9,610 DS) who comes in along with the returning Ofahengaue ($5,200 MB, $8,370 DS) and debutant Welch ($4,400 MB, $8,500 DS), at the expense of under-performing forwards Napa and Wallace. Despite Norman coming in for Ponga, it was just about certain that Munster will start at the back. While in recent days, news reports have been circulating that although he has been named on the bench, it is highly likely that Klemmer will start alongside his Knights teammate in Saifiti ($4,900 MB, $7,500 DS), with Vaughan ($4,800 MB, $10,550 DS) to start from the sidelines.
Check out our special State of Origin Game 3 DFS video preview for Moneyball and Draftstars. Frenchy and Smatho team up to bring you some of the best plays for the slate!
There will be plenty of prize money up for grabs with both Moneyball and Draftstars putting up $20,000 guaranteed for Wednesday night's blockbuster and while that will attract plenty of the fantasy regulars, there will be plenty of smaller tournaments around, catering for all types of budgets.

After an average winning margin of +1.73 and +49.27 on the Moneyball and Draftstars platforms respectively during their 2018 series victory, it is no surprise that the blues were -20.6 and +232.3 across Moneyball, while coming out in front with margins of +9.4 and +208.5 on Draftstars, throughout 2019. Hanging on for a tight win in game I, a double from Gagai ($7,400 MB, $8,770 DS, 66.0 MB, 76.0 DS) and solid performances from Ponga (62.2 MB, 58.4 DS),Munster (60.0 DS), Hunt ($6,400 MB, $14,120 DS, 59.7 DS) were shining lights against the gallant Cook ($8,300 MB, $16,900 DS, 51.2 MB, 75.8 DS), Morris (41.6 MB, 63.6 DS), Tedesco (46.9 MB, 49.4 DS) and Murray ($5,200 MB, $11,070 DS, 43.2 MB, 58.2 DS).
When the sides went at it again just over a couple of weeks ago, it was a hat-trick from Tom Trbojevic (62.8 MB, 68.8 DS) and a double to Addo-Carr ($7,700 MB, $9,800 DS, 59.5 MB, 57.5 DS) who led the way for Frizell ($6,200 MB, $10,230 DS, 55.2 DS), Tedesco (63.4 MB, 54.4 DS) and Maloney ($6,900 MB, $10,740 DS, 45.0 MB, 54.0 DS) in a dominant New South Wales performance. Cherry-Evans ($7,100 MB, $12,900 DS, 53.6 DS) and Hunt (52.3 DS) were the only two in a well-beaten side that posted scores above 50 on Draftstars, while 33.9 from Hunt on Moneyball was the team's best.


When looking at both of the sides and where their weaknesses lie with respect to the NRL, you can clearly see over the past couple of years that the maroons tend to concede heavily in the backline across both formats and with New South Wales boasting an ever impressive squad for game III, Queensland's defence will be put to the test once again. While the halves could be considered as a concern for the blues, Queensland have generally fielded strong fantasy scorers there previously, exaggerating that statistic. While it is noted that the New South Wales bench tends to score much better, a lot of that has to do with the fact that Fittler tends to use his bench for close to half an hour more game time.
While there are plenty of ways to approach this match-up, finding the right mix of high value and high scoring players will go a long way to finding success on the fantasy landscape. With all due respect to the Queensland side, it will take an almighty effort if they are to beat the blues come Wednesday, resulting in a likely dominance in scores towards those south of the border. However, fielding a line-up of those to the north may prove an excellent POD if Munster and co. are able to wield some magic. With a decision to be made on Gillett come Tuesday and the likelihood that Klemmer will in-fact start, keep an eye on team changes, remembering to tread carefully if following the cheat sheet.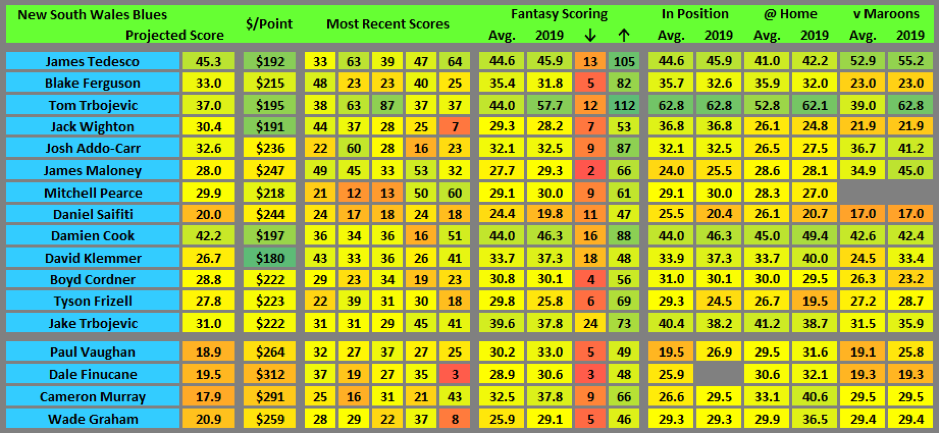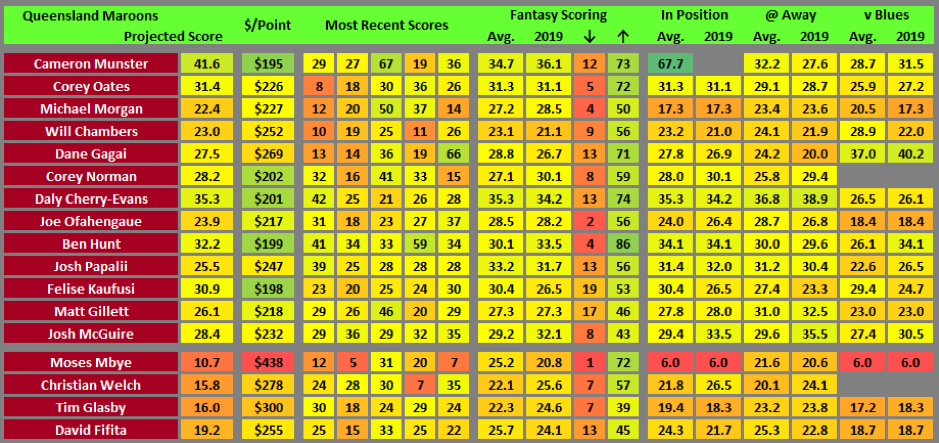 Dragon's Suggested Moneyball Team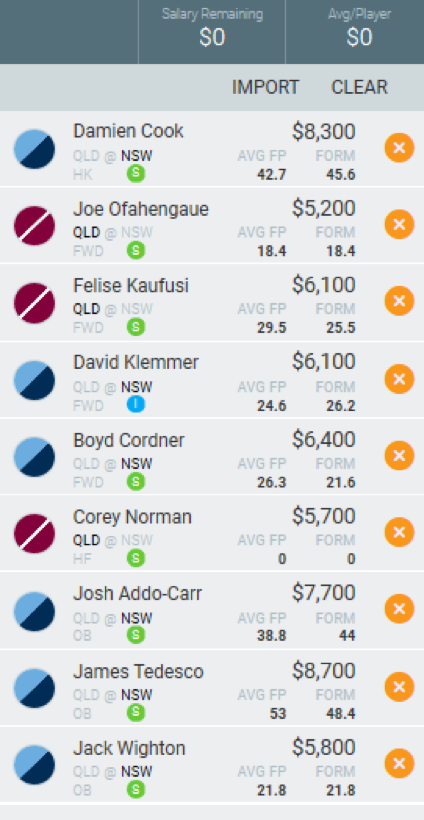 Damien Cook ($8,300 MB)
Couldn't really begrudge either Hunt or Cook for this selection, but Cook gets the nod here as he is very crafty and will be looking all game to pick off some Queensland defence with the likes of Tedesco and Trbojevic running not too far behind.
Joe Ofahengaue ($5,200 MB)
A decision that could just about see a few players fill this spot, Joe gets the selection here with a rather in-experience prop rotation, it is possible more responsibility will fall on the young prop's shoulders and will be excellent opportunity for him to step-up and cement his spot.
Felise Kaufusi ($6,100 MB)
Exceptional work-rate, but even more damaging at the line. Kaufusi does it for the Storm week-in week-out playing excellent out on the edge and if the maroons are to be a chance here, he will need to step-up again here, especially given there is doubt around Gillett.
David Klemmer ($6,100 MB)
Based on the assumption that Klemmer does in-fact start, he looks excellent value in this contest. With this damaging runs, look for Klemmer to try and pick off some tired maroons defence and prove once and for all that he deserved his spot in this New South Wales side.
Boyd Cordner ($6,400 MB)
Much like Kaufusi, Cordner goes in as he is an exceptional edge runner and is likely to be running some tight lines in and around the try line. Although a bit of a risk at the salary, expect captain Cordner to step it up a notch and secure back to back series wins.
Corey Norman ($5,700 MB)
A very tough call in selecting a half for this contest, but I have gone with the cheapest to allow some cap space, but even then, Norman has shown in the past how damaging he can be in attack and if he is given time and space, watch out!
Josh Addo-Carr ($7,770 MB)
Addo-Carr managed to get a double in game II and he will be looking to repeat those efforts again here. With Wighton locked into the side, it just adds to the important of including Addo-Carr in this line-up, with the blues right side looking to take advantage of what was a fragile maroon's left-edge.
James Tedesco ($8,700 MB)
Could just about put Munster and Tedesco in this line-up and although I feel Munster comes in at good value and will be included in other line-ups, this is a side built with the blues winning in mind and for that, Tedesco gets the nod with his damaging playing style.
Jack Wighton ($5,800 MB)
Although Wighton in the centres still seems a bit odd to me, it is hard not to have him here, coming in at a rather cheap salary given it is based on his club position of playing in the halves. Having Addo-Carr to his right, Wighton should score well here even if he doesn't cross the stripe for a try.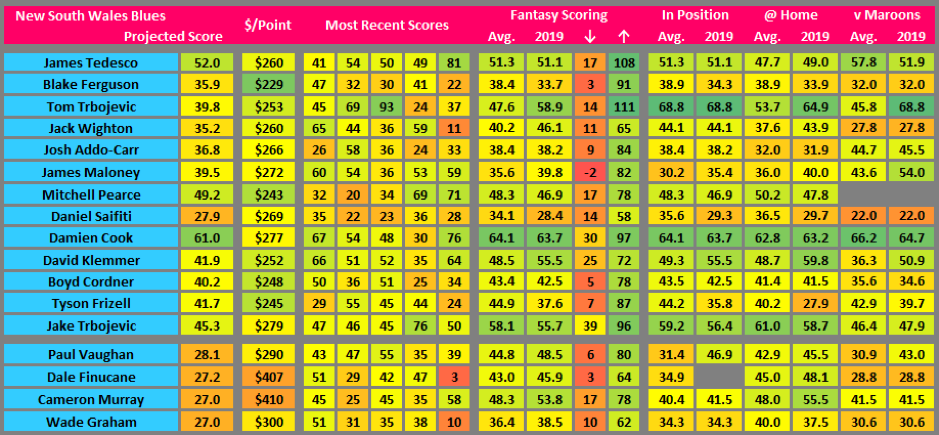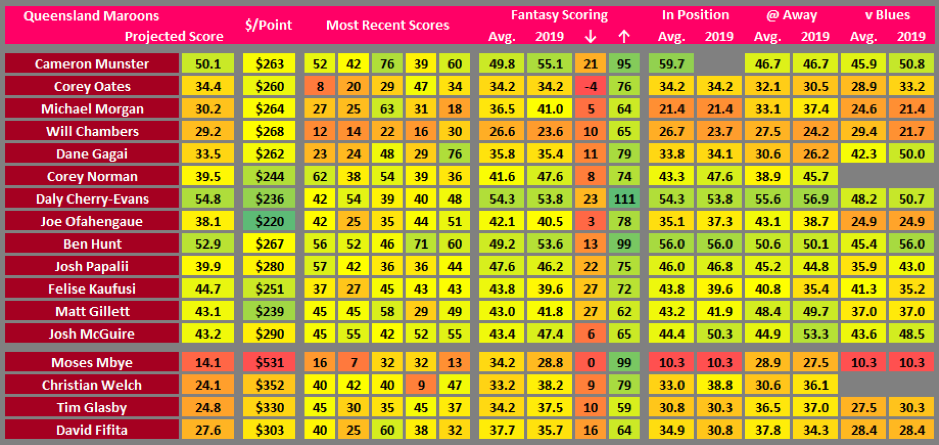 Dragon's Suggested Draftstars Team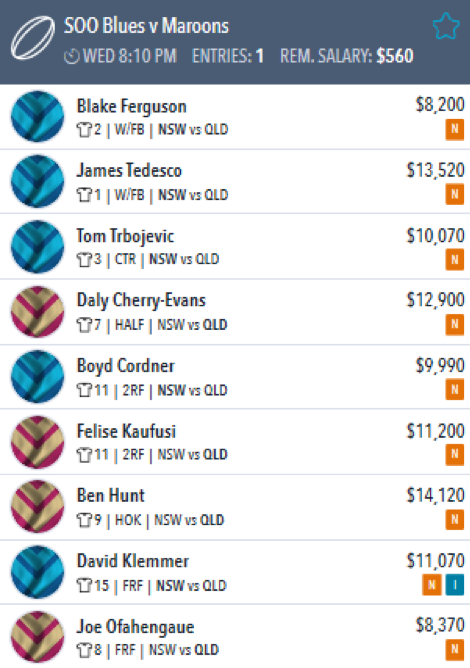 Blake Ferguson ($8,200 DS)
Ferguson is just about an automatic selection in this contest, opening up as the cheapest of the backs, yet he can be so damaging if given space. Notorious for racking up the metres, look for the blues halves to target the left-side attack of Trbojevic and Ferguson.
James Tedesco ($13,520 DS)
I could just about slot Munster or Tedesco into any line-up and on this occasion, with the emphasis of a blues win, it is Tedesco that gets the nod and rightfully as he is as damaging as anyone in attack and the maroons will need to be at their best to limit his scoring here.
Tom Trbojevic ($10,070 DS)
It generally takes a lot for me to be selecting 5-figure centres, but it is hard not to have the damaging Tommy Turbo in your line-up with impressive jumping ability and strong runs, to go along with having already selected Ferguson in the line-up on that left side.
Daly Cherry-Evans ($12,900 DS)
Probably one of the tougher selections on any line-up, I wouldn't knock any selection here. Given the likelihood that captain Cherry-Evans will shoulder a little more responsibility, putting boot to ball in an attempt to free-up Norman in attack, he goes in for me here.
Boyd Cordner ($9,990 DS)
Big game matches, require big game players and there aren't many bigger than captain Cordner. Knowing the pressure that is on this exceptional blues line-up to not lose another series, especially as dominant favourites, expect Cordner to leave everything out on the field here.
Felise Kaufusi ($11,200 DS)
Gone a little bit quiet in recent years, Kaufusi is still just about first picked each game and it all comes down to his tireless work-rate of 80 minutes, putting it all on the line till the end. With doubt over Gillett, expect him to step-up here, racking up tackle after tackle.
Ben Hunt ($14,120 DS)
A battle in two as to who you go out of Hunt and Cook, could prove critical. Both of similar value, I have Hunt scoring very well in defence and he may even look to get the maroons out of trouble with some early kicks in attack. A risk not having Cook, but giving the nod to Hunt here.
David Klemmer ($10,550 DS)
Based on that he does in-fact start, Klemmer was one of my first picked here. He was filthy that he was overlooked for game III, only to find his spot in the team through Sim's suspension and expect the maroons to be the victims of that with his barnstorming runs, testing the Queensland defence.
Joe Ofahengaue ($8,370 DS)
Big biceps Joe rounds out the line-up, getting the start and with debutant Welch and Glasby coming off the bench and Papalii sharing the front row, it could be decent minutes for the Brisbane prop at a rather valuable salary.

The Daily Fantasy Rankings "Dragon" has scoured the Australian sports betting markets and found some great value picks for this game. Check out his picks for the day below and click on the links to follow his betting plays!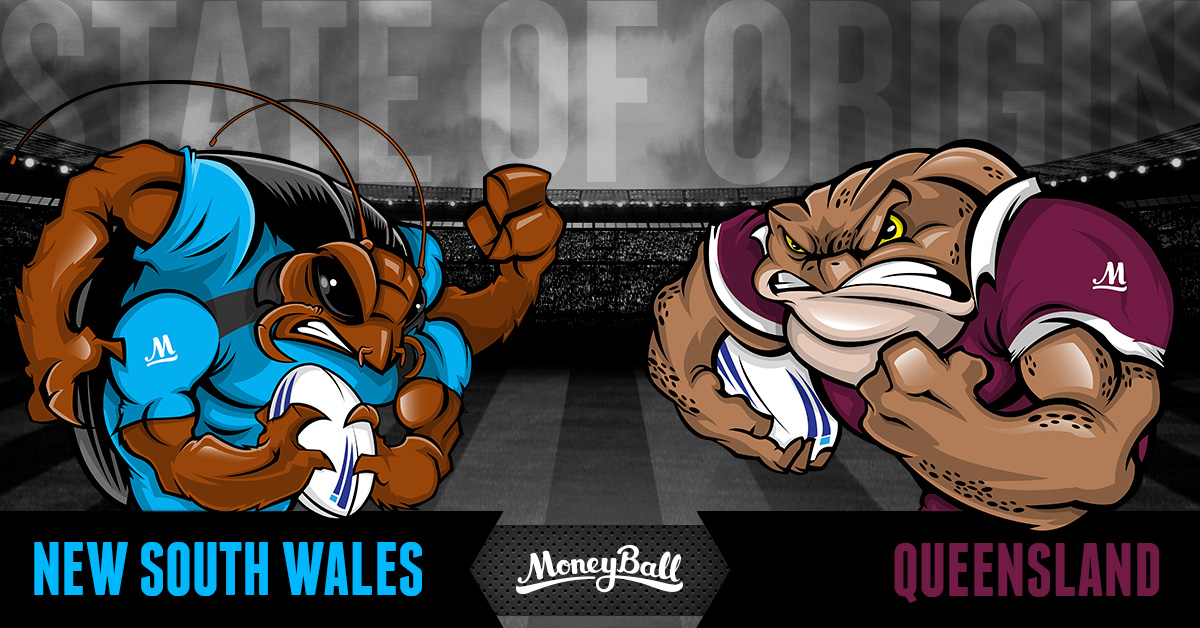 Always remember to gamble responsibly. When the fun stops, stop. If gambling is having a negative impact on your life, seek support at Gambling Help Online. 18+ only.