daily fantasy sports articles
2020 Fantasy Tips ODI Game 1 - India vs Australia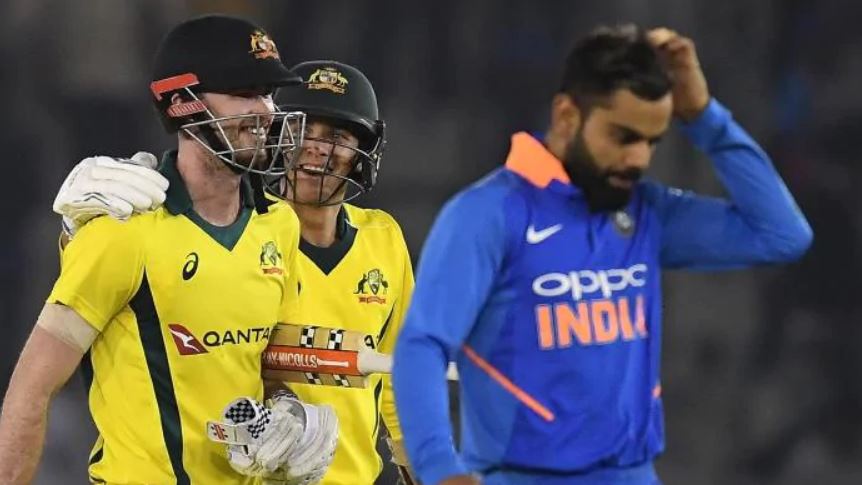 The Australian team is back in action once again as attention turns (briefly, admittedly) from the rich comedy that is the BBL to some (likely still comedic) international cricket. While we won't get the joys of Thomas Rogers or Mark Steketee batting at seven or random umpires triggering dodgy LBWs on hattrick balls, we will, hopefully, get a higher standard of cricket. The World Cup being in India in 2023 means that learning to play in subcontinental conditions is crucial – and thus lends a tiny bit of meaning to what seems like an otherwise random three match series sandwiched into a packed ICC calendar.
Draftstars have posted a $7,000 contest for a $15 entry along with a $750 mini contest for $2. Moneyball have posted a $5,000 contest for a $15 entry along with a $1,000 mini contest for $2 entry
We have our FREE Data Tools for this contest on Draftstars which includes previous player scores along with our FREE Cricket Lineup Builder.


Australia
While making the World Cup semi-finals certainly wasn't a failure; calling it a success also falls a bit flat. It seems odd to say, but given the quality of opposition (or lack of it), Australia was fully expected to make the final four. Changes do need to be made, but not drastic ones. The top order (Warner, Finch, Smith) is fine, and the bowling unit proper (8-11) is world-beating when on. The issue comes from positions four through seven.
Talking Points
Labuschagne – how is he going to transition from the longer form of the game? He deserves a shot, but what role does he play and what does he add? Smith plays the anchor role already, so is he a back-up anchor? It sounds ridiculous but he's certainly not going to smack it around at a strike rate of 150. My only explanation is that the selectors want a definitive core of stability between the openers and lower order hitters. In that way, he's probably a better option than Handscomb – who was presumably brought along because of some weird notion that he plays spin well (not totally incorrect, but there are still about 14 batsmen who should've been on the plane ahead of him).

The fifth bowler. Australia have seriously handcuffed themselves here. They almost have to play Agar because they didn't bring anyone else over that can bowl ten overs but bat at seven. Agar is usually tidy, but extremely limited and could be a serious liability if a team is coasting out of the powerplay. His batting also needs a fair bit of development. Australia has probably looked at the role that Jadeja plays and thought, 'oh yes, he can do that', without realizing that Jadeja is 2x the player that Agar is or likely ever will be. The other two options are playing Short so that you can get the overs out of him and Labuschagne, or playing five bowlers and having big Pat Cummins at seven – both of which are absolutely terrible.

Which fast bowler joins Cummins and Starc? Richardson is a wicket taker who uses the seam extremely well but It seems to have been forgotten that Hazlewood is a terrific ODI bowler. Like in test cricket, he just hits a great length and is incredibly difficult to get away. I realise that using the BBL as some sort of comparison to international cricket is the most ridiculous thing ever, but he's gone for 4.6 runs an over in the two games that he's played for the Sydney Sixers and that's sensational.
Predicted XI: David Warner, Aaron Finch ©, Steve Smith, Marnus Labuschagne, Peter Handscomb, Alex Carey (wk), Ashton Agar, Pat Cummins, Mitchell Starc, Adam Zampa, Josh Hazlewood

India
India are certainly not without their own issues. The problem with India is one of consistency. They have so many options that they don't give players time to really grab a spot. Two failures in a row and a player gets carted off to Ranji to play Railways, only to be replaced by another. The new player knows what will happen if they fail (they've just seen it happen to their colleague!), so they're under pressure from the get-go and thus the vicious cycle repeats.
Their lower order issues are well documented but even their top order is under the scanner right now. Rohit and Kohli are obviously locks but what about the other spot? Do they play Rahul? Do they play Dhawan? Do they play both, as Kohli indicated, and drop Pant? It's the most ridiculous thing ever that a batsman of Pant's quality is being considered expendable; but this is India, and here we are.
Talking Points
The middle-lower order. May as well start with the elephant in the room. I don't actually think it's

that

bad. It's not great by any measure, but their top order is so good that they could probably play some fringe state cricketer in there (hello Shivam Dube!) and get it done against most international sides. Australia, however, has the attack to really make them think. The selection of Dube is ridiculous. I don't think I even had him in my projected XI for the Royal Challengers Bangalore (his IPL team) last year but he's somehow wound up playing for India. They have about 4.8 billion people and they landed on Shivam Dube. It's laughable and he's not good enough. Kedar Jadhav is barely any better but at least he's competent (not a compliment here). Pant is twice the cricketer of both combined but I'd bet you unusually large sums of cash that there's a match in the series where both of them play and he misses out.

The huge pressure on Rohit and Kohli. In a sense, there's nothing unusual about it. They're the two best ODI batsmen in the world because they deliver incredible volumes of runs, time and time again. Like I mentioned previously, however, the Australian attack is very good. India can and will target Agar but are they smart enough play Cummins and Starc out first? Nothing can stop Kohli but it wouldn't surprise me if Rohit got a couple that were too good for him early. Iyer is one of my favourite cricketers to watch and will be an important bulwark between the riches above and the mess below. We're going to get a real benchmark of where he is as a player by the end of this series, and I think he'll end up averaging 45+.

Who joins Jasprit Bumrah in the bowling attack? If Jadeja bats seven, you have him, Bumrah, Shami, one of Kuldeep/Chahal and one of Saini/Thakur. The more I think about it, however, the more I feel like they might drop Jadeja down a rung because they're absolutely cacking themselves about having a bunny at six. That would mean Jadeja, one of the two wrist-spinners and Bumrah + Shami. They could get ten from Dube and Jadhav, in which case Australia has to be good enough to make them pay for it (nailed on that they won't).
Predicted XI: Rohit Sharma, K.L. Rahul, Virat Kohli ©, Shreyas Iyer, Rishabh Pant (wk), Kedar Jadhav, Ravindra Jadeja, Shardul Thakur, Kuldeep Yadav, Mohammed Shami, Jasprit Bumrah
Discounted Hello Fresh (great value)
Mitchell Starc ($16,300, Draftstars) has taken 31 wickets in the 13 games he's played in the last 18 months. In the two years prior to that, he took 43 in 21. Those are simply incredible numbers. He just knows how to bowl in this format, and will be a constant threat up front (if it swings), during the middle overs and at the death with his yorkers. He can go for runs if he gets it wrong, but he so rarely gets it wrong in the ODI arena. We're getting a generous price on him – I think he'll start at over $18-19k in the last match of this series.
Nightclub Drinks (terrible value)
I've decided to feature Steve Smith ($16,300, Draftstars) here because, even though he's far from the worst bat on either side, his numbers in ODIs don't justify the price that he's been given. I have him projected around the 35-40 range, and at a strike rate far lower than what's needed to get bonus points. He might hit his 'average' more, but his ceiling is far lower than a lot of others and you can spend the money better overall.
Balinese Cocktail (could be anything)
If he was more expensive then he'd probably be a pass but I don't mind throwing a bit of cash at Marnus Labuschagne ($13,000, Draftstars) at this price. He's largely an unknown in this format at this level but his technique is solid enough. He's got the same characteristics as Smith (higher consistency, lower ceiling), but at $4.6k less. He could also get the heart pumping by sending down a few filthy leg-breaks.
3-in-1 Body Soap (avoid at all costs)
My thoughts went straight to Peter Handscomb ($8,500, Draftstars) at first but I can understand how he could be useful as a cheapie to afford better players. I'll actually give the floor to Kedar Jadhav, who is a terrible pick for multiple reasons. For a start, he comes in down the order so won't score that many, and both him, and Handscomb project about the same, so you'd just pick Handscomb or Dube (as gross as that is) and save the cash. It could be a slightly different story if India play Jadeja at eight because it means he probably gets 3-5 overs but I think that's the less likely scenario.

Always remember to gamble responsibly. When the fun stops, stop. If gambling is having a negative impact on your life, seek support at Gambling Help Online. 18+ only.