daily fantasy sports articles
2020 League of Legends European Masters Fantasy Tips: Saturday 25th April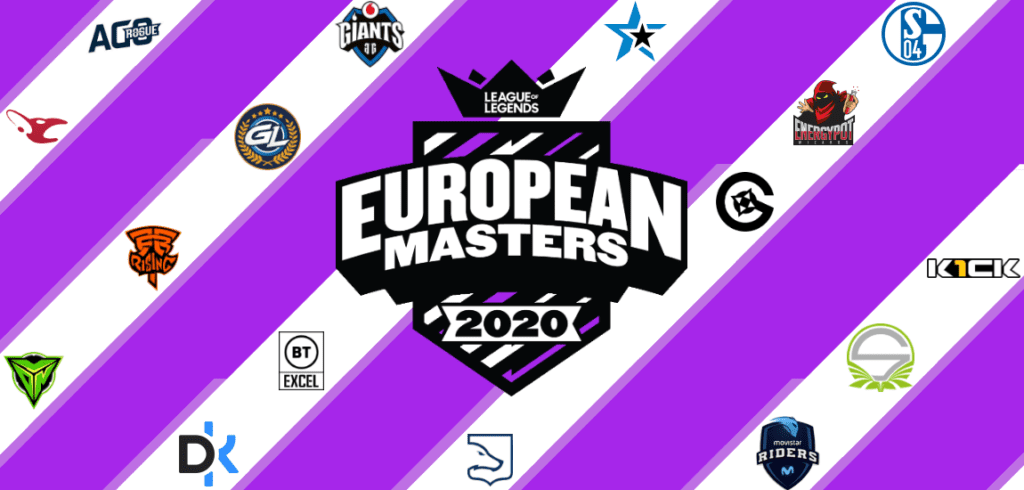 Welcome to Saturday's League of Legends Daily Fantasy preview for DraftKings for Day 4 of the European Masters!
Today's feature contest is the LOL $125K Shock Blast ($25,000 to 1st) on DraftKings and a $8,000 Elder Dragon for $4 entry.
Day 3 saw the dominance from the Energypot Wizards with 21 Kills and 51 Assists against ESB and mousesports just got over the line against Fnatic Rising 18 Kills to 16. The remainder fixtures were wins to VGIA, LDLC (in a thrashing), GL and GO. An interesting day where the last 4 fixtures the Kill totals did not surpass 20 Kills. Whilst picking the winning teams is a key strategy, the amount of Kills per game is the key in this tournament for DFS.
Today we have 6 matches on the slate. All group play is best of 1 match so the fantasy scoring will be more condensed and you just never know with upsets.
Here are today's bookies odds with action getting underway at 0200 AEST (Sunday morning) and the current odds from Beteasy as of 1400 AEST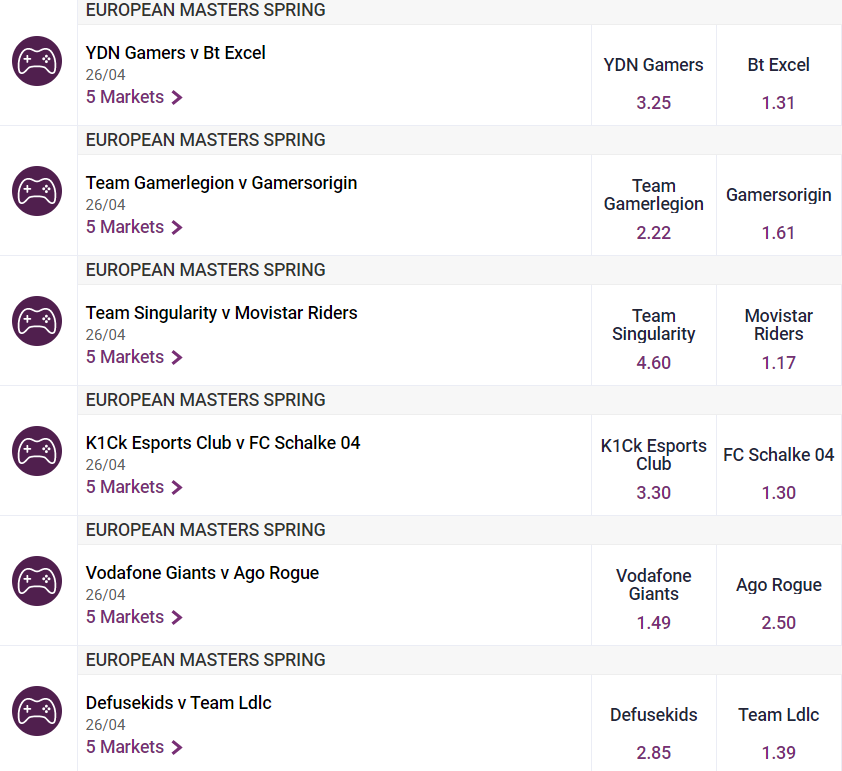 Let's preview the 6 matches today with key targets:
YDN Gamers (0-2) vs BT Excel (0-2) - Kill total = 29.5 Spread = 8.5
Battle of the 2 last place teams in Group A and suffered some low kill defeats on Day 3. I would hope that BTXL lives up to their favourite status and picks up their first win. ADC Deadly ($8,000) from BTXL is the only one that pops on the stats sheet with a KDA of 10.0 (7 Kills / 3 Assists / 1 Death) through 2 games. I will probably avoid YDN on this large slate
Targets - ADC Deadly $8,000 TEAM $5,800
Team GamerLegion (2-0) vs GamersOrigin (2-0) - Kill total = 28.5 Spread = 3.5
Should be the closest match of the day but the stats have GL with higher objectives and higher kills so far in the Masters. ADC Hjarnan ($6,800) has achieved a KDA of 7.63 (10 Kills in 2 games) whilst his opponent ADC XDSMILEY ($7,600) currently boasts a KDA of 5.3 (9 Kills in 2 games). Both teams like to get the objectives done without too much bloodshed, although GL do represent good value in the underdog spot.
Targets - ADC Hjarnan ($6,800), MID Nite ($6,800)
Team Singularity vs Movistar Riders - Kill total = 25.5 Spread = 9.5
The Riders are the biggest favourite on the slate and they were stomped by K1CK in 25 minutes on Day 2. MRS however will find SNG a much easier matchup after being thrashed by K1CK and S04E in pretty bad fashion. SNG K:D ratio is 0.22! Don't over think this one, but the only question is will MRS go on a fiesta or just get the job done? The DraftKings prices are through the roof! If you do have the coins then TOP Beansu and SUP rhuckz are fine selections to play.
Targets - TOP Beansu $7,000 SUP rhuckz $5,800 TEAM - $5,200
Schalke Evolution 04 (1-1) vs K1CK Neosurf (2-0) - Kill total = 27.5 Spread = 6.5
So the books have S04E as comfortable winners yet K1CK have dominated the stats. Through 2 games so far K1CK have a ridiculous K:D Ratio of 4.17 with 25 Kills per game. S04E however slipped up on Day 1 but disposed of SNG 15 kills to 2 on Day 3. I faded K1CK on Day 2 and that burnt me but do we fade again when a lot will be on? Might just take the value on SUP NukesAlot at $5,400.
Targets - SUP NukesAlot $5,400, ADC Neon $7,800, MID Sertuss
Vodafone Giants (2-0) vs AGO Rouge (1-1) - Kill total = 27.5 Spread = 8.5
Can't say the loss was disappointing yesterday from AGO as they achieved plenty of objectives but once the barons were taken by LDLC the death count racked up. The Spanish Giants should go 3-0 here in which all team members are in play here. Attila leads the tournament with 17 Kills and I don't see him slowing down. 4 team stacks will be popular and the best place to start for Cash builds
Targets - TOP Th3Antonio $6,800, JNG Lamabear $7,200, MID Pretty $7,800, ADC $8,400 Attila
DefuseKids (0-2) vs LDLC OL (1-1) - Kill total = 28.5 Spread = 6.5
The last matchup of the slate where LDLC will have all the confidence to go 2-1 against the hapless DK. ADC Hades had a day out on Day 3 with a 10/1/3 line for a massive 65DK points and no reason to go around this mark again. Only 7 Kills from DK as a whole team so far through 2 games and hasn't been near it either. Another safe stack for LDLC to go 2-1.
Targets - JNG Tynx $7,400, MID Vetheo $7,600, ADC Hades $8,200, SUP $6,200
Always remember to gamble responsibly. When the fun stops, stop. If gambling is having a negative impact on your life, seek support at Gambling Help Online. 18+ only.