daily fantasy sports articles
2020 League of Legends Fantasy Tips: Friday 17th April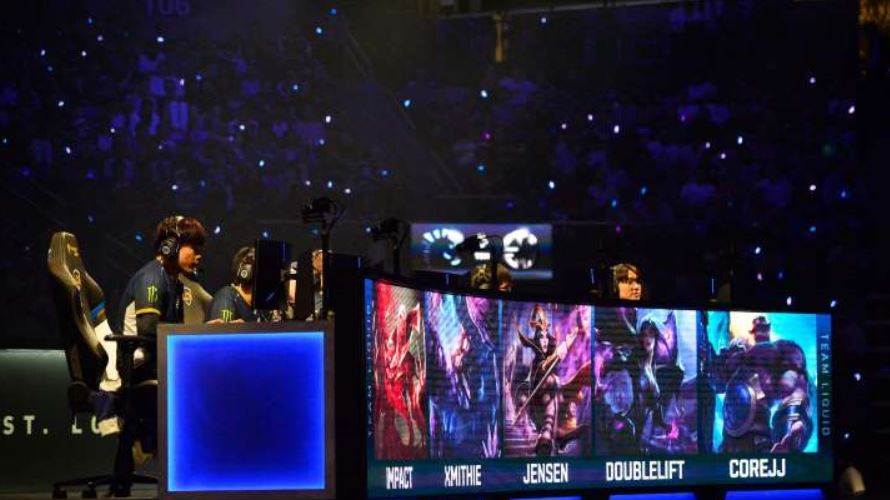 Welcome back to Friday's League of Legends preview for DraftKings where league action continues in Korea and China.
Today's feature contest is the LOL $200K Titan's Fury ($50,000 to 1st) on DraftKings and a $25,000 Elder Dragon for $4 entry with $2,500 to 1st place.
Today is a 3 game slate with the Chinese League LPL in action. The Korean League LCK finished their regular season yesterday and will start playoffs tomorrow. These matches are the best of 3 games.
Here are today's bookies odds with action getting underway at 1700 AEST and the current odds from Beteasy as of 1000 AEDT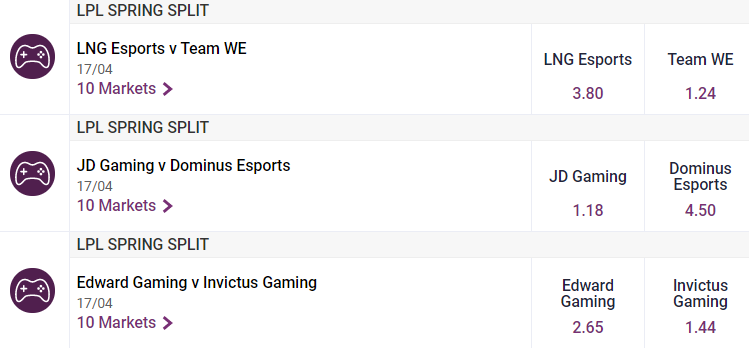 Huge game for Team WE (6-7) today as they are currently sitting in 9th spot in the standings and effectively have their playoff destiny. WE are big favourites against LNG (4-10) who have watched their season evaporate under the streak of 8 loses. Dominus Esports (6-9) cannot make the final 8 and will have a hard time containing a hot JD Gaming (10-4) team that has won 5 matches in a row. EDward Gaming (9-5) who are currently in 6th spot will be tested against the number 1 team in the standings in Invictus Gaming (12-2). IG with a win will wrap up the top spot in the league and a playoff contest against the 8th team on the standings.

If you are looking for Starting Lineups for the LPL you can follow @kenzi131 on Twitter who will post LPL lineups in advance and if available the 1st matchup for LCK.
20200417 #LoL #LPL Starting Line up

.@lplenglish @TeamWE @JDGaming @EDG_Edward @invgaming

Game1) LNG vs WE
Game2) JDG vs DMO
Game3) EDG vs IG pic.twitter.com/33BDJEAaPe

— kenzi (@kenzi131) April 16, 2020
With thanks to rotogrinders.com here is today's overall slate breakdown with the teams overall performance for the Spring season. With only 6 teams on the slate and only 1 game that is up for debate it is going to be a chalky slate. At first glance the DraftKing prices for Team WE are very heavy but considering that LNG have not won a match in a long time, it is justifiable. Dominus have won the previous 3 matches but will have a tough time containing JDG's 1.48 K:D ratio. JDG also lead the slate in Towers per game (7.1) and Dragons per game (2.6). However the match between Invictus and EDward Gaming is evenly matched and could go the distance. EDG only gave up 9.9 deaths per game whilst dishing out 14.1 kills per game. However IG's 16.7 kills per game is the slate's leading average.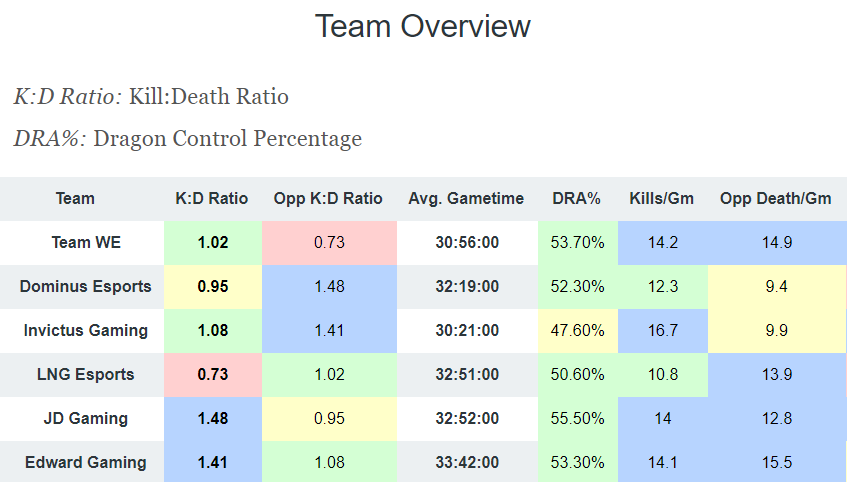 Thanks to rotogrinders.com today's ADC selection has clear cut targets for the slate. JDG's Loken at $7,800 is just about my favourite target of the day. A KDA of 6.24 and up against DMO's Gala whose KDA is only 3.9 on the season. Loken has averaged 38.8 DraftKings Fantasy points per game in his last 5 matches with a slate leading 7.2 assists per game in his last 5 matches. Even cheaper are IG's Puff at $7,600 and EDG's Hope at $7,400. Looking at the season stats I am leaning towards Hope who has led the slate with a KDA of 7.81 and a last 5 game average of 5.17 kills per game and 6.42 assists per game. Hope also has only died on 1.2 times per game in his last 5 matches which is also a slate leading statistic. WE's Jiumeng at $8,200 is the most expensive player today and should have an easy time reaching a ceiling against LNG's Light.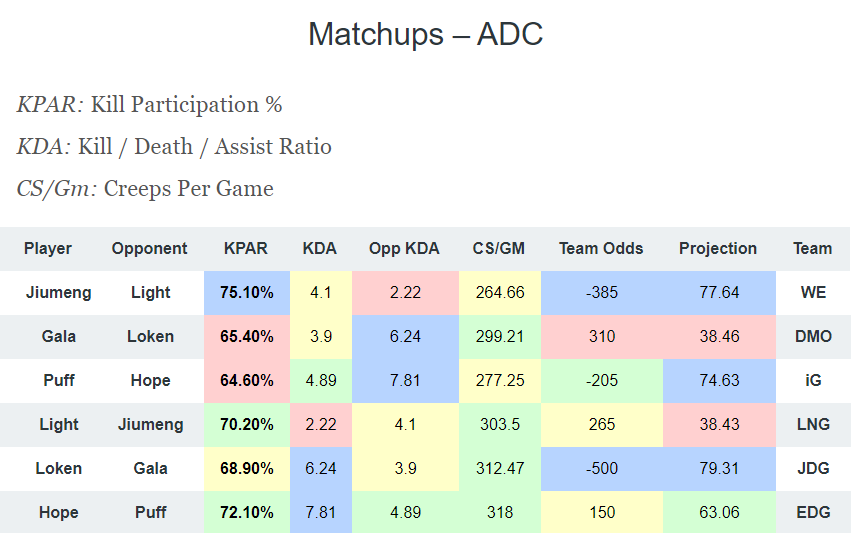 You can research more stats from FantasyEsports.gg the site is free to sign-up and contains a comprehensive stats centre where you can research stats and history from the LoL leagues around the world.
You can also watch live streams from the leagues here

Today's Targets
Feature Stack - JD Gaming
TOP Zoom $6,200
MID Yagao $7,600
ADC Loken $7,800
SUP LvMao $5,600
The biggest favourite on the slate and the teams prices are slightly cheaper than Team WE. As mentioned, Loken has a great matchup in the bottom lane and LvMao has a great correlation. Each map according to Vegas has the Kills handicap at 8.5 with a total of 50.5 for two maps. Great Cash/Double Up stack to start lineups.
Second Stack - EDward Gaming
TOP jinoo $5,600
JDG Jiejie $6,600
MID Scout $6,800
ADC Hope $7,400
Vegas has put up a kill total of 60.5 for two maps for this battle royale with IG and I would hope that Hope and Scout go their hardest over the league leaders. MID Scout has averaged 4.58 kills per game in his last 5 along with 6.17 assists and has outperformed IG's Rookie on average 7 DK points per game in his last 5 matches.
Key Target's on the Slate
TOP Morgan $6,600
TOP TheShy $6,000
JNG Leyan $6,800
JNG Kanavi $7,200
MID Teacherma $7,800
MID Rookie $7,400
ADC Jiumeng $8,200
ADC Puff $7,600
SUP Missing $6,000
SUP Southwind $5,400
Good luck with all your entries today, make sure you get involved over at DraftKings. If you want to watch the matches live, you will find all the streams over at Fantasyesports.gg
Always remember to gamble responsibly. When the fun stops, stop. If gambling is having a negative impact on your life, seek support at Gambling Help Online. 18+ only.