daily fantasy sports articles
2020 League of Legends Fantasy Tips: Monday 20th April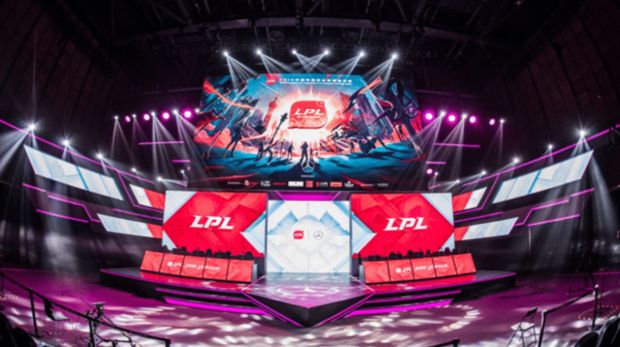 Welcome back to Monday's League of Legends preview for DraftKings where league action continues in China.
Today's feature contest is the LOL $333K Insomnia Special ($100,000 to 1st) on DraftKings and a $35,000 Elder Dragon for $4 entry with $2,000 to 1st place.
Today is a 3 game slate with the Chinese League LPL in action. The Korean League LCK have started their Spring Playoffs and there is a playoff match between Dragon X and Damwon today. DraftKings however have not chosen to put the game on the slate due to the match being contested over 5 games. These LPL matches are the best of 3 games.
Here are today's bookies odds with action getting underway at 1700 AEST and the current odds from Beteasy as of 1000 AEDT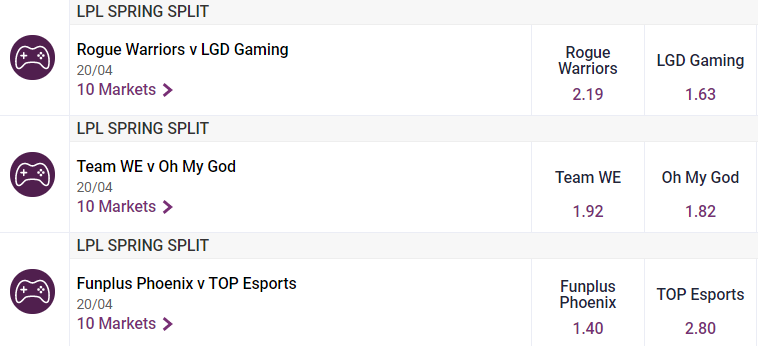 It has taken until the final day of the Spring Split but we have ourselves a ripping little slate to finish the season. I am not sure how long it has been but for once we have a very competitive 3-game slate where every game is not as clear cut.
Starting with the "main event" which is the winner-moves-on match between Team WE (7-9) and Oh My God(7-9). WE took out the decisive game 3 over Edward Gaming yesterday in spectacular fashion and now back up against OMG who have lost three on the trot (losses to LGD, ES and EDG). Team WE had its markets odds crunched yesterday after winning Game 3 yet are still slight dogs against OMG.
Elsewhere Rogue Warriors (6-9) and LGD Gaming (5-10) will play a match that has no bearing on the playoffs, but funny enough this will be the "highlighted" match for fantasy with the Books setting high Kill totals (55 for two maps).
Funplus Phoenix (12-3) and TOP Esports (10-5) should play a great game today but you would expect the match to be much closer than the odds suggest. Turns out TOP are the cheapest team to roster on DraftKings and sit 5th in the standings. TOP could represent some great value if FPX does slip up.
If you are looking for Starting Lineups for the LPL you can follow @kenzi131 on Twitter who will post LPL lineups in advance
20200420 #LoL #LPL Starting Line up

.@lplenglish @EsportRw @LGDgaming @TeamWE @OMGe_Sports @FPX_Esports @TOP_Esports_

Game1) RW vs LGD
Game2) WE vs OMG
Game3) FPX vs TES pic.twitter.com/osuJ1aR5cP

— kenzi (@kenzi131) April 19, 2020
With thanks to rotogrinders.com here is today's overall slate breakdown with the teams overall performance for the Spring season. I mentioned that RW and LGD could have themselves a bit of a killing fiesta today and with those high deaths per game, the data backs it up. FPX and TOP also could be in line for a ding-dong battle with both teams leading the slate with 15.3 kills per game over the season. With playoffs on the line both WE and OMG will look to play a more conservtive game and make the "least" amount of mistakes. Still relevant in fantasy but prefer the other 4 teams on the slate.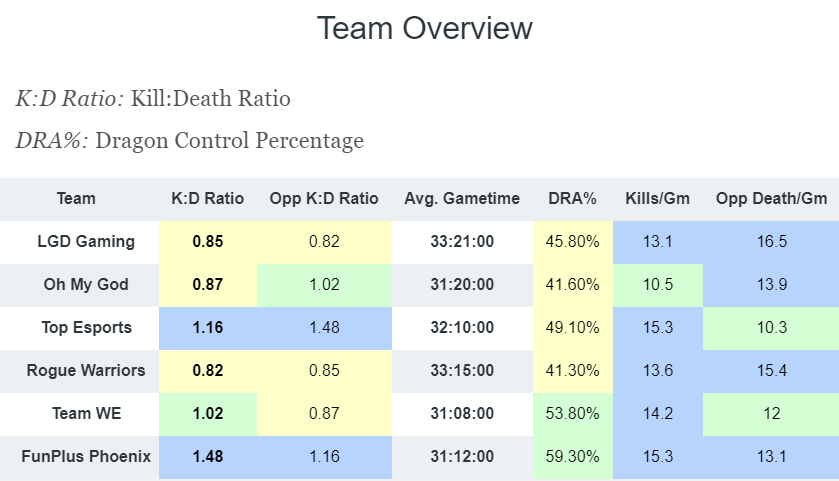 Thanks to rotogrinders.com today's ADC selection is not so clear cut on this tight slate. Lwx ($7,600) KDA of 6.51 is the highest in the player pool and takes on JackeyLove ($6,800) who will be playing his 5th match today. It is only a small sample size but JackeyLove is already giving up 5.5 deaths per game but on the flipside JackeyLove has also scored the most DraftKings fantasy points in those 5 games. A blanket then covers the rest of the pool but I will ensure Kramer ($7,800) and Zwuji ($7,000) be a part of player pools. Kramer's 3.3 kills per game in the last 5 is the lowest in the pool yet still assists are high at 6.7 per game in the last 5. Zwuji could be the value play (along with JackeyLove) with solid but not spectacular data across the board.
You can research more stats from FantasyEsports.gg the site is free to sign-up and contains a comprehensive stats centre where you can research stats and history from the LoL leagues around the world.
You can also watch live streams from the leagues here

Today's Targets
Featured Stack - FunPlus Phoenix
TOP - GimGoon $6,400
MID - Doinb $7,600
ADC - Lwx $7,600
SUP - Crisp $5,600
Playing it safe? Then FPX is a great start to build your Cash lineups. FPX have not quite secured 2nd spot for the playoffs and victory over a good TOP outfit will ensure that high seed. The prices have come down a little after the victory over Rogue Warriors and in a slate of volatility, then FPX are a safe selection.
Second Stack - Rogue Warriors
TOP - Crazy $6,000
JNG - Haro $6,400
ADC - Zwuji $7,000
SUP - Ley $5,000
It is all set up for a RW killing fiesta with nothing to play for but taking out LGD who are the favourites for the match. JNG Haro has been the nuts lately with 5 kills per game in his last 5 games (2 of those losses where he only scored 2 kills per game). The high kill totals will lead many to these two teams and I rather take the Dog in this one.
Key Targets on the Slate
TOP - Lies $6,200
JNG - Tian $7,000
JNG - Peanut $7,200
MID - Knight $6,800
MID - Teacherma $7,000
ADC - JackeyLove $6,800
SUP - Missing $5,200
TEAM - WE $4,800
Good luck with all your entries today, make sure you get involved over at DraftKings. If you want to watch the matches live, you will find all the streams over at Fantasyesports.gg
Always remember to gamble responsibly. When the fun stops, stop. If gambling is having a negative impact on your life, seek support at Gambling Help Online. 18+ only.