daily fantasy sports articles
2020 League of Legends Fantasy Tips: Saturday 18th of April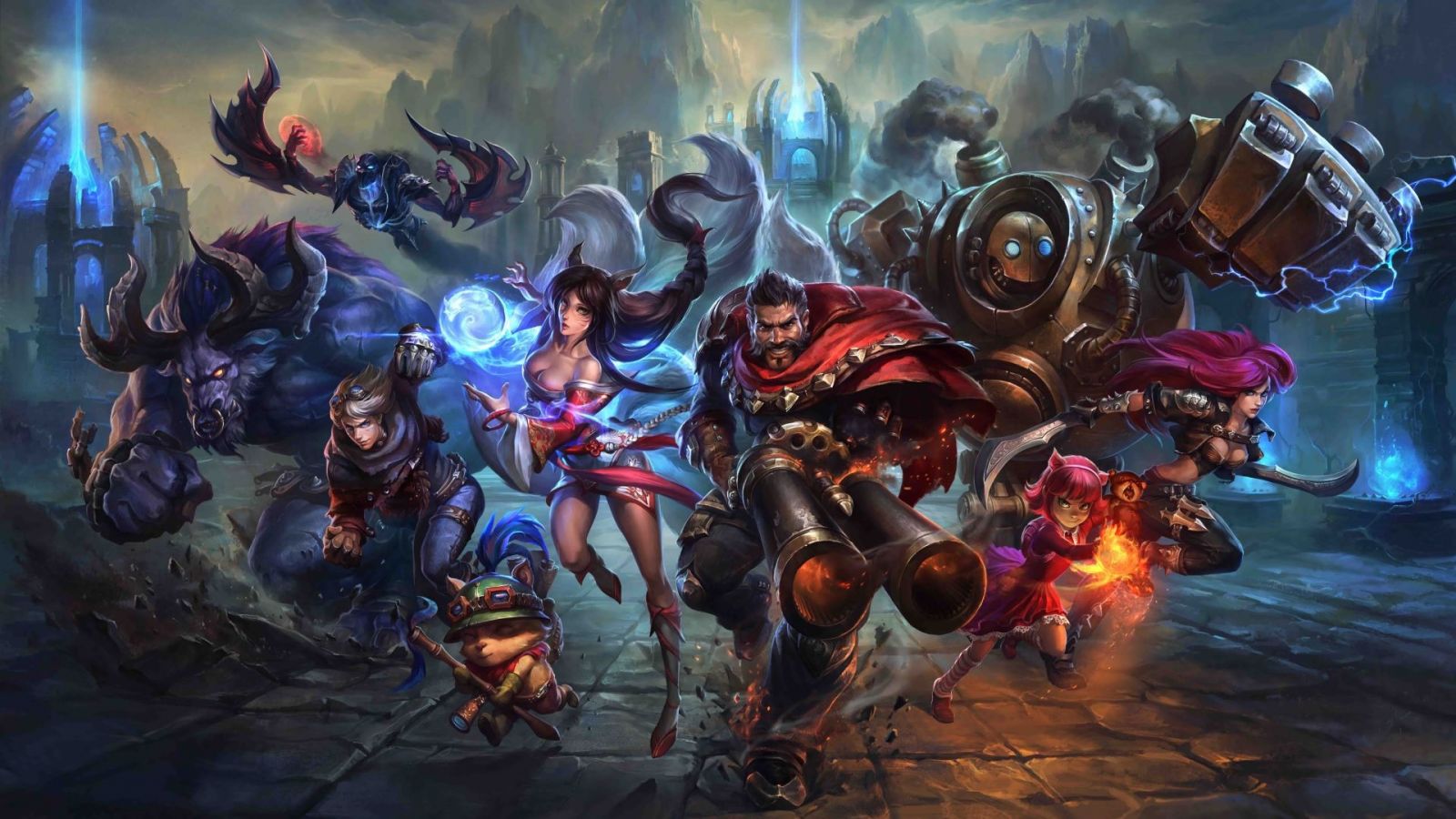 Welcome back to Saturday's League of Legends preview for DraftKings where league action continues in Korea and China.
Today's feature contest is the LOL $350K Double Buff ($100,000 to 1st) on DraftKings and a $35,000 Elder Dragon for $4 entry with $3,000 to 1st place.
Today is a 3 game slate with the Chinese League LPL in action. The Korean League LCK start their Spring Playoffs with today's Wildcard match. These matches are the best of 3 games.
Here are today's bookies odds with action getting underway at 1700 AEST and the current odds from Beteasy as of 1000 AEDT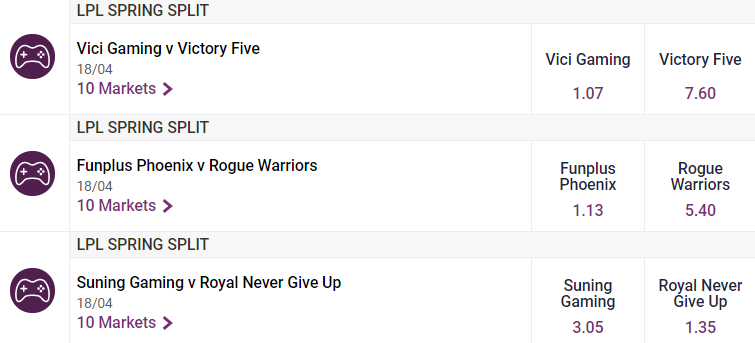 The playoffs in the LCK sees the 1st match between KT Rolster and Damwon Gaming. Damown has come into the playoffs off a great run of 5 wins from 8 matches although losing to Griffin in week 8 did give them the speed wobbles. The change at ADC with Ghost replacing Nuclear has paid dividends and they get their chance against a solid outfit in KT.
In the LPL, the 8th spot in the playoffs is still up for grabs with a remarkable 7 teams still in the race for that 1 spot. Vici Gaming (6-9) hopes to qualify with other results but they should get the job done against the winless Victory Five (0-15). Rouge Warriors (6-8) have a game in hand but need to beat the formidable Funplus Phoenix (11-3) outfit. Then we have Royal Never Give Up (8-7) who were woeful against Dominus on Wednesday. RNG faces a desperate Suning (6-9) who have the slightest chance to make 8th spot but effectively this is the last game for this outfit.
If you are looking for Starting Lineups for the LPL you can follow @kenzi131 on Twitter who will post LPL lineups in advance and if available the 1st matchup for LCK.
20200418 #LoL #LPL Starting Line up

.@lplenglish @VICI @FPX_Esports @EsportRw @SNG_lol @RNGRoyal

Game1) VG vs V5
Game2) FPX vs RW
Game3) SN vs RNG pic.twitter.com/vdMiYc3QXT

— kenzi (@kenzi131) April 17, 2020
With thanks to rotogrinders.com here is today's overall slate breakdown with the teams overall performance for the Spring season. It must be said 1st up that the LCK match between KT and DWG will be a tight match but unfortunately it will not be a fantasy revenant match. Poor kill and death averages throughout the season equals a dour but tight contest. You can make some low ownership darts on either team in GPP's but should be avoided in cash teams.
Vici Gaming get to have their turn against the winless V5 and should boost their kill counts quite easily. The books have Vici at 36 kills for Map 1 and 2 and should get there quite easily.
Another safe team today is the standout FPX outfit. A slate leading 1.47 K:D Ratio along with a leaky death toll from RW equals some fantasy goodness. FPX is in a smash spot today and they are completely viable in GPP's and Cash lineups.
The match between RNG and SUN is a tough one to analyse. Recency Bias is strong here for RNG who clearly messed alot of Fantasy owners back on Wednesday. They say in the classics "it is good to lose one now instead at the pointy end" and RNG can bounce back in a big way. The ownership will be low and on paper don't really match up well with SUN. A slight edge K:D ratios but SUN have the higher Kill averages. The books have set a two map Kill total at 52. If you were playing single entry then SUN players are the go but sprinkle the RNG players in GPP.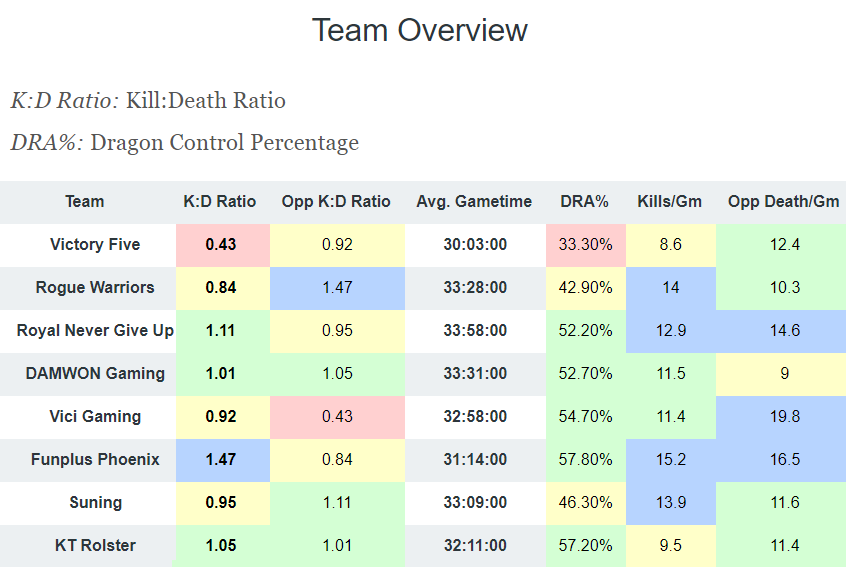 Thanks to rotogrinders.com today's MID selection has clear cut targets for the slate. VG's Forge ($7,600) and FPX's Doinb ($8,000) are the clear standouts on the slate. Forge has performed quite admirably throughout April scoring well in wins and losses (27.1 DK points per game in the last 5 matches). Vici hasn't won a shutout since the 26th of March but that all changes today. Doinb will garner massive ownership as he takes on RW struggling MID Ruby. All you need to read today is that Doinb has a KDA of 5.87 which is a clear standout on the slate. A scary fade if you pivot elsewhere. If you need to go cheap at MID then a shot at Angel ($6,600) who edges out opponent Xiaohu ($7,400) in the KDA stats.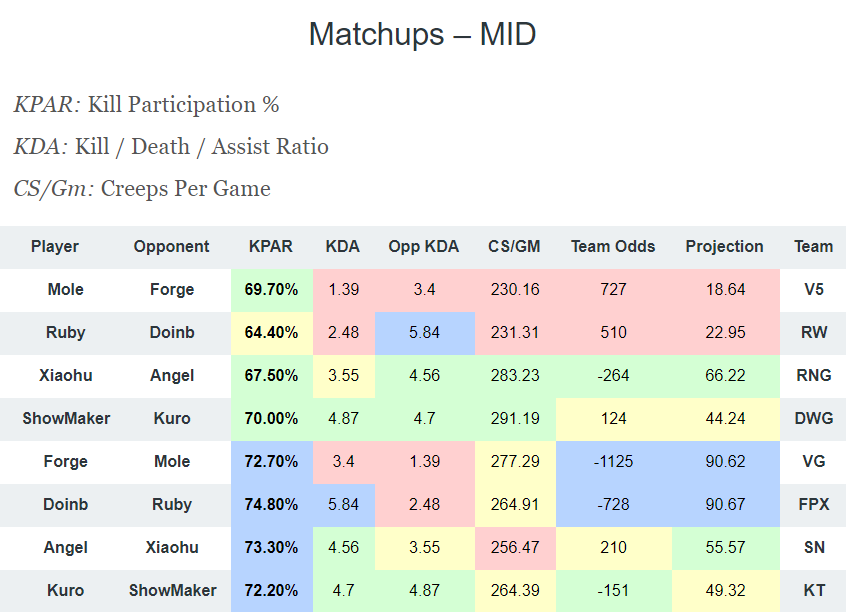 You can research more stats from FantasyEsports.gg the site is free to sign-up and contains a comprehensive stats centre where you can research stats and history from the LoL leagues around the world.
You can also watch live streams from the leagues here

Today's Targets
Feature Stack - FunPlus Phoenix
TOP - GimGoon $6,200
MID - Doinb $8,000
ADC - Lwx $8,200
SUP - Crisp $6,000
Keeping it simple today and targeting the two big favourites. I would prioritise FPX stacks to start with and try to make it work with other pieces. The markets have FPX at 34 kills for 2 maps and both Lwx and Doinb are averaging 4.5 kills per game. GimGoon is the clear Top laner on the slate with a 23.5 DK points per game average in his last 5 matches.
Second Stack - Vici Gaming
TOP - Cube $6,400
JNG - Aix $6,800
MID - Forge $7,600
ADC - iBoy $7,800
iBoy and Forge are going to eat today and I don't want to miss out on the party. You could make a case for just a small 2 or 3 team stack but make sure Forge and iBoy are a part of those plans if you cannot afford Doinb and Lwx.
Key Targets on the Slate
TOP - Nuguri $5,800
JNG - Tian $7,000
MID - Angel $6,600
ADC - Ghost $7,200
ADC - huanfeng $7,400
SUP - Ley $4,600
SUP - Hang $5,400
Good luck with all your entries today, make sure you get involved over at DraftKings. If you want to watch the matches live, you will find all the streams over at Fantasyesports.gg
Always remember to gamble responsibly. When the fun stops, stop. If gambling is having a negative impact on your life, seek support at Gambling Help Online. 18+ only.