daily fantasy sports articles
2020 League of Legends Fantasy Tips: Saturday 4th of April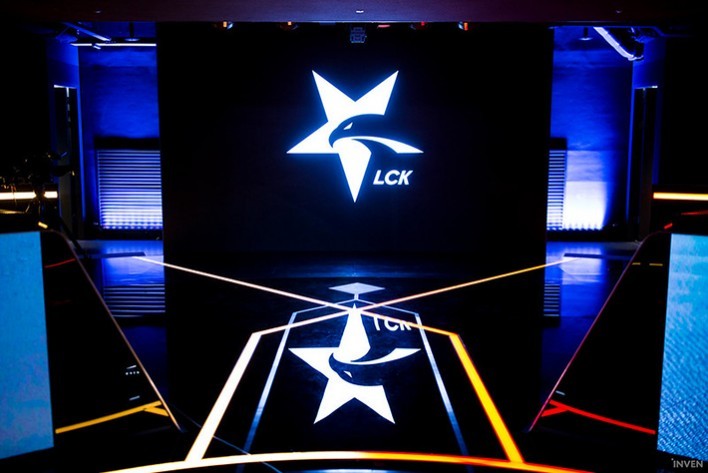 Welcome back to Saturday's League of Legends preview for DraftKings where league action continues in Korea. In China, the league play has been postponed to a later date due to a National Mourning for the victims and workers of the COVID-19 pandemic.
Today's feature contest is the LOL Titan's Fury $175K ($50,000 to 1st for a $10 entry) on DraftKings and a $20,000 Elder Dragon for $4 entry with $2,000 to 1st place.
Today is a smaller 3 game slate that only has LCK play. These matches are the best of 3 games.
Here is today's bookies odds with action getting underway at 1700 AEDT and the current odds from Beteasy as of 1100 AEDT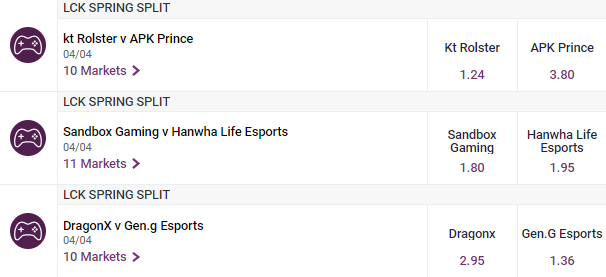 The marquee matchup between Gen.G (12-2) and DragonX (10-4) occurs at the end of the slate whilst KT (8-6) is the other team with a winning record. It is a coin flip for SG (4-10) and Hanwha (4-9) who both suffered 0-2 shutouts last match.
Without LPL play today, the LCK do not publish starting lineups well in advance and the LCK teams are notorious for swapping starting lineups and in some cases, swapping team members mid match.
However you will be able to confirm the 1st game of the slate which is KT v APK at around 45 minutes prior to lock. You can follow @kenzi131 on Twitter who will post the starters once known. Everyone is going to be in the same boat so do not be too disheartened if your player does not play.

With thanks to rotogrinders.com here is today's overall slate breakdown with the teams overall performance for the Spring season. The stats clearly show the three better teams on the slate with Gen.G and DragonX (who battle each other) and KT having the better K:D Ratios. Sandbox do have a slight edge over Hanwha on the books and on the stats but both teams' kill rates are lacking. Sandbox's prices on DraftKings are around the same as Gen.G so I'll probably avoid this middle match.

Thanks to rotogrinders.com today's ADC selections are key to slate winning success with one standout ADC in Aiming ($8,200) and 4 other potential mid-projected players. As I mentioned I am not real keen on the SB/HLE matchup so that leaves Ruler ($7,600) and Deft ($6,800) as feasible pivots. Deft who is averaging 76.7 DraftKings points for the season finds himself as the lowest priced ADC but up against a sharp ADC for Gen.G in Ruler.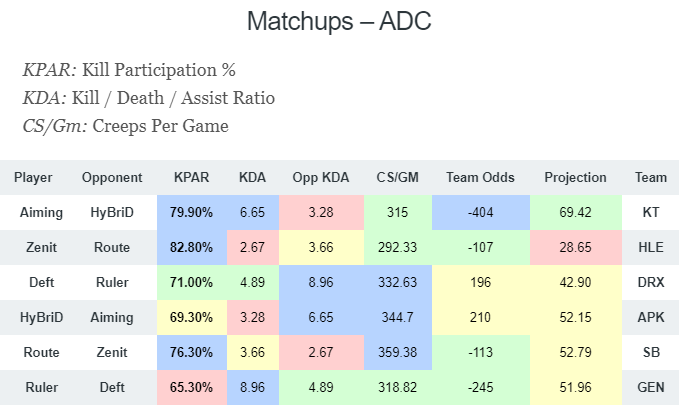 You can also research more stats from FantasyEsports.gg the site is free to sign-up and contains a comprehensive stats centre where you can research stats and history from the LoL leagues around the world.
You can also watch live streams from the leagues here

Today's Targets
Feature Stack - Gen.G
ADC Ruler ($7,600)
MID Bdd ($7,800)
JNG Clid ($6,800)
TOP Rascal ($6,200)
The low prices from DraftKings for the number 1 team in the LCK are just too hard to ignore. Ruler and BDD's KDA's at 8.96 and 9.03 respectively are the slate leading and have the edge over their opponents. Don't be surprised if this matchup with DRX goes the three games.
Second Stack - KT Rolster
ADC Aiming $8,200
JNG bon0 $7,200
SUP TusiN $5,600
TEAM KT $5,600
We get the safety of team news before lock and the biggest favourite on the slate. APX have won their previous two matches (AF & SB) but will find KT much harder. KT's winning run was broken in the last match against DRX but KT have averaged 14.8 kills per game over their previous 3 matches.
Key Targets on the Slate
TOP SoHwan $6,000
JNG Haru $6,600
MID Kuro $7,600
ADC Deft $6,800
SUP Keria $4,800
TEAM Gen.G $5,400
I could have named more players in the targets but there are a couple of players under the starting cloud that I would need to avoid, especially from the SB/HLE matchup. The prices are soft today without the LPL so making stacks could prove to be an easy challenge.
Always remember to gamble responsibly. When the fun stops, stop. If gambling is having a negative impact on your life, seek support at
Gambling Help Online
. 18+ only.