daily fantasy sports articles
2020 League of Legends Fantasy Tips: Sunday 29th March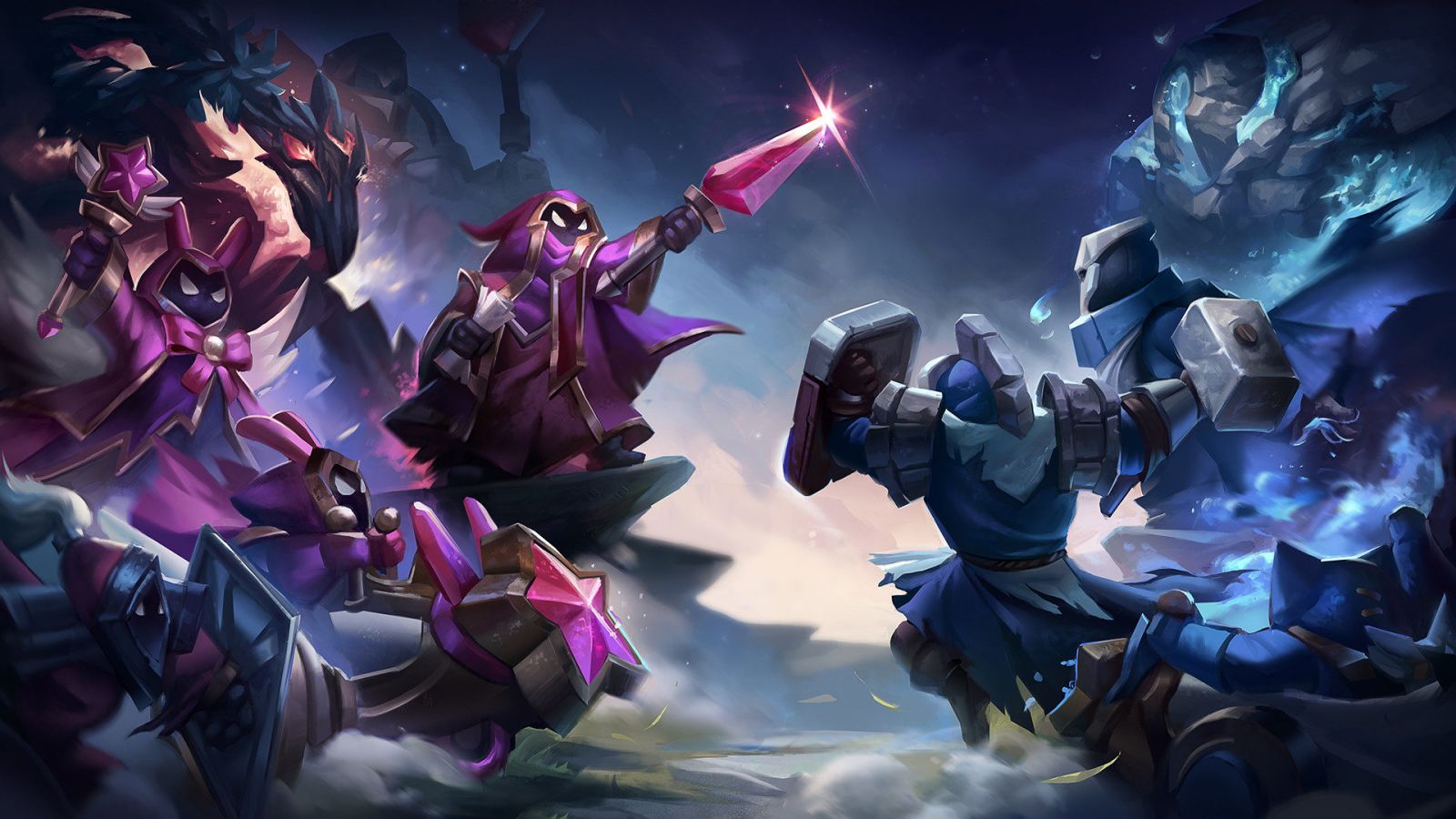 Welcome back to Sunday's League of Legends preview for DraftKings where league action continues in Korea and China.
Today's feature contest is the LOL $100K Titan's Fury ($20,000 to 1st) on DraftKings there are other leagues and new games are popping up on DraftKings but we will focus on the LCK/LPL leagues.
Today is a 6 game slate that combines the LCK (South Korea League) and the LPL (China League) with 3 matches in each league. These matches are the best of 3 games.
Here is today's bookies odds with action getting underway at 1700 AEDT and the current odds from Beteasy as of 1100 AEDT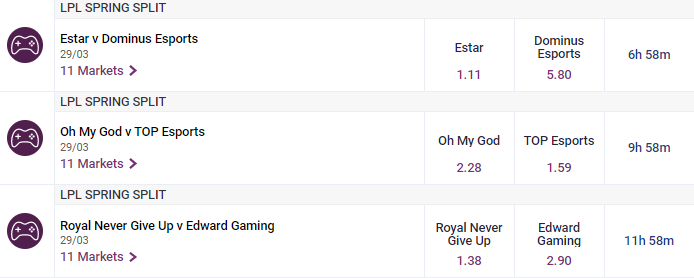 As with the norm this week, matchups are heavily skewed to a couple of favourites today. Although KT (6-5) v Alfreeca (6-5) looks like a good match to follow with KT on a 6 match winning streak. Alfreeca have lost both of their matches this week and would look to stop the run of KT. OMG (5-3) and TOP (5-3) highlight the LPL with another interesting playoff battle between RNGU (4-3) and EG (4-3) sitting at the playoff bubble spot. For Daily fantasy however, T1 and Estar and the teams to look to target today in your feature stack.

If you are looking for Starting Lineups for the LPL you can follow @kenzi131 on Twitter who will post LPL lineups in advance and if available the 1st matchup for LCK.
20200329 #LoL #LPL Starting Roster

.@eStarLOL @OMGe_Sports @TOP_Esports_ @RNGRoyal @EDG_Edward @lplenglish

Game1) ES vs DMO
Game2) OMG vs TES
Game3) RNG vs EDG pic.twitter.com/BWhVTQuL0d

— kenzi (@kenzi131) March 28, 2020
With Estar prices through the roof on DraftKings after their epic battle last match, I am not comfortable stacking them with a big dog today so I am looking to target the 2nd shortest favourite today in T1. T1 are first up in the LCK today so we should get confirmation on starting lineups. So for today's feature player I am looking at ADC Teddy at $7,800 along with stacking with MID Faker ($7,600) and SUP Effort ($5,200).
Teddy has an impressive 4.6 Kills per game with 1.1 deaths and 4.7 assists per game on the season. Although T1 only averages 12 kills per team per game, their opponents Hanwha are a slate low 9.4 kills as a team over the season.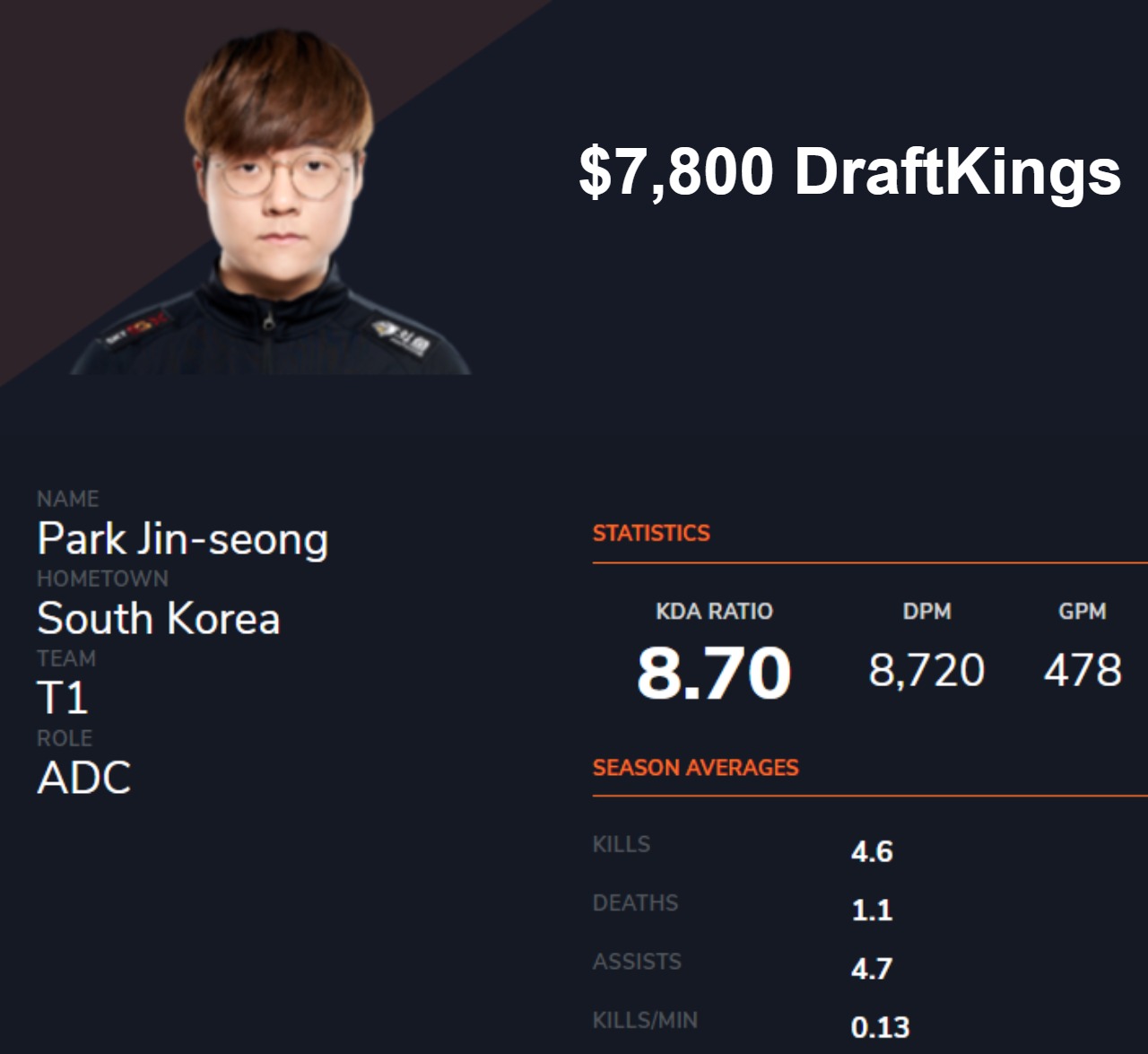 While it may seem a good thing to jump on the hot KT team, I am weary being the third game on the LCK slate. But the prices are too good if KT continues their streak.
You can research more stats from FantasyEsports.gg the site is free to sign-up and contains a comprehensive stats centre where you can research stats and history from the LoL leagues around the world.
You can also watch live streams from the leagues here

Today's Targets
Feature Stack - T1
ADC Teddy ($7,800)
MID Faker ($7,600)
JNG Cuzz ($7,000)
SUP Effort ($5,200)
Second Stack - KT
ADC Aiming ($7,000)
TOP SoHwan ($4,600)
MID Kuro ($6,200)
JNG bonO ($5,800)
Key Players on the Slate
ADC Wink ($8,800)
MID Cryin ($8,600)
JNG Punch ($7,200)
TOP Roach ($6,200)
SUP ShiauC ($6,200)
MID Xiaohu ($7,800)
JNG XLB ($6,800)
ADC Betty ($8,200)
TEAM eStar ($6,000)
TEAM RNGU ($5,600)
Just like yesterday I'll recommend to keep it simple with targeting big favourites and then picking a sneaky underdog. EStar stacks will mean some funky construction but with the big favourites playing first-off, targeting later teams will be very low owned.
Good luck with all your entries today, make sure you get involved over at DraftKings. If you want to watch the matches live, you will find all the streams over at Fantasyesports.gg
Always remember to gamble responsibly. When the fun stops, stop. If gambling is having a negative impact on your life, seek support at
Gambling Help Online
. 18+ only.