daily fantasy sports articles
2020 League of Legends Fantasy Tips: Sunday 5th April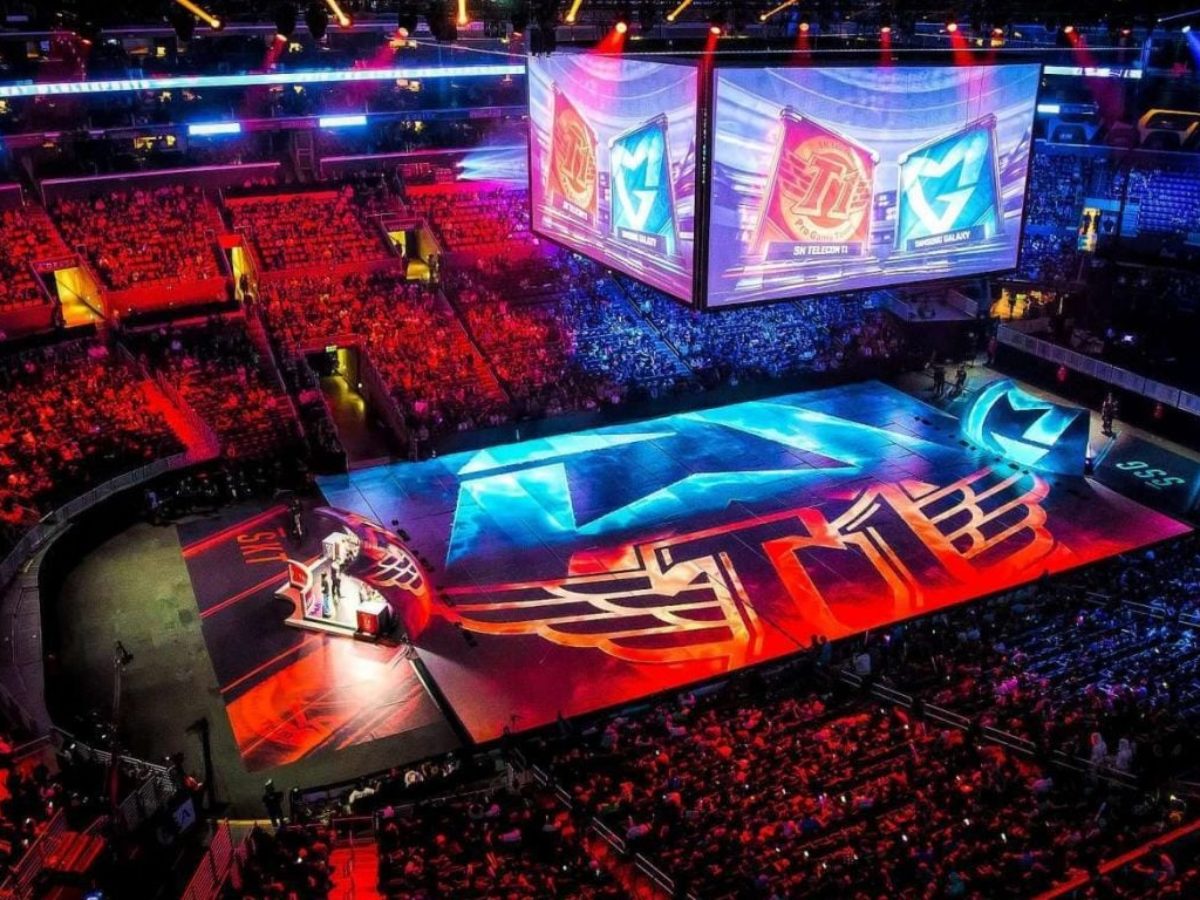 Welcome back to Sunday's League of Legends preview for DraftKings where league action continues in Korea and China.
Today's feature contest is the LOL $150K Titan's Fury ($50,000 to 1st for a $10 entry) on DraftKings and a $15,000 Elder Dragon for $4 entry with $1,000 to 1st place.
Today is a 6 game slate that combines the LCK (South Korea League) and the LPL (China League) with 3 matches in each league. These matches are the best of 3 games.
Here is today's bookies odds with action getting underway at 1600 AEDT and the current odds from Beteasy as of 1000 AEDT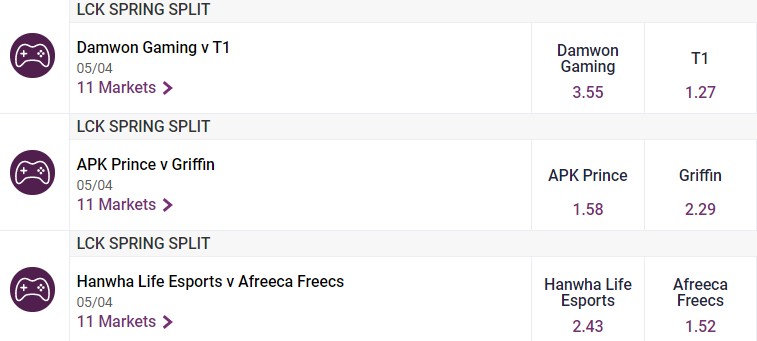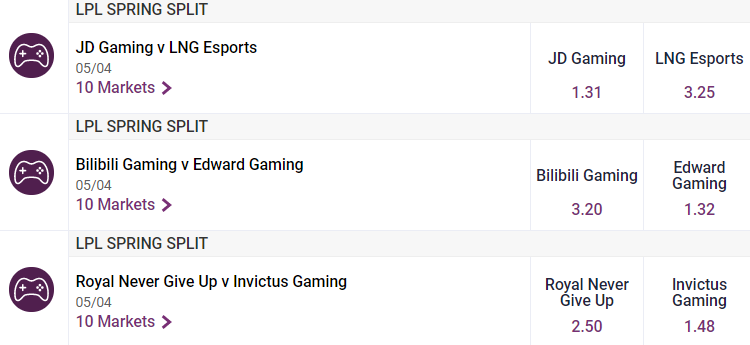 All 6 contests do have a clear favourite in each matchup with the marquee matchup between RNG (7-3) and IG (9-1) the highlight of the slate. T1 (12-2) should continue their LCK dominance against DG (7-7), whilst EG (6-4) should take care of Bilibili (3-7). EDG has won 4 of their last 5 matches(9-5 in games). BLG has lost 7 of their last 8 matches(6-15 in games). JD (6-4) are surprisingly a bit short against LNG (4-6).
If you are looking for Starting Lineups for the LPL you can follow @kenzi131 on Twitter who will post LPL lineups in advance and if available the 1st matchup for LCK.
20200405 #LoL #LPL Starting Line up@lplenglish @EDG_Edward @RNGRoyal @invgaming

Game1) JDG vs LNG
Game2) BLG vs EDG
Game3) RNG vs IG pic.twitter.com/7QvazhCERG

— kenzi (@kenzi131) April 4, 2020
With thanks to rotogrinders.com here is today's overall slate breakdown with the teams overall performance for the Spring season. Apart from IG's impressive Kills per game (17.5) the 2nd tier teams are quite close in today's slate. EG do have standout stats with 13.2 Kills per game a K:D ratio of 1.28 and do destroy more Towers and Dragons per game than Bilibili.
APK will look to keep their late season win streak going (currently 3 in a row) where they take on the hapless Griffin team who now have lost 10 matches in a row.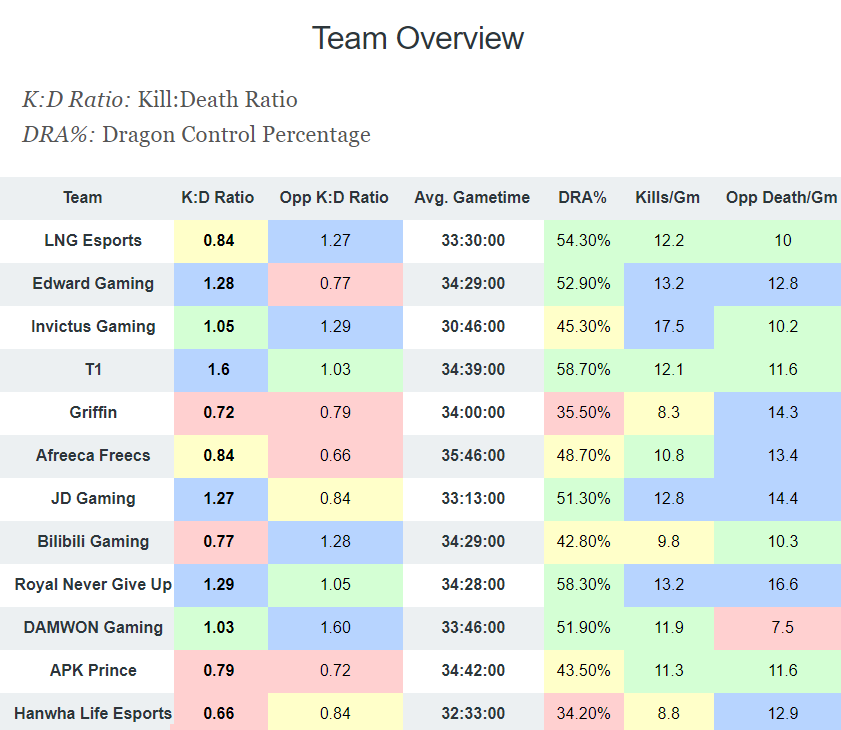 Thanks to
rotogrinders.com
today's ADC selection has an interesting selection of participants. 3 standout players in
Hope (EDG - $8,400)
,
Puff (IG - $8,200)
and
Loken (JDG - $8,000)
have all been found by DraftKings and hence high price tags for each player. I will mention APK's ADC
HyBriD ($7,600)
who is currently on a tear in their teams winning streak. In the past three matches HyBriD has averaged 113 DraftKings Fantasy points and has had 9.4 Kills per game in those 7 games.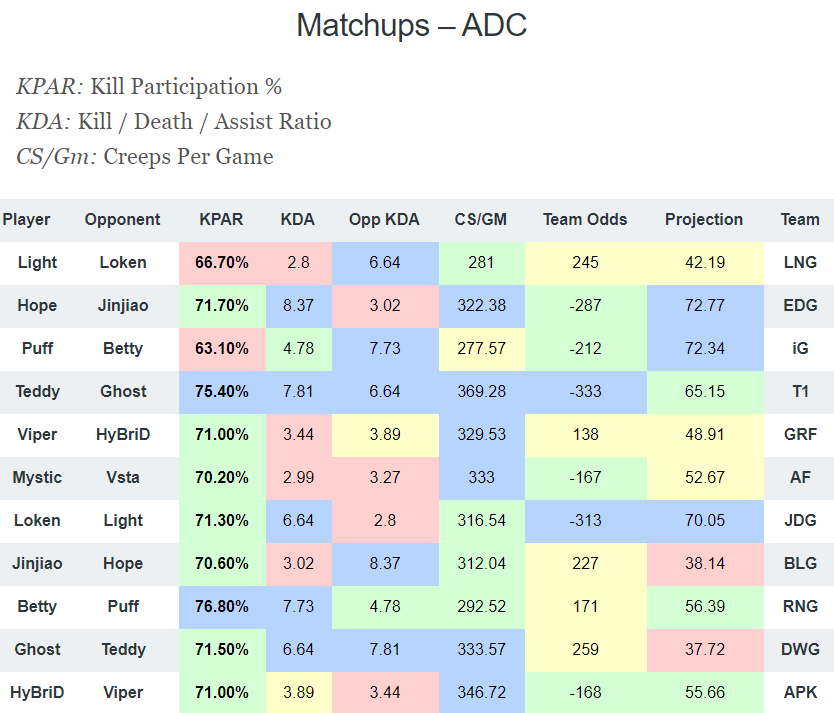 You can also research more stats from FantasyEsports.gg the site is free to sign-up and contains a comprehensive stats centre where you can research stats and history from the LoL leagues around the world.
You can also watch live streams from the leagues here

Today's Targets
Feature Stack - EDward Gaming
ADC Hope $8,400
MID Scout $7,800
SUP Meiko $5,800
TOP Aodi $7,000
Exploiting the lack of form from Bilibili with an ED stack. Whilst this stack has been priced up by DraftKings the Kill line has been set at 25.5 means we should achieve value from our investment. BiliBili's K:D ratio is quite poor (0.77) which makes a great matchup for Hope and Scout.
Second Stack - APK Prince
ADC HyBriD $7,600
SUP Secret $5,400
TOP ikssu $6,400
JNG Flawless $6,600
As alluded, APK should continue their mini run against Griffin. APK has the edge in Kills per game(11.3 to 8.3), Towers per game(5 to 3.5) and Dragons per game(2.4 to 1.8). HyBriD has been on a hot streak and his teammates have benefited.
Key Targets on the Slate
TOP Zoom $6,000
TOP TheShy $7,200
TOP LangX $6,000
JNG Cuzz $6,800
JNG Kanavi $7,600
JNG Leyan $7,000
MID Rookie $8,000
MID Faker $7,400
ADC Betty $7,000
ADC Puff $8,200
SUP Effort $5,600
SUP LvMao $6,000
Good luck with all your entries today, make sure you get involved over at DraftKings. If you want to watch the matches live, you will find all the streams over at Fantasyesports.gg
Always remember to gamble responsibly. When the fun stops, stop. If gambling is having a negative impact on your life, seek support at
Gambling Help Online
. 18+ only.