daily fantasy sports articles
2020 League of Legends Fantasy Tips: Thursday 26th March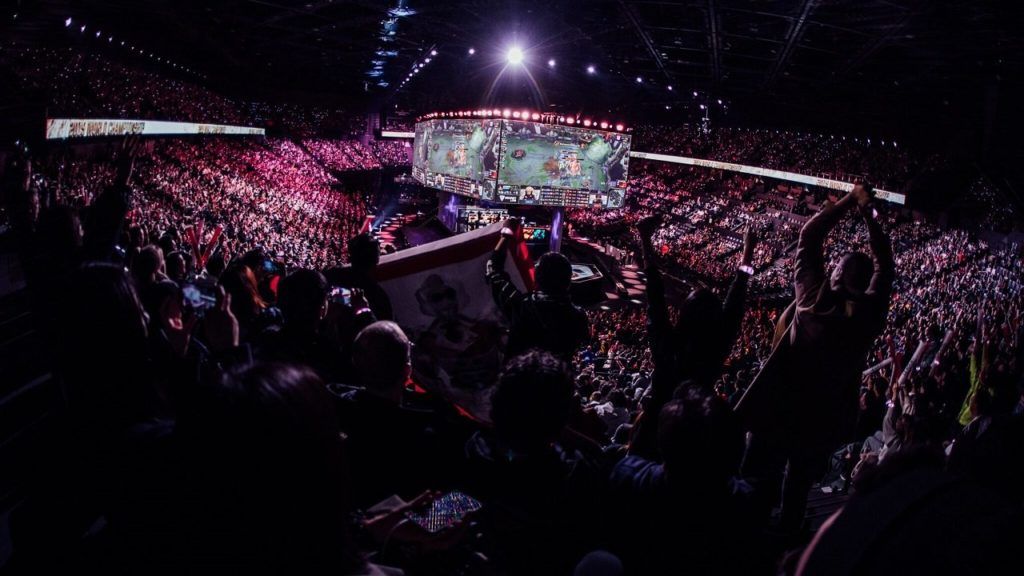 You cannot ignore that the only sport available for DFS on DraftKings is League of Legends (LoL). With all sports on hold the prize pools and popularity of LoL is going to explode and the DraftKings lobby is now full of contests and big prize pools.
Commencing today, Daily Fantasy Rankings will be providing a daily preview of the LoL action from around the globe. For those who are brand new to LoL DFS we will have an introduction piece on how LoL fantasy works when playing DraftKings and the strategies will be coming soon!
So bare with me with my first preview today! DFR has teamed up with Fantasyesports.gg to provide you with some tips and a preview for today's matches. FantasyEsports.gg is an Australian based eSports site that has player rankings, free to play contests as well all the matches streaming live. It is also a good resource for a player's previous history, box scores and averages.

You can also watch live streams from the leagues here
Today's feature contest is the LOL $175K Titan's Fury ($50,000 to 1st) on DraftKings although spots in the contest are rapidly filling fast.
Today is a 6 game slate that combines the LCK (South Korea League) and the LPL (China League) with 3 matches in each league. These matches are the best of 3 games.
Some key elements you will need to know before constructing teams.
Lineups for the LPL are already available and confirmed. There are rare cases that starting teams can swap but the LPL are good in notifying the community. You can search on Twitter for LPL lineups

here

Lineups for the LCK however are very hard to confirm. The Korean government is very strict on Gambling in the country. However you can find lineups in some cases just before lock or on the live stream coverage. Stick with the key players for each team.

Note, no swap on DraftKings and teams can change (rarely but they can) players after a game has commenced. So they can sub a player in. If you see a zero or a very low score, it is likely they have been subbed.

You will hear a lot about stacking teams. You want to stack teams with players that win games. Pretty simple concept. Will look to explore further into the future about roster construction.


There are some heavy favourites amongst today's slate with only Suning Gaming (SN) and Team WE (WE) the closest contest. Currents odds at 2:00pm AEDT with thanks to Sportsbet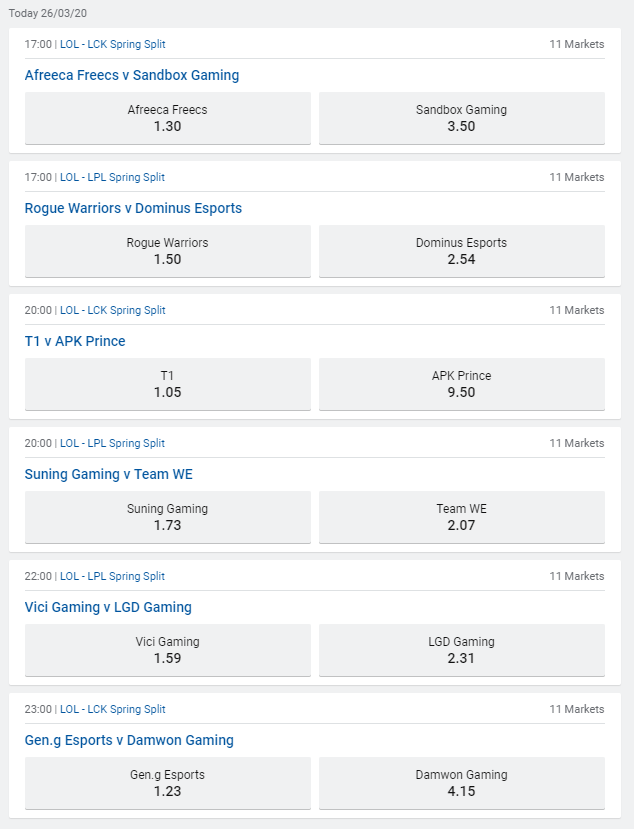 The contests in the LCK are heavily favoured towards the favourites with Afreeca Freecs, T1 and Gen.g looking to record big wins. The LPL do have more tighter contests and the underdogs of LGD and WE players are worthy in consideration in leverage spots. I will say that Rogue Warriors (RW) are in the interesting spot after their Jungler WeiYan was kicked off the team after some blatant match-fixing. I am not sure if this has been factored into the markets but their opponents Dominus Esports (DE) aren't exactly a winning team lately. DE have lost their last 4 matches by shutout and only have won 1 match in their past 7 matches.
Today's Targets
Feature Stack - Rogue Warriors
ADC Zwuji ($8,200)
SUP Ley ($6,000)
TOP Crazy ($7,200)
As outlined above, DE are struggling and I see RW winning well after the heat on the team last week.
Second Stack - Gen.G
ADC Ruler ($7,600)
JNG Clid ($7,000)
MID Bdd ($8,000)
Gen.G who were impressive yesterday defeating Griffin. We should see the same starters (reminder LCK do not post starting lineups) against Damwon who have lost the last 3 games and also lost yesterday. Can be a bit difficult at these DraftKings prices to fit all these in.
Key Players on the Slate
ADC Teddy ($8,000)
JNG Peanut ($6,400)
TOP Nuguri ($5,400)
SUP Life ($5,200)
MID Faker ($7,600)
MID Teacherma ($5,600)
TEAM Vici ($5,400)
TEAM Afrecca Freecs ($5,600)
I will have Vici ($5,400) in the team spot that should grind out the win over LGD and preferably win 2-0. The first map is crucial here. I also like MID Teacherma ($5,600) who can smash value if Team WE (who are slight dogs) get up over Suning.
A matchup I'll probably avoid players from are Vici Gaming and LGD Gaming. Whilst both rosters look to be cheap on DraftKings with a lack of wins on both sides, each team is looking to mix-up their rosters. Especially if either side loses Map 1. But either side is OK for Team selection.
Good luck with all your entries today, make sure you get involved over at DraftKings. If you want to watch the matches live, you will find all the streams over at Fantasyesports.gg
Always remember to gamble responsibly. When the fun stops, stop. If gambling is having a negative impact on your life, seek support at Gambling Help Online. 18+ only.