daily fantasy sports articles
2020 League of Legends Fantasy Tips: Thursday 2nd April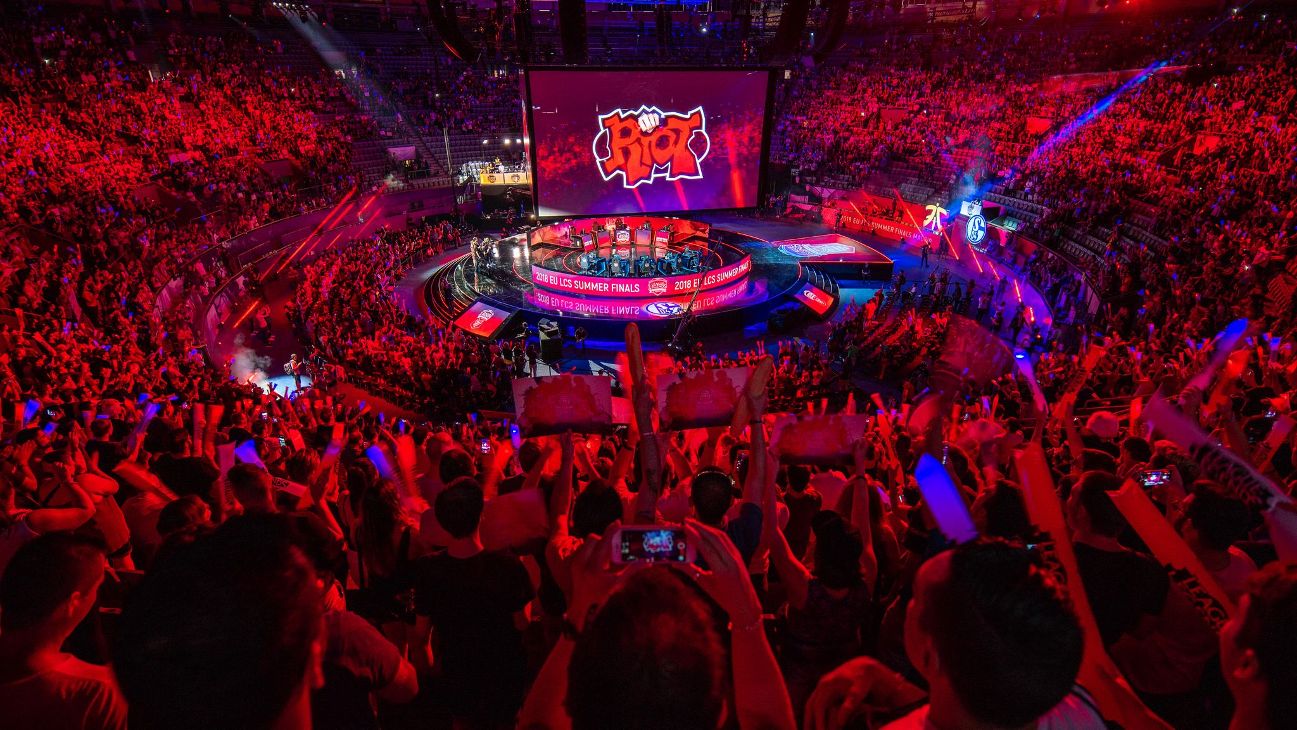 Welcome back to Wednesday's League of Legends preview for DraftKings where league action continues in Korea and China.
Today's feature contest is the LOL $200K Titan's Fury ($50,000 to 1st) on DraftKings and a $25,000 Elder Dragon for $4 entry with $2,500 to 1st place.
Today is a 6 game slate that combines the LCK (South Korea League) and the LPL (China League) with 3 matches in each league. These matches are the best of 3 games.
Here is today's bookies odds with action getting underway at 1700 AEDT and the current odds from Beteasy as of 1100 AEDT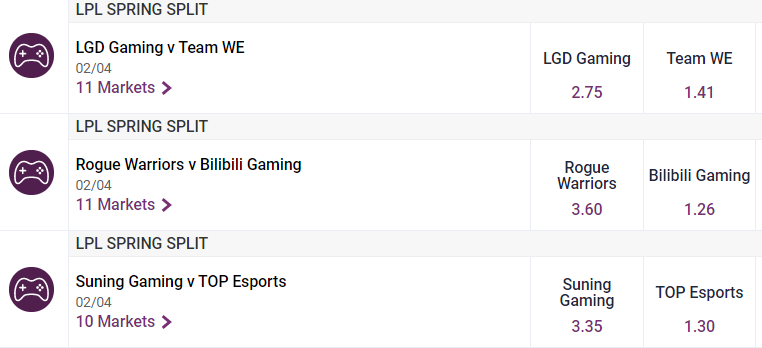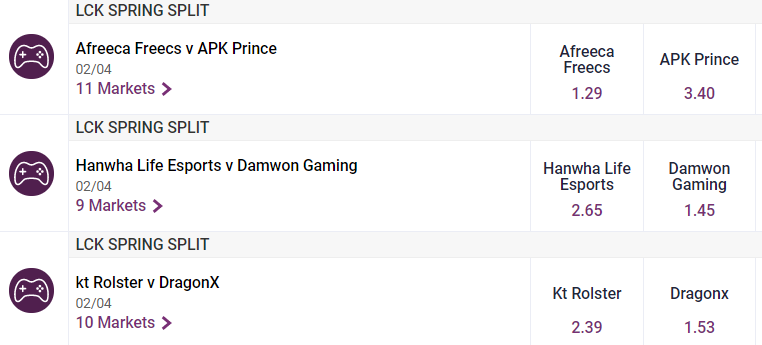 Yesterday 2 out of 3 contests underdogs in the LPL got up (Vici and Dominus) at big odds which killed most LNG lineups but somehow eStar managed to score well. Today all 6 matches do have a clear favourite and underdog which could make team stack selection and bit more trickier to figure out. Although confidence for Bilibili (3-6) will be high after a last start upset over Team WE. Bilibili are up against Rouge Warriors (3-6) who have two losses on the trot since the match-fixing scandal.
If you are looking for Starting Lineups for the LPL you can follow @kenzi131 on Twitter who will post LPL lineups in advance and if available the 1st matchup for LCK.
20200402 #LoL #LPL Starting Line up

.@lplenglish @LGDgaming @TeamWE @EsportRw @SNG_lol @TOP_Esports_

Game1) LGD vs WE
Game2) RW vs BLG
Game3) SN vs TES pic.twitter.com/5wgdiGjTTl

— kenzi (@kenzi131) April 1, 2020
With thanks to rotogrinders.com here is today's overall slate breakdown with the teams overall performance for the Spring season. With a full slate of games to choose from you would think there would be a standout overall team with 6 strong favourites. Bilibili are one of the worst "killing" teams but going against Rogue Warriors who are actually worse than their opponent. Another favourite in TOP esports (6-3) are in 5th position in the LPL standings and take on Sunwing (4-6) who have lost 3 on the trot. With both teams high on the kill and death count, this matchup could be considered as a fantasy friendly contest.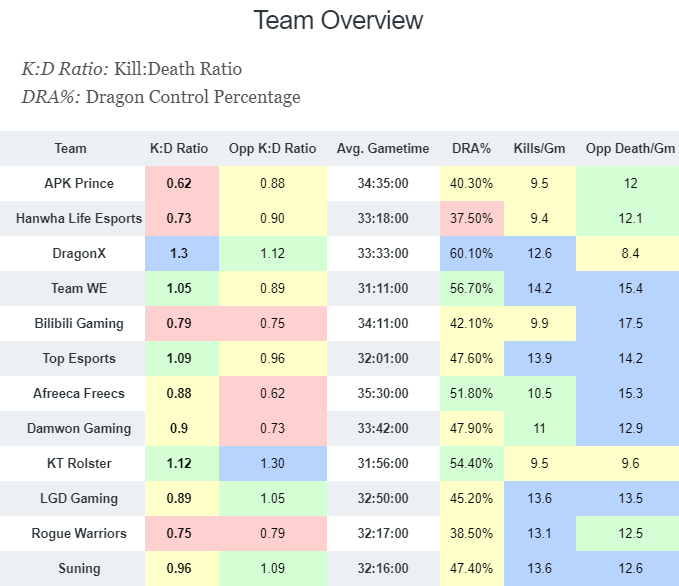 Thanks to
rotogrinders.com
today's MID selection has an interesting selection of participants. The key standout is Team WE's
MID Teacherma ($8,200 on DraftKings)
who has the slate leading KDA of 5.68 and is projected to score over 70+ fantasy points. Apart from
MID Knight ($8,000)
for TOP esports the remaining selections are quite lacking.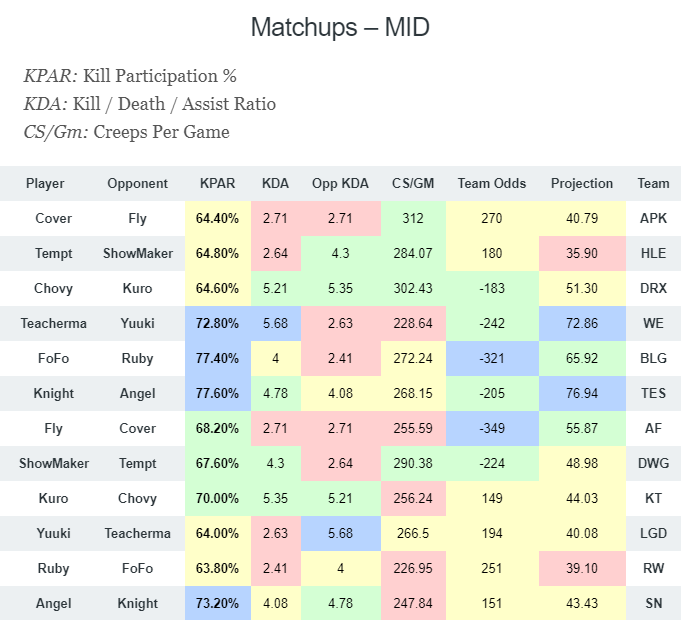 You can also research more stats from FantasyEsports.gg the site is free to sign-up and contains a comprehensive stats centre where you can research stats and history from the LoL leagues around the world.

You can also watch live streams from the leagues here

Today's Targets
Feature Stack - Team WE
ADC Jiumeng ($8,400)
MID Teacherma ($8,200)
JNG beishang ($7,800)
TEAM ($5,400)
As you can see from the data from Rotogrinders, this matchup has the potential to be the "bloodiest" on the slate. Although LGD has an overall record of 2-7 they are not afraid to go for the kill with 13.6 Kills per game. However you are paying the premium price for Team WE members and would need this match to go the distance to achieve fantasy goodness.
Second Stack - KT Rolster
ADC Aiming ($6,200)
MID Kuro ($5,800)
JNG bonO ($5,400)
SUP TusiN ($4,000)
KT's winning streak continues at 8 on the trot and I did feature this stack yesterday. KT fantasy scores weren't the best I have seen yesterday against Griffin, but essentially KT just knocked over the objectives and moved on. They will be forced into more of a battle against DragonX who boast 1.3 Kill to Death ratio. The last matchup of the LCK for the slate and potentially a very low ownership for either team.
Key Targets on the Slate
TOP Doran ($6,200)
TOP ADD ($7,000)
TOP Kiin ($6,600)
JNG Spirit ($6,200)
JNG Meteor ($7,200)
MID Knight ($8,000)
MID ShowMaker ($7,600)
ADC Photic ($8,000)
SUP Keria ($4,800)
SUP QiuQiu ($5,800)
TEAM TOP esports ($5,600)
TEAM KT Rolster ($4,600)
Good luck with all your entries today, make sure you get involved over at DraftKings. If you want to watch the matches live, you will find all the streams over at Fantasyesports.gg
Always remember to gamble responsibly. When the fun stops, stop. If gambling is having a negative impact on your life, seek support at
Gambling Help Online
. 18+ only.