daily fantasy sports articles
2020 League of Legends Fantasy Tips: Thursday 9th April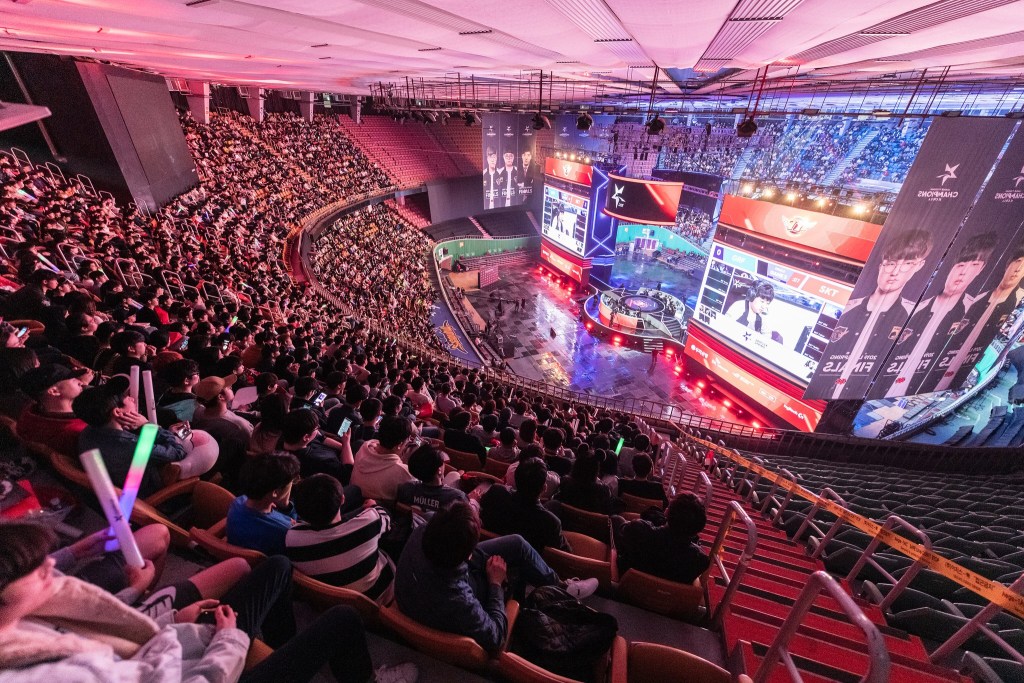 Welcome back to Thursday's League of Legends preview for DraftKings where league action continues in Korea and China.
Today's feature contest is the LOL $200K Titan's Fury ($50,000 to 1st) on DraftKings and a $25,000 Elder Dragon for $4 entry with $2,500 to 1st place.
Today is a 5 game slate that combines the LCK (South Korea League) and the LPL (China League) with 3 matches in the LPL and 2 in the LCK. These matches are the best of 3 games.
Here is today's bookies odds with action getting underway at 1600 AEST and the current odds from Beteasy as of 1100 AEDT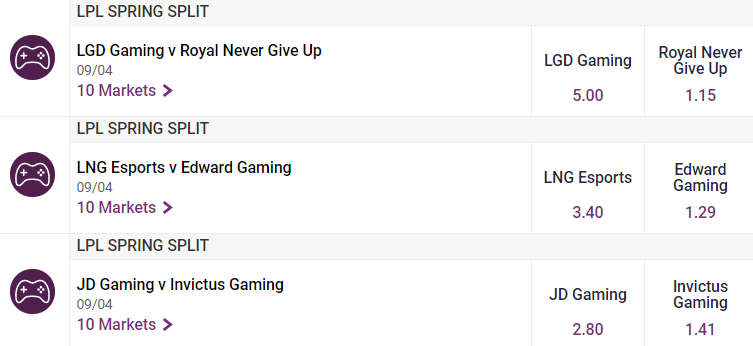 Apart from the Griffin (4-12) and Afreeca (6-9) who are out of playoff contention then we have some big favourites on the slate today. Only JD Gaming (8-4) is a legitimate underdog shot today taking down the LPL league leading team in Invictus (10-1). Sandox (5-10), LGD (3-7) and LNG (4-7) all have losing records and will have some trouble notching wins.
If you are looking for Starting Lineups for the LPL you can follow @kenzi131 on Twitter who will post LPL lineups in advance and if available the 1st matchup for LCK.
20200409 #LoL #LPL Starting Line up

Jiejie-jinoo is back

.@lplenglish @LGDgaming @RNGRoyal @EDG_Edward @invgaming

Game1) LGD vs RNG
Game2) LNG vs EDG
Game3) JDG vs IG pic.twitter.com/MN41AOKyYt

— kenzi (@kenzi131) April 9, 2020
With thanks to rotogrinders.com here is today's overall slate breakdown with the teams overall performance for the Spring season. The favourites on the bookies board do stand out on the Team Overview stats. T1, RNG, Invictus and EDG all have high K:D ratios and high kills per game. RNG are in a great spot with LGD giving up the most deaths per game. As I mentioned above JDG are in a good upset spot with Invictus having a high kill but also a high death ratio. Could be the recipe for high fantasy scoring. The remaining teams are struggling in their K:D ratio and hence their positions in the league.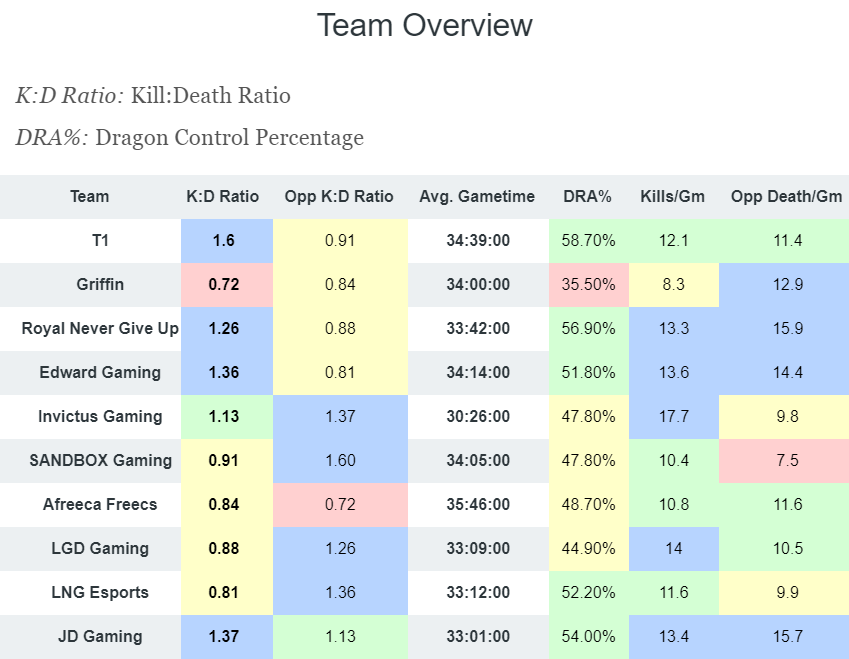 Thanks to rotogrinders.com today's ADC selection will be the key to success. There are four key standout plays in this position: Hope ($8,200), Betty ($8,000), Puff ($7,800) and Teddy $7,600 and hence the pricing from DraftKings. Outside of Puff they all have exceptional KPAR and their opponent KDA is lacking. If we are looking at a play at value JDG's Loken ($6,400) with a KPAR of 6.54 and can take it right up to Puff in this match.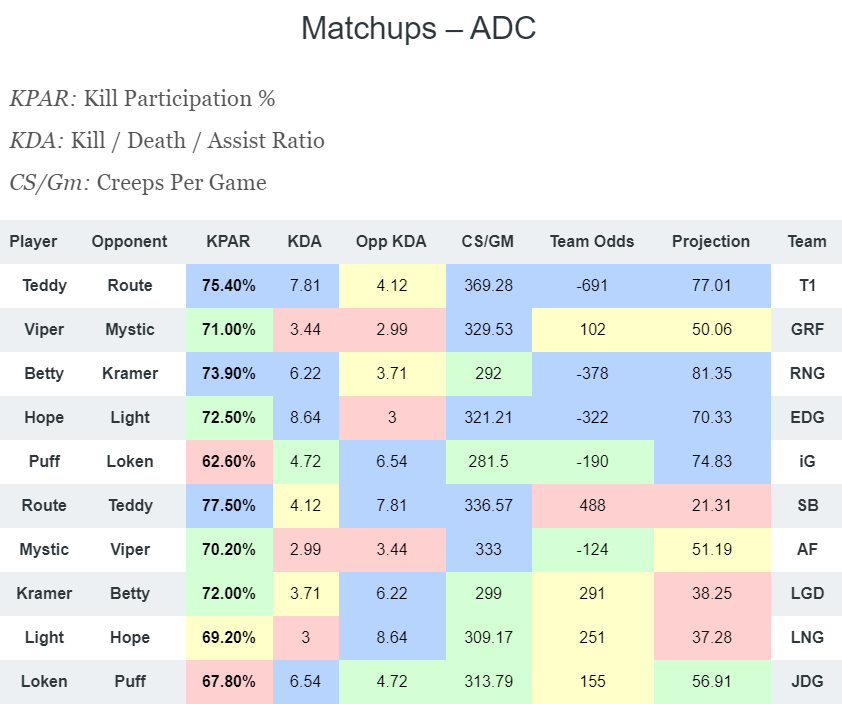 You can also research more stats from FantasyEsports.gg the site is free to sign-up and contains a comprehensive stats centre where you can research stats and history from the LoL leagues around the world.

You can also watch live streams from the leagues here
Today's Targets
Feature Stack - Edward Gaming
ADC Hope $8,200
TOP Jinoo $6,400
JNG JieJie $6,800
MID Scout $7,600
Two off the bench today with Jinoo and JieJie into the side so make sure you check the lineups. These two provided some salary relief to make this stack work. The K:D ratio 1.36 to 0.81 along with a high death rate from LNG makes EDG in one of top spots on the slate. MID Scout has the highest KDA ratio on the slate with 5.62
Second Stack - JD Gaming
ADC Loken $6,400
MID Yagao $6,600
SUP LvMao $4,400
TOP Zoom $5,600
As alluded, I am keen on a JD upset over the league leading IG outfit. Being 8-4 and smashing the fancy eStar last match, these players are great value on the slate. TOP Zoom has been great since his return to the team scoring 85DK points in the win over eStar.
Key Targets on the Slate
TOP LangX $7,200
TOP Canna $6,800
JNG XLB $7,200
JNG Kanavi $6,400
MID Faker $7,400
MID Xiaohu $8,000
ADC Betty $8,000
ADC Teddy $7,600
SUP Effort $5,400
SUP Meiko $5,200
TEAM T1 $6,000
TEAM EDG $5,400
Good luck with all your entries today, make sure you get involved over at DraftKings. If you want to watch the matches live, you will find all the streams over at Fantasyesports.gg
Always remember to gamble responsibly. When the fun stops, stop. If gambling is having a negative impact on your life, seek support at
Gambling Help Online
. 18+ only.