daily fantasy sports articles
2020 League of Legends Fantasy Tips: Wednesday 15th April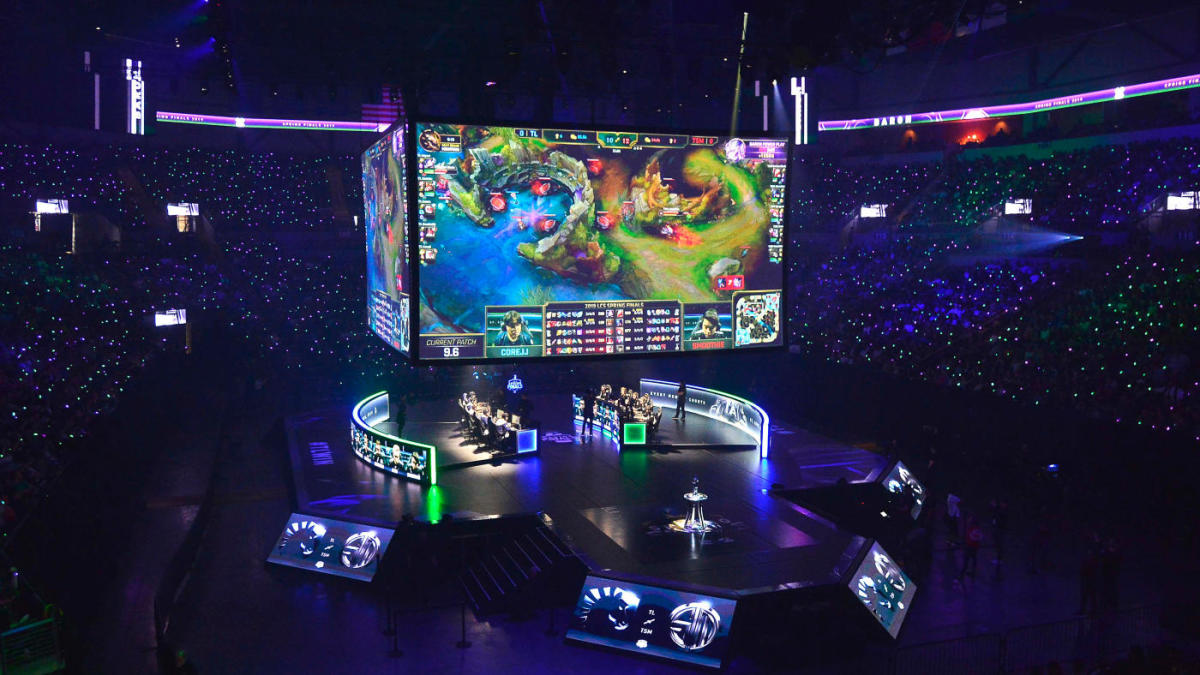 Welcome back to Wednesday's League of Legends preview for DraftKings where league action continues in Korea and China.
Today's feature contest is the LOL $200K Titan's Fury($50,000 to 1st) on DraftKings and a $25,000 Elder Dragon for $4 entry with $2,500 to 1st place.
Today is a 6 game slate that combines the LCK (South Korea League) and the LPL (China League) with 3 matches in the LPL and 3 in the LCK. These matches are the best of 3 games.
Here is today's bookies odds with action getting underway at 1600 AEST and the current odds from Beteasy as of 1000 AEDT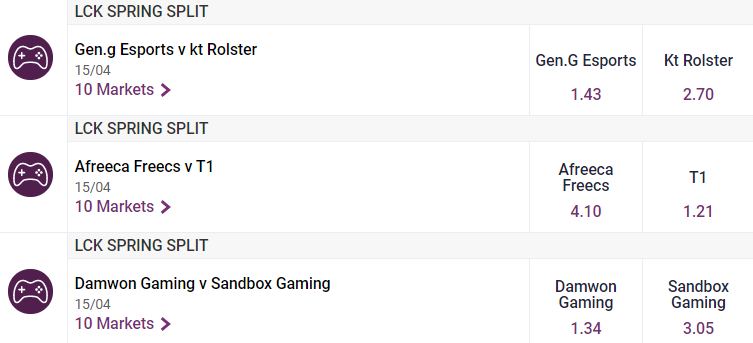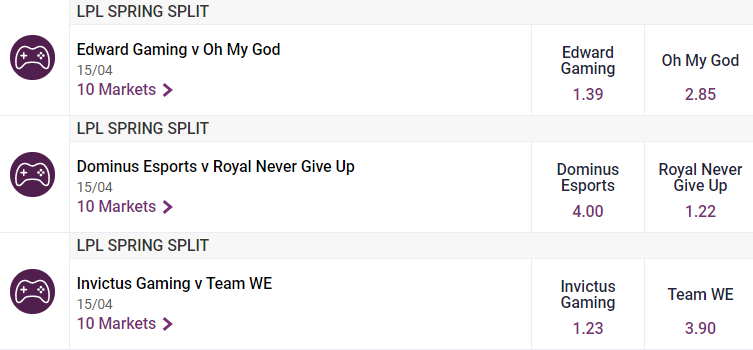 Starting with the LCK, the final 5 has been determined and the race for top spot is on earnest with DRX, T1 and Gen.G all tied at the top of the standings. Finishing on top of the standings has a big advantage as you will avoid the earlier elimination playoff matches in 2nd and 3rd spot. Both Afreeca and Sandbox's playoffs are done and both teams are big underdogs over their playoff bound opponents.
Over at the LPL, the result between Edward Gaming (8-5) and Oh My God (7-7) will determine if teams below OMG still have a chance to make the playoffs. A victory for OMG will end DMO, BLG, SN and VG hopes and will put RW, LGD on "win or go home" status. Team WE have a massive schedule of 4 games in the next 6 days and still can make the playoffs. As for today's schedule, IG (11-2) will want to lock up top spot with a victory over WE (6-6) and RNG should be too strong over strugglers DMO (5-9).

If you are looking for Starting Lineups for the LPL you can follow @kenzi131 on Twitter who will post LPL lineups in advance and if available the 1st matchup for LCK.
20200415 #LoL #LPL Starting Line up

.@lplenglish @EDG_Edward @OMGe_Sports @RNGRoyal @invgaming @TeamWE

Game1) EDG vs OMG
Game2) DMO vs RNG
Game3) IG vs WE pic.twitter.com/BgtEJQjHBp

— kenzi (@kenzi131) April 14, 2020
20200415 #LoL #LCK Starting Line up
Game1) Gen.G vs kt
.@GenG_KR : Rascal-Clid-Bdd-Ruler-Kellin@KTRolster_tw : SoHwan-bonO-Kuro-Aiming-TusiN pic.twitter.com/B5MiYQ9hfm

— kenzi (@kenzi131) April 15, 2020
With thanks to rotogrinders.com here is today's overall slate breakdown with the teams overall performance for the Spring season. Today is the final day of the combined 6 games on the slate and the choice of 12 teams.
Whilst the bookies have made 6 teams as clear favourites you cannot discount underdogs OMG and KT Rolster. IG are on top in terms of fantasy scoring potential with a Kills per game of 17 and an opponent death rate of 14 (WE). However DraftKings has priced IG as the most expensive team on the slate with both MID Rookie and ADC Puff at $8,200 on DK.
Team WE are no slouches however with 14 Kills per game with IG giving up a high amount of deaths per game (15.8). The Kills over/under has been set at 58 for two maps which is much more than the remaining LPL matches and is 17 kills more than the highest LCK matchup between T1 and AF (Kill Total is 41).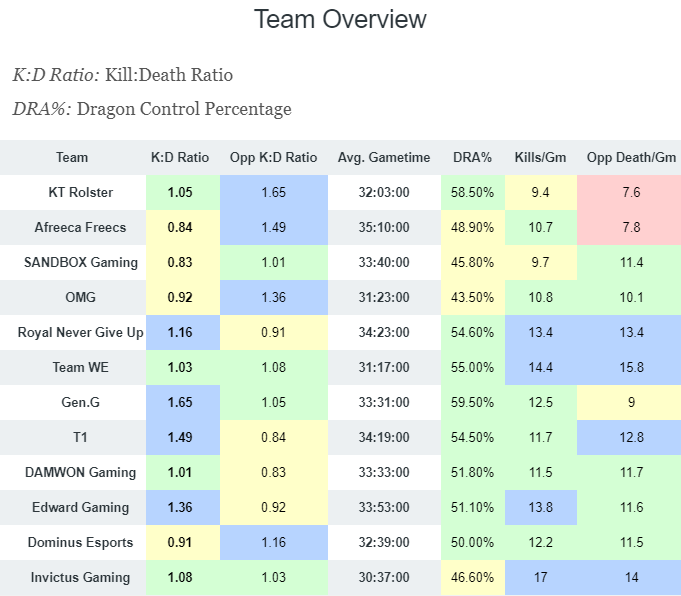 Thanks to
rotogrinders.com
today's MID selection will be the key to success. The top 2 MID's in IG's
Rookie ($8,200)
and RNG's
Xiaohu ($8,000)
do have the best overall projection but I also like the potential for EDG's
Scout ($7,800)
. Coming off loss to FPX but had EDG had won 3 straight matches before that & get plus matchup against OMG who has lost 5 of last 7 matches & 4 straight games. If you were looking at the LCK sides then T1's
Faker ($7,000
) is a salary saver but in his last 5 matches, Faker has averaged only 2.58 Kills per game along with 4.08 assists per game and a slate leading 1.33 deaths per game. T1 are the biggest favourites today on the slate so Faker should not have any trouble taking on AF's All iN ($6,200).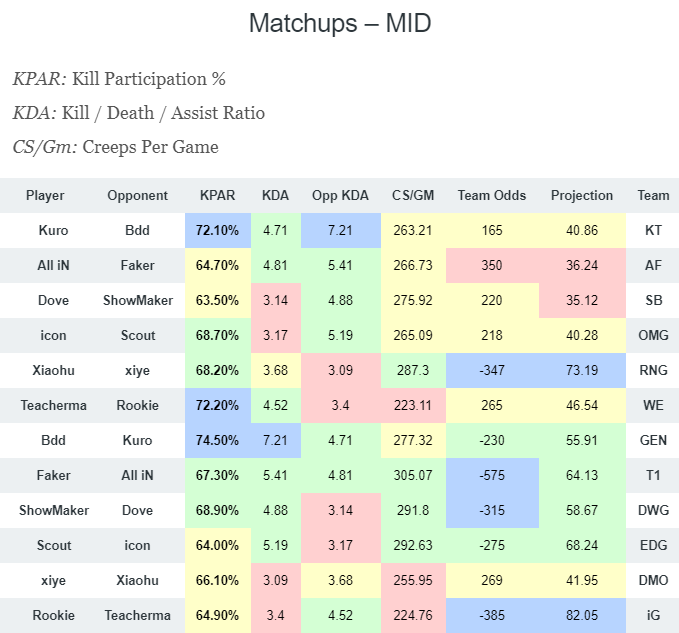 You can research more stats from FantasyEsports.gg the site is free to sign-up and contains a comprehensive stats centre where you can research stats and history from the LoL leagues around the world.
You can also watch live streams from the leagues here

Today's Targets
Feature Stack - Invictus Gaming
ADC Puff $8,200
MID Rookie $8,200
JNG Leyan $7,200
SUP Southwind $6,400
Need to pay the top price to own the best team in the LPL looking to wrap up 1st spot. As mentioned the Kill totals are huge and Team WE do put up bloody battles. A in game 3-3 stack is not out of the question but I will try and squeeze as many IG players as I can.
Second Stack - Oh My God
MID icon $6,600
TOP Curse $5,000
JNG H4cker $5,600
Yes… An underdog team that has performed poorly over the past two matches, but the playoffs are in OMG's destiny. Losing this match, this makes a potential match against WE to decide 8th spot. A tough ask against ED but prefer to have the "best" underdog on the slate than the other matches. TOP Curse ($5,000) and JNG H4cker ($5,600) are cheap enough to fit in more expensive pieces elsewhere.
Key Targets on the Slate
TOP Canna $6,200
TOP LangX $7,000
JNG XLB $6,600
JNG Clid $6,400
MID ShowMaker $7,600
ADC Jiumeng $7,600
ADC Teddy $7,800
SUP Effort $5,400
SUP Life $5,200
TEAM IG $5,600
TEAM WE $4,000
Good luck with all your entries today, make sure you get involved over at DraftKings. If you want to watch the matches live, you will find all the streams over at Fantasyesports.gg
Always remember to gamble responsibly. When the fun stops, stop. If gambling is having a negative impact on your life, seek support at Gambling Help Online. 18+ only.