daily fantasy sports articles
2020 League of Legends Fantasy Tips: Wednesday 1st April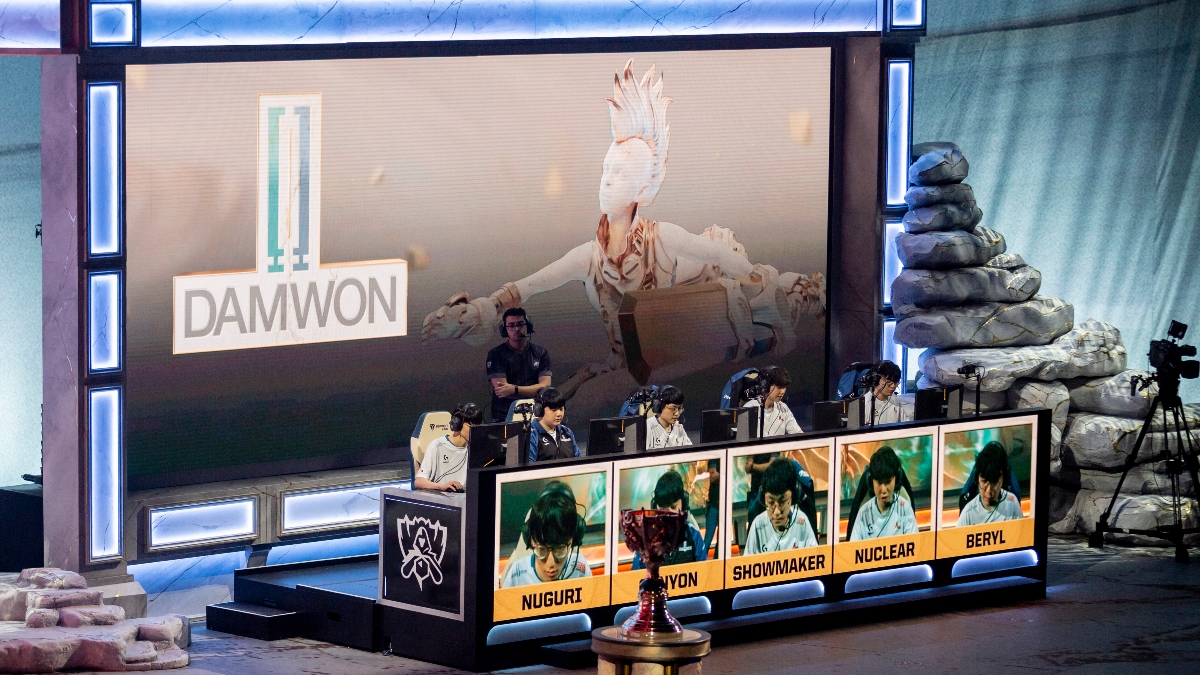 Welcome back to Wednesday's League of Legends preview for DraftKings where league action continues in Korea and China.
Today's feature contest is the LOL $200K Titan's Fury ($50,000 to 1st) on DraftKings and a $15,000 Critical Strike for $3 entry with $3,000 to 1st place.
Today is a 6 game slate that combines the LCK (South Korea League) and the LPL (China League) with 3 matches in each league. These matches are the best of 3 games.
Here is today's bookies odds with action getting underway at 1700 AEDT and the current odds from Beteasy as of 1000 AEDT
Another day of big favourites especially in the LPL with RNG (5-3) at ridiculous short odds to defeat V5 (0-9) along with eStar (9-1) and LNG (4-5) as good things to defeat VG (4-6) and DE (2-7).
In Korea, the matchups still have a one-sided look apart from the top of the table clash at the end of the slate between Gen.G (11-1) and T1 (10-2). The DraftKings prices are actually quite soft for the Gen.G/T1 matchup considering these two teams are the top of the league. Whether to roster players is a different story with so many one-sided matchups today.

If you are looking for Starting Lineups for the LPL you can follow @kenzi131 on Twitter who will post LPL lineups in advance and if available the 1st matchup for LCK.
20200401 #LoL #LPL Starting Line up@lplenglish @eStarLOL @VICI @RNGRoyal pic.twitter.com/JuZSmvQKFF

— kenzi (@kenzi131) March 31, 2020
With thanks to rotogrinders.com here is today's overall slate breakdown with the teams overall performance for the Spring season. With a full slate of games to choose from, the two clear teams that standout are T1 and Gen.G, but as mentioned they square off in tonight's feature match. So alas, these two teams cancel each other out. Today's most expensive team on DraftKings is eStar who are on top of the LPL and boast the most kills per game and an impressive 1.64 Kill:Death Ratio.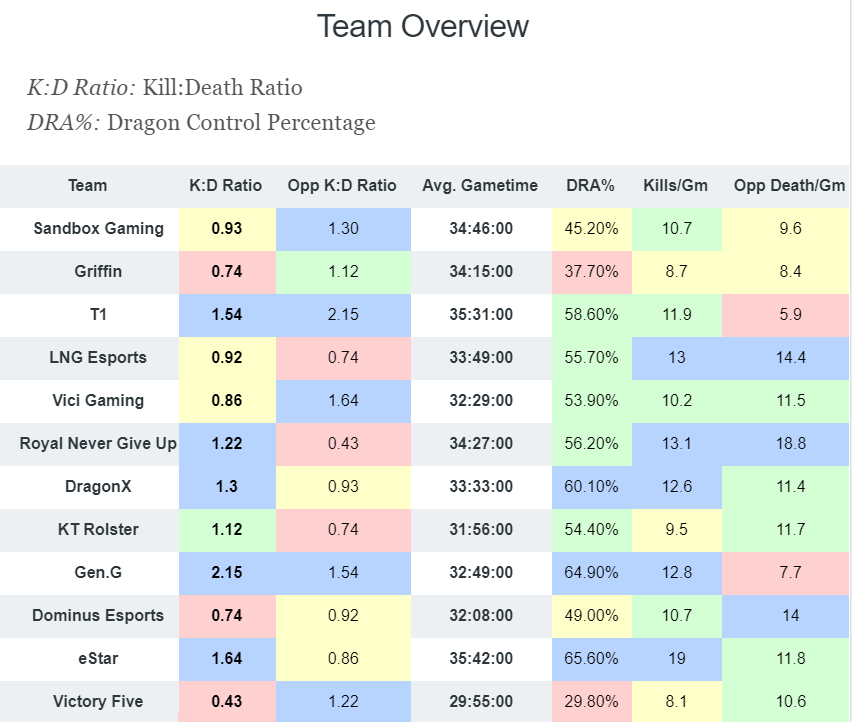 Thanks to
rotogrinders.com
today's ADC selection will be key to success. Wink ($8,600) is 2nd in the KDA column to Ruler and on paper has a much easier task against iBoy. Aiming ($7,800) leads in KPAR and does have a soft matchup against Viper. Betty ($8,200) has the best matchup against the winless y4 and rightly so.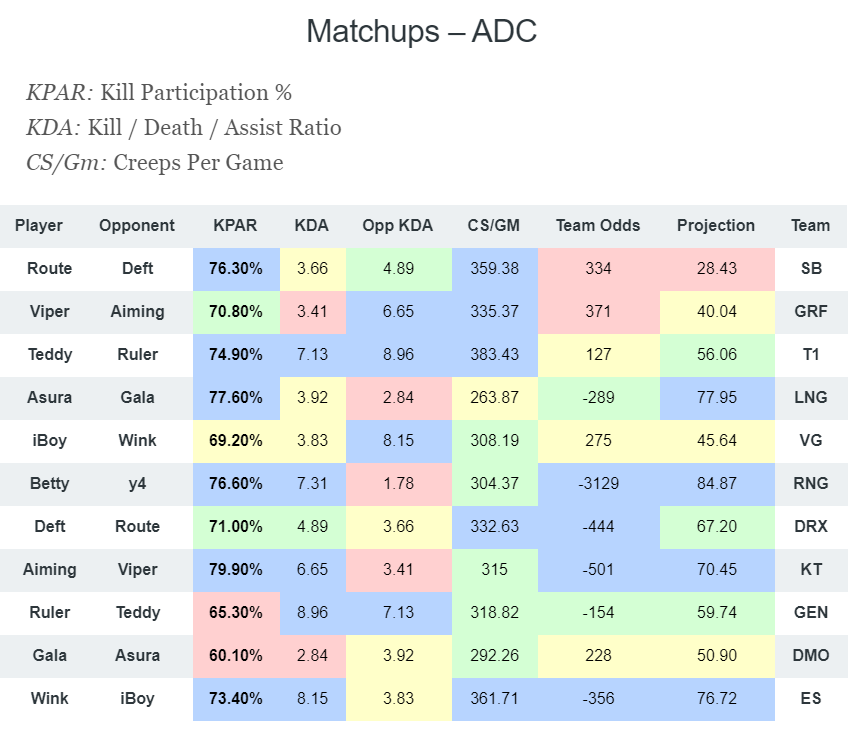 You can also research more stats from FantasyEsports.gg the site is free to sign-up and contains a comprehensive stats centre where you can research stats and history from the LoL leagues around the world.
You can also watch live streams from the leagues here
Today's Targets
Feature Stack - Royal Never Give Up (RNG)
ADC Betty ($8,200)
MID Xiahou ($8,000)
TOP LangX ($7,600)
TEAM ($6,200)
It is very hard to get away with a team that is 1.02 (-5000) favourite on a slate that should make light work of V5. Whether the Maps go under 30 minutes and the amount of kills are available, that remains to be seen, but you will see a lot of teams roll out the RNG stack today.
Second Stack - Dragon X (DRX)
ADC Deft ($7,400)
MID Chovy ($7,600)
JNG Pyosik ($7,200)
SUP Keira ($6,000)
The Korean outfit are first up in the LCK today so we should get confirmation of the starting lineup before slate lock. DRX bounced back from a poor week with a win against Griffin. Sandbox got wiped against low ranked APK on Sunday and now two games out of 5th spot for the playoffs. I do like their discounted prices on DraftKings and are worthy of stack consideration.
Key Players on the Slate
TOP XiaoBai ($7,600)
TOP Flandre ($7,000)
JNG bonO ($6,800)
JNG Xx ($6,600)
MID Bdd ($7,000)
MID Cryin ($8,400)
ADC Wink ($8,600)
SUP Life ($5,200)
Good luck with all your entries today, make sure you get involved over at DraftKings. If you want to watch the matches live, you will find all the streams over at Fantasyesports.gg
Always remember to gamble responsibly. When the fun stops, stop. If gambling is having a negative impact on your life, seek support at
Gambling Help Online
. 18+ only.