daily fantasy sports articles
2020 State of Origin: Game 1 Fantasy Lineup Tips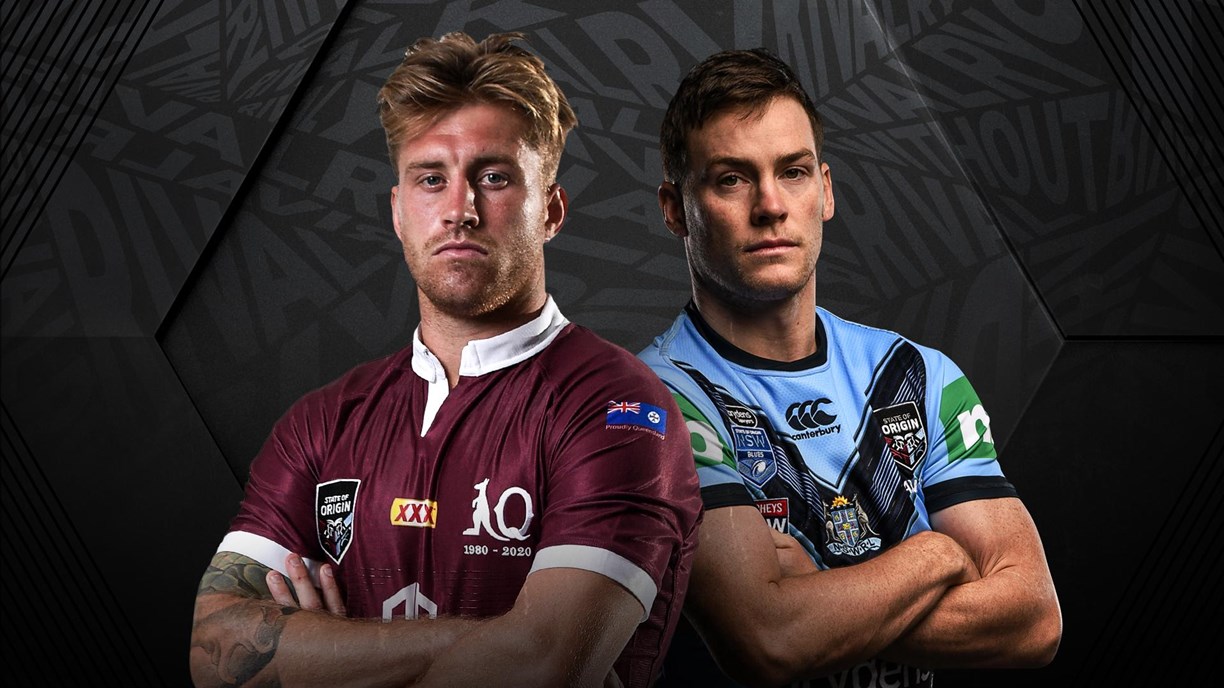 Credit: NRL.com
Rugby League in November? Yep 2020 has been a doozy but the full-on action of sports continues with Australian Rugby League's showpiece event of the 2020 State of Origin. Traditionally played mid-season, the Australian Rugby League have scheduled the 3 games back to back for the next 3 Wednesday's which is fantastic for league fans.
Australia's number 1 Rugby League Daily Fantasy site Draftstars have come to the party posting a $40,000 contest along with their usual array of contests in the lobby.

The downside of scheduling representative matches at the end of club season's is the busy surgery ward for players. Vastly different teams available for Game 1 especially for Queensland who have named 7 debutants in the named 17. New South Wales has experience across the park with all players except Clint Gutherson, Jaydn Su'A and Luke Keary (who make their debuts), have played in the series before.
Adelaide Oval will host the 1st match of the series for the first time and after copping some warm weather before the match, cool and possible showery conditions are forecast on Wednesday night.
While the squads have been named a few days ago, Xavier Coates hurt his shoulder at training on Sunday so this may need to be monitored before kick off.
UPDATE - Kurt Capewell will be named in the final 17 for Queensland but at this stage we did not know who for. You will need to monitor the final teams at 1 hour before kick off here.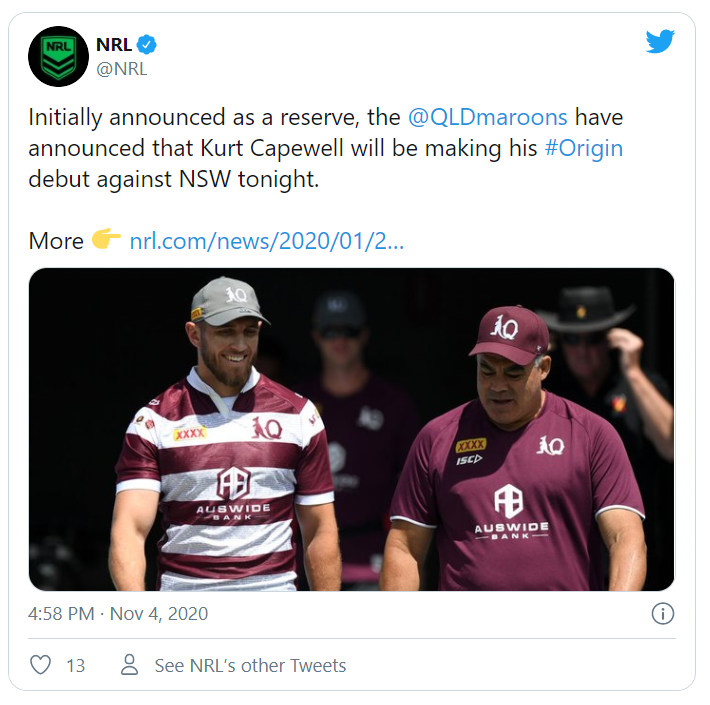 Market Odds
Queensland $3.60 v New South Wales $1.30
Spread - 9.5
Total - 41.5
When playing Rugby League DFS, make sure you keep to these golden rules when constructing lineups:
Check team lists at one hour before kick-off. Not expecting any changes but hey this is Rugby League and coaches pull swifties.
In single game slates, winning lineups don't tend to have bench players. But this isn't always the case in the State of Origin. Forwards minutes are shared more evenly due to the higher pace of the game itself.
In coin flip contests, balanced lineups are the way to go. But if you feel that one side will be dominant, then ensure you have backs that are involved in scoring plays.
Oh, how we all love the post-game adjustments... Keep the XXXX or Toohey's in the fridge and the humble brags on Twitter in the holster until around two hours after the game. Annoying, but it's a thing in Rugby League DFS, the adjustment sweat.
For those who are new to the State of Origin players or just need a refresher, let me briefly breakdown each player in this Game 1 matchup:
New South Wales
Blues players are going to be very popular, especially the Backs and Damien Cook. If you believe that NSW are going to rack the points up then you need combinations of backs and cheaper forwards as the Blues are priced up. Jack Wighton and Clint Gutherson are playing out of position in the centres so keep your expectations low there.
James Tedesco - $14,220 - Tedesco has been priced up by Draftstars after another stellar season for the Roosters and that translated into big fantasy scores. 60+ FP average for the season and I can see him ascertain his authority in game 1. Tedesco scored 49.5 / 54.5 and 88.0 fantasy points in last years series running 200+ metres in each match
Daniel Tupou - $8,290 - Tupou is back in the Blues lineup after representing his nation Tonga in the past two years. Always dangerous on the wing, look for Tupou to dominate the high ball in the corners against his inexperienced opponents. Will be the 3rd most owned player behind Addo-Carr and Tedesco.
Clint Gutherson - $8,210 - Gutho will make his debut in the centres after Tom Trbojevic was ruled out with a shoulder injury and should provide sound attack and defence for the Blues. Playing out of position is hard to project after Turbo Tom produced a 68 FP (Game 2) and 25 FP (Game 3) last year. One to monitor but not the best.
Jack Wighton - $11,250 - Wighton is the X-Factor here. The Dally M medalist will be looking to take his game to new heights on the Origin stage. However in the Centre position in last years series scored 44FP and 25FP, so you need Wighton to go much more than that to pay off that 11K salary. I believe he is well worth the investment having played last year in this position.
Josh Addo-Carr - $8,380 - The Fox is back fresh off a premiership win with the Storm. Scored two tries in Game 2 last year and if you think this is going to be one way traffic then you can join the crowd picking Addo-Carr. Will be the highest owned player in this position and don't mind eating the chalk here at that salary.
Luke Keary - $10,940 - It didn't take long for the Qld press to get stuck into Keary after stories were written saying he should be in Maroon than Blue but regardless he is the cheapest half on Draftstars. Cleary took a back seat in the two games last year so I am expecting the ball to be in Cleary's hands more often than Keary's. I don't mind him as a salary saver but his ceiling is the lowest out of the 4 halves.
Nathan Cleary - $15,250 - This is Cleary's third year of representing the Blues and for this series his 2020 form has been spectacular. Capable of 100+ fantasy point upside, Cleary should have his fingerprints all over this match. Will be the goal kicker and I will be starting my builds here. You cannot ignore his club average of 70 Fantasy points per game.
Daniel Saifiti - $9,730 - Starting forward for the Blues and probably the one with least amount of upside of the starters. Had a cracking season with the Knights with a fantasy average of 50 but I can only see him going 40 minutes here. Just don't think 35-45 fantasy points is enough on this slate.
Damien Cook - $15,420 - Probably the easiest decision to make but it may lead to sacrifices in rostering Cook. No bench cover, plays 80 minutes and has a game built for Origin. Needs to be strongly considered.
Junior Paulo - $11,140 - The Eels prop also had a great 2020 by playing the majority of matches and his workload averaged around 55 minutes. Whether he gets that run that is debatable but that $11K price does seem a bit more palatable than Josh Papalli's. Can see him go 50FP+ here.
Boyd Cordner - $9,840 - The Skipper is a tricky one after having an interrupted season due to injuries (mainly head knocks) and has shown limited upside in the Origin arena. Averaged 39FP in 2019 and only 33FP in 2018. I am also concerned for Cordner with Murray and Crichton (2nd row players at club level) on the bench. Probably a fade for me.
Tyson Frizell - $11,830 - Frizell is another that is tricky at his price and projected workload. I expect him to play the full 80 unless Fitter keeps Cordner on the park. I am happy to pass on Frizell in this spot after averaging 40FP in last year's series.
Jake Trbojevic - $12,650 - Safe as they come in the ball-player forward from Manly. His lock position has been his for the past couple of series and I don't see rock solid fantasy scoring changing in 2020. Expect Jake to exceed 50+FP as one of the more experienced players in the side.
Cody Walker - $7,550 - Walker was in the 6 jersey last year and finds himself as the "utility" player for the Blues in 2020. I can't see Walker getting on the park for more than 20 minutes in this match and takes away the ability to roster a high scoring half. Pass for me.
Payne Haas - $11,600 - Haas is the interesting one here. I thought Draftstars would allocate cheaper salaries for "all" the bench players, but Haas is a fantasy beast so they baked in his upside. Should replace Saifiti after 25 minutes and go a million miles an hour. Easily a fantasy point per minute player, but the question is how long does he get? Worth a shot.
Cameron Murray - $8,200 - The cheapest 2RF on the slate and the one to squeeze in if you are short on cash. Murray is another fantasy beast with his ability to offload and break tackles but how much time does he get and where does he play once he is on the park? Looking at last year, 50 minutes in Game 1 (for 58FP) and only 30 minutes in Games 2 (24FP) and Game 3 (39FP). I like him here and I am sure the crunchers do to.
Angus Crichton - $9,840 - Now here is the low ownership player for the night. Crichton for the Roosters was more of an impact player than your grind it out 80-minute variety. Crichton never played 80 mins in the back half of 2020 but on average in 50 minutes of play, scored an average of 67FP in his last 5 games. Like Haas, Crichton can do a lot of damage but does he get the minutes? Does he outscore Qld starters in Hess and Kaufusi? Hmmmmmm...
Queensland
Friendless with the markets and a large number of debuts for the side, Queensland are up against it, but the quality of this team is nothing to be sneezed at.
Alex Brimson - $10,420 - The young 22yo fullback is thrusted into the Origin furnace with the unavailability of Kalyn Ponga. But representative footy is no stranger to Brimson after representing Australia in the 9's in 2019. Brimson had a fantastic back half of the season with the Titans although his fantasy scoring can be dependent on try scoring. Did however score 50+ in 5 out of his last 8 games at the Titans. Tough to trust on debut but we get plenty of work at the back.
Xavier Coates - $7,000 - Shocking fantasy scorer for the Broncos so maybe a better team in the Maroons could provide some light for Coates. Rough matchup and nothing to suggest he is going to break the slate. If you are desperate for cash, then go ahead but he won't be appearing in my line-ups.
Brenko Lee - $8,730 - Premiership winner with the Storm is a rock solid 35-45FP scorer. Did go over 50 in the Qualifying final for the Storm but that was his best score for quite a while. He is fine at that price but I wouldn't see him in the winning line-up.
Dane Gagai - $10,550 - Gagai played on the Wing in the 2019 series and was Diamonds in Game 1 (76FP) and rocks for Game 2 (23.9FP) and Game 3 (12.6FP). However, I do like him in the Centre position especially as a cheaper alternative to Wighton. Back to back 50+FP scores to end the year with Souths and will be one of the more experienced players in the Maroons setup. Like him. UPDATE - Gagai could be playing on the wing tonight with reports that Kurt Capewell in come in at centre. Now I am not so sure.
Phillip Sami - $7,960 - Sami has played since Round 16 so I guess he is coming in fresh! If you think Queensland has many paths to victory, then you need Sami at his cheap price. But on debut I rather the NSW options here. UPDATE - reports that Sami will be dropped for this match. Need to keep an eye on team lists here.
Cameron Munster - $11,630 - That knee injury that Munster has carried bothers me here. The price is fantastic, but he can underwhelm you with a score under 40. Cherry-Evans will be running the Maroon ship but if Munster can pull out some brilliance then he could well beat all four in fantasy scoring.
Daly Cherry-Evans - $15,080 - DCE was pretty good for QLD in 2019 after a lot of heat was applied for the new captain. 1 year forward and it seems that DCE can really play the underdog tag against the Blues. Exceptional for the Sea Eagles and I can see a score north of 55+ if Qld can get over the try line a couple of times. Will kick for goal as well. Great alternative to Cleary but you want the Maroons to be competitive for DCE to enjoy success.
Christian Welch - $10,940 - Played a fantastic game in the Grand Final and that confidence will come across for the Maroons. Like his teammate in Faasuamaleaui, will probably play less minutes than fellow prop in Papalii. But Welch should get to 45-50 minutes here. Don't mind him as the third cheapest Front-Row player on the slate.
Jake Friend - $13,880 - To be honest I forgot Friend was eligible to play for Queensland. The Maroons have been blessed with Cameron Smith and recently Ben Hunt at dummy half. Friend is a great player but unfortunately, he has Ben Hunt on the bench ready for 20 minutes of his playing time. Unless Hunt needs to come on for a backline injury, I can't see Friend outscoring Cook in his 60 minute role.
Josh Papalii - $13,640 - The most expensive Front Row player but should be the highest scoring prop on the slate. Papalii was huge for the Raiders for the season averaging 50 minutes for 55FP. His ability to tackle break and offload sets him apart from the Props on the slate. He is a priority with only 6 players available in this position.
Felise Kaufusi - $9,230 - If Kaufusi was over $10K I would have been happy to fade but amazing what the brain does when you see a 9 in front. Kaufusi will play 80 minutes no doubt but will need a try assist on even a rare try to break open the slate. His Grand Final score of only 30FP to go along with a 28 and 35 in the finals has convinced me to fade once again.
Coen Hess - $9,420 - Probably the luckiest player for the Maroons to get a start. Hess is an enormous talent, but he had a rough season with the underwhelming Cowboys. With no Josh McGuire, Hess is back in the Queensland side and like Kaufusi would need a try to go beyond 35FP. But Hess does have try-upside but will find this Blues line hard to crack.
Tino Faasuamaleaui - $10,930 - Debut and huge talent. But can Tino live up to the big stage? Had a massive purple patch for the Storm in the middle part of the season but found himself on the bench towards the end of the season. Won't play 80 minutes but the third highest salary 2RF can surprise.
Ben Hunt - $8,040 - As Half/Hooker bench player, there is more flexibility than Cody Walker. But once again it is a question of minutes. Is Hunt an injury replacement or in the forwards rotation? Might be the latter but you need an injury to Friend/Munster/DCE for Hunt to become relevant here.
Lindsay Collins - $8,000 - Will come on for Welch and do not mind if you are down to your last $8,000. Barring injury, 30FP at best.
Jai Arrow - $8,200 - I could almost repeat what I wrote about Cameron Murray here. Same price, same upside of potential minutes replacing Tino/Papalii. If Arrow can sneak ahead of Murray in fantasy scoring, then you have fantastic leverage on the field in this position. Outside chance it would happen, but do not sleep on Arrow who scored 46FP and 42FP off the bench for the Titans late in the season.
Jaydn Su'A - $8,200 - The Souths second-rower was an 80 minute player throughout the season and did outscore his Maroon teammates in Kaufusi and Hess. However, he will be playing out of position if he replaces Papalii in the Front Row. Probably a pass.
Kurt Capewell - $7,720 - Well this is interesting, going need to find out from the beat reporters on Capewell's role in the Qld side after being named in the 17 on the day of the match. Fox Sports are reporting that Phillip Sami will drop out, Dane Gagai to go to the wing and Capewell at Centre. Since Capewell is 2RF only it does take away his upside at CTR but should get a full game. Not on my radar but should be considered in mass entry.
Have you tried "Gimme Five" on
SportChamps
? Australia's Number 1 Tournament Betting platform have laid down the challenge to correctly
pick 5 out of 10 (new for the Grand Final)
selections for tonight's game. Do you think Smatho has this one right? Play
SportChamps
now and look out for this contest in the AFL tab.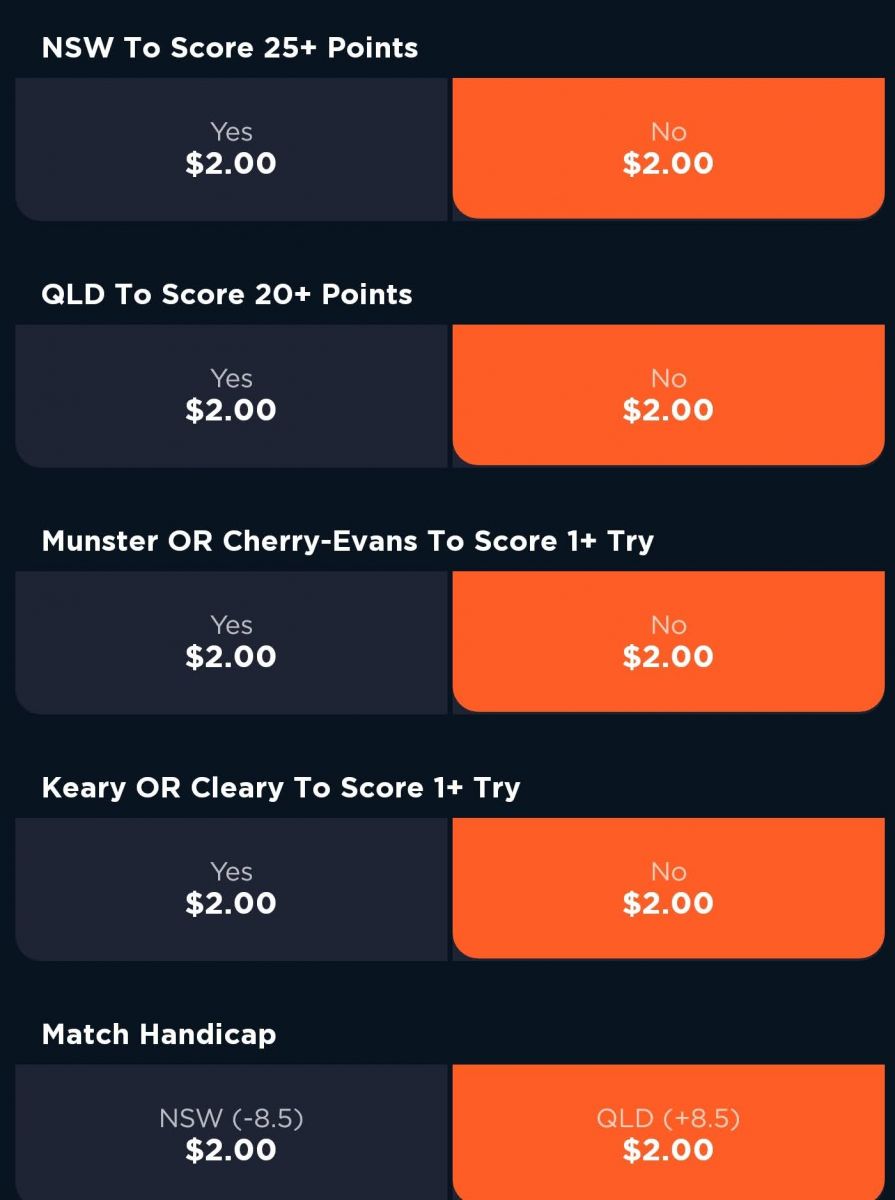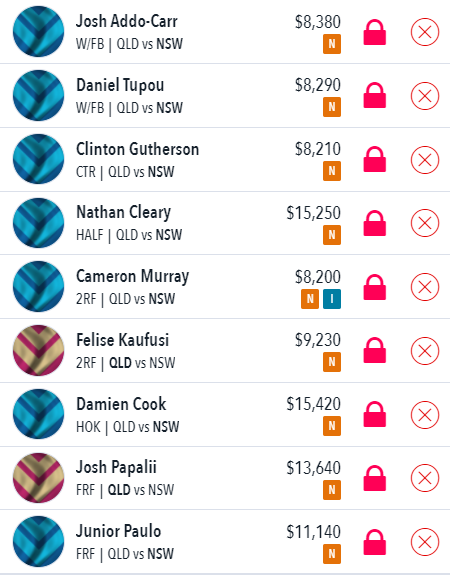 Always remember to gamble responsibly. When the fun stops, stop. If gambling is having a negative impact on your life, seek support at Gambling Help Online. 18+ only.