daily fantasy sports articles
2022 The Players Championship
For the 3rd time in 4 weeks, one of our selections won the golf tournament! This time it was the Arnold Palmer Invitational, and once again it was Scottie Scheffler getting his second win in 3 starts to cement himself as a top 5 golfer in the world. We now move on to the third leg of the Florida swing, the prestigious Players Championship at TPC Sawgrass. This is often considered the best field in golf, with everyone wanting to play in the "5th major" and a set of qualifying rules that only allows the best current players into the field. Justin Thomas was the winner in 2021, and comes in as one of the joint favourites for this year's edition.
As with all the Florida courses, there is an enormous amount of water hazards in play. That puts a premium on ball striking, specifically hitting fairways and being accurate with approach shots. The course is 7139 yards in length, which is short enough to allow anyone a chance to win if they are sufficiently accurate for the week and tidy with the short game. The weather looks like it could make this edition tough, with lots of rain on the first two days followed by lots of wind on the weekend.
Draftstars has once again posted a $10,000 prize pool, including $970 to first place. There is also a $2 Mini and a Single Entry tournament. The aim in DFS golf is always first and foremost to get as many players as possible through the cut, with the winner usually needing all 6 golfers to still be playing on the weekend. After that it is of course very helpful to pick the winner for the week, as well as some other high finishers.

Love It- Shane Lowry $17,250
Lowry is a quality golfer, and after a slight dip following his 2019 Open Championship win, he's got his game back in good shape. That was evident in his only start on American soil this year, when finishing second at The Honda Classic two weeks ago. His game was also sharp at this venue last year when finishing 8th. With his form clearly heading up, the main reason I'm on Lowry this week is the weather concern. The Irishman should handle the conditions as well as any, and I expect him to be in the thick of things.
Love It- Louis Oosthuizen $17,580
My second pick is another veteran major champion, with the 39 year-old South African continuing to play at a high level. Like Lowry, Oosthuizen has kept himself fresh this year, only playing twice in 2022 for solid returns at the Phoenix Open and Honda Classic. Oosthuizen fits the requirements here to a tee, with a solid all-round game and good accuracy. While that has only led to one elite finish in his 10 starts here (2nd in 2017), he's another that could thrive if the weather gets tough. That's two quality veteran golfers who thrive in majors, where conditions are tough and pressure is high.
Love It- Matthew Fitzpatrick $11,280
I was absolutely shocked when I saw this price, and can't really understand why it is so low. Fitzpatrick is in the top 15 when it comes to outright betting markets, and is actually ahead of Lowry and Oosthuizen. Even if priced above my first two picks, I'd have considered him given some excellent form and a finish of 9th here last year. He's another with a strong game in all aspects, including accuracy. His main weakness is distance, which shouldn't hurt him too badly here. With top 10s in all of his 3 starts in 2022, including at the API last week, Fitzpatrick looks like the sort of gift that cannot be ignored in DFS.
Love It- Sungjae Im $17,800
I've noticed that I'm yet to pick an American, which is fine given that 9 of the last 17 winners have been "internationals", going back to our own Adam Scott in 2004. I'll continue the theme with young South Korean Sungjae Im, who has gained a reputation as a bit of a Florida specialist in his career so far. While his two starts here don't tell us much, finishing 17th last year was encouraging enough. Unlike my other picks, Im has played plenty this year (as he always does) with 7 starts already, including 4 top 20s. He's another with a strong all-round game and elite accuracy, although his irons can be hit-and-miss as the least consistent part of his repertoire. With a ceiling as high as anyone, I like the young gun to put together a strong performance this week.
Love It- Jon Rahm $24,290
It's strange to finish my picks with the #1 golfer in the world, but the extreme value on Fitzpatrick leaves room to pay up to the top. Unlike some others on this list, Rahm is not necessarily the biggest fan of playing golf in Florida. Still, that is a relative term as his last two tries at this event have returned 9th and 12th, and his ball striking is second to none in terms of both distance and accuracy. While distance isn't crucial here, it can't hurt. He's played 6 times this year, with all 6 resulting in top 21 finishes. His last 3 starts have featured supreme ball-striking, but he has been held back by some poor play in the short game. That is uncharacteristic and something that I expect to change soon, so I see no reason not to invest in the world #1, although I'm equally happy to chase most of the top 10 on the board.
Hate It- Cameron Smith $18,660
The young(ish) Aussie continues to play some exceptional golf, now ranked #10 on the planet. While that should hold him in good stead at any event, he's not made for Florida golf. The reason is a weakness in his game when it comes to playing off the tee. He's neither long nor accurate with his driver, and that can cause big problems here where water lurks at every turn. He did manage 17th here last year thanks to excellent short game, but that might be his ceiling if he can't have an unusually good driving week. With such a strong field, I'm forced to target a quality golfer who could well put it all together. Another option slightly lower down is Matt Jones, another Aussie veteran who has played 7 weeks in a row and looks way too pricey here.
Suggested Draftstars Line-up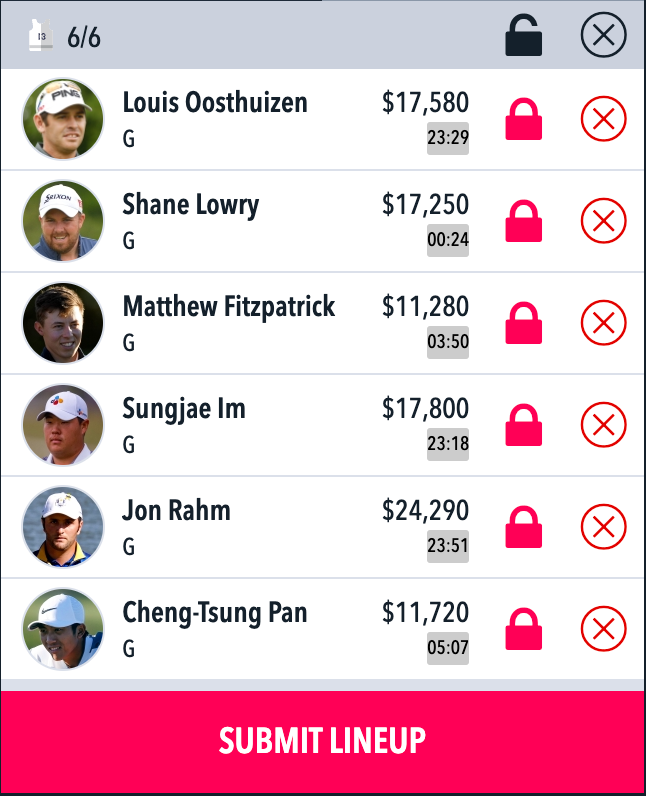 Arnold Palmer Invitational Results
Zalatoris- T38, was in the mix until the final day when a horrible 79 dropped him. 64.5 points.
Scheffler- Won! For the 2nd time in 3 events, Scottie stood out on the weekend and hung tough on the back nine to win by a stroke. 106.5 points.
Theegala- MC, nothing good about this performance from the young guy, a bad selection. 20 points.
Kirk- T5, continued his good form with a strong final round leaving him just two shots off the pace. 84 points.
Kisner- MC, like Theegala was way off the pace and a regretful pick. 16 points.
Henley- T13, unfortunately hung in there on the weekend to end up a decent pick, but the fade could have been worse (e.g. Horschel). 71.5 points.
Always remember to gamble responsibly. When the fun stops, stop. If gambling is having a negative impact on your life, seek support at Gambling Help Online. 18+ only.