daily fantasy sports articles
AFL 2019 Finals Fantasy Tips: Collingwood vs GWS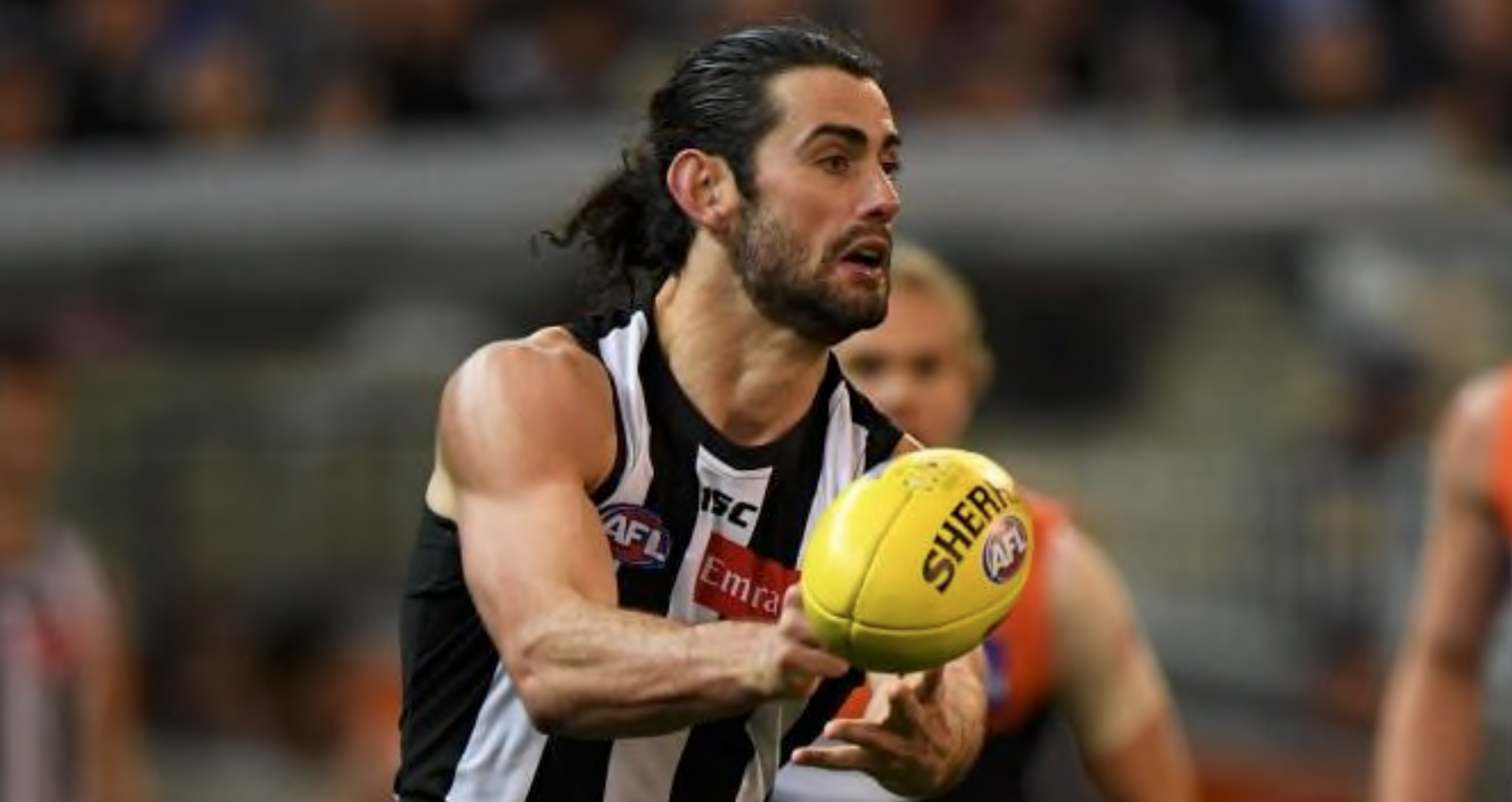 The preliminary finals are here with just four teams remaining in the 2019 AFL premiership season. Major single game DFS contests are being held on both Draftstars and Moneyball for each of the two games this weekend. We will be breaking down each individual game to help you pick the best possible team. This second preliminary final is Collingwood vs GWS at the MCG on Saturday the 21st of September, at 4:35pm AEST. The major contests include:
Smatho and Big Hef from the DFS Down Under Show broke down this matchup between Collingwood and GWS discussing their DFS plays. With big money from the sites, it is a must watch for your teams!
In addition to the previews for each and every slate during the finals, Daily Fantasy Rankings has also unveiled our AFL Resources page. This section provides you all the data you need to build your best line-ups. It includes daily cheat sheets for both Draftstars and Moneyball, Player Correlation tables, Player Out tables, Scores Against tables, Tagging information, statistical breakdowns and much more!
The game as seen by the bookmakers: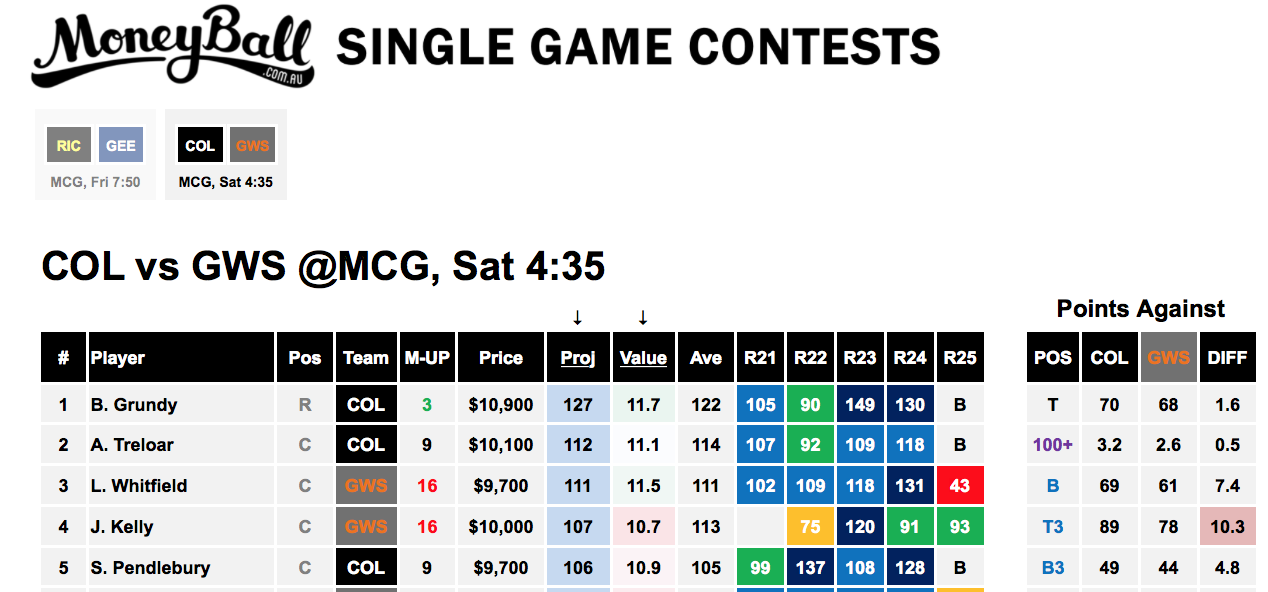 Where to Attack
GWS have been one of the toughest teams to score against all season giving up the second fewest points in the league this year. It should be noted, however, that during the final weeks of the year they were giving up some of the biggest fantasy scores in the league, which you can still see the remnants from with them conceding the 5th most points over the past 5 rounds. This was mainly driven by injuries, and heading into this game they are unfortunately in a similar predicament with Stephen Coniglio, Lachie Whitfield and Toby Greene all currently ruled out.
Collingwood on the other hand have scored the most points in the league this season and if this game was to get out of hand you could expect them to totally fill up.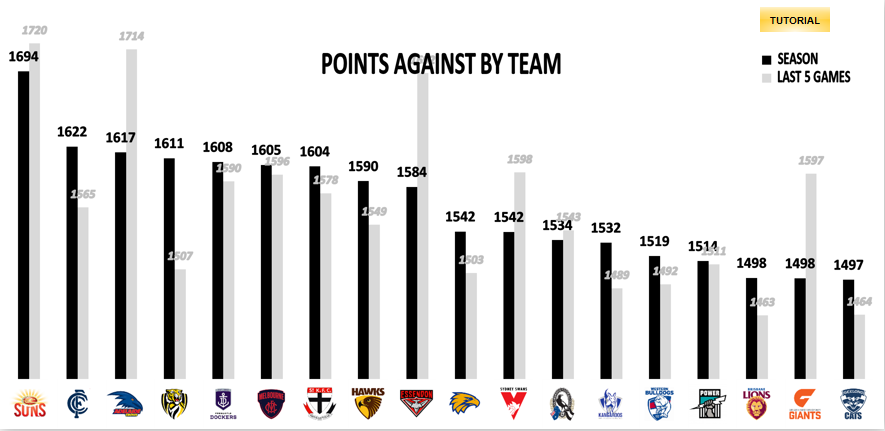 Backs against have been the best area to attack against Collingwood all season, particularly the premium defenders. They have conceded 89 points per game to the opponents top three scoring backs this year (fourth highest in the league), and this has ballooned to 96 per game over the last five rounds.
Neither team has been one to target high scoring midfielders against both in the bottom 5 in the competition for points conceded to the top 3 scoring players at the position. Looking at the last five rounds you can see that the Giants were a much better target while they were facing injuries, which as mentioned above should open an opportunity to attack them on this slate. It is possible that spending up on other positions is still the best play in this matchup.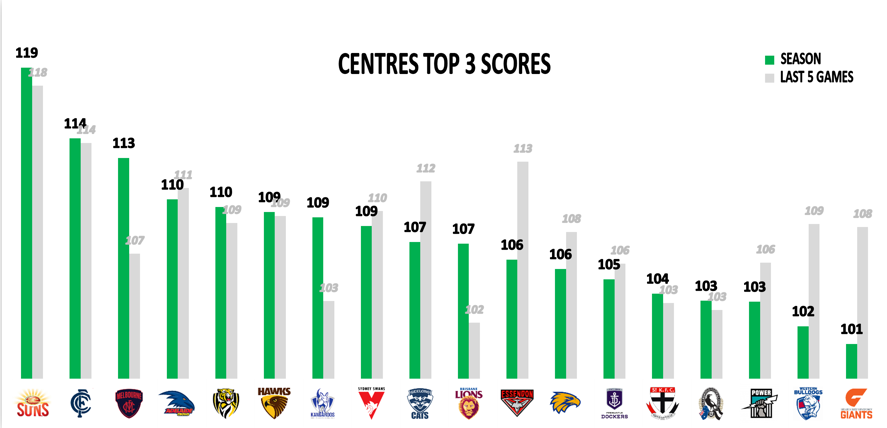 Ok… so we have the best fantasy scoring ruckman in the league (and arguably the best ruckman) with one of the best matchups in the league against GWS and Shane Mumford. The Giants have given up the second most points in the league this year to opposition number 1 rucks at 97 points per game. But you are going to have to find value somewhere to squeeze Grundy in as his price has peaked at both platforms.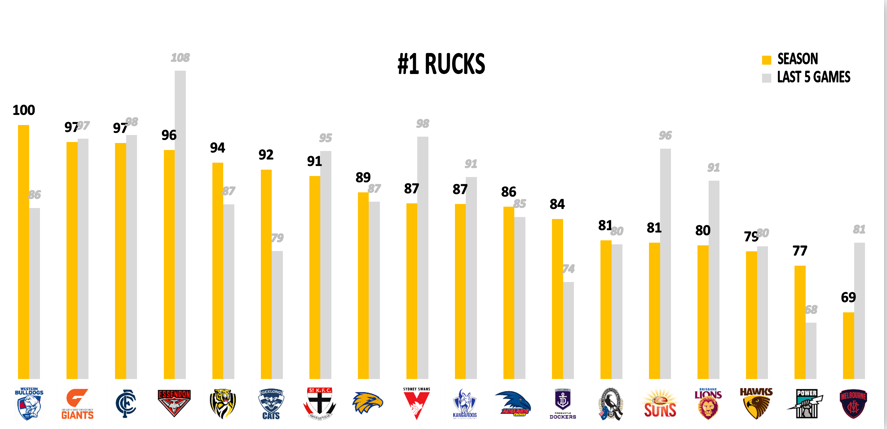 Taggers
Collingwood have used taggers sparingly this season, with Chris Mayne at times applying a forward tag on a couple of occasions. That said, it is unlikely we will see this in the final with no tag being utilised against Geelong and the last time these two sides met in the season there was no tag used by Collingwood.
GWS on the other hand bring the number one stopper in the league in Matt de Boer who has destroyed all comers this year. He has yet to have someone score 100 points against him this season and through the finals so far has held Marcus Bontempelli to 71 points, and Lachie Neale to just 58 points. Typically taking the number one inside midfielder it isn't easy to identify the target on the Magpies, particularly with De Boer not playing when they matched up this season. Steele Sidebottom has often been a taggers favourite for the Magpies and although he has typically played outside this season he was enormous in their first final. Scott Pendlebury and Adam Treloar would the other two obvious options.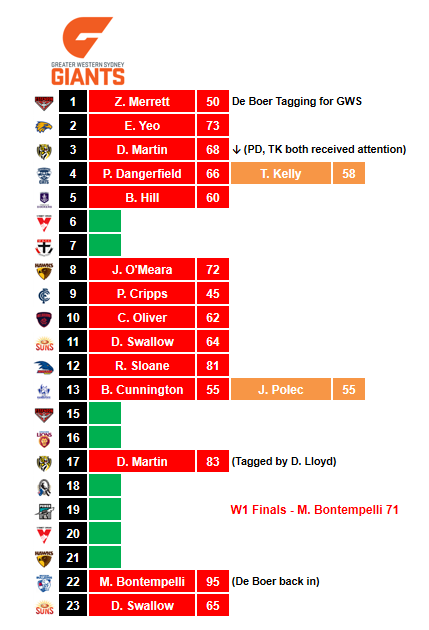 Weather Alert

Still a long way out, but there is the prospect of heavy rainfall in Melbourne this weekend. The majority is expected for Saturday with 80% chance of showers expected to hit in the morning and afternoon. This contest is set for the late afternoon so there is some chance it is avoided and with the way the MCG drains it might not be a problem.
Obviously if it is raining at game time, the inside players and tacklers will be worth considering such as Taylor Adams and Tim Taranto. It is unlikely to change the ruckman decision significantly as rain, hail or snow Brodie Grundy should monster Mumford.
VALUE PLAYS
Josh Thomas (MB $4,900, DS $8,550)... let's just start by saying the value options on this slate are going very minimal. Finding one you can trust is like picking which tooth you'd like to pull out. I like Thomas, particularly in Collingwood stacks. He does not bring a lot of upside, however he has a safe floor with 5 of his last 6 games being 60+, which might not sound like much but on this slate is quite likely all that you will need.
John Noble (MB $4,200, DS $9,540) is a total lock on Moneyball where he is still value priced. Playing across half back he brings the opportunity to pick up cheap possessions while the Magpies set up their attack and possess the football. He has played 4 games this season and topped 72 or more points in three of those matches.
Jordan Roughead (MB $5,100, DS $8,190) is a Draftstars value play who I like to link with other Magpies backs. He correlates well with spending up in Jack Crisp, or a mid priced play in Chris Mayne who we discuss below. He has flashed upside this year of 100+ points if the game style becomes Collingwood maintaining possession. He is also a good chance to get the easier role in defense with the Magpies playing Jeremy Howe on Cameron. Last match against GWS he had 19 possessions and 7 marks to return 69 fantasy points.
MID PRICED PLAYS
Chris Mayne (MB $7,000, DS $10,710) will hopefully be a sneaky play on this slate, although given the price points this might be unlikely, especially with everyone now hunting Collingwood stacks. Mayne has returned to his early season form recently with his forward tagging roles looking to be over. Over the past six games to end the season he averaged 88.5 fantasy points, which included 2 scores of 100+ and another 2 of 90+. He is a link player and will feature heavily in any of my Collingwood stacks.
PREMIUM PLAYS
Brodie Grundy (MB $10,900, DS $17,030) … fitting him one Draftstars is going to be a gargantuan effort, and you are going to have to be convinced that they premium midfielders are not going to score well enough to offset him. As we noted above other positions do stand out as the avenue to attack beyond premium midfielders in this matchup so it makes sense. That said, given the pricing at Draftstars there is a case to make that Mumford on that platform will allow you better builds.
On Moneyball, however, Grundy is a total lock for me. His form is well exposed, averaged 122 fantasy points this season, he has gone 129+ in 5 of his last 8 games and the last time he played Shane Mumford and GWS he notched up 181 fantasy points. Not to mention the matchup, as we noted above GWS have given up the second most points in the league to rucks this season.
Zach Williams (MB $8,900, DS $14,460) … with Stephen Coniglio not able to return, Toby Greene suspended and now Lachie Whitefield out with appendicitis, there are going to be role changes for the Giants this week. Time through the midfield will open up and towards the end of the season it was Zach Williams who stepped into these roles. In the last 6 games of the season Williams averaged 108 fantasy points per game while playing predominantly midfield. Furthermore when Lachie Whitefield has missed games this season, Williams has averaged 101.7 fantasy points.
Dragon's Suggested Moneyball Team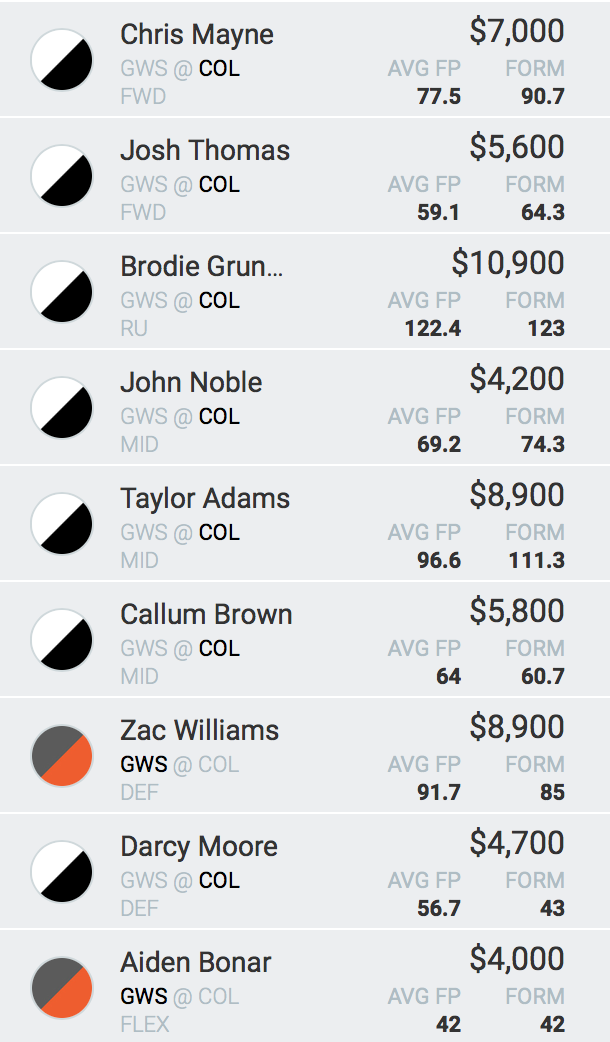 Always remember to gamble responsibly. When the fun stops, stop. If gambling is having a negative impact on your life, seek support at Gambling Help Online. 18+ only.