daily fantasy sports articles
AFL 2019 Finals Fantasy Tips: Richmond vs Geelong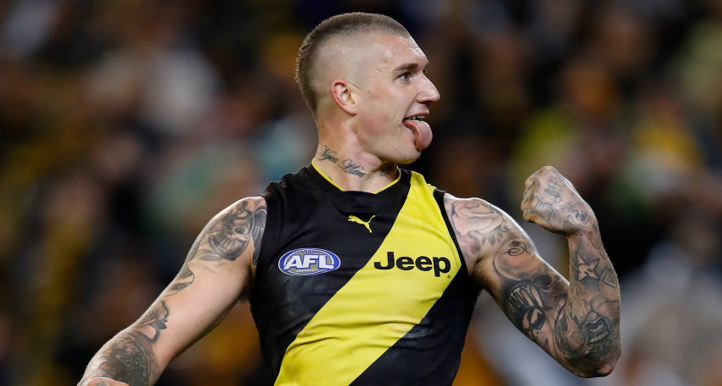 The preliminary finals are here with just four teams remaining in the 2019 AFL premiership season. Major single game DFS contests are being held on both Draftstars and Moneyball for each of the two games this weekend. We will be breaking down each individual game to help you pick the best possible team. This first preliminary final is Richmond vs Geelong at the MCG on Friday the 20th of September, at 7:50pm AEST. The major contests include:
Smatho and Big Hef from the DFS Down Under Show broke down this matchup between Richmond and Geelong discussing their DFS plays. With big money from the sites, it is a must watch for your teams!
In addition to the previews for each and every slate during the finals, Daily Fantasy Rankings has also unveiled our AFL Resources page. This section provides you all the data you need to build your best line-ups. It includes daily cheat sheets for both Draftstars and Moneyball, Player Correlation tables, Player Out tables, Scores Against tables, Tagging information, statistical breakdowns and much more!
The game as seen by the bookmakers:
Richmond vs Geelong at the MCG (bookmakers' total 146.5, line RIC -18.5)
CHECK OUT OUR RICHMOND VS GEELONG CHEAT SHEET HERE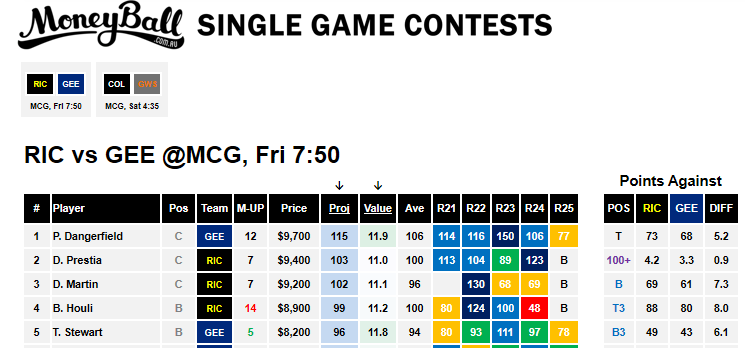 Where to Attack
Richmond stand out as the team to attack based on the numbers this season, giving up the fourth most fantasy points in the league. They have tightened this right up down the stretch, however, conceding just 1,507 points per game over the last five games. Geelong on the other had have been the toughest team in the league to score against all year.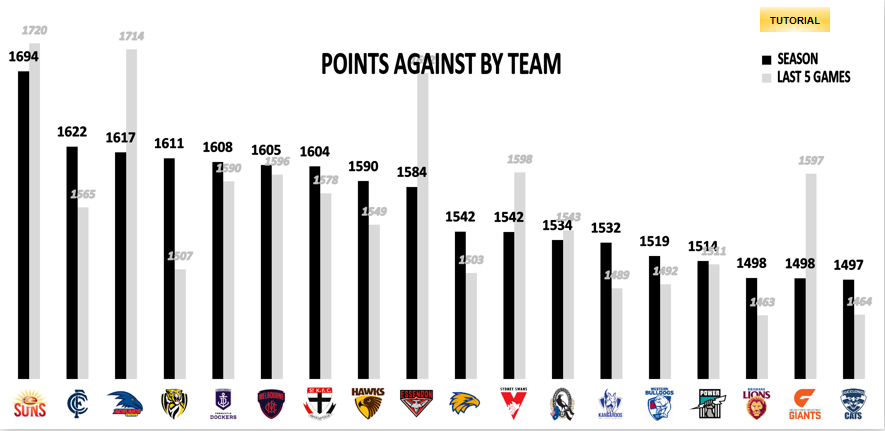 Richmond have specifically been a great team to play premium players against as they have conceded the most 100+ scores in the league in 2019. In their first final they gave up three 100+ scores and another 4 90+ scores, despite winning by 47 points. So, even with the Tigers as favourites in this matchup rostering stacking up Geelong premium priced players is the best route.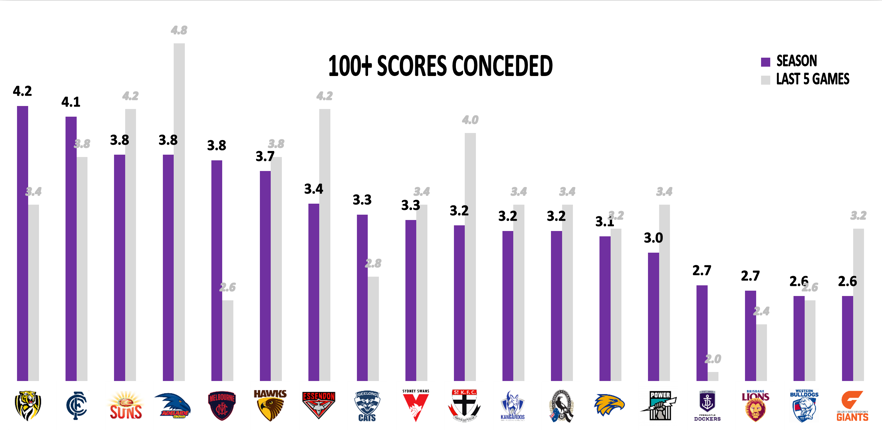 Backs against Richmond has been a solid play all season. Despite Richmond hitting form to close out the year and make a premiership push, this has not changed. The Tigers have given up 5th most points in the league to backs, and 88 points per game to the top 3 scoring defenders on the opposition's team. They will setup as usual with the extra man in defence, which inevitably will allow the Cats space to move the ball around in the half back. Linking a premium with a value defender from the Cats will be a solid play on this slate.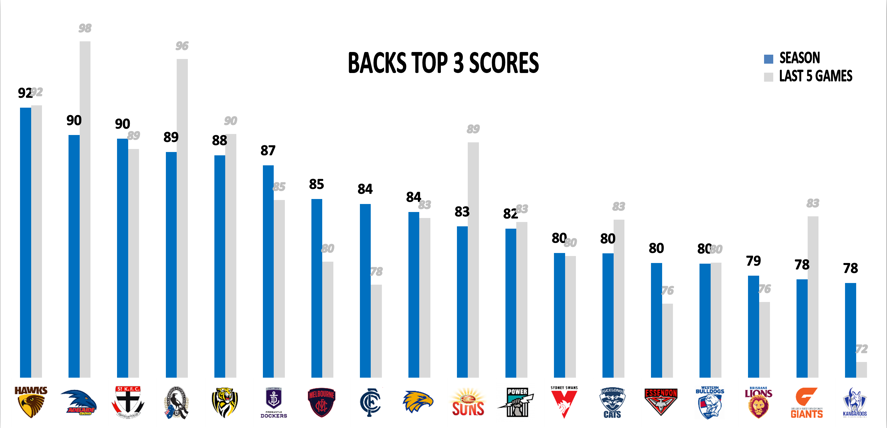 Based on the fact Richmond have given up the most 100 points cores in the league there is no surprise to see that playing premium midfielders against them has been a strong play this year. They have conceded 110 points per game to the opponent's top 3 scoring players at the position.
This is also one of the few areas that Geelong can be attacked at, as they are not far behind Richmond conceded 107 points per game (112 over the past five weeks).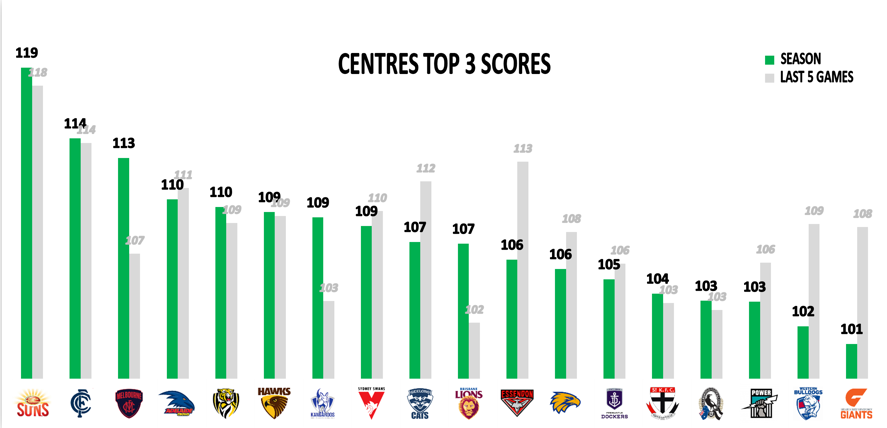 Pick your poison at the ruck with both sides leaking points to the position this year. Richmond have given up 94 points per game to the opponents number 1 ruck (5th most in the league), while Geelong are right behind them conceded 92 points per game. The key here will be the team selection, the Tigers went with a dual setup of Nankervis and Soldo in their first final, with the two effectively splitting the hit outs.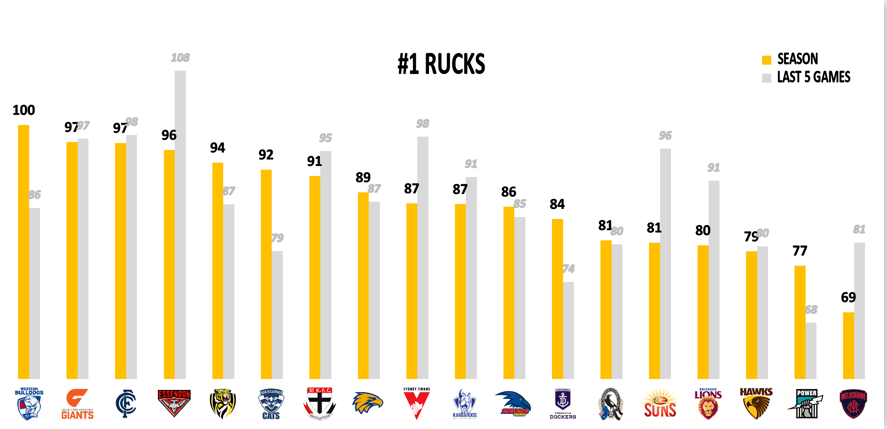 TAGGERS
The perfect matchup for fantasy with our tagger tool coming up all green for this year for both sides. This means that neither Geelong nor Richmond have used a tag all season and as such would be unlikely to see that change coming into the preliminary final: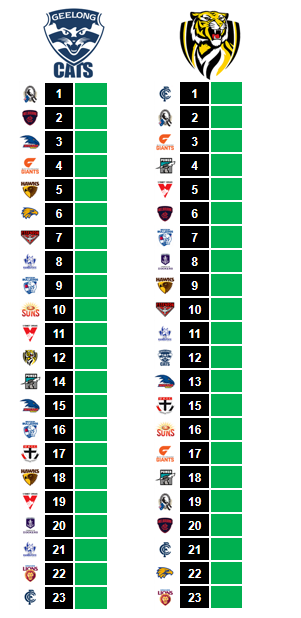 Weather Alert

Still a long way out, but there is the prospect of heavy rainfall in Melbourne this weekend. The majority is expected for Saturday, however Friday still brings the possibility of a thunderstorm at night with a 40% chance of up to 6mm of rain. If this were to strike during the game, not only does it bring a significant advantage to the Tigers in the contest, a team whose game style has excelled in wet weather conditions over the past 3 seasons. It would also lead to targeting inside contested midfielders and players who tackle.
In addition, rucks would also be a solid avenue to target. Rhys Stanley can be played as a forward on Draftstars, which means the ruck stack is on. We will need to wait and see who the Tigers play this week, however. If they go with a dual setup against and play both Nankervis and Soldo, even the wet conditions is unlikely to make either of them playable at their current price points.
VALUE PLAYS
Tom Atkins (MB $4,900, DS $7,930) … finding the right value on this slate is going to be hard, however based on the analysis above there is no doubt some of the premium midfielders are going to strike in this game. Atkins stands out as an option, particularly if the game is a little bit wet. This is going to be a heavily contested game and Atkins has been a tackling machine recently averaging 6.6 tackles per game over his last five contests. Furthermore the last three game he has played have been either finals or finals intensity (includes the Brisbane regular season game). He has averaged 75 points per game across these contests.
A few other value play strategies to point out include:
Quinten Narkle (MB $4,500, DS $9,790) who a value play at his price on Moneyball (but an easy fade on Draftstars) and as mentioned in previous weeks has played through the middle at stages to end the season.
Jack Henry (MB $4,200, DS $7,230) who has sneakily been racking up uncontested marks in the back line for the Cats during the two finals. As noted above this matchup will suit that and Henry makes sense to help with roster relief, particularly if he is linked to another Geelong Cats defender, such as Tom Stewart (note this strategy can generally be applied to any value Cats back in what is essentially known as value back wheel of fortune). Just beware when teams are out as Henry could possibly swing forward to cover for Hawkins.
Jack Riewoldt (MB $6,000, DS $8,370) is also worth highlighting just for his significant price difference between the two platforms. An absolute no go on Moneyball, but at Draftstars he is certainly in play despite drawing arguably the toughest matchup in the league for key forwards.
MID PRICED PLAYS
Shane Edwards (MB $7,200, DS $12,820) …yes back to the well here on my boy. As I have noted in past weeks Edwards has now essentially moved into a permanent midfield role for the Tigers as this season drew to an end. From Round 20 onward he averaged 20 centre bounce attendances and 94 fantasy points per game from last 4 regular season games. Then in the first final destroy the Lions with 29 touches and 8 clearances en route to 118 fantasy points. Look, the cat is well and truly out of the bag now and he is likely to garner a significant level of ownership, but with this role he is still a strong play at his price points on both platforms.
Tim Kelly (MB $8,300, DS $12,890) has slowed right down after an incredible start to the year that saw him as the favourite for the Brownlow by mid-year. Since round 15 he has gone over 100 points just twice and against West Coast in the last final spent some time forward. That said, with Tom Hawkins out I am expecting Patrick Dangerfield to go forward meaning the Cats will need Kelly in the middle. Kelly also loves playing at the MCG where he averaged 110 points for the last 5 games played there in the regular season and posted another 107 in the first final against Collingwood.
Rhys Stanley (MB $7,100, DS $11,050) is my ruck of choice at this stage. This is obviously a huge wait and see for the teams, as if Nankervis (MB $6,800, DS $11,140) and Soldo (MB $6,000, DS $10,050) are playing together Stanley will be a lock and load play. As noted above the Tigers rucks essentially split the role against the Lions and ended up with neither player going over 60 points. Stanley has the solo ruck brings a 100+ point upside and this is a favourable matchup as the Tigers have given up the 5th most points in the league to number 1 rucks this year.
All that being said… if Richmond decide they don't need the dual ruck setup against Geelong (obviously a weaker ruck division than the two headed monster at Brisbane), I would strongly consider playing Nankervis in the number one role.
PREMIUM PLAYS
Dustin Martin (MB $9,200, DS $14,570) is my little curve ball for the premium midfield play on this slate. Now Martin is a name that almost garners a high ownership no matter what, but over their last two games he has played almost exclusively forward and scored just 68 and 69 fantasy points despite kicking a total of 8 goals. I am punting on the fact that enough people have been burned by this to move off him.
The sneaky fact about those two games is they were very likely to be matchup specific. Both games were against Brisbane where the Tigers clearly thought they had the advantage with this setup. In Martin's 12 games before that he had been spending the majority of his time going through the midfield, racking up an average of 110 points. Dion Prestia is the obvious safe premium play on this slate… but Martin is my curve ball.
Dragon's Suggested Moneyball Team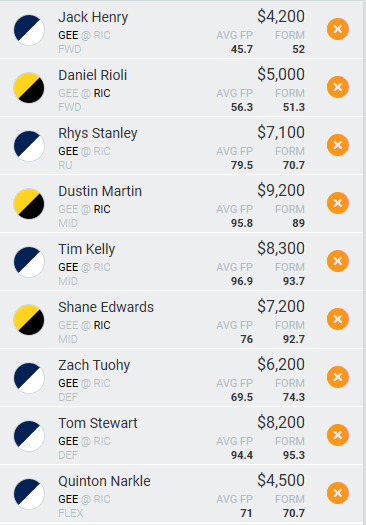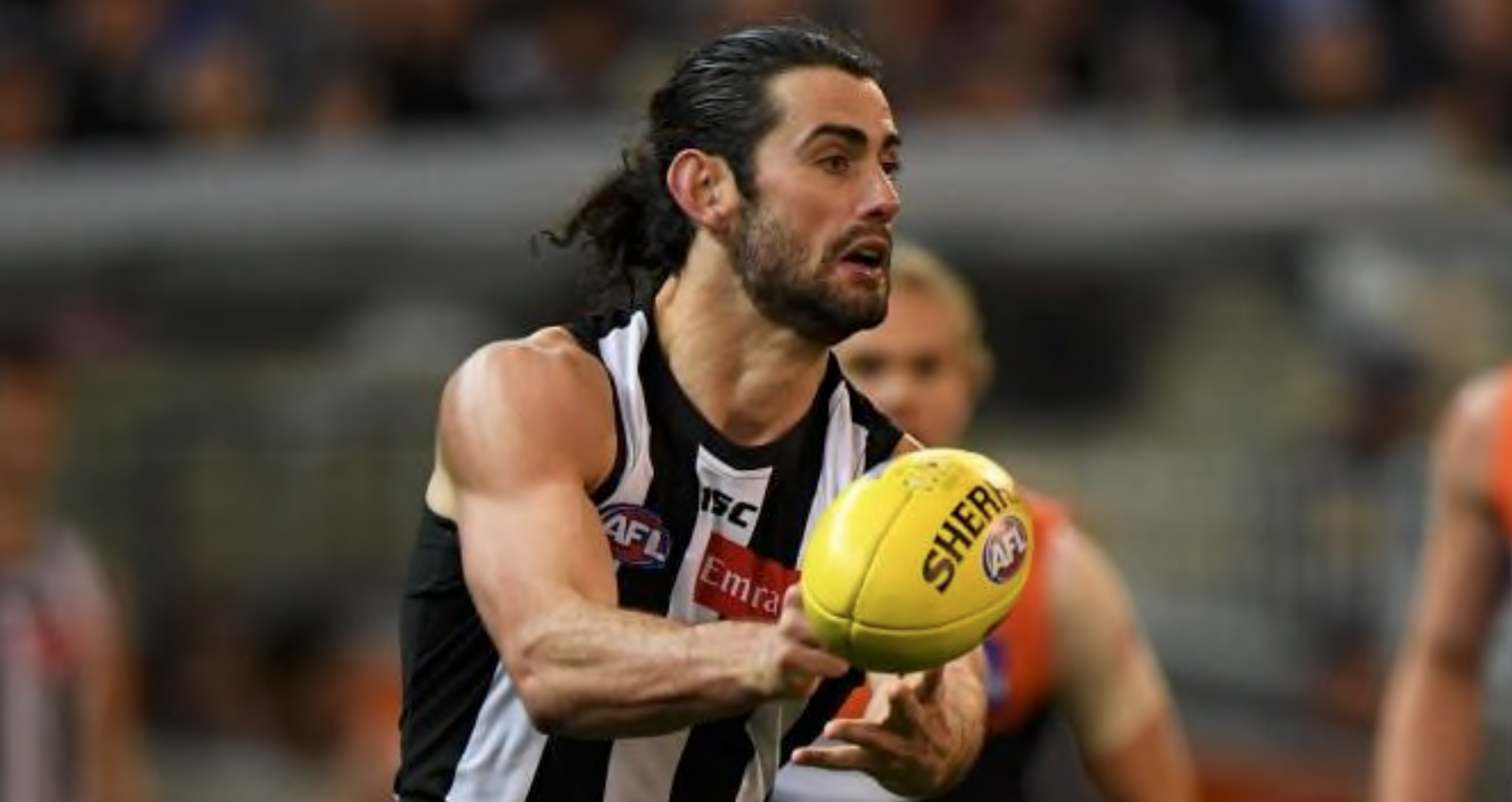 Always remember to gamble responsibly. When the fun stops, stop. If gambling is having a negative impact on your life, seek support at Gambling Help Online. 18+ only.