daily fantasy sports articles
AFL 2019 Finals Fantasy Tips: West Coast vs Essendon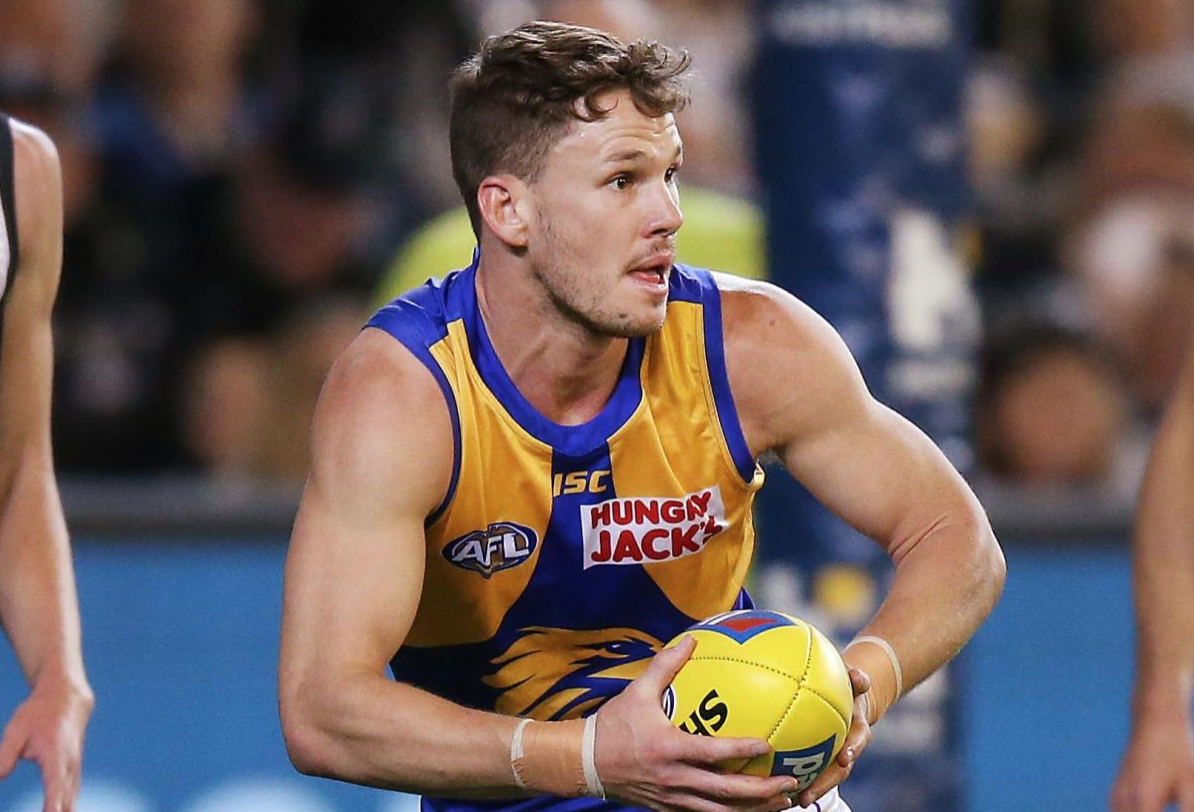 Finals footy is upon us and each game has received a major single game DFS contest across both platforms. We will be breaking down each individual game to help you pick the best possible team. The first game of the first week of finals is West Coast vs Essendon at Optus Stadium on Thursday the 5th of September, at 8:10pm AEST. The major contests include:
Smatho and Hef provided a bumper DFS Down Under Show with breakdowns of each match for Week 1 of the Finals series. Smatho also announces the DFR All-Australian side! Catch Hef and Smatho breakdown this matchup here!
In addition to the previews for each and every slate during the finals, Daily Fantasy Rankings has also unveiled our AFL Resources page. This section provides you all the data you need to build your best line-ups. It includes daily cheat sheets for both Draftstars and Moneyball, Player Correlation tables, Player Out tables, Scores Against tables, Tagging information, statistical breakdowns and much more!
The game as seen by the bookmakers:
West Coast vs Essendon at Optus Stadium (bookmarkers' total 157.5, line WCE -29.5)
Where to Attack
Essendon and West Coast have sat right in the middle of the league for points conceded in 2019, however they are at the point that really defines the gap between teams to target and avoid with Essendon giving up 42 points per game more than the Eagles.
The last five rounds were particularly damning for the Bombers, conceding the third most points in the league over this time at a whopping 1,692 per game. They will stand out as the obvious team to target on this slate, and West Coast stacks will be the chalk play as 29 point favourites at home.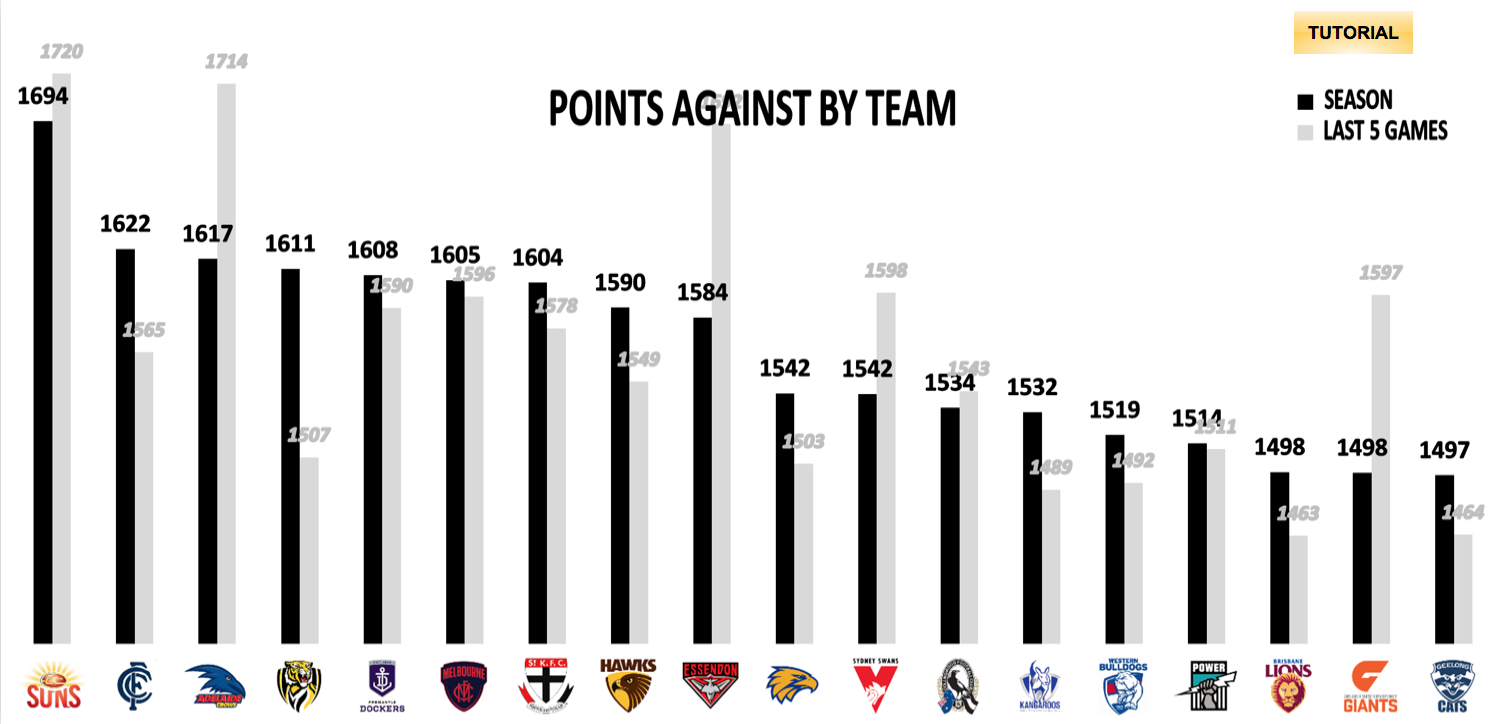 West Coast have been right on league average for points conceded to defenders this year. They have given up 84 points per game to the opponents top three scoring backs, which is 4 points per player more than the Bombers. This isn't a significant difference, but it over the past 5 weeks the one position that points conceded hasn't risen by the Bombers is backs. As a result, playing linked Bombers backs with an Eagles stack looks viable.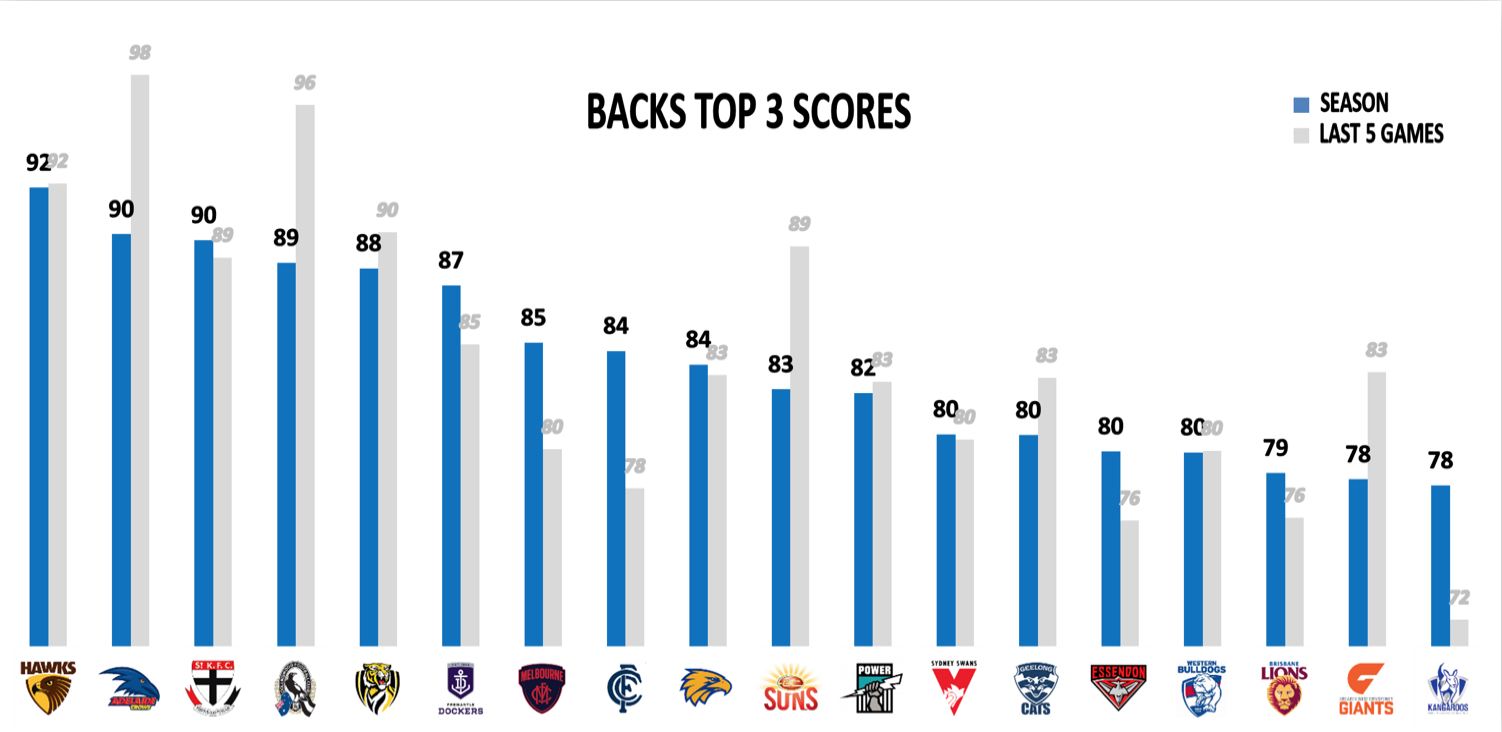 Essendon and West Coast have given up exactly the same amount of points to opponents top three scoring midfielders in 2019 at 106 points per game. No surprise to see this has totally blown out over the past five rounds for the Bombers, giving up 113 per game (the third most in the league over that time). Interestingly the Bombers have given up the third most in the league behind just Gold Coast and Carlton to their opponents bottom three scoring midfielders, indicating that Eagles midfielders across the board should bring a safe floor on this slate.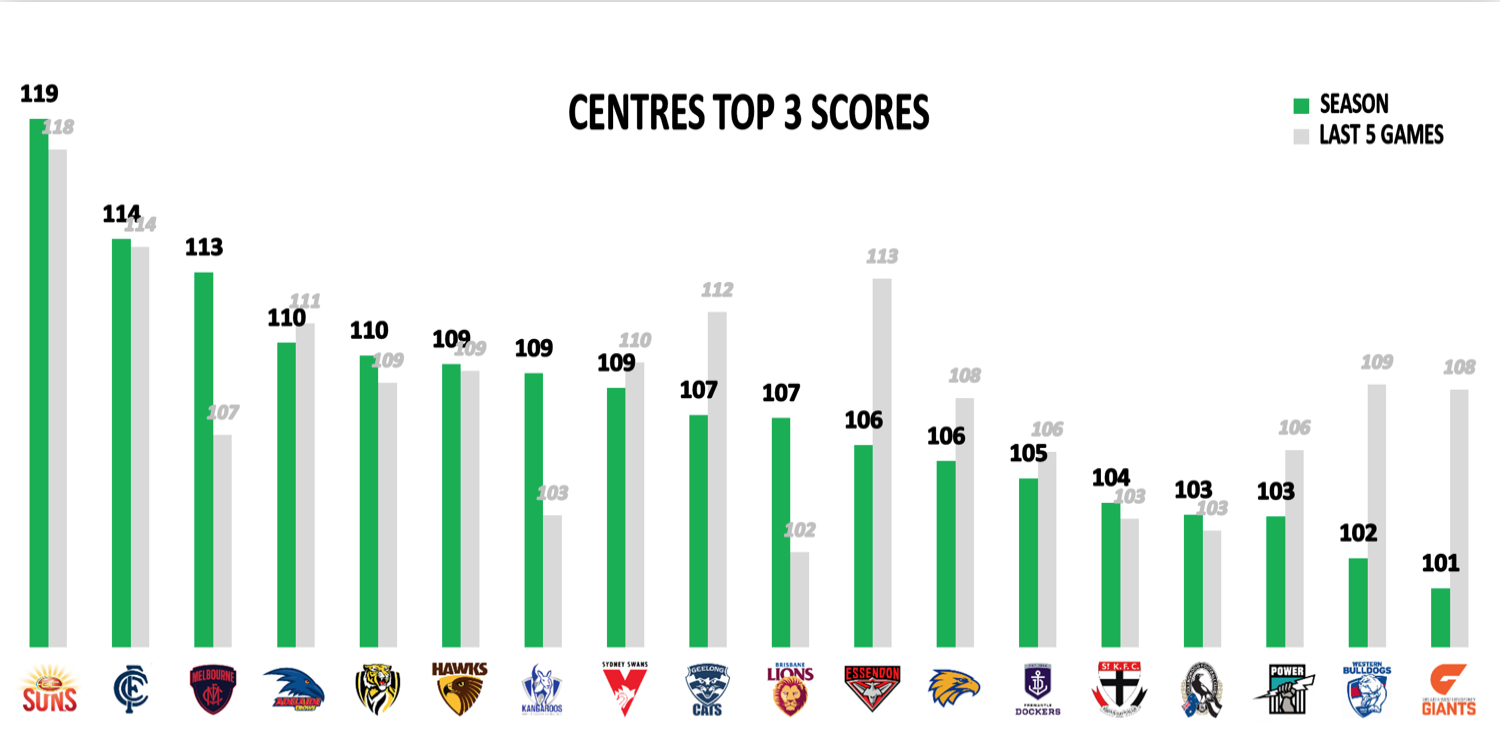 Essendon have been getting obliterated in the ruck this season. They have conceded 96 points per game to the opponents number 1 ruckman, which is the fourth highest mark in the league. Over the past 5 rounds this looks even worse at 108 points per game, the most in the league for this stretch. While arguably the worst player in the AFL, Zac Clarke, impacted these numbers while manning the number one ruck position for the Bombers, with Tom Bellchambers through 15 games this year they still conceded 95 points per game.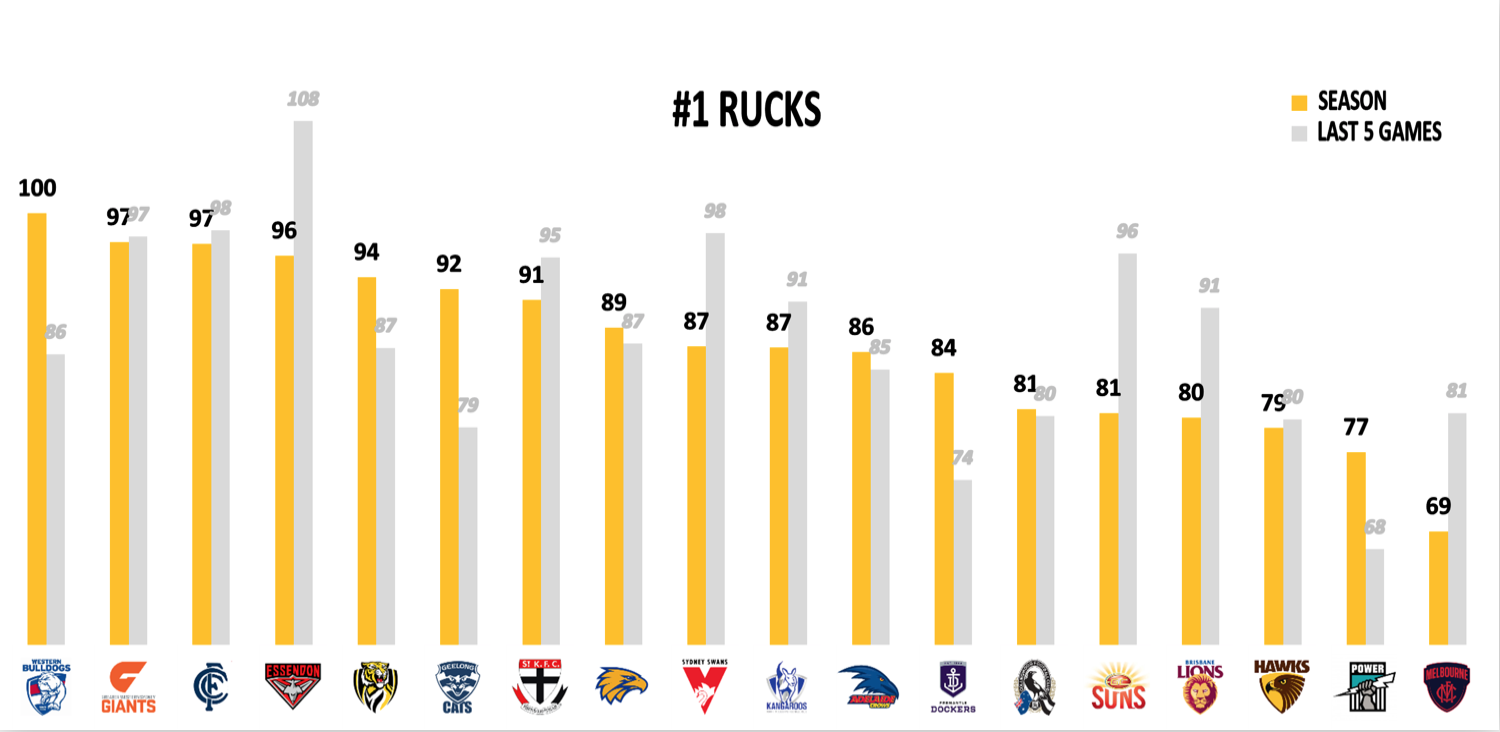 TAGGERS
Both West Coast and Essendon have made prominent use of taggers this season. As it stands it is likely that their main taggers will be unavailable for this matchup with Mark Hutchings under an injury cloud, and Dylan Clarke fighting to be in the best 22. That said, we should still break down the history in case either player is named, or to be aware of possible alternatives.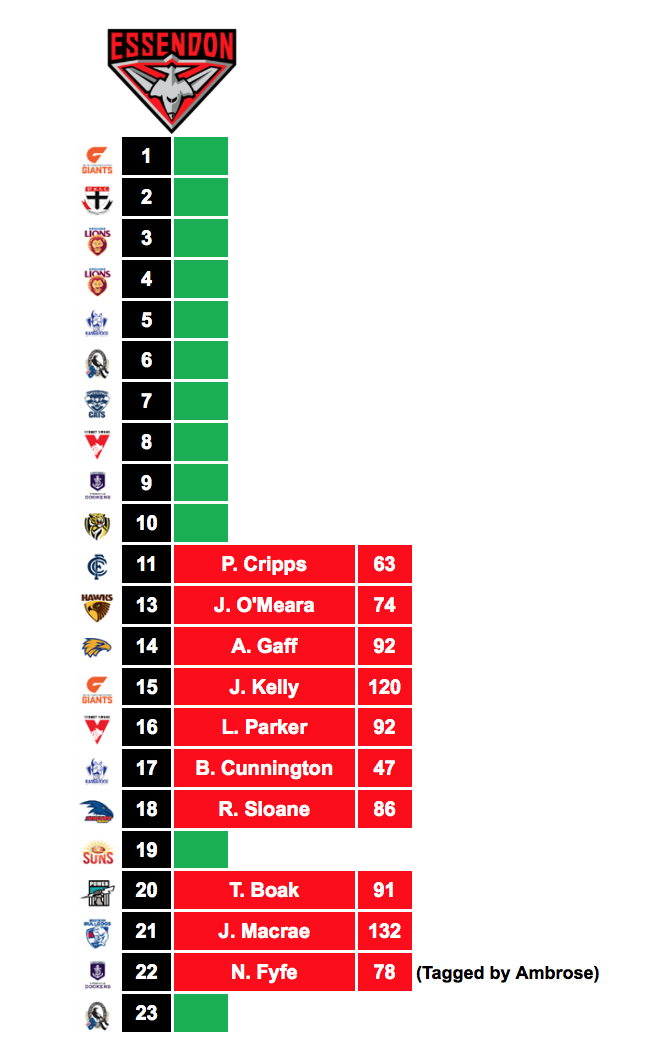 Essendon would typically utilise Dylan Clarke to tag the opponents top inside player. Clarke had a lot of success this season as well, holding 7 of his 9 opponents to under 100 points as shown in our tagging tool above. Notably, the one time Clarke took on an outside runner was against the West Coast Eagles in round 14 where he held Gaff to 92 points.
In addition, with Clarke out of the lineup in round 22 the Bombers will went with a tag, using Patrick Ambrose to shut down Nathan Fyfe. That is unlikely to be a strategy employed in this game, but if it was Elliot Yeo would be the obvious target as a like for like with Fyfe. If Clarke is in, be wary of him going to Andrew Gaff again as per earlier in the year.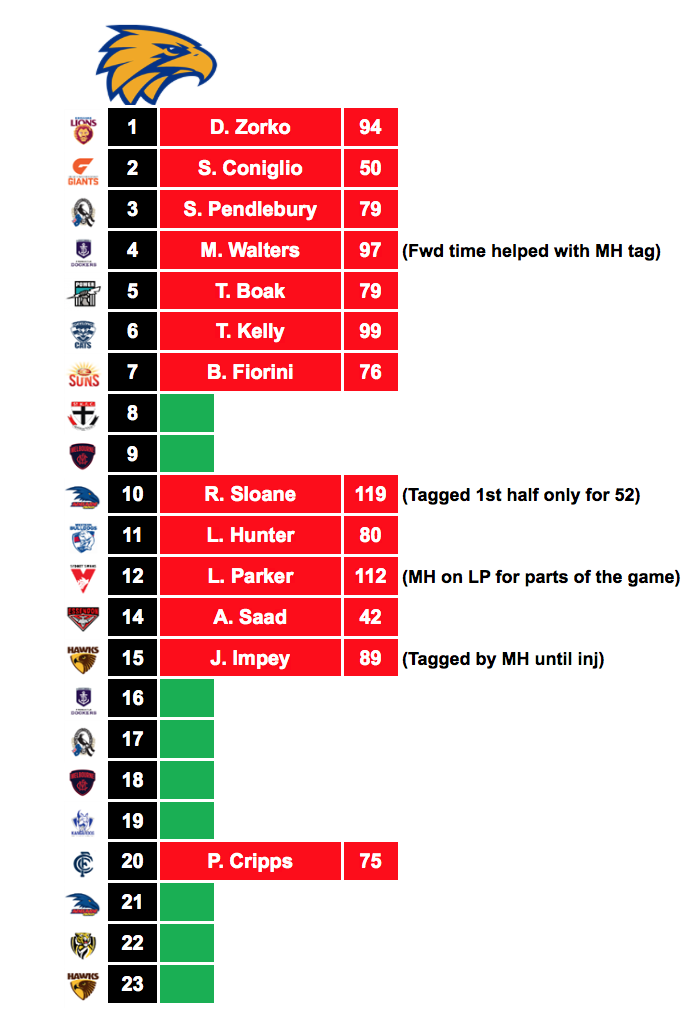 West Coast's tagger this season has been old faithful Mark Hutchings. He has done a job in 12 games this year and held his opponents under 100 points in 10 of them. Hutchings injured his hamstring in round 22 against the Tigers and missed the final game of the season. He is an outside change to return for this contest, however his application to play in the first week of the WAFL finals this weekend was denied.
If he does return it is likely his role will be on one of Essendon's speedy half backs like it was in round 14 where he held Adam Saad to just 42 fantasy points. Even if Hutchings does not return, be wary of such a strategy being put to use by another Eagle as it was quite successful, and Saad was the player who caused significant damage to the Eagles in 2018 when the Bombers got a win over in the West.
VALUE PLAYS
Josh Kennedy (MB $4,700, DS $8,630) has been looking like a player edging closer to the end of his career every week this season. His number across the board are as low as they have been in a decade and he has been under fire in the media, particularly in Western Australia. There have been 8 games since the Eagles last played the Bombers and Kennedy has topped 60 points in just one game when he kicked 7 goals in 3 quarters against North Melbourne. So why play him??? This is matchup specific with the Eagles 29 point favourites at home, Essendon giving up the 4th most points to forwards this year and Patrick Ambrose likely to take Jack Darling (making him a hard fade for me at his price), Kennedy should get the easier matchup.
When the sides met in round 14 Ambrose held Darling to just 1 goal and 49 fantasy points, while Kennedy got on top of his matchup against Hurley kicking 3 goals 5 and notching up 73 fantasy points. At his price that result will be more than sufficient and with straight kicking things could go much higher. Kennedy also has the added motivation of possibly playing for his career during this finals series.
Jamie Cripps (MB $5,800, DS $8,420) has to be highlighted at his price point, particularly on Draftstars. Before his injury he had posting 9 scores over 70 from 13 games this season. He brings a ceiling of 100 points and has averaged 76.8 points at Optus Stadium over his last 23 games there. Now the flip side is since returning from injury he has played 3 games for a high score of just 67 points. He looks to be playing a role closer to goal, while Willie Rioli and Liam Ryan push further up the ground. As such he is not without risk and a much more attractive proposition on Draftstars.
MID PRICED PLAYS
Tom Hickey (MB $6,600, DS $9,890) gets the edge in the ruck for me based predominantly on price. He is cheaper on both platforms as noted above the numbers support Hickey in this matchup, with the Bombers conceding the 4th most points in the league to number 1 rucks. These two played to a dead heat in their first matchup during the year, both scoring in the 90s and just ended just 1 different in hit outs. As a result, locking in Hickey and taking the savings looks to be the best option.
PREMIUM PLAYS
Zach Merrett (MB $10,300, DS $14,340) will be a lock for me and practically every other DFS player in Australia on Draftstars at that price. Surrounding Merrett with an Eagles stack will be one of the most popular ways to go. If Hutchings is in it may scare off a few due to the tag risk, but as I mentioned above I would expect him to do a role on the half backs, rather than a midfielder. In his last 19 games he has topped 100 15 times, and gone under 92 just the once. His floor for a game that he isnt tagged in is around 90 points and his upside is the moon. During their matchup against the Eagles earlier in the year he was one of just two players for the Bombers who topped the 100 point mark, posting 105 points.
Jack Redden (MB $8,400, DS $13,250)... with plenty of high priced midfielders on the Eagles side Redden helps provide that little bit of salary relief from the high end. He brings a ceiling of 130+ and thrives on a contested brand of football that finals will bring. In 2018 he was arguably the Eagles best midfielder through the finals series posting 141 and 162 points in the two games at Optus Stadium. He loves the home ground and has averaged just under 103 points per game over his last 25 games there. He has also played well against the Bombers posting 96 and 109 against them in their last two matchups.
Dragon's Suggested Moneyball Team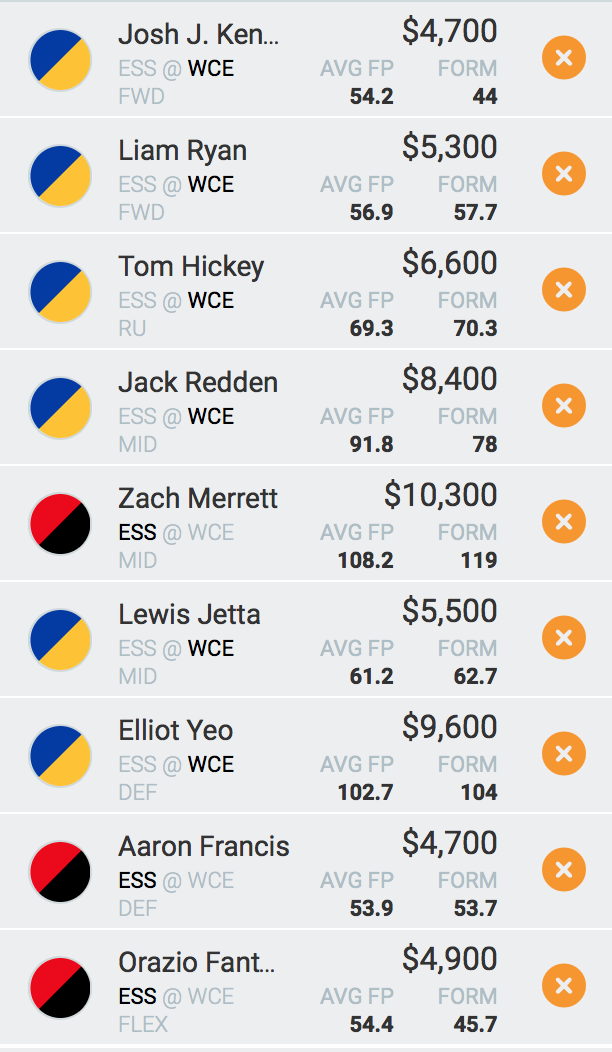 The Daily Fantasy Rankings "Dragon" has scoured the Australian sports betting markets and found some great value picks for this game. Check out his picks for the day below and click on the links to follow his betting plays!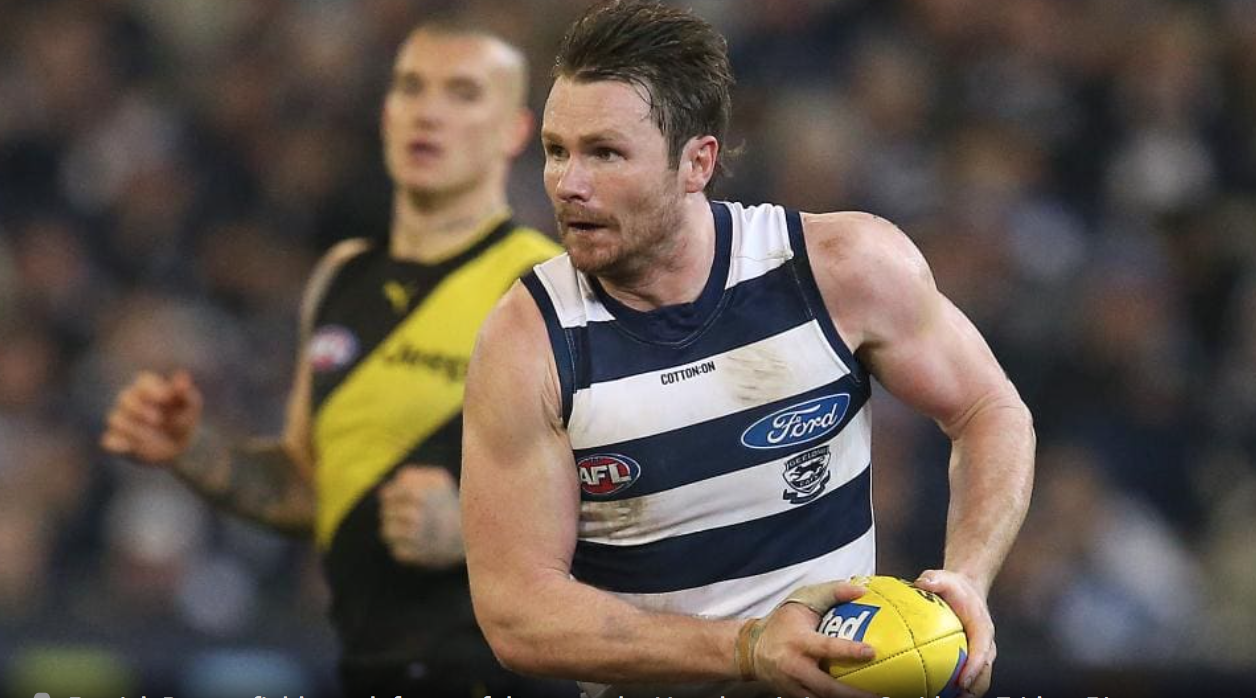 Always remember to gamble responsibly. When the fun stops, stop. If gambling is having a negative impact on your life, seek support at Gambling Help Online. 18+ only.