daily fantasy sports articles
AFL 2019 Team Preview: Carlton Blues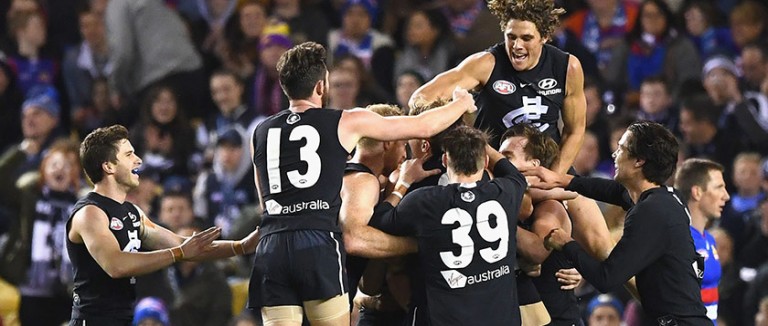 The 2019 AFL season is just around the corner and we will get you prepared for the year ahead in style with DFS previews on all 18 AFL teams!
Next to break down is Carlton. The Blues brought in several new young players including Sam Walsh, the number 1 pick in the AFL draft. In 2019 they will look to start taking steps that will indicate the rebuild is working as they try and avoid a second straight wooden spoon.
CARLTON BLUES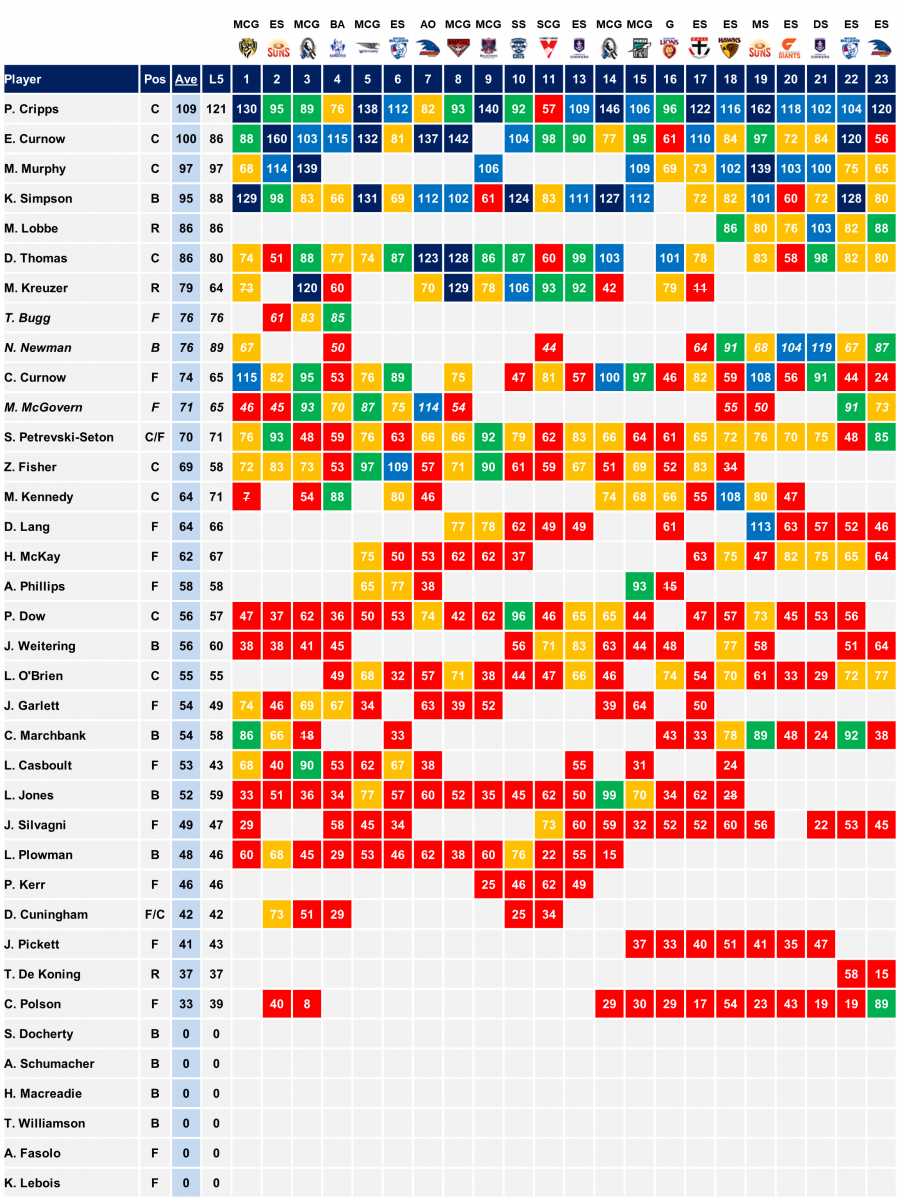 LIST CHANGES
It was a big summer in terms of player acquisitions for Carlton but we have to start with the Blues draft. With the number 1 pick in their possession after winning the wooden spoon they selected can't miss midfielder Sam Walsh. Walsh should slot right into the midfield for round 1 and has been a prolific fantasy performer averaging 115 points per game in NAB AFL U18 Championships and 119 in the TAC Cup. He lived up the hype in his first JLT game collecting 28 possessions en route to 100 points. Depending on his round 1 price he may offer significant value straight away.
Liam Stocker was the Blues next selection and he is highly rated by Carlton who gave up a pick swap with the Crows in 2019 to secure him. He is unlikely to play early however he may bob up later in the season as a value option. He averaged 84 fantasy points in the TAC Cup.
There were two other big acquisitions from a fantasy perspective this offseason. The first was Will Setterfield, a player who came into the league with huge wraps as the fifth pick in the 2016 draft by Greater Western Sydney. Unfortunately an ACL derailed the early part of his career and he has played just 2 senior games thus far. Setterfield is expected to rotate through the Blues midfield and showed no ill effects of the injury in his first JLT game scoring 95 fantasy points.
The final list change to consider for daily fantasy is Nic Newman who was brought in from Sydney. Newman appears set to take a role across half back this season and he has shown capability to score in the past averaging 86.6 fantasy points for the Swans back in 2017. In their first JLT game he feasted on cheap ball across the half back line en route to 97 fantasy points, however he was extremely disappointing in his latest outing against Collingwood, scoring just 29 points in 76% game time.
FINDING VALUE
Heading into the season I expect the top value plays to be Will Setterfield and Nic Newman for the reasons outlined above. Pending the price these two will be obvious targets for DFS players, but if you are looking for someone a little more unique keep an eye on Zac Fisher's price to start the season. Fisher averaged 69.4 fantasy points last season but flashed his upside with three games of 90 or more. This year he should have permanent role through the middle and had an impressive 26 touches for 96 fantasy points in their first JLT game.
TAGGING
Carlton used a variety of taggers to varying levels of success in 2018. Lochie O'Brien, Jed Lamb, Ed Curnow and Sam Kerridge all tagged players throughout the season. Across the 7 games where Carlton tagged they held players to 12 fantasy points below their season average.
On the Blues side Patrick Cripps has become to top target for opposition taggers. In 2018 he was tagged 7 times and this resulted in an average of 6.9 fantasy points below his season average.
POINTS AGAINST
No surprise to see that the wooden spooners were one of the top sides to target from a fantasy perspective in 2018. They conceded the third most points in the league overall and the fourth most 100+ point scores at 3.8 per game.
The best position to target them at was through the midfield where they gave up the second most points in the league to the position. This included a whopping average of 110 fantasy points per player to the top 3 performing opposition midfielders: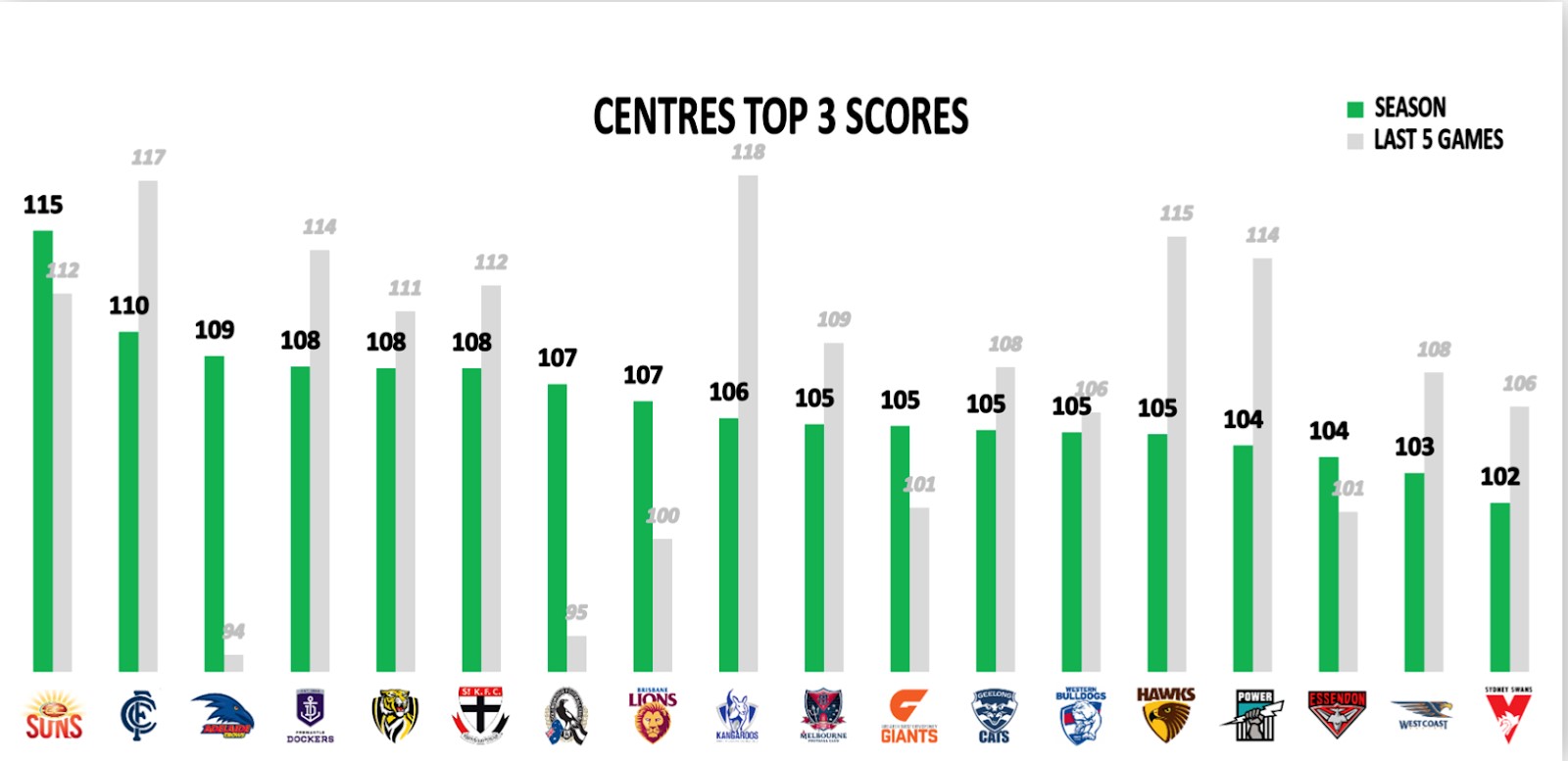 The Blues were also susceptible to forwards conceding the third most points in the league to the position: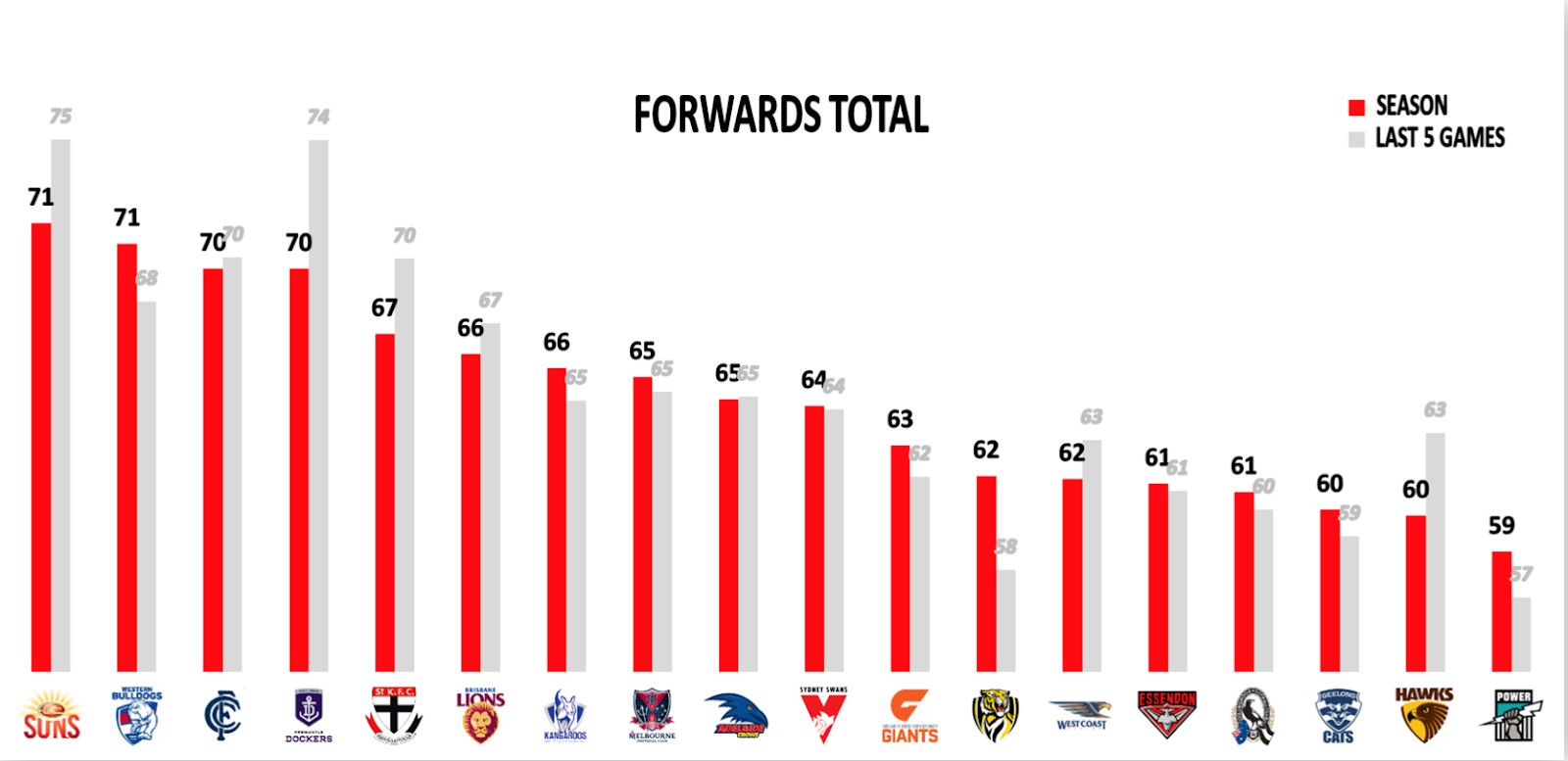 CORRELATIONS
In AFL players scores are highly correlated to each other, which can be crucial to building winning sides in the daily fantasy format. We can look how each player's scores correlate with their teammates to identify which players you should/shouldn't look to play together in the same lineups.
The below table highlights all the player correlations from 2018. A score of 1 means two players have a perfect POSITIVE correlation, meaning players will score HIGH and LOW together. A score of zero suggests no correlation between the two players. A score of -1 suggests a perfect NEGATIVE correlation, meaning when one player scores HIGH, the other scores LOW, and vice versa. Generally a correlation begins to be significant above 0.3 (or inversely below -0.3), at which point they should be considered in lineup building.
We remove injury affected scores to avoid skewing of the data, and a minimum of 6 games played is required for a correlation to be displayed.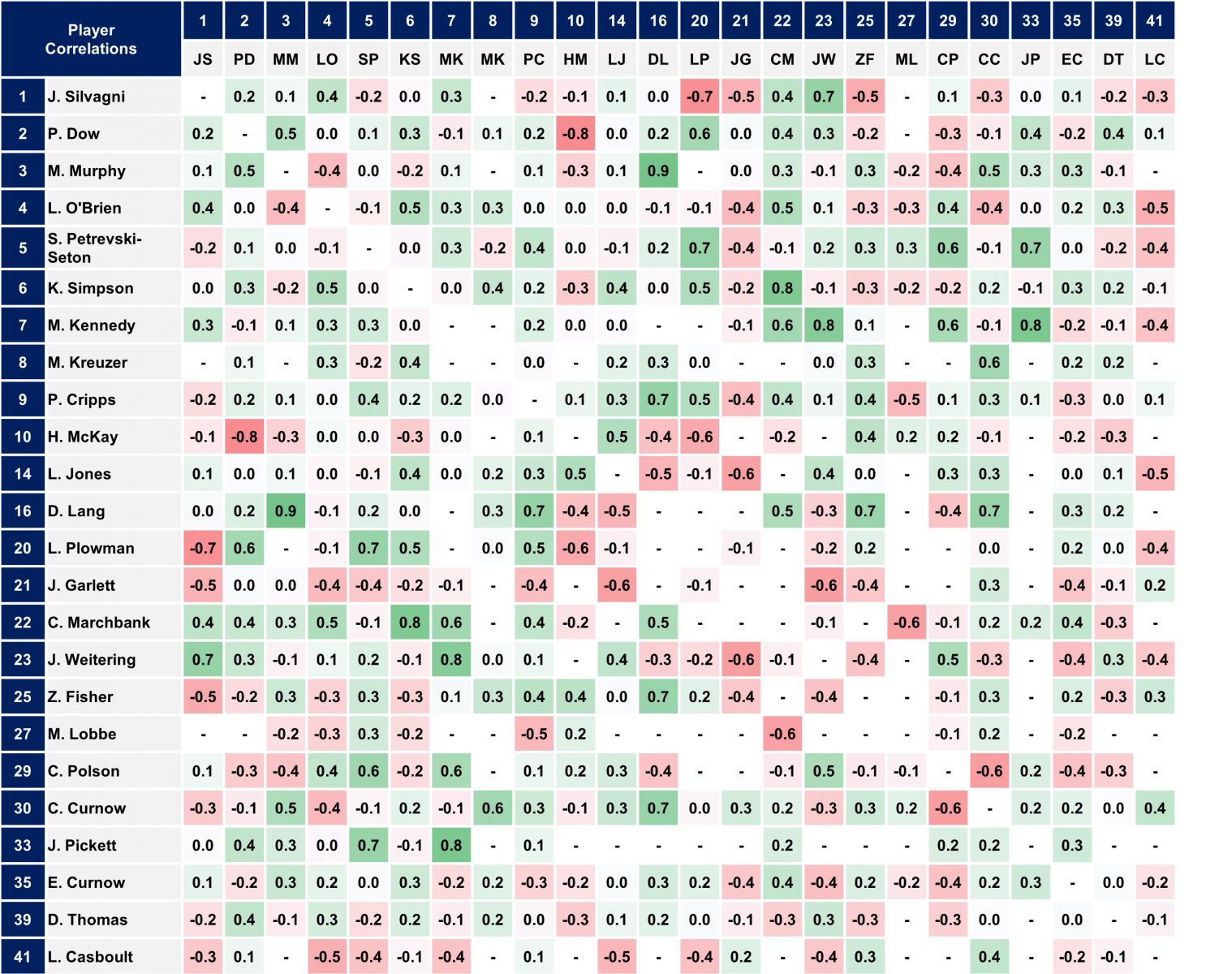 The Blues key backs in Jacob Weitering and Liam Jones had a strong correlation in 2018 as they shared the ball together. Such a correlation is common for back line players as they typically work together moving the ball to setup the transition. These two players also demonstrated high upside at their prices that is crucial for winning GPPs.

The Daily Fantasy Rankings "Dragon" has scoured the Australian sports betting markets and found some great value picks for these games. Check out his picks for the day below and click on the links to follow his betting plays!

Always remember to gamble responsibly. When the fun stops, stop. If gambling is having a negative impact on your life, seek support at Gambling Help Online. 18+ only.