daily fantasy sports articles
AFL 2019 Team Preview: Gold Coast Suns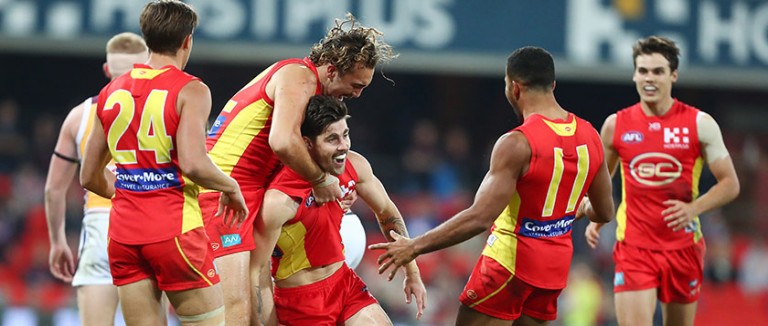 The 2019 AFL season is just around the corner and we will get you prepared for the year ahead in style with DFS previews on all 18 AFL teams!
Gold Coast are widely regarded as one of the weakest teams coming into this season, with player retention a huge issue and a list comprising of young talent and some rather limited experienced players. Another tough year looks ahead of them but with plenty of opportunity up for grabs, they may provide some surprising fantasy value.
GOLD COAST SUNS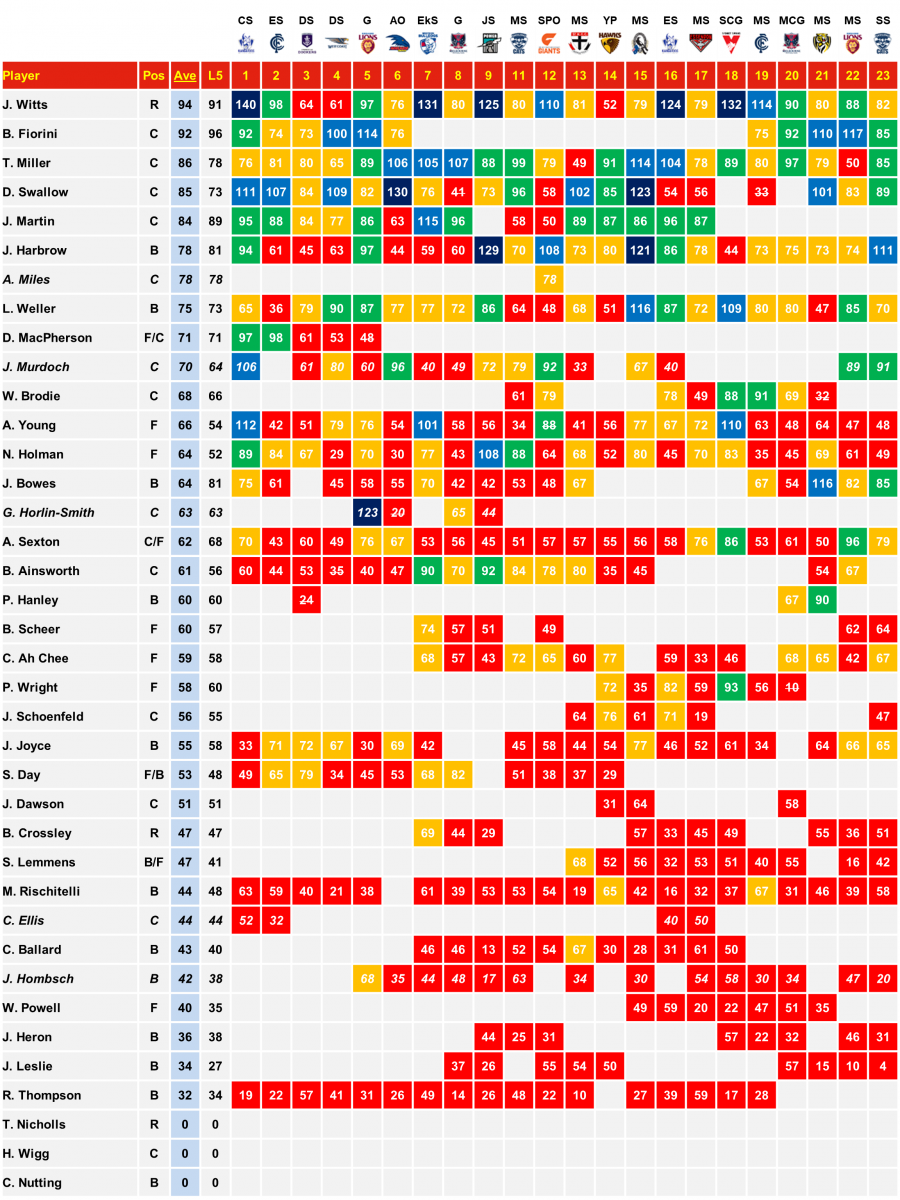 LIST CHANGES
Once again the offseason was extremely busy for the Gold Coast. They brought in a number of high draft picks but they lost their former co-captains Tom Lynch and Steven May, removing a wealth of experience and key position talent from their lineup.
Anthony Miles arrives at Gold Coast after stints at GWS and Richmond where he has been in and out of the side throughout his career. He looks set to get first crack at an inside midfield role and has averaged 86-87 across 2015-2016 when playing considerable game time. His ability to find the ball is not in question, but his disposal is the reason he finds himself on probably his last chance at a 3rd club.
The Suns also bring a pair of former Cats up north with Jordan Murdoch and George Horlin-Smith potentially finding greater opportunity here. Unfortunately both had rather limited JLT campaigns so while they will be sent out at cheapish prices, they may take some time to hit their straps. Both have flashed the ability to ton up at Geelong so their form and role is worth keeping an eye on.
Gold Coast took home three of the top six kids in the 2018 AFL Draft in Jack Lukosius, Izak Rankine and Ben King but whether any of the three have an impact this season remains to be seen. Rankine looks the most likely but a genuine hamstring injury will delay his start to the year. Lukosius is loaded with talent and should play some good games but his upside may be a bit capped as a key/third tall forward, while King is a big lad who will no doubt take time to learn how to compete at the top level.
FINDING VALUE
Jack Bowes was a high draft pick a couple of years ago but has taken his time to get a feel for senior footy. He finished season 2018 with a last 5 game average of 81 and gave a glimpse of what he may be capable of in the future. He has had a reasonable pre-season and will be asked to take on greater responsibility this year so has the scope for genuine improvement on what initially may be a soft price.
With scores of 66 and a whopping 114 in their two JLT games, big Peter Wright has put himself on the radar for the start of the season. He averaged only 58 last season in an injury-interrupted year but the encouraging thing about his pre-season has been his 2nd ruck role which gives him opportunity to get around the ground. The 114 was against a ruckless Sydney outfit so don't get carried away, but he is another young player who looks just about ready to hit his straps and may produce big value on a cheap price early in the season.
TAGGING
Gold Coast used a tagger on 8 occasions in 2018, generally turning to one of their midfield leaders Touk Miller to do a job. Only twice did the target score above 100 points, with names like Mitchell, Cripps, Zorko (twice) and Sidebottom falling victim. Miller will again be a vital cog in the Gold Coast midfield and his accountability is no doubt highly valued by his club.
Opposition clubs paid little regard to the main Suns ball winners last season and very rarely bothered to tag anyone. Even when they did, the two main targets were Jarrod Lyons and Aaron Hall and they are no longer at the club. Until the Suns midfield starts to present a greater threat to their opposition, this trend is likely to continue.
POINTS AGAINST
In 2018 the Suns stood out as being by far the easiest team to score fantasy points against, conceding over 50 points more than any other team in the competition.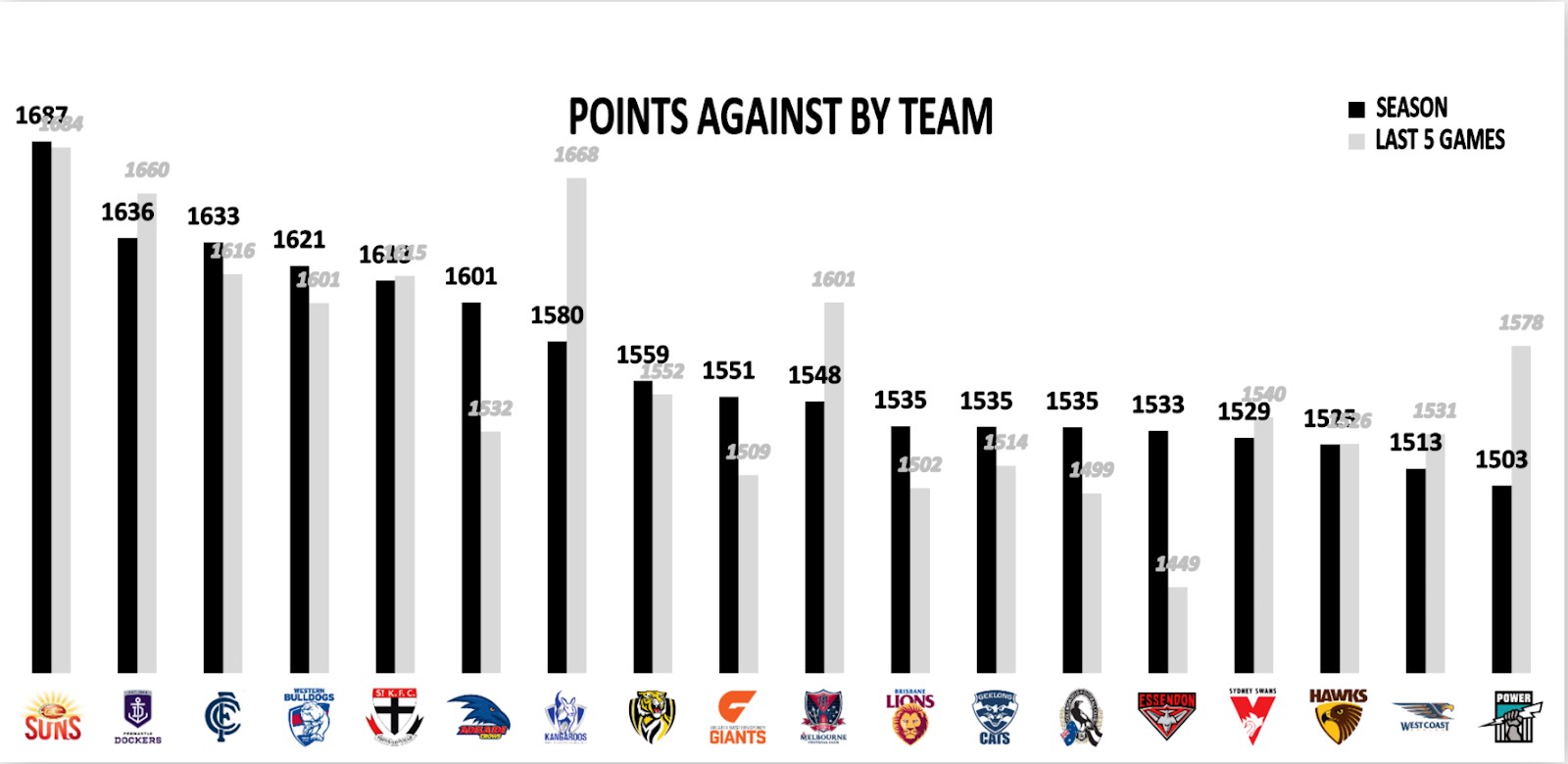 Unsurprisingly given that measure, they also conceded the most 100+ scores, although not by as big a margin over the rest of the competition.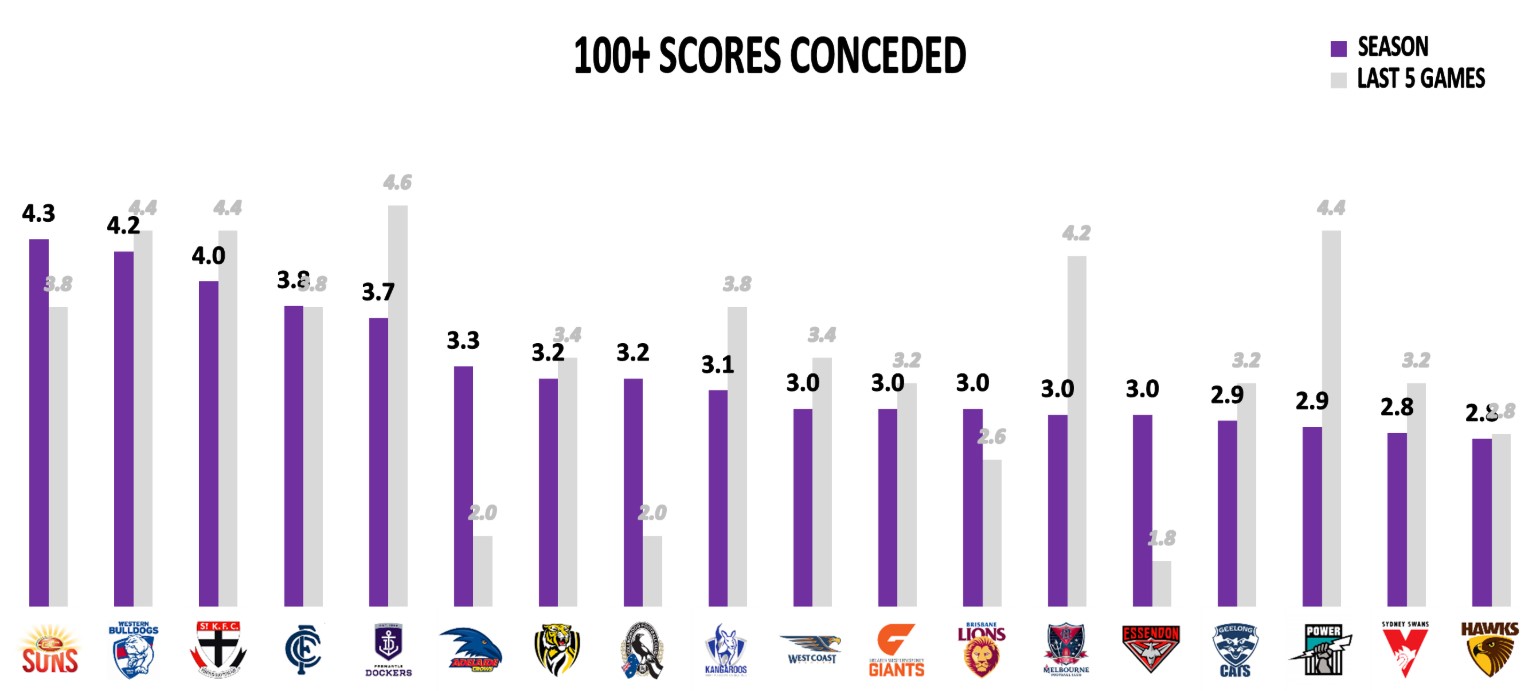 CORRELATIONS
In AFL players scores are highly correlated to each other, which can be crucial to building winning sides in the daily fantasy format. We can look how each player's scores correlate with their teammates to identify which players you should/shouldn't look to play together in the same lineups.
The below table highlights all the player correlations from 2018. A score of 1 means two players have a perfect POSITIVE correlation, meaning players will score HIGH and LOW together. A score of zero suggests no correlation between the two players. A score of -1 suggests a perfect NEGATIVE correlation, meaning when one player scores HIGH, the other scores LOW, and vice versa. Generally a correlation begins to be significant above 0.3 (or inversely below -0.3), at which point they should be considered in lineup building.
We remove injury affected scores to avoid skewing of the data, and a minimum of 6 games played is required for a correlation to be displayed.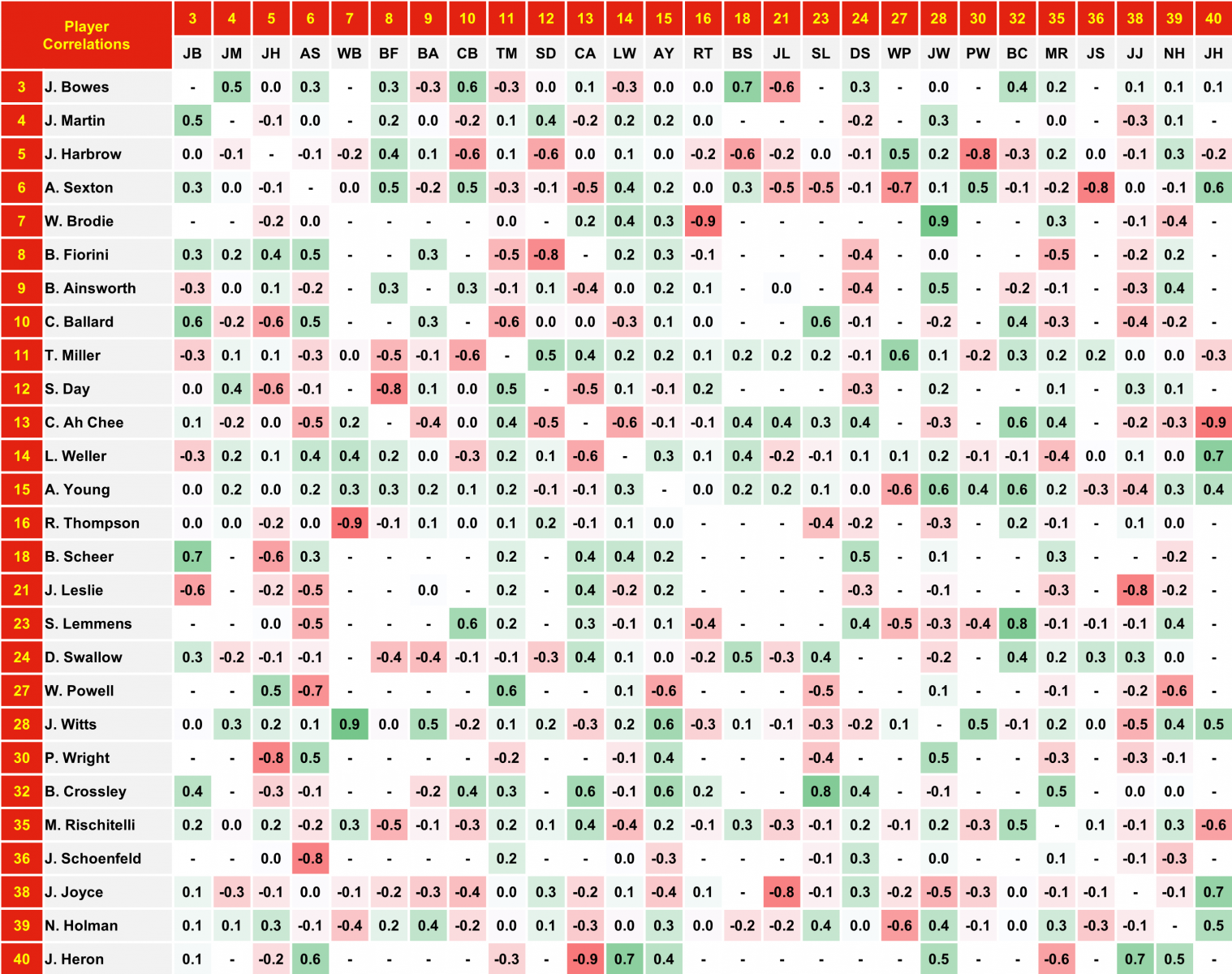 If we look towards Jack Bowes as a value play early in the season, we can see from the correlations table above that he has a strong positive correlation with a number of fellow accumulators in Jack Martin, Brayden Fiorini, David Swallow and Charlie Ballard, so a combination of those players can be typical of what we want to target in a Suns-heavy lineup. Interestingly Touk Miller has a strong negative correlation with Fiorini and Ballard, and to a lesser extent Martin, which appears to make sense given a strongly contested game is where he tends to thrive.

The Daily Fantasy Rankings "Dragon" has scoured the Australian sports betting markets and found some great value picks for these games. Check out his picks for the day below and click on the links to follow his betting plays!

Always remember to gamble responsibly. When the fun stops, stop. If gambling is having a negative impact on your life, seek support at Gambling Help Online. 18+ only.