daily fantasy sports articles
AFL 2020 Daily Fantasy Tips: Round 10 - Thursday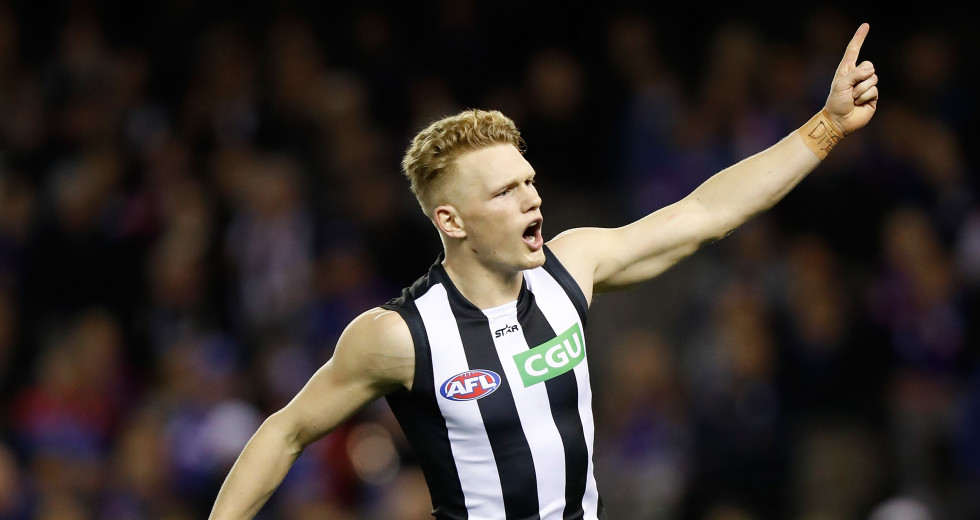 Another mid-week 2 game slate, with both games happening in Queensland. That means we need to consider the impact that dew can have on these games, especially the later game. There are several changes again, with plenty of young guys coming in, but not much going out in the way of fantasy relevance.
There are some great fantasy contests up for Draftstars and DraftKings including:

In addition to previews for each and every slate this season, Daily Fantasy Rankings will continue with our AFL Resources page. This section provides you all the data you need to build your best lineups. It includes daily cheat sheets for both Draftstars and DraftKings, Player Correlation tables, Player Out tables, Scores Against tables, Tagging information, statistical breakdowns and much more!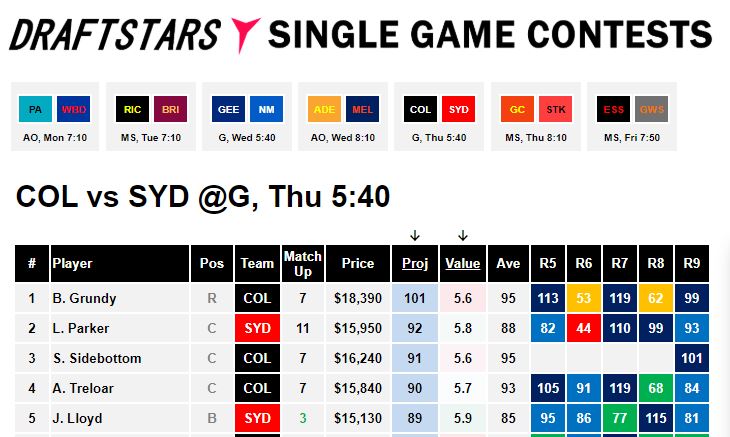 Trends: Saints have been a difficult opponent lately, while the three other teams on this slate are all mid-pack for total points conceded. The two underdogs in Swans and Suns have each been conceding around 4 80+ scores per game over the last 5, With saints conceding a very stingy 2.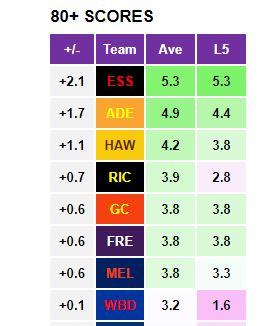 In terms of each position, we want to target backs against the Pies, mids against the Suns and Swans, and rucks against Saints. There's not much to seperate the teams in conceding to forwards, so that could be an area to differentiate your lineups and/or finish off some game stacks.
FWD: Will Hoskin-Elliot DS $9,200 / DK $5,100 is hard to nail down in terms of role week-to-week, but he's likely to split time between the wing and forward. That's fine in this game, and we know he has a great ceiling at a good price. Brody Mihocek $8,680 / $4,300 is another Pie that could take advantage if things get ugly. In the later game Nick Hind $7,610 / $4,500 had a huge 84 last week as a small forward, and if Max King $7,370 / $3,600 could repeat his 60 that might get the job done as well.
It's a difficult position to get right. I'm drawn to taking a punt on Jordan Dawson $10,830 / $5,100 (Def only on DK), who we know can score huge if he gets the right role. Defensive distributor or wingman both give him the chance to go big, we just have to hope that he escapes the forward role that he has played in some recent games.
MID: We have four minimum priced options, including three debutants. I don't know enough about them, except that I'm pumped about the future of Jeremy Sharp $5,000 / $2,500 for my Suns. Brayden Sier $6,870 / $4,700 was a popular cheap option last week, and he could well get a little more midfield opportunity this week. Jack Sinclair $8,930 / $5,000 got plenty of CBAs last week, and is likely to do it again. That means a third 60+ score is in play, which is plenty at his price. Brad Hill $10,630 / $4,800 has been bad lately with negating attention coming his way. That may be the case again, but the price is so low now that I simply have to have some exposure. Zak Jones $12,910 / $6,900 and Jade Gresham $12,360 / $6,200 are two of his teammates that have the ceilings to take advantage of a softer opponent. Hugh Greenwood's $13,720 / $6,500 heater came to an end with a horrid 43 last week, but I'm still interested in going back to the well with his perfect inside role.
Collingwoods premium mids are all in play with the potential to break the 100 point barrier easily. Of Adam Treloar $15,840 / $8,200, Taylor Adams $15,640 / $7,700 and Steele Sidebottom $16,240 / $7,900 I like Treloar the most with his outside abilities. I also love Josh Daicos $10,940 / $5,700 who can rack up plenty of ball on the wing if things go his way.
DEF: Matthew Ling $5,000 / $3,000 is a highly rated young footballer who hasn't looked totally out of place so far. There are worse minimum priced punts if you need some salary relief. His teammate Jake Lloyd $15,130 / $7,500 is very expensive at the other end of the scale, but he does have the potential to be the highest scorer on the slate with +6s galore. Jack Crisp $12,820 / $6,200 has played as a midfielder recently, but could well go back and start racking up plenty of marks. Either way he has the potential to finally put up a big score this season, with a safe floor as well.
I've had some success in the past with mid-priced defenders in well beaten teams racking up cheap touches late in the game. If my Suns don't put up the fight I'm hoping for, I can see either Jack Lukosius $10,580 / $5,400 or Jarrod Harbrow $9,430 / $4,400 getting a lot of cheap marks and touches as the game goes on. Either one could also get some tagging attention from Jarryn Geary $7,400 / $3,400, so use them sparingly (if at all).
RUCK: You cannot ignore Brodie Grundy $18,390 / $9,000 no matter the slate, and he should do well in this contest against an outmatched Callum Sinclair $10,790 / $5,900. Without much trustworthy value elsewhere on the slate, I prefer to save some salary and focus on Jarrod Witts $13,830 / $6,600. He is against the Marshall $13,950 / $7,200 /Ryder $10,580 / $5,300 combo which has been conceding plenty of points and limiting each other's ceiling while they're at it.
None of this is clear cut, which means we can also take a punt on Sam Day $6,590 (DS only) and Aliir Aliir $8,550 (DS only) who provide great salary relief and have okay matchups. Aliir has the safer floor of the two.
Final Word: Stacking Collingwood mids and forwards seems to be the most logical way to attack this slate, with a couple of more contested players from the later game to combat the impact of a slippery ball. Good Luck!