daily fantasy sports articles
AFL Daily Fantasy Strategy: Tackles are Safe Points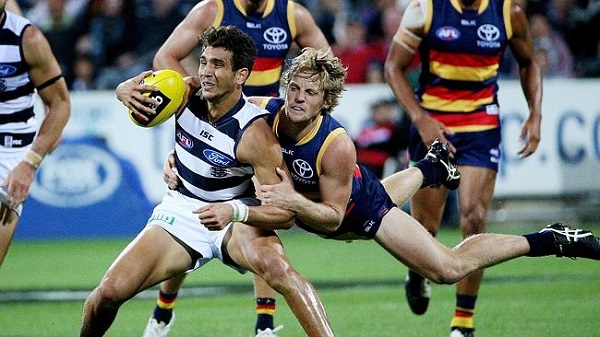 There are a lot of factors that contribute to an AFL player having a good or bad game in terms of fantasy scoring on any given day. However, one of the most reliable statistics that some players seem to be able to rack up with their eyes closed are tackles.
The majority of Daily Fantasy Sports sites use the AFL Fantasy scoring system. In this system, the benchmark score that you should be looking for your players to achieve is 100, anything over that and they've had a pretty good game. In the system, a tackle is worth 4 points, and is the highest scoring act besides kicking a goal that a player can achieve.
Being worth four points each, the ability to rack up tackles on a regular basis makes some players extremely valuable. They are also extremely safe points because players who are good at pressuring the opposition and tackling are far more consistent at doing so than a player who needs to rack up 30 touches to score well.
Let's take the league's leading tackler to date for example. Adelaide's Rory Sloane has racked up a massive 102 tackles through 12 games so far at an average of 8.5. While the gun midfielder has had 6 games of 25 possessions or lower (a quiet day for him) he has only had 4 games of lower than 7 tackles. Adding to that, he has had 4 games of 12+ tackles.
His 8.2 average is good for over 32 fantasy points per game, which is just free points when you compare him to an outside midfielder who while they might get plenty of the ball, is not a known tackler.
The Cats Scott Selwood is another great example. He only has a small sample size to work with this year but through his 3 games that were unaffected by injury, he has averaged 121 AFL Fantasy points but only 19 possessions in those three games. The reason why is because he has games of 17, 17 and 10 tackles, accounting for over half of his fantasy points. Even in the game where he went off injured he racked up 8 tackles. Players who are hard at the ball never take days off being hard at the ball, much like the Bulldogs Tom Liberatore.
While Libba has been a ball magnent in the past, his possession rate has fallen off in 2017 to average just 18 per game. However, he has only had two fantasy scores under 70 for the year, and is the league's leading tackler. Libba's pressure acts per game at 30.9 is 4 higher than any other player in the comp so he's a safe bet to lay tackles whenever he's in the lineup.
Here's a list of the leading tacklers on the 2017 AFL season so far