daily fantasy sports articles
Australian DFS Weekend Results - 11th July 2020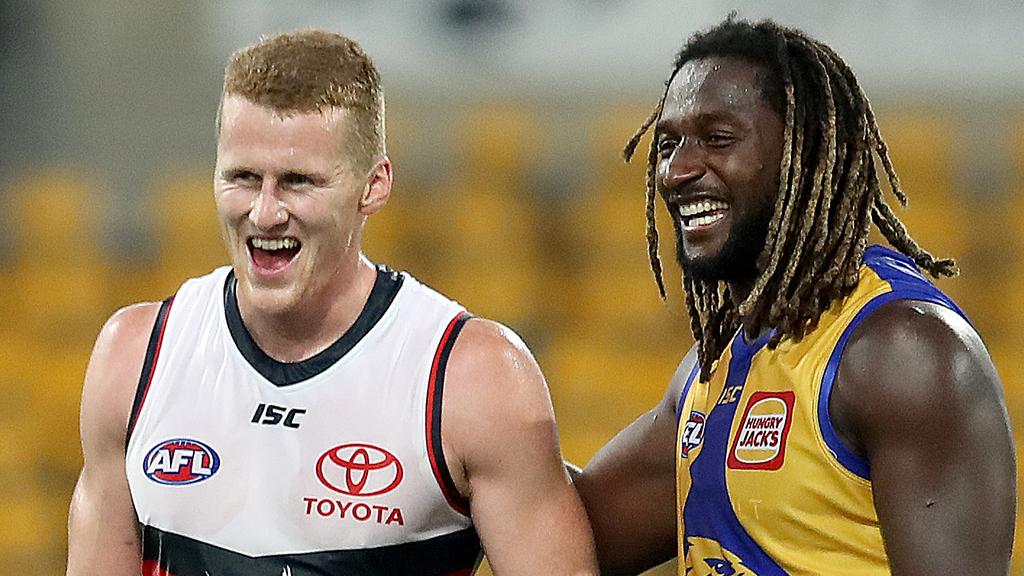 No AFL in Victoria was hard to fathom but the league rolled on in Round 6 with multiple games in NSW and QLD. It was a massive weekend for both sites on Draftstars & DraftKings which awarded many winners on the weekend.
Let's have a look at the key players from Round 6.
Stud Watch
Reilly O'Brien (115): While everyone piled into Nic Naitanui in the "Twitter Revenge" matchup, O'Brien went about accumulating a huge fantasy score. 19 touches, 9 Marks and 7 tackles meant O'Brien was the best ruckman on the Saturday Slate with 5% on Draftstars and 2% ownership on DraftKings
Damn it! Missed him
Jayden Short (100): 3% on Draftstars and 1.6% on DraftKings we all wondered who will pick up the slack for the Tigers with many key players out of the team and it was the criminally underowned Short who bought up the 100 with 20 Kicks and 9 Marks.
GPP Winning play
Callum Mills (125): 3% on Draftstars and 13.9% on DraftKings. Once Kennedy went down for the Swans it was all the Mills show on Sunday. While he was found on DK, Mills at 3% on DS meant whoever had him was in the serious money. 23 Kicks and 9 Marks in the wet in Brisbane. Mills made into Draftstars and DraftKings winning lineups on Saturday.
How good is chalk!
Brodie Smith: For a Saturday slate, Smith was the popular pick with 22% on Draftstars and 15% DraftKings. You might think that is a low number but for a Saturday slate that is pretty chalky. What lead to Smith was the pretty cheap price of $10K on DS and that lead to an easy piece in your Saturday puzzle.
Oh deary me…
Rowan Marshall (53) owners will need to queue up in an orderly fashion, as there was plenty of you just pleading for Marshall to do something. There is another queue for Plan B with Nic Naitanui (51) not scoring against ROB. Ummm Brad Hill (21) that is two weeks in a row now.
Injury affected scores included Mitch Duncan (11), Hayden Young (2), Quinton Narkle (6). That Cats/Lions game was brutal.

It all kicked off Thursday with the Cats defeating the Lions at the SCGl. Both sites continue posting huge contests.
Draftstars went huge with a $75,000 contest for only a $15 entry with 6122 entries battling it out for the $8,995 prize. 'Markhenrydelo' avoided the injury carnage and took out 1st prize. DFR Members 'Procession' and 'Milanos1987' took out the minor places.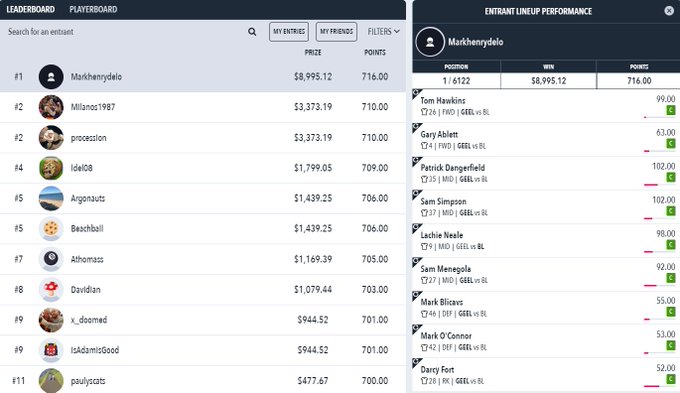 DraftKings posted a $30,000 USD contest with $5,000 USD 1st prize! Over 2,000+ entries were entered (for more overlay) with US player 'jakeanderson44' sneaking home to take the win.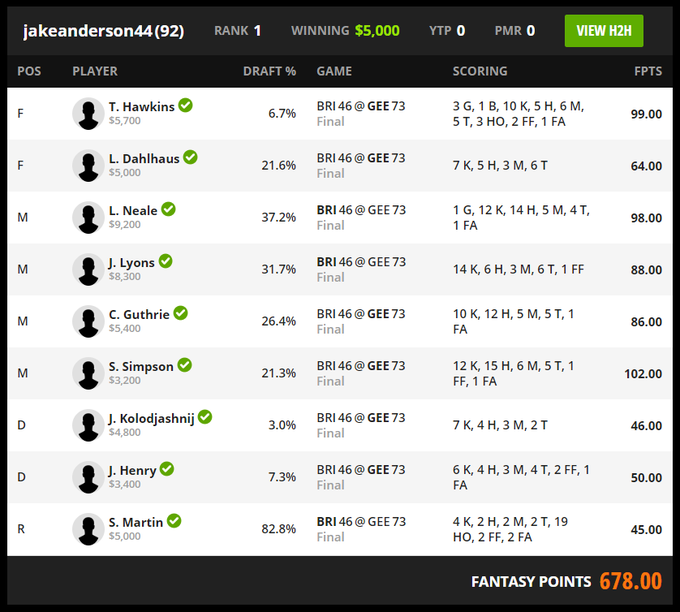 On Friday the Hawks never got going against the Magpies up in Sydney and Draftstars went massive with a $100,000 contest! Once again Brodie Grundy was super popular on this slate but had his fantasy output curtailed by the Hawks. At DFR, we love Single Bullet wins and for 'Jonathonrog' nailed the Hawks midfield along with James Sicily for a $10,000 winning performance!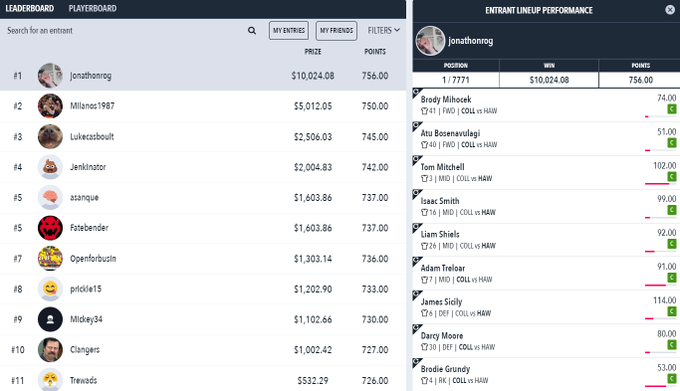 Over at DraftKings it was Australian AFL Jet 'fatebender' who took out another DK slate, this time taking down the $30,000 USD Sticks ($5,000 to 1st). Not a weekend goes by without a Fatebender win!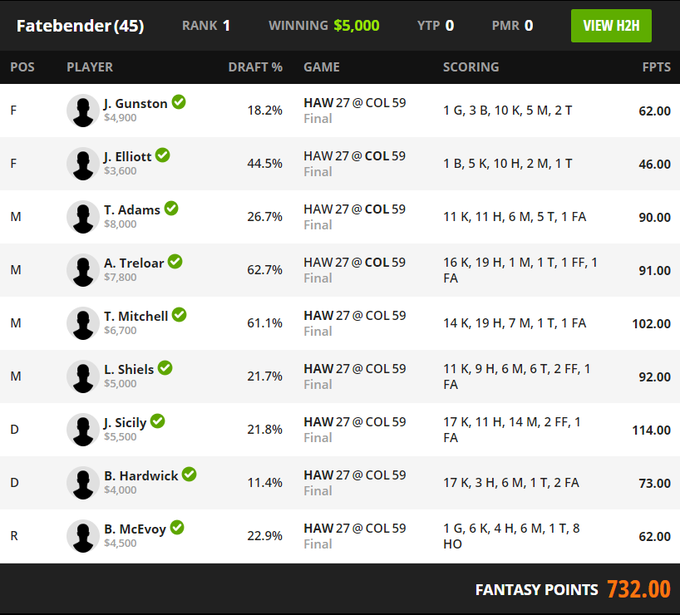 The 4 game slate on Saturday for the AFL was a huge day as the entries piled into DraftKings and Draftstars. Many entries died from the chalk Ruck plays from Marshall and Naitanui not performing. Unfortunately we did not do a shoutout on socials on Saturday due to the data feed failing but we congratulate 'Calliboys' taking down the $75,000 feature on Draftstars for $8,800+ winnings.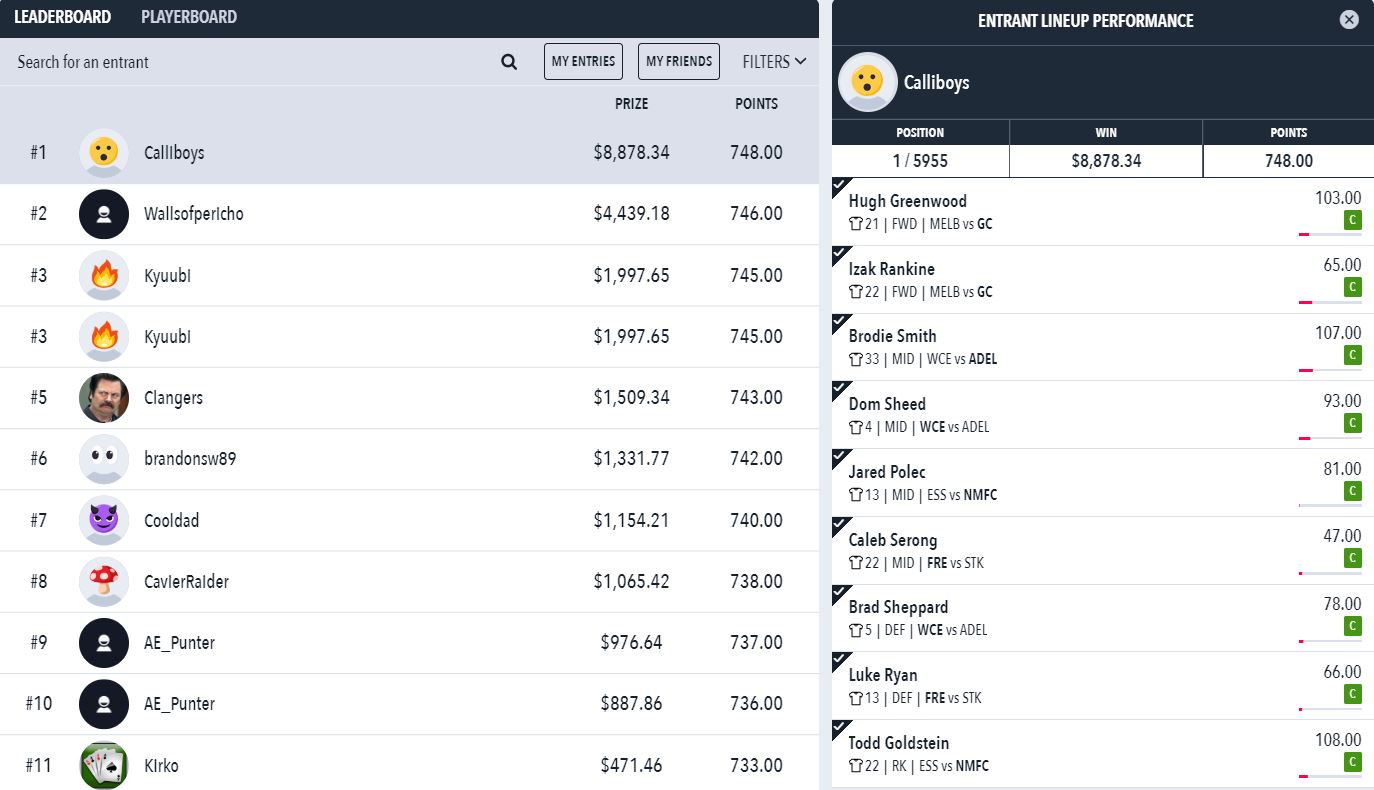 Over at DraftKings doing his very best to be one of the dominant DK players in the AFL, DFR member 'Clangers' chalked another slate win for a $10,000 USD win! Reilly O'Brien plus a Suns stack for the win! That is two wins in two weeks for Clangers!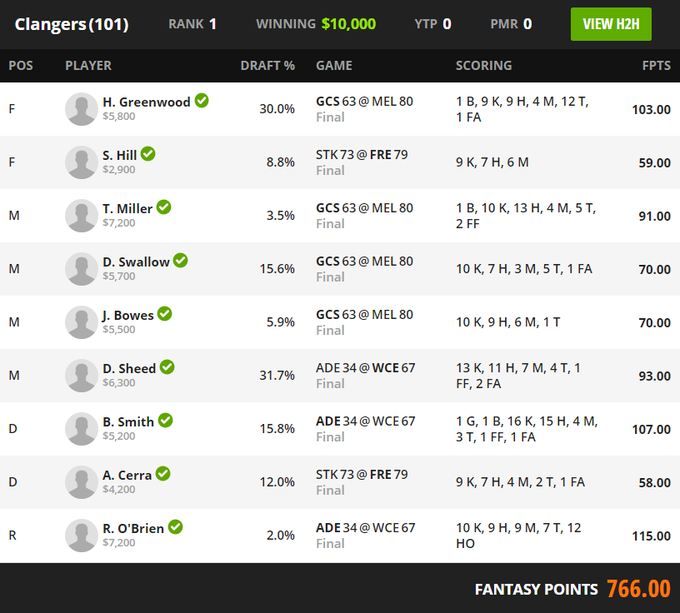 Sunday was an anticipated three game slate with DraftKings providing a variety of contests. It was former DFR number #2 ranked member 'JayC2009' who had a day out filling out multiple top finishes including 1st place for $5,000+ USD in winnings.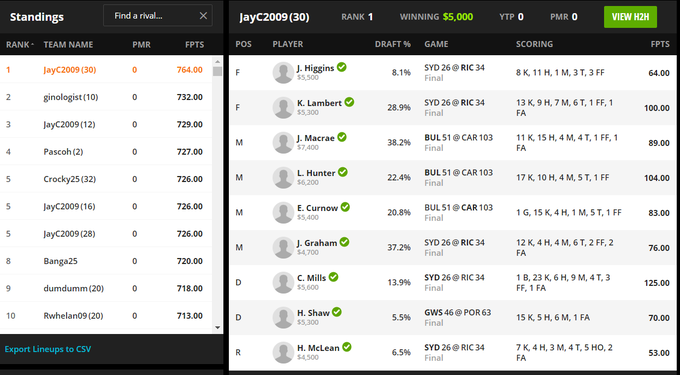 On Draftstars speaking of dominant, is there a new player in town? 'fishcake' certainly had a day out taking out the top 2 spots for over $12,000+ prize money from those two entries alone! Does the fish turn into a shark? Let's see when Round 7 rolls around!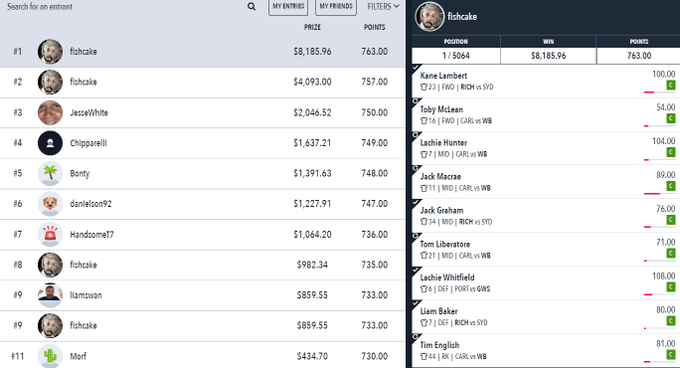 Congratulations to all winners from the weekend and we hope that all members and participants are enjoying the offerings from both Daily Fantasy sites. Keep it locked in on DFR throughout the week as we will provide future previews for all slates and all the news you need for your DFS play.