daily fantasy sports articles
Australian DFS Weekend Results - 13th June 2020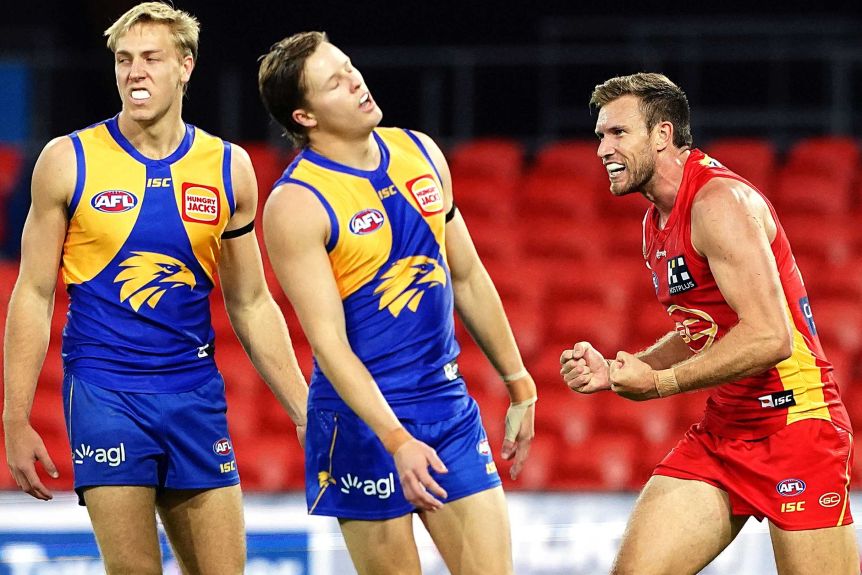 It was a huge weekend of Sport in Australia with the relaunch of the 2020 AFL season along with the launch of US Fantasy site DraftKings for the AFL. AFL fantasy players have been waiting patiently for action and Round 2 do not disappoint. Let's take a look at the big winners over four days of action from Draftstars and DraftKings (note: Pretty cool to write DraftKings AFL!).

It all kicked off Thursday with the draw between Collingwood and Richmond. With the introduction of DraftKings meant there was over $240,000 AUD prize money from DraftKings and Draftstars alone!
Draftstars went huge with a $120,000 contest for only a $15 entry and 8860 entries battled it out for the $10K+ prize. It only took three entries from 'theredone' to take out the 1st prize.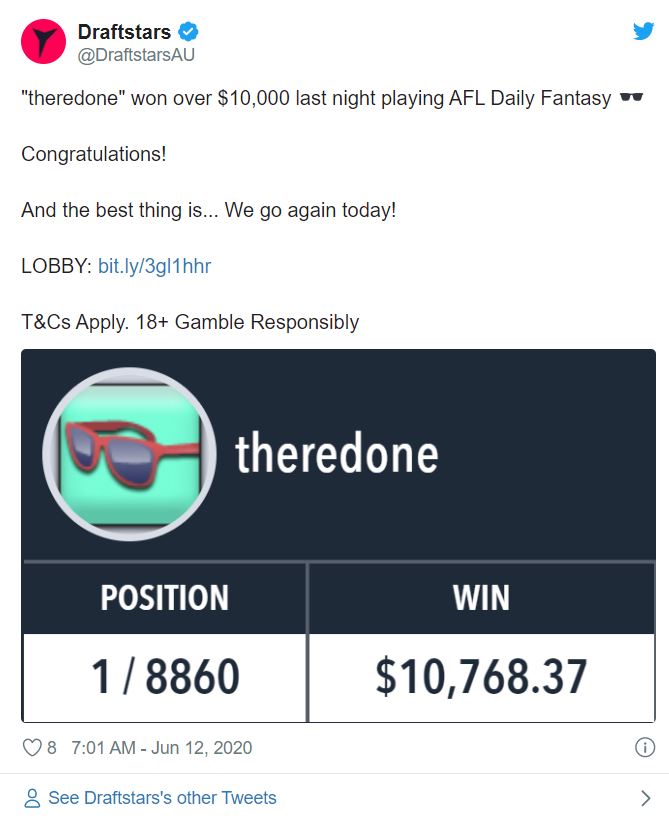 DraftKings launched with a $80,000 USD contest with a crazy $20,000 USD1st prize! Over 7,200 entries were entered (for a nice little overlay) and for the number 1 ranked DFR player 'tjw123' it was a massive night collecting the 1st prize.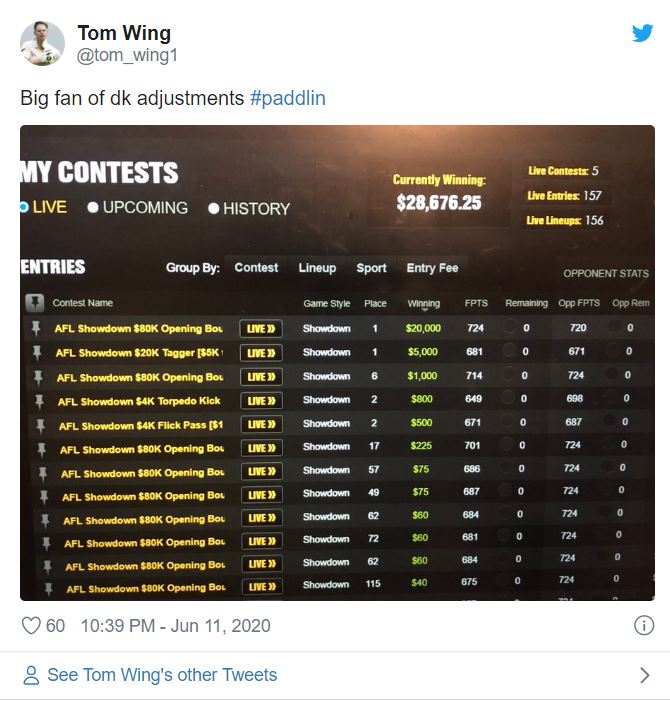 On Friday the Cats defeated the Hawks down in Geelong and Draftstars continued to excel by providing a variety of new contests that were taken up by the community. In the main $75,000 feature the prize money grew to $81,000+ and it felt like 'fatebender' took a lot of that...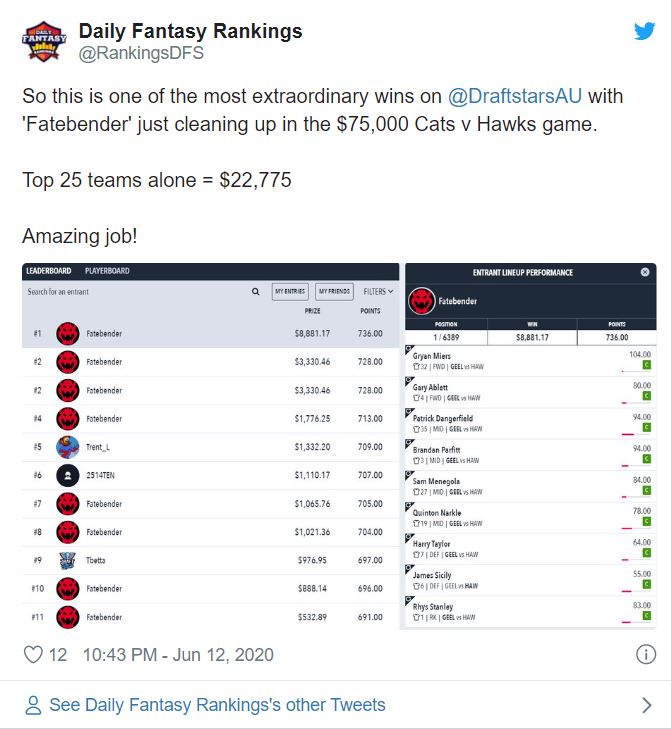 Not satisfied with Draftstars, 'fatebender' then wandered over to DraftKings and chopped 1st place in the $60,000 USD Blinder ($20,000 to 1st) with number 6th ranked player 'Clangers'. A massive night for these two players.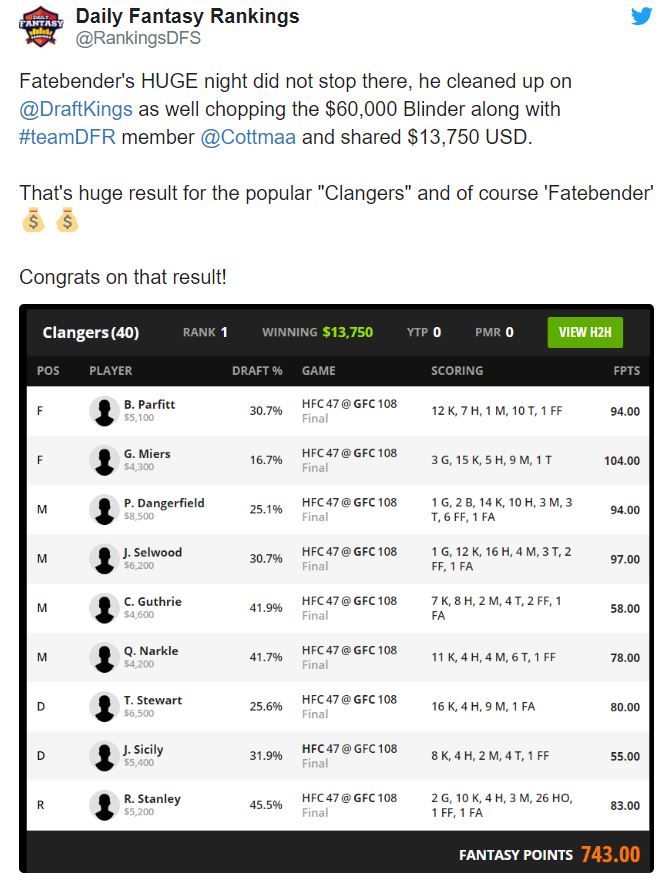 The first multi game slate for the AFL was highly anticipated with 4 games to figure out the best lineup for DraftKings and Draftstars. Firstly at Draftstars it was a day out for "Beachball" who cleaned up in each contest provided. The Main $60,000 GPP, the Fiver, the Mini and the Micro! However this was overshadowed by the extraordinary result from UK DraftKings entry from 'willw25' who had an interesting line-up setup but defeated 4,600+ entries to take out the $10,000 USD 1st prize.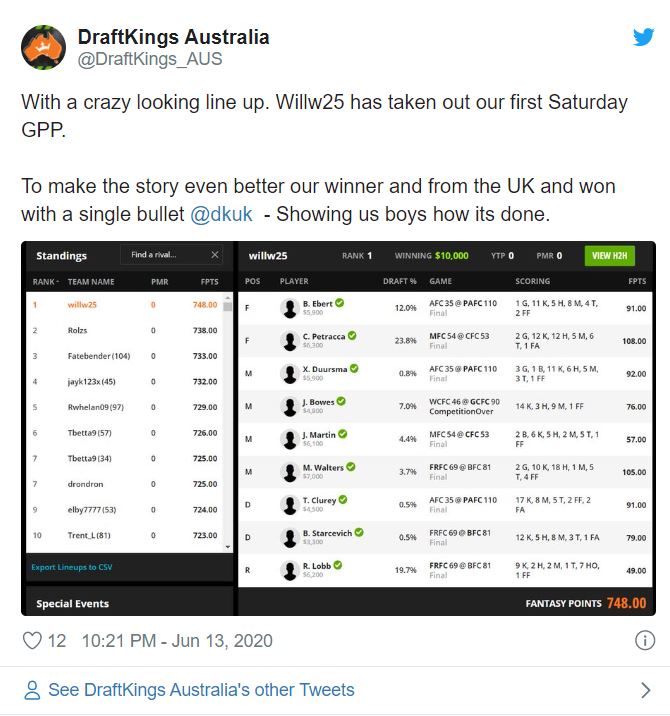 The bonkers weekend had another bonkers result on Sunday when DFR member 'shearmagic' had a career day by taking out the DS/DK double! Shearmagic turned a small entry outlay into a huge $20,000+ day and shot himself up the rankings.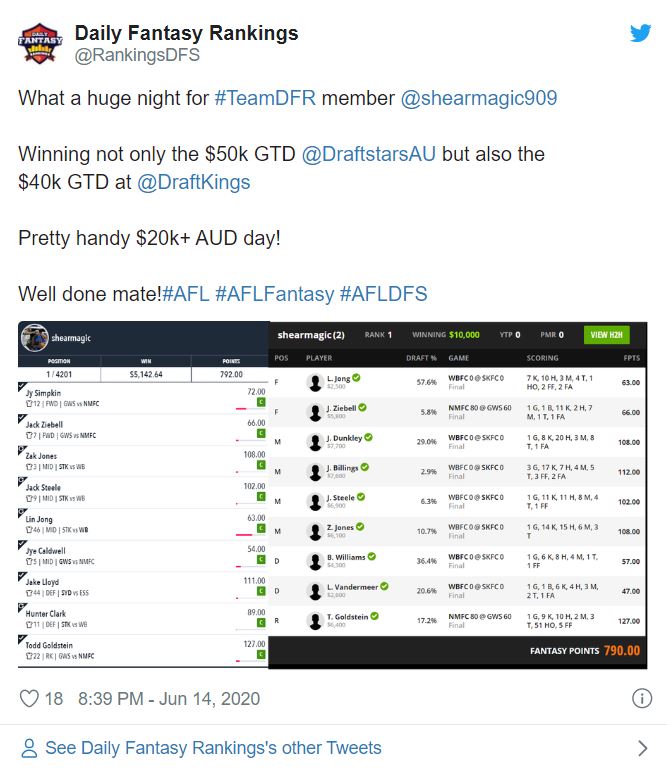 Congratulations to all winners from the weekend and we hope that all members and participants are enjoying the offerings from both Daily Fantasy sites. Keep it locked in on DFR throughout the week as we will provide future previews for all slates and all the news you need for your DFS play.