daily fantasy sports articles
Australian DFS Weekend Results - 13th August 2019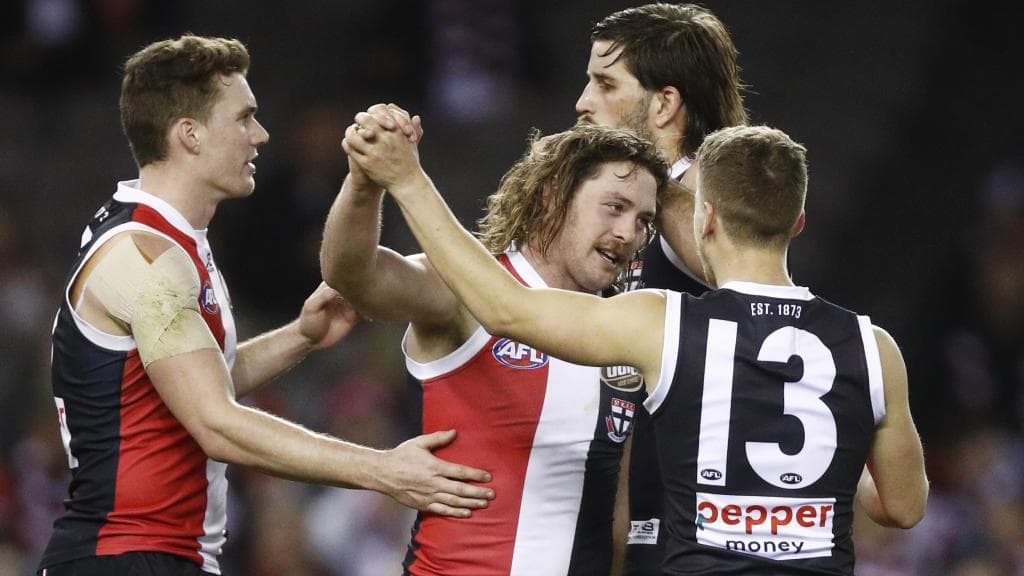 AFL Round 21 tossed up some very strange results, which made it an interesting week of DFS. Major sites Moneyball and Draftstars hosted their usual big contests for the footy, while SportChamps led the charge for the racing. We take a look at all the major winners here.
Moneyball
Moneyball kicked off AFL Round 21 with a $20,000 Giants vs Hawks Special. There were 1,583 entries in what turned out to be an extremely tight finish. Just one point separated the top three and 22 points separated the top 20. The best of the bunch ended up being cottmaa with a score of 839. He earned himself $2,050 for first place. Toby Greene was a must have with his 142 and Dawson Simpson was the best play in the ruck with 89 at a bargain price. Second place in the contest was a tie between I am the Game and waverunner for $788 each.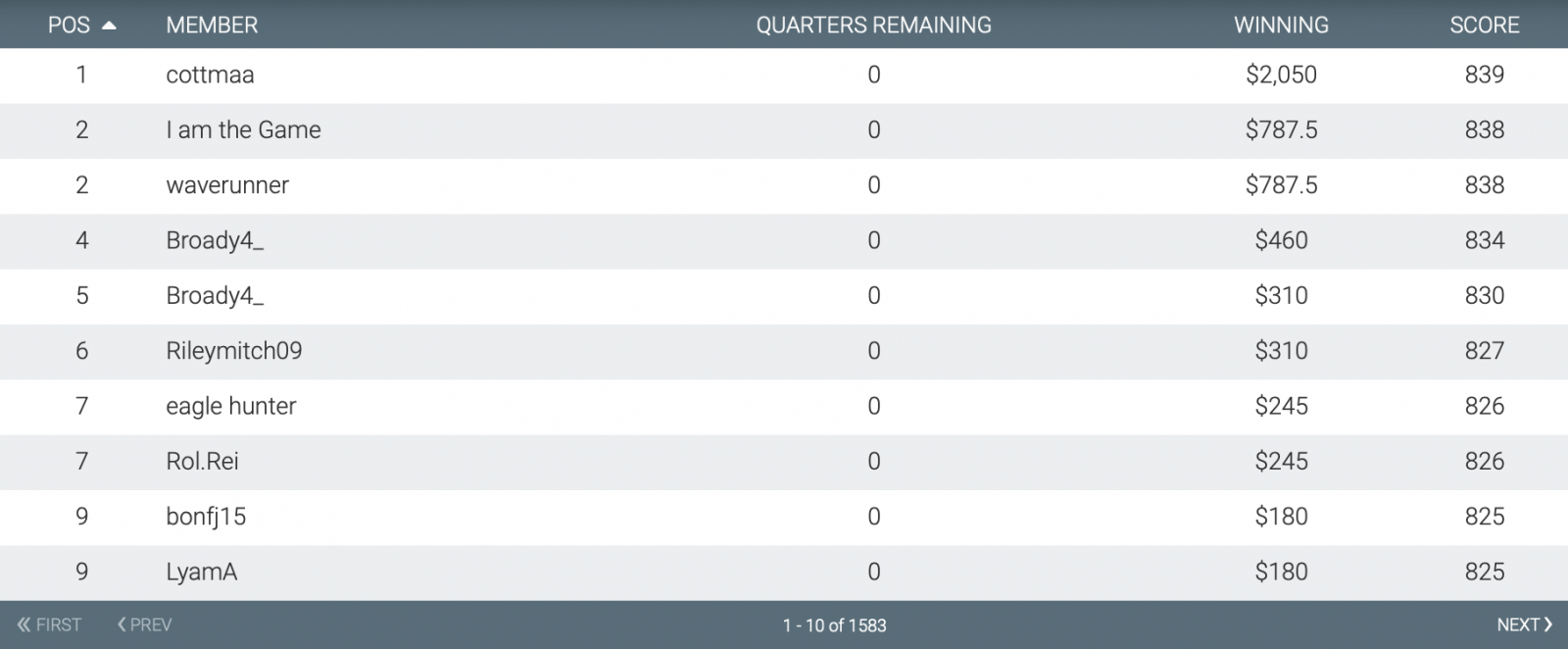 Like usual, Moneyball held their biggest contest of the weekend on Saturday. This time it was a $30,000 contest for the five-game slate that kicked off just before 2pm (AEST). There was a $3,000 first place prize on offer that was snapped up by Giftyyy with a score of 922. He also finished in third, fourth and fifth to collect a total of $5,000. Key players to have here were Peter Ladhams (100 points), Jarryd Lyons (158) and Jack Macrae (132). The other big money maker in this slate was JayC2009 who finished in second position to collect $1,400.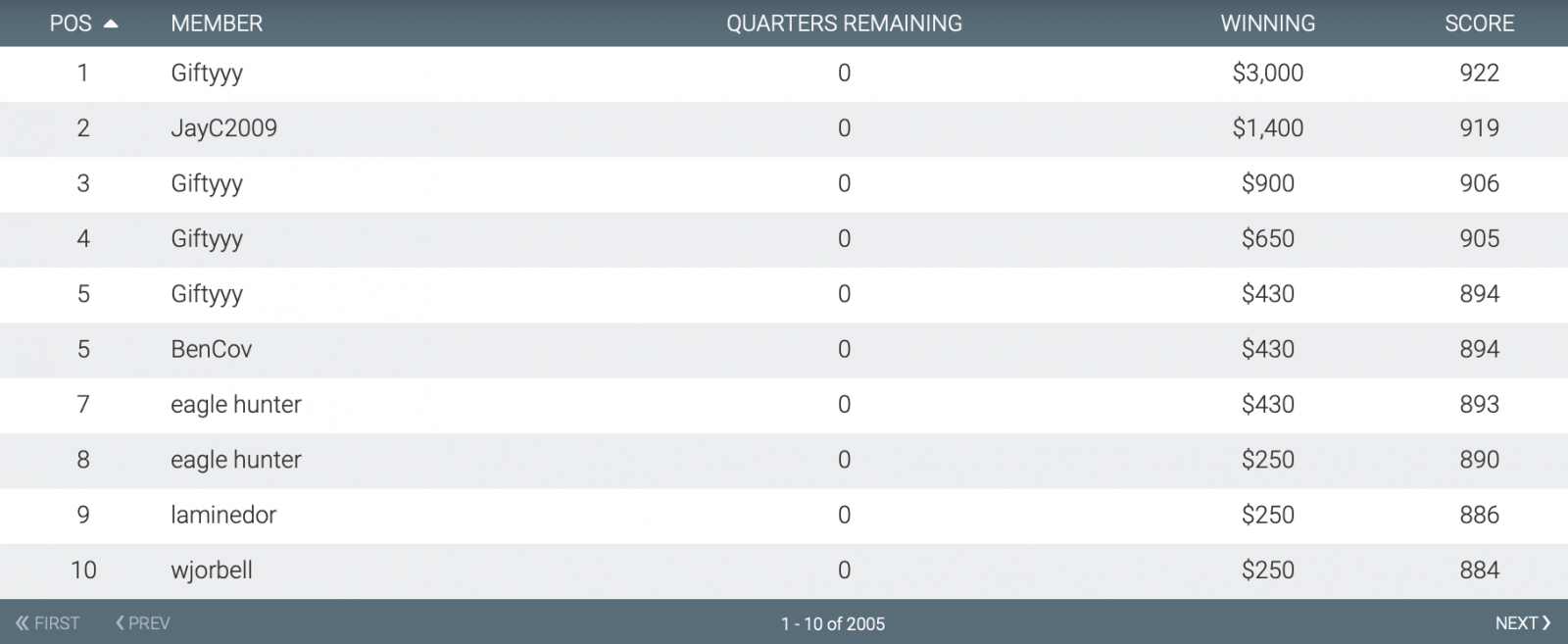 Moneyball finished off Round 21 with a $20,000 contest for the three-game slate on Sunday. It was another well supported contest with over 1,500 entries making the 1:10pm lockout. There was a clear standout line-up on the day that was owned by Flicky with a score of 930, which won them a $2,000 prize. Key players here were Jack Graham (146 points), Shane Edwards (127), Kade Simpson (122), Jack Darling (120), and Dan Hannebery (117). Second and third place was won by contestant myfootyboots, which netted $1,575 in prize money.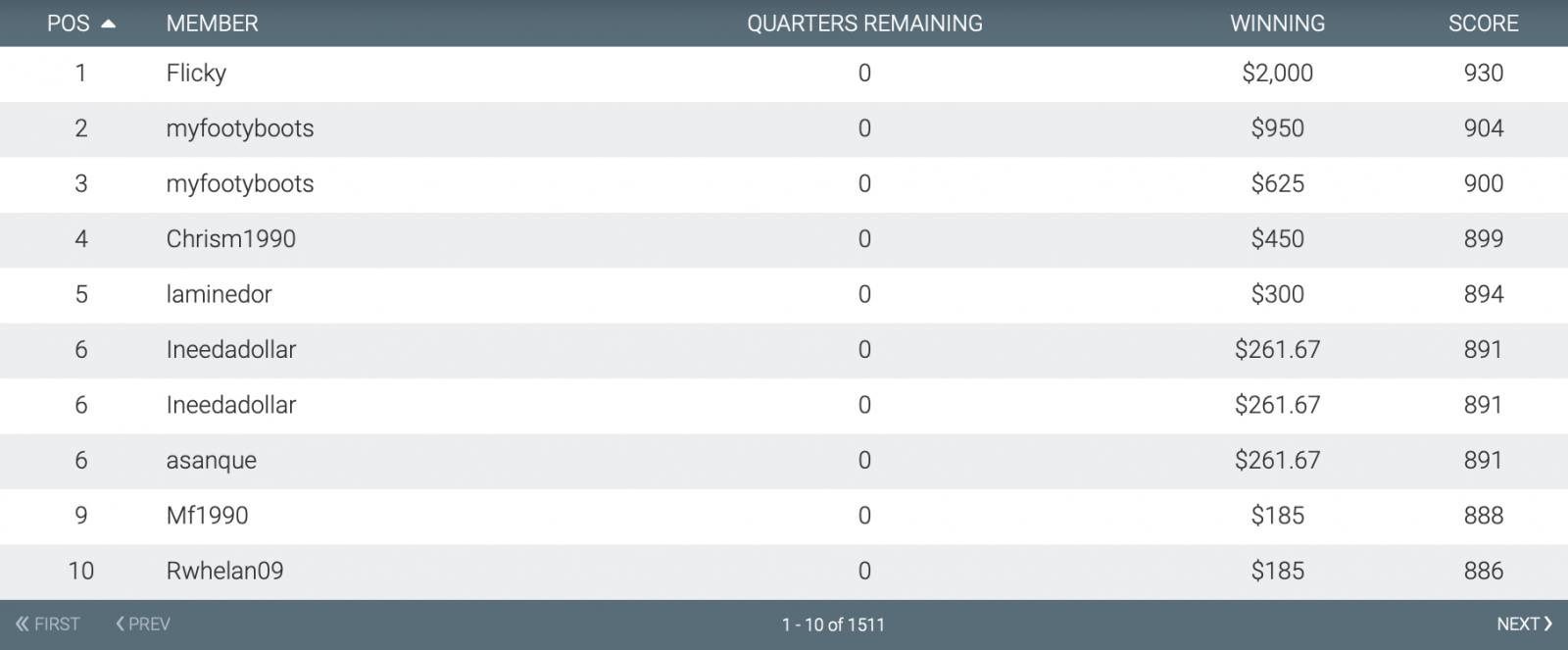 Draftstars
Draftstars started off the round with bang, hosting a $60,000 Giants v Hawks contest. The big prize pool attracted plenty of entries, but Broady4_ hogged all the money with 1st, 2nd, 4th and 5th placed finishes, which equated to a collect of over $12,000. The key to his best line-up was avoiding all the cheaper players that spudded up, preferring to field a more balanced line-up with the exception of Jye Caldwell at basement price. The only other top five finish belonged to schmackie in third for a $1,687 collect.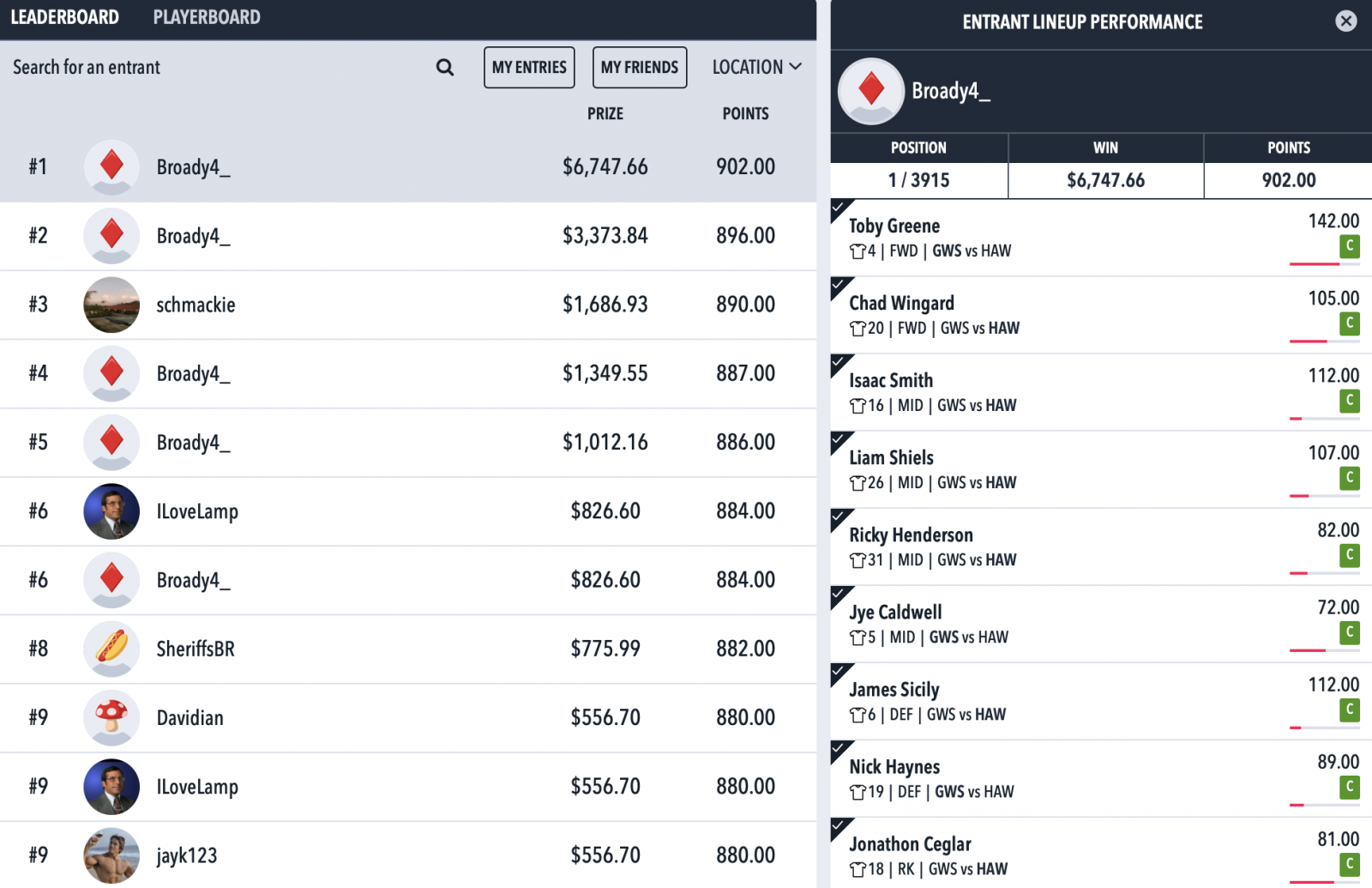 Draftstars also held a $50,000 contest on Saturday and a $40,000 contest on Sunday. Both were well supported as usual with 3,462 and 2,921 entries respectively. The Saturday contest was won by jmund29 for a $4,960 collect, while Sweatysteve came second ($3,720 collect) and Delmi31 came third ($2,232). The Sunday contest was won by CrowsnBays with a big score of 960, which earned a massive $5,163 collect. Second place and just shy of $3,000 went to Boon, while third place and $1,800 went to Breesarmy.
SportChamps
SportChamps were the home of the biggest racing tournaments again over the weekend. Their biggest tournament was their Racing $50 Saturday Horses $10,000 (One Rebuy). There were 117 total entries and $7,750 in prize money up for grabs. The man to beat ended up being Hotmaria who finished in first for a very nice $2,021 win. Second place belonged to Optional for a $1,286 win, while third place went to GavRap for $975 winnings.
Congrats to all this weekend's winners and remember DFS doesn't rest on week days with contests running across the platforms every day!

Always remember to gamble responsibly. When the fun stops, stop. If gambling is having a negative impact on your life, seek support at Gambling Help Online. 18+ only.