daily fantasy sports articles
Australian DFS Weekend Results - 13th June 2017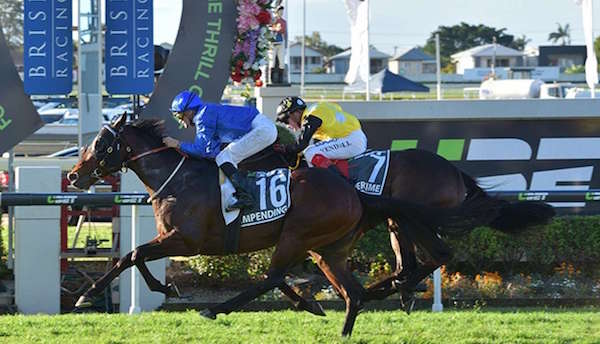 Another weekend of Australian sport means another few days of great daily fantasy wins by Aussie punters. We celebrated the Queen's Birthday this long weekend which meant an extra helping of daily fantasy action. We take a look at some of the key events from Draftstars, Moneyball, TopBetta and Sports Fantasy Pro and their results below.
TopBetta
The huge $30,000 Brisbane Carnival tournament came to a conclusion this weekend at TopBetta, with the five-week tournament finally crowning a winner. 100 contestants had paid the $110 entry fee for a chance at the big bucks with plenty of sparring over the duration of the Brisbane racing carnival. In the end it was loz1946 who came out on top, turning his start bank into 705,290 BettaBucks to take out the top prize of $7,500.

The next largest tournament at TopBetta over the weekend was their aptly named 'One Gorilla Stradebroke Day Thrilla' tournament. The competition featured a massive $1,000 buy in and garnered the interest of 10 punters, all playing for the prize pool of $10,000.
Shaneb1971 took out the major prize of $6,000 after he turned his 10,000 BettaBucks into a respectable 75,000. His day ended with a 13,000 bet on Affray to place in Race 8 at Morphetville at $4.40 to win 57,000 BettaBucks and cruise home to victory.
Smart play by Daily Fantasy Rankings member rexel9 who, although didn't have the best day on the punt, left 666 BettaBucks in his account in the hope that with other people busting in an attempt to take the major prize, he might be able to scoop a minor placing. It paid off as he collected $1,000, and some valuable DFR ranking points, for third place.

Draftstars
The Saturday $15 entry tournament at Draftstars was once again their biggest competition of the weekend with it being the only AFL tournament that wasn't a single game competition. 1,928 punters entered for the chance to win a share in the $30,000 prize pool.
Bencampbell came out victorious after his team scored 943 points to take home the major prize of $4,500 while schmackie and Bayliss46 picked up the minor placings.
Shoutout to Daily Fantasy Rankings members dtownsend and invinciBell who finished 5th and 8th respectively and both took home over $1,800 and $900.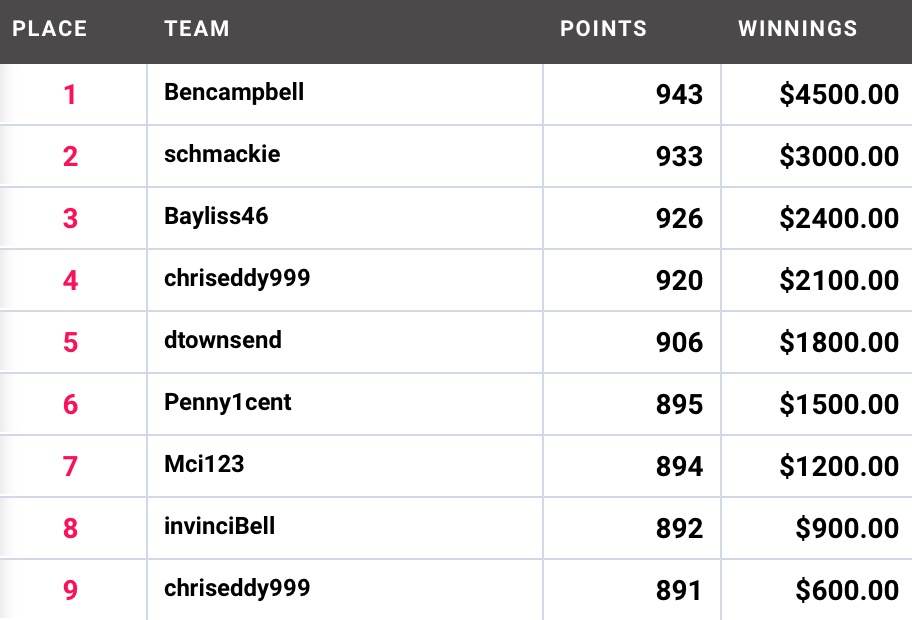 The Queen's Birthday single game tournament between Collingwood and Melbourne was Draftstars' next biggest tournament of the weekend attracting 1,880 entrants playing for a $25,000 guaranteed prize pool.
Another couple of DFR members featured prominently as Jayk123 finished 2nd and Tryanhit finished in 8th place. The $2,500 Jayk123 collected was crucial in keeping him above Tryanhit on the DFR leaderboard.
However, it was macford who took out the major prize of $3,750 with his team that scored 923 points.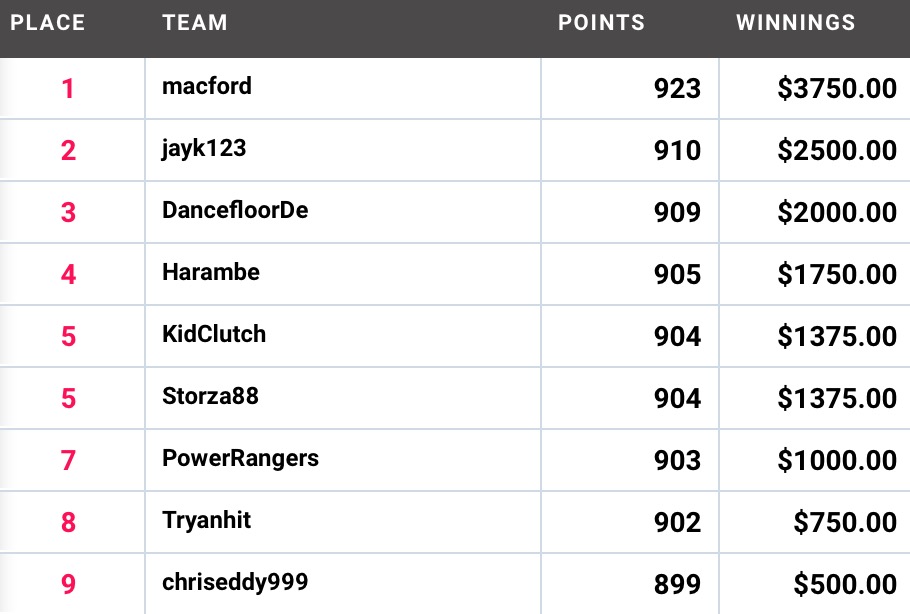 Moneyball
The single entry tournaments continue to be the most popular tournaments on Moneyball with Monday's Collingwood vs Melbourne game also being the highest paying contest. The tournament started with just a $2,000 guaranteed prize pool, however, the public holiday meant that a field of 559 contestants stretched it out to $7,300.
Laminedor AKA Jayk123 improved on his Daily Fantasy Rankings lead by picking up 1st, 4th and 7th place totalling almost $2,000. This was the first Moneyball win for the veteran in the 2017 season with plenty more likely to come.

Sports Fantasy Pro
To wrap things up, we head over to Sports Fantasy Pro where a unique double win was worthy of a mention this week. Sports Fantasy Pro offer NRL and AFL fantasy tournaments every week, and this week it was Bunjyballs who took down the victory in the featured tournaments in BOTH footy codes on Thursday night. Bunjyballs claimed the top prize in the Swans vs Bulldogs match in the AFL, and matched that with another win in the NRL Sharks vs Storm contest. Great work Bunjyballs!