daily fantasy sports articles
Australian DFS Weekend Results - 16th January 2018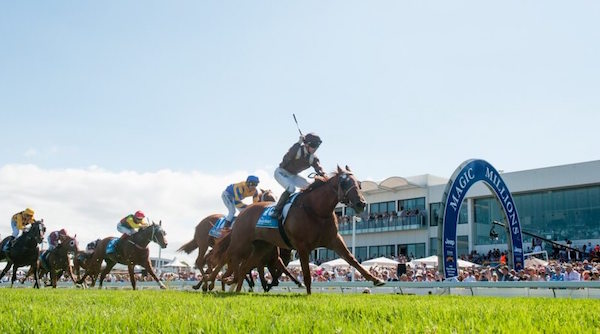 The 2018 Magic Millions day came and went this weekend and some monster competitions at daily fantasy and betting tournament sites around Australia were ran to celebrate the occasion. We take a look at those tourneys plus the other key competitions over the past week below.
SportChamps
The $50 entry tournament on Magic Millions Day was a great one SportChamps, offering a tidy $2,100 prize pool and attracting 26 players. After a hotly contested day, it was DFR member BrutalDeluxe who took out the top prize, earning just over $640 in the process and climbing the DFR leader board as well.
But the tournament of the week at SportChamps was the $100 Magic Millions Day competition, which saw 43 entries and a $7,000 guaranteed prize pool! It was DFR member and 11th ranked punter 'rexel9' who earned victory on the day, picking up a cool top prize pf just over $1,800.
TopBetta
TopBetta offered punters a massive $10,000 guaranteed prize pool for Magic Millions Day, and the public responded 49 entries into the $100 tournament plus a further 33 rebuys. A really tight finish in the end saw 'Bazzaa' win the tournament by just $8,000 in BettaBucks while just $3,000 separated the next three placings.
The highlight of the day for Bazzaa came in Race 7 at Randwick, where he won $37,500 on a $2,500 bet on Voilier to win. Although he had just a 19% win ratio, Bazzaa won races when it counted most throughout the day to take home $3,700 in prize money.

Moneyball
The Thursday NBA tournament at Moneyball was once again a highlight of the week. It offered a massive $18,000 prize pool and attracted 1285 players. Chris Paul, Lou Williams and Andre Drummond were all massive scorers on the day and all influential in win for 'Male5897'.
'Fugacity' was impressive, confidently entering two of the exact same team and finishing in 5th place with those two teams, but ultimately finished six points behind Male5897, who collected $2,350 for the win.

The Friday night Big Bash League Derby between the Stars and Renegades was celebrated with a massive $6,000 prize pool at Moneyball. Some massive performances by Kevin Pietersen, Glenn Maxwell, Mohammad Nabi and Jackson Coleman were all critical as 'New York Knick' took out the top prize of $800 with a score of 298.5.
The BBL has been great at Moneyball so far, at the fun continues this week as they will be hosting nightly prize pools for the games as well as a special tournament for the ODI on Friday!

_ _ _
If you were every thinking of getting into tournament style betting, now is the perfect time! Over the next few months there will be massive prize pools on offer every weekend so make sure you sign up with TopBetta and SportChamps to give yourself a chance to win big.